Do you think about driving for rideshare programs like Uber or Lyft in your spare time? Maybe you are even considering doing it full-time to replace your boring office job. Many people find it appealing to set their own schedules and work on their terms, but they need to know if the pay is worth it.
How much do Uber and Lyft drivers make in Los Angeles?
Uber and Lyft drivers can earn a real income working in Los Angeles. The more hours you work, the more likely you are to earn a sustainable income. Many potential changes on the horizon might make rideshare driving a more lucrative position in this city.
| | |
| --- | --- |
| Hours Per Week | Average Annual Salary |
| 20 hours | $12,480 – $26,000 |
| 40 hours | $33,280 – $52,000 |
| 60 hours | $46,800 – $93,600 |
How Stable Is the Income for Uber/Lyft Drivers in Los Angeles?
Many would-be drivers find that the ability to set their schedule and earn some extra money on the side is appealing. They would love to be a part of the rideshare community, but they want some reassurances that the income they earn will be stable. Unfortunately, there are no promises in this regard, but change is on the horizon.
Historically, Uber and Lyft drivers in Los Angeles have earned varied rates that sometimes made it difficult to make ends meet. The price they were paid for completing a ride may not have even covered the costs for fuel and maintenance on their vehicle.
In October of this year, lawmakers finally approved a study that would examine whether it might be feasible to set a healthy $30 minimum wage for drivers who work for prominent rideshare companies.
They argue that drivers should have $15 per hour for wear and tear on their car as well as $15 per hour in take-home pay.
Considering that the national average for Uber drivers is under $12 per hour, this is a step in the right direction.
Do Lyft or Uber Drivers Earn More in Los Angeles?
If you want to drive in Los Angeles, are you better off driving for Uber or Lyft? Many people opt to drive for both companies simultaneously to increase their odds of staying busy.
However, it is still important to examine which company will help you to earn more money in the long run.
Fees and Commission
Both companies do take a commission based on the cost of the fare for each ride you accept. Uber takes the higher fee at 25 percent, but Lyft is not far behind at 20 percent.
They also take a booking fee whenever a passenger schedules a ride.
Uber rates typically range from $1.85 to $2.45, while Lyft collects $1 to $2.
Drivers never see a cent of either of these two fees.
Discounts and Rewards
Uber and Lyft also have rewards programs for their drivers. Uber offers a referral bonus for each new driver that begins using the platform using your link.
They also offer increased rates for working in "boosted" areas and for completing a specific number of trips within a specific window of time.
Lyft offers bonuses to drivers in the form of rewards. The more you drive, the more points you earn to put toward things like roadside assistance, discounts on cell phone plans, and fuel rewards points.
Overall
Keep in mind that both platforms do allow riders to tip their drivers. Drivers are allowed to keep the full tip amount without sacrificing any of the money to Uber and Lyft. Between the two platforms, riders tend to be more apt to tip with Lyft because Uber used to discourage tipping its drivers.
Some drivers claim that they make more money working for Uber because it is the more popular platform.
More riders tend to use Uber, which leads to an increase in demand for drivers. The more passengers you can secure in your backseat, the more money you are bound to make with these rideshare platforms.
There is no easy way to determine whether you will make more money working for Uber or Lyft. These are simply a few things that you may want to keep in mind while making your final decision.
Also read our article on Do Uber/Lyft Drivers Help with Luggage?
How Much do you Earn Per Mile in the Los Angeles Area?
Many drivers were outraged earlier this year at the major change in pricing per mile for the popular rideshare platform Uber. They already felt that they were not earning enough to make a decent living from driving around town all day, but the slash in rates only added fuel to the fire.
Drivers in Los Angeles previously made about $0.80 per mile with Uber. Under the new pay structure, they receive just $0.60 per mile for the basic Uber service.
The Lyft rates are around 0.6 $ per mile.
Is the Rideshare Space in Los Angeles (Too) Crowded?
If you have lived in Los Angeles for any time, you already know how congested the streets can be during prime commute hours. There are too many cars on the road, and traffic can often be backed up for hours.
Unfortunately, the number of rideshare drivers out cruising the roads only adds to the traffic.
There is no shortage of drivers for rideshare programs in Los Angeles.
Many people would argue that there are too many drivers and that some limits should be placed. Drivers hover around popular pick-up locations like the LAX airport and create quite a few complications for others.
With as many drivers as there are, the rideshare space in Los Angeles is quickly becoming too crowded.
What are the Best-Paid Times To Drive In Los Angeles?
Los Angeles may be a prestigious area to live in, but it is very similar to most other parts of the country when it comes to the best-paid times to drive.
Drivers should try to make themselves available during the busiest times of day if they want to see the highest rates and keep their backseat full of passengers.
Weekday mornings and evenings are always a popular time slot because of the long commute to and from work.
In the mornings, you should plan to drive from approximately 6:30 AM to 9:30 AM. Evening commute hours are a bit longer, ranging from 4:30 PM to 8:00 PM.
If you work a full-time job and driving is your side hustle, weekends are still a major source of activity for drivers. Weekend mornings and afternoons between the hours of 10:00 AM and 2:00 PM are consistently busy.
Night owls will love driving around Los Angeles after dark with popular evening hours ranging from 6:00 PM to 8:00 PM and then again between 10:00 PM and 3:00 AM.
What Are the Best Pickup Spots in Los Angeles?
Los Angeles is a busy city where something is always going on.
As a result, drivers can typically find work no matter what part of town they happen to live or work in. However, you might find yourself overrun with work if you are smart about where you choose to park your vehicle.
These six cities tend to be the busiest areas for ridesharing in Los Angeles:
Beverly Hills
Downtown
Hollywood
Santa Monica
West Hollywood
Westwood
LAX is also a very popular destination in Los Angeles, but the wait time for pickups is often long.
Most experienced drivers will drop passengers off at the airport, but they don't hang around the parking lot waiting for new rides.
Are There Any California-specific Rules to Be Aware Of?
Both Uber and Lyft have a set of general guidelines, but additional rules apply based on your city and state ordinances. California has its own set of guidelines set by the California Public Utilities Commission (CPUC) that drivers must follow to remain in good standing.
First, all drivers are required to comply with an annual background check.
Second, they must display a vehicle decal on the car while they are working. There should be one decal on the passenger side of the front windshield and one on the rear passenger windshield.
Without the decals properly displayed, you might be facing a ticket and fines up to $1,000.
Last but not least, all Transportation Network Company (TNC)  vehicles are required to complete a 19-point inspection every year or every 50,000 miles (whichever comes first).
The 50,000 miles include miles driven for ridesharing and personal use combined.
For Los Angeles Lyft drivers, other rules may apply. All vehicles in Los Angeles must be a 2006 model or newer.
Drivers must also be 21 or over, whereas they must be 25 in some other parts of the state.
Final Thoughts
Driving for Uber and Lyft has the potential to be profitable for drivers who are smart about when and where they choose to drive.
Before you sign up for this type of work, you should start strategizing if you want to maximize your earnings.
Was this article helpful?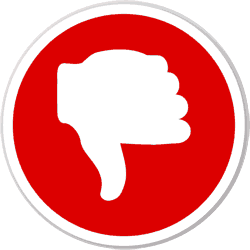 Did you find wrong information or was something missing?
We would love to hear your thoughts! (PS: We read ALL feedback)