For Japanese mini trucks, the speed could go up to 62-75 mph. You should bear in mind that these trucks, by vehicle class and by law, were only designed for a maximum speed of about 50 mph.
How fast do mini trucks go?
Here is the max. speed numbers for a list of mini trucks.
| | |
| --- | --- |
| Model | Max. Speed |
| Daihatsu Hijet | 81 mph |
| Mahindra Supro | 59 mph |
| Honda Acty | 60 mph |
| Suzuki Carry | 75 mph |
| Subaru Sambar | 87 mph |
| Mazda Scrum | 49 mph |
| Tata Ace Mega | 50 mph |
Japanese mini trucks are not allowed to go faster than this.
That's essentially why they were particularly geared and better suited for hauling heavy loads through small city streets. Although there's been news of some mini trucks like the Sambar S/C; a truck, which can really speed up in an open road.
Still, mini trucks were never designed to cruise the highways.
Generally, mini trucks are actually quite comfortable to drive around streets in the city and, if needed, they can be taken for longer trips as they often have AC.
Are Mini Trucks Street Legal?
You might be wondering what the rules are for mini trucks. The fact is that it varies a lot.
So we have made a separate post with information about the rules for each state across the U.S.
That's a great read before you consider getting a mini truck!
Daihatsu Hijet
The Daihatsu Hijet is not the most beautiful mini truck on the market. It's so rudimentary and flat in design, which makes it clear that the truck's appearance didn't make the 'to-do' list.
Because the mini truck's engineers were more concerned about the vehicle functionality, they really compromised design judging from the weird-looking exterior.
If you can ignore the style, then you can begin enjoying other perks of the Daihatsu Hijet. This mini truck features compact dimensions, making it flexible even for navigating city traffic.
The Hijet can easily squeeze through a situation of traffic congestion without a lot of effort.
However, the Hijet may require some getting used to.
What about power?
The Daihatsu Hijet is lightweight, relatively small, and run by a 1.3-liter petrol engine.
This vehicle engine churns out about 65 horsepower and can go up to a maximum speed of 81 mph. I would say that's a pretty lively performance.
There's a catch though. First, when it exceeds 56 mph, it gets rather noisy. More so, the noise can get even louder and become more disturbing when the speed continues to climb.
Second, as much as the speed can climb up to 81 mph, to achieve this performance, you would have to really push the engine (hopefully not beyond its capacity).
The 5-speed manual gearbox which runs the engine is not exactly fancy but sufficient enough to keep the engine power in check. Besides, it helps your budget with an average of 8.3 litres/100km fuel consumption rate.
The Hijet comes with a torque of 140 NM. However, when ladened with a heavier load, you would notice that the Hijet will feel a little underpowered. It's no surprise since, given the torque coupled with the heavyweight, it's almost impossible to achieve high-level performance.
The steering is great too – depending on who you ask. Generally, at low speeds, the steering feels a bit heavy. But, as you continue the speed, the steering will continue to lighten up.
Mahindra Supro
Mahindra just recently launched the Mahindra Supro mini truck with a direct injection diesel engine and a mileage of 14.4 miles.
For businesses that frequently transport goods within city limits, this mini truck has been considered the most profitable. This is because the Mahindra Supro mini truck supports an 1874 lb payload capacity out of the 3902 lb total gross vehicle weight.
The Supro features a 909 cc displacement engine that churns out a maximum power of 26 BHP at 2600 RPM.
It has a top speed that is rated at 59 mph with a maximum torque of 55 NM at 1800 to 2000 RPM. The engine has 2 engine cylinders and is available in BS-III and BS-IV versions.
It also works on a motor that complies with the BS-IV emission norms.
Other features of the engine are 4-speed gearbox and manual transmission mode. With these features, you can attain superior pick-up and acceleration, even over the inclines.
Honda Acty
The Honda Acty is one of a series of Japanese Kei trucks with the layouts; mid-engine and 2WD (rear-wheel drive) or 4WD (four-wheel drive).
As for power, the carburetted version of the Acty engine can produce up to 38 horsepower at 5300 RPM and a torque of 54 NM at 4500 RPM.
The 4WD version can attain a top speed of 65 mph, while the Street version of the Honda Acty can reach a 71 mph top speed.
Overall, the Honda Acty top speed is only about 38 mph so it may not be necessary to get on the highway and be intimidated off the road.
However, many owners of this mini truck have attested that you can pretty much drive it wherever, whenever, without ever worrying about hitting an onramp.
Suzuki Carry
Over the past decades, the Suzuki Carry has been manufactured under several different names and various licenses. Depending on the export market, some of them include; the Bedford Rascal, the Ford Pronto, the Daewoo Damas, and the Maruti Versa.
However, the Suzuki Carry retains specifications from its last generation before multiple names were introduced.
The 2005 Suzuki Carry dimensions include; a length of 3675 mm, a width of 1475 mm, a height of 1800 mm, and a ground clearance of 165 mm.
With a payload capacity of 1880 lb from an overall 3197 lb gross vehicle weight, the Suzuki Carry is not doing bad at all. It conveniently assumes a 10-gallon half-full fuel capacity.
Along with a 4-speed gearbox and a manual transmission that pushes a top speed of 75 mph.
Subaru Sambar
The Subaru Sambar is Japan's first Kei class truck (Keitora) which is still in production. This mini truck is still very popular in the Japanese, Chinese, and Finland domestic markets.
Most of the popular Sambars that are imported feature and are powered by a 660cc engine that combines either a 3-speed automatic gearbox or a 5-speed manual gearbox.
The Subaru Sambar also features a selectable 4WD along with a 57 horsepower supercharged engine version. And check out the awesome top speed of 87 mph.
Unlike the Daihatsu, the Subaru Sambar features some special addition to its appearance packages, such as the "Dias Classic" which is a retro-looking flat front fascia that has Volkswagen emblems – a design sourced from the German (Volkswagen) manufacturer.
Mazda Scrum
The Mazda Scrum was first introduced as a re-badged version of the Suzuki Carry.
It still carries the Suzuki engine throughout production with a top speed of 49 mph.
Let's talk specifically.
The engine that powers the Suzuki Scrum is either a pre-1990 550cc Suzuki engine or a post-1990 600cc Suzuki engine.
Its engine power can scale up to produce at least 45 horsepower and the fuel economy is an outstanding 45 mpg. The Scrum also availed drive options with low and high gears. Such as the 2WD (rear-wheel-drive) or a selectable 4WD (four-wheel-drive) drivetrain.
It features a manual transmission with either a 3-speed automatic gearbox or a 5-speed manual gearbox.
Oftentimes, the Scrum comes outfitted with:
Hydraulic scissor lifts,
hydraulic dump beds,
hydraulic scissor/dump combos
enclosed refrigerated beds,
electronic bed-mounted cranes,
with boxed beds or power lift gates.
Straight from the factory.
You could also explore some popular aftermarket options like plows, turf or Trax tires, cranes, salters, dump beds, refrigerated beds, scissor lifts, as well as all the different kinds of customizable signage.
Tata Ace Mega
The Tata Ace Mega mini truck comes fitted with a 4th generation DICOR engine that can push a top speed of 50 mph. This engine is coupled with a 5-speed manual transmission gearbox.
More of the engine's power includes a 100 NM torque which produces up to 40 horsepower and a smart calibration. The calibration ensures maximum fuel efficiency without compromise to the engine's performance.
Tata Ace Mega features a payload which is rated at 2070 lb as well as 14-inch radial tube tires (165 R 14 LT 8 PR). The vehicle comes with a 30% grade-ability, allowing it to transverse any kind of terrain.
Tata Ace Mega has the speed, reliability, and performance that makes it an ideal choice of a mini truck.
And there you have it!
When planning to buy a mini truck, apart from speed, put into consideration what you're trying to accomplish with it. Ask yourself;
Will I be using this mini truck primarily on-road or off-road?
Do I need to upgrade some features and what's the upgrade limit set by the law?
Will I need to install oversized tires, lifts, etc. and what are the road restrictions?
You can check out this article to know all you should know BEFORE buying a mini truck.
Was this article helpful?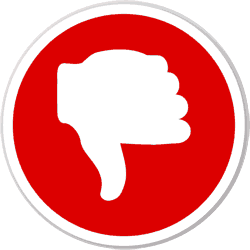 Did you find wrong information or was something missing?
We would love to hear your thoughts! (PS: We read ALL feedback)