The Ford Ranger made its entry into the auto market in 1982 as a compact pickup truck. Now a mid-size pickup truck, the Ford Ranger sports a massive engine, impressive towing capacity and stellar reliability scores. However, its standard features are stingily selective compared to other vehicles in its class.
The vehicle features three trims and different appearance packages and it is one of the most affordable pickup trucks on the market.
Like every other vehicle, there are used models of the Ford Ranger and we are about to find just how much they cost.
Here's The Short Answer To How Much A Used Ford Ranger Costs:
A used Ford Ranger XL with 15,361 miles on the odometer sells for about $31,420, according to CarFax. Models with less than 10,000 miles, however, sell for as much as $40,000. Different factors, such as location, age, service records, and market forces, can affect used Ford Ranger prices.
How Much Does a Ford Ranger From 2011 to 2021 Cost?
Below is a list of prices for used models of the Ford Ranger from the 2011 through the 2021 model year:
| | | |
| --- | --- | --- |
| Model Year | Price | Mileage |
| 2011 Ford Ranger XL | $13,523 | 79,746 miles |
| 2019 Ford Ranger | $30,278 | 42,682 miles |
| 2020 Ford Ranger | $34,900 | 16,437 miles |
| 2021 Ford Ranger | $40,000 | 6,518 miles |
Please note that the Ford Ranger embarked on an 8-year hiatus, which halted production for 2012-2018 model years.
What Ford Ranger Years Are The Best to Buy?
The Ford Ranger has been an excellent nameplate, both as a compact pickup and as a midsize truck. However, some model years have been outstanding and below are five of them:
1. 1999 Ford Ranger Pickup
The 1999 Ford Ranger pickup boasts a 4WD system and a five-speed manual transmission. Its gas mileage is exciting, with up to 22 MPG in the city and 27 MPG on the highway. It also has an optional 4.0-liter V6 engine with up to 158 horsepower and a pleasing acceleration.
Its towing capacity peaks at 5,820 lbs and it can last up to 300,000 miles on the odometer without major issues.
2. Ford Ranger WildTrak
The Ford Ranger WildTrak was launched as a special edition of the Ford Ranger and boy, was it special? It boasts a 2.0-liter 10AT engine with up to 170 horsepower for the weakest trims. The truck also features a variable-geometry high-pressure turbocharger that produces up to 213 horsepower.
With a ten-speed automatic transmission and excellent off-road capabilities, the WildTrak is one of the best Ranger models ever made.
Related: Ford Ranger In Snow & Winter Driving? (Explained)
3. 2011 Ford Ranger
The 2011 Ford Ranger is reputed for its insane reliability. One could say Ford engineers gave it their all before the 8-year hiatus.
It sports a 2.3-liter I4 engine and 143 horsepower with a five-speed manual transmission (plus optional five-speed automatic transmission) for a smooth driving experience. There was also the 4.0-liter V6 engine option, which could churn out up to 207 horsepower.
The 2011 Ranger's payload capacity stands at 1,130 lbs alongside a towing capacity of 2,160 lbs. It is definitely one of the very best Ford Ranger models ever made.
4. 1994 Ford Ranger 2WD
The 1994 Ford Ranger was a vehicular representation of ruggedness. It sports a 2.3-liter four-cylinder engine producing 100 horsepower and 130 lb-ft of torque. While those aren't wildly impressive numbers in this era, they got the job done back then, whatever it was.
Its reliability is out of this world and nearly 30 years later, there are 1994 Ford Ranger models still roaming the streets in formidable style.
5. 2008 Ford Ranger
The 2008 Ford Ranger came ready with three available engine options. There was the 2.3-liter I4 engine with 143 horsepower, the 3.0-liter V6 engine with 207 horsepower, and the 4.0-liter V6 engine with 207 horsepower.
Its towing capacity stood at 6,000 pounds and it came standard with a five-speed manual transmission and an automatic transmission option. The 2008 Ranger simply was a capable truck with minimal issues and complaints, which explains its place on this list.
Related: What Are The Best & Worst Years For Ford Ranger? (Explained)
Which Years Should You Avoid?
The Ford Ranger also had some very humbling years, like every other vehicle. Below is a list of Ford Ranger model years you should avoid:
1. 2001 Ford Ranger
A model year you should avoid is the 2001 Ford Ranger. It has about 71 listed complaints on CarComplaints and 729 collective defects. Most of the criticisms bordered on the model's rough shifting and transmission failures. There was also an issue with the overdrive lighting going wild.
The biggest concern with this model, however, was that the problems surfaced way before the Ford Ranger hit 100,000 miles. And wouldn't you know, it notched an abysmal 1 out of 5 on Consumer Reports.
2. 2002 Ford Ranger
The 2002 Ford Ranger followed in the footsteps of its predecessors. It had no less than 7 recalls and its troubles included transmission issues, engine complications and problems with the model's interior accessories.
CarComplaints listed the worst 2002 Ford Ranger problems as rough shifting, transmission failure and broken frame. The transmission failure problems had an average mileage of 63,000 miles and cost up to $1,700 to fix.
The broken frame defect, however, has an average mileage of 120,000 miles with an average fixing cost of $3,500.
It was also named the worst Ford Ranger model by CarComplaints.
3. 2004 Ford Ranger
The 2004 Ford Ranger is one of the worst model years ever made. According to CarComplaints, its most common problems include engine defects, transmission defects, and fuel system defects. It also suffered seatbelt/airbag problems, as well as steering and body paint issues.
The vehicle's #1 worst problem on CarComplaints is its misfiring engine. It happens at an average mileage is 53,000 miles and costs $1,800 to fix on average. Most of the Ford Ranger's problems developed way before 100,000 miles, which solidifies its place on this list.
4. 2006 Ford Ranger
The 2006 Ford Ranger also struggles with a dark history of engine problems and fuel system issues.
On CarComplaints, the #1 worst problem with the 2006 Ford Ranger was a clutch failure as early as 33,000 miles. Its #2 worst problem is the wheel bearing failure, and it develops at an average mileage of 80,600 miles.
Many critics and complain aggregators rate the 2006 Ranger as one of the worst Ford Ranger model years ever. However, it isn't nearly as bad as its predecessors, which is why we placed it at the bottom of this list.
Related: 3 Most Common Problems With The Ford Ranger
3 Things to Look for When Choosing a Ford Ranger
Below are three things to look for when choosing a Ford Ranger:
1. Engine and Transmission Problems
If you are trying to cop a used Ford Ranger, one thing you should do is take it on a test drive. When you start the engine, you could have someone check for smoke at the tailpipe. You should run a check on the engine fluids as well and look out for a burned smell from the transmission fluid.
Other things to look out for during the test drive include the brakes, air conditioning, and electrical components. We would advise getting a trusted auto expert to do this with you if you don't have experience buying used cars.
2. Mileage
The Ford Ranger can last for well over 300,000 miles with proper maintenance. So, if you are looking to get a Ford Ranger that you can use for years to come, we suggest getting ones with mileages below 100,000 miles.
Besides that, you should also get the vehicle's maintenance records/history. That can help avoid models that have been plagued with a series of major issues over the years and are less likely to last long enough.
3. Bells and Whistles
As one would expect, newer models of the Ford Ranger come with plenty of bells and whistles. However, if you are looking to get pre-2019 Ranger models, you might have to sacrifice some tech features and that's partly because of the 8-year hiatus.
If suave tech features matter very little to you, then you can purchase used models from the early 2000s and even the 90s. Whatever you do, just make sure you are satisfied with your choice(s) before sealing the deal.
Was this article helpful?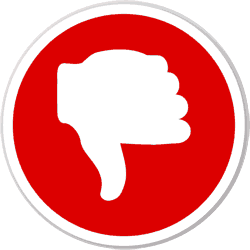 Did you find wrong information or was something missing?
We would love to hear your thoughts! (PS: We read ALL feedback)