The Ford Ranger is one of the smallest pickup trucks produced by Ford. It is a mid-size truck which somehow has some advantages of a full-size pickup.
Some Rangers can tow weights as heavy as 6,000 pounds, all the while maintaining exceptional fuel economy and affordability.
Let's look at the best ones for you and the model years you should ignore for good.
What Ford Ranger Years Are the Most Reliable?
There are several Ford Ranger model years that hold up their end in terms of dependability. However, these are the most reliable model years we could find, for now, of course:
2020 Ford Ranger
An intimidating muscular look is not all the 2020 model brings to the table. It excels in overall performance and has high ratings across several car review websites.
MotorBiscuit called 2020 "the best year for a Ford Ranger" because of its excellent reliability, safety and owner satisfaction ratings. Edmunds also commended the safety features present in the 2020 Ranger.
U.S. News gave the 2020 model an 8.1 out of 10 overall rating and a 9.0/10 rating in safety. It also raked in a score of 88/100 in quality and reliability on J.D. Power. It took the number one spot on J.D. Power's list of "Best Midsize Pickup of 2020".
Cars.com gave the 2020 Ranger the top spot on their 2020 American-Made Index. The 2020 Ranger has fewer complaints on CarComplaints.com when compared to other years.
On Consumer Reports, the 2020 Ranger scored 4 out of 5 for reliability.
When shopping for a 2020 Ranger, the base XL trim is the best model if you're on a budget. It's perfect if you don't fancy all the other features present on the XLT and Lariat trims.
However, if you're a sucker for the highest tech possible, go for the much more packed trims. The expert reviews, ratings and comments from consumers show that the 2020 Ranger is reliable to own.
2011 Ford Ranger
Consumer Reports gave the 2011 model a 4 out of 5 rating for reliability. J.D. Power also gave the model a high score of 86/100 in quality and reliability.
On U.S. News, it got a 7.1/10 overall rating. Its ratings on U.S. News also show that the 2011 model has affordable ownership costs.
On Edmunds.com, the consumer reviews earned the 2011 Ranger a 4.8/5 rating. On Cars.com, it got a 4.4 out of 5 overall rating, scoring a whopping 4.9 in reliability. It also scores high in performance with a 4.4 rating.
2011 was the last year Ford produced the Ranger before they discontinued it, then revived the truck for the 2019 model year. Thus, many considered the design to be outdated.
It lacked certain features many tech savvy drivers would like. Edmunds.com described it as having a "dated design and cramped passenger cabin". These features are the reason for its low scores in interior design on Cars.com.
Still, you can't talk Ranger reliability without mentioning the 2011 model year. What it lacks in tech and design, it more than makes up for in dependability.
Drivers prefer the 2011 Ranger for long distance journeys. This is largely because of its reliability, as there is a lower chance of a breakdown. Its fuel economy and decent maintenance costs are secondary reasons drivers prefer using it for such journeys.
So if you're looking for a rugged oldie you can rely on, you know what to buy.
2010 Ford Ranger
The 2010 model, like the aforementioned models, got a 4 out of 5 reliability rating from Consumer Reports. This already gives it a head start to being rated as one of the most reliable Ford Ranger models. It is also similar to the 2011 model in more ways than 1.
It has been described as lacking "many modern-day convenience and safety features" by Edmunds.com. This makes it a perfect car for non techies who simply prefer the simplicity the 80s classics provided. Perhaps the absence of excessive modern tech contributes to its reliability.
Besides that, Cars.com rates the 2010 Ranger 4.9 out of 5 in reliability, an almost perfect score. It earned a 4.3 overall rating and drivers considered the 2010 model to have provided value for their money.
The car also performed well on J.D. Power, raking in 87/100 score in quality and reliability. This means it excelled in having minimal defects and design flaws.
On U.S. News, it got a 7.5/10 overall rating with an 8.5 safety rating. Its ratings on U.S. News also show that the 2010 model has affordable ownership costs.
So granted, it's pretty outdated, except for its electronic stability control. Still, it'll get you to your destination on time without the need to empty your wallet.
1986 Ford Ranger
Almost everyone has something spectacular to say about this classic. It is considered by some to be the best Ranger Ford ever manufactured. It hails from the first generation, hence sports the original Ranger design, engine and general features.
While it's difficult to get a 1986 model because of scarcity, those who buy it get the most from it. Drivers always remark on its dependability and usually have a hard time letting it go.
It has few complaints recorded on CarComplaints.com. However, getting ratings for this model is quite difficult because of its age. You're just going to take our word for it.
Related: 11 Ford Ranger Statistics You Should Know (Facts & Numbers)
What Ford Ranger Years Should You Avoid?
Although we take no pleasure in writing this list, you need to know the years that aren't for you. These model years are not viable for a lengthy lifespan relative to the aforementioned. Of course, it is because of frequent problems which affect their reliability.
1999 Ford Ranger
This may very well be the worst vehicle Ford ever made. Most drivers would love the truck at first and enjoy its comforts and performance. Along the line, however, even though the 1999 Ranger excels in many aspects, it'll perform poorly in terms of reliability.
It also has an alarming number of reported complaints on CarComplaints.com.
Another factor that makes this so distressing is the fact that older cars get fewer complaints for several reasons. That's because they're often used by older people who hardly make complaints online. They also have less tech, which ironically makes them more reliable.
However, the 1999 Ranger keeps going against the norm.
The over 1,000 complaints on CarComplaints.com are mostly because of electrical and engine-related problems. Drivers complained of malfunctioning emergency brakes and dome lights.
The windshield wipers also operated randomly without the driver's effort and the doors remained open even after locking them. The tail lights also came on and off on their own. Averagely, these problems occurred at about 51,000 miles.
CarComplaints.com gave these problems a 10.0 severity rating. Another problem with a very high severity rating involves cracked cylinder heads with a 9.3 rating.
The cracked cylinder heads often lead to an unsteady temperature gauge and occur on average after 100,000 miles. Drivers usually have to spend about $3,600 to get the problem fixed.
Related: Ford Ranger 2.2. Problems
2001 Ford Ranger
Although this model year has fewer complaints that the 1999 model, it should be avoided.
It suffers mainly from transmission problems. CarComplaints.com rated the transmission failure 9.5 in severity. On average, the transmission failed at about 87,000 miles and can cost as much as $1,800 to have it fixed.
The major challenge most drivers have is that the transmission shows no sign of wearing before it fails. When it fails, it may be impossible to reverse the truck or even switch to a different gear.
The overdrive light also flashes on and off for different reasons, including a bad solenoid. Fixing the problem could amount to over $2,000, however, fixing it isn't always a permanent solution. That's because even after repairing the transmission sometimes, the problem occurs again.
The interior of the car isn't perfect either; the driver's seat could break and lead to injuries. This has a 10.0 severity rating and typically occurs before 60,000 miles.
2019 Ford Ranger
First, this model has a 1 out of 5 reliability rating from Consumer Reports. It marked the Ranger's return to the market after it was discontinued. Perhaps for this reason, it is filled with many imperfections and is the most unreliable Ranger post resurrection.
The painting peels off because of corrosion. The engine also vibrates as though it were going to explode while driving. Sometimes, after diagnosing the engine, the system had to be reprogrammed.
These problems don't always go away after fixing them once or even twice.
2002 Ford Ranger
This is labeled the worst model year by CarComplaints.com. Not by the volume of complaints alone, but by the variety. The 2002 Ranger has recorded complaints involving almost all parts of the truck.
As expected, the tranny and engine take the number 1 and 2 spots. Other problems involve the interior accessories, brakes, body, cooling system, fuel system, seat belts, airbags, steering, electrical problems, etcetera.
Complaints on the NHTSA website involve the suspension, lights, clutch, exterior accessories and others.
With these number of complaints, it makes you wonder if the 2002 Ranger is even drivable.
Related: How Long Do Ford Rangers Last? (7 Important Facts)
What Are Some Typical Problems with Ford Ranger Cars?
The following problems are common to Ford Rangers. However, not all of them occur across all model years.
Transmission malfunction
Engine idle
Steering problems
Rough idling and stalling
Rough Shifting
Noisy synchronizer shaft
Related: 3 Most Common Problems With The Ford Ranger
Final Thoughts
Have it in mind that these ratings are based on collective data and don't always reflect a car's individual performance.
Hence, a year having critical reviews doesn't mean all cars produced in the said year are defective. It just means that a majority of them are, and you should pay extra attention when car shopping.
Go Back: See best and worst years for all ford models.
Was this article helpful?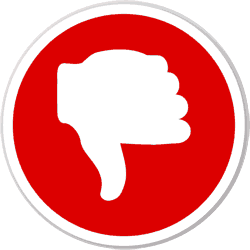 Did you find wrong information or was something missing?
We would love to hear your thoughts! (PS: We read ALL feedback)
ⓘ  The information in this article is based on data from National Highway Traffic Safety Administration (NHTSA) recall reports, consumer complaints submitted to the NHTSA, reliability ratings from J.D. Power, auto review and rating sites such as Edmunds, specialist forums, etc. We analyzed this data to provide insights into the best and worst years for these vehicle models.
---