Harley-Davidson is easily the most iconic motorcycle brand to come out of the Western Hemisphere.
HD produces growling, beefy cruisers of a classical nature, embodying the adage "if it ain't broke, don't fix it."
While the brand keeps its heritage and tradition close to its aesthetic, the newest Harley-Davidson models boast some powerful upgrades, leaving their prospects asking themselves, just how much do new Harley-Davidson motorcycles cost?
Here's the Short Answer to How Much New Harley-Davidsons Cost:
New Harley-Davidson motorcycle models range from $11,249 and $44,899 depending on the model, trim package, and type of motorcycle. While most HDs are cruisers, their cruiser-styled baggers and tourers feature expensive amenities. Harley Davidson tricycles can cost as much as $49,999.
Here are the costs of some of the newest Harley-Davidson motorcycles models:
How Much Do Harley Street Bikes Cost?
These Harley-Davidson Street rippers are among the most affordable, ranging between $13,499 and $15,499, depending on the model, upgrades, and features package.
Harley-Davidson Nightster
The Nightster is a street sport bike that continues the legacy of their popular Sportster line.
The performance-based rendition of the classic street cruising line stocks a liquid-cooled Revolution Max 975T powertrain engine with a suite of safety features and ride modes at a starting price of $13,499.
Harley-Davidson Sportster S
The Harley-Davidson Sportster S is a modern classic streetfighter priced at $15,499. It stocks the 1250T(win) version of the Revolution Max engine, a liquid-cooled powertrain with double overhead camshafts and variable valve timing to give riders instant powerband access and thorough control.
How Much Do Harley-Davidson Cruisers Cost?
HD cruisers come in a broad range of styles and sizes, costing between $11,249 and $29,7999, depending on the specs and build.
Harley is known as the perfector of American cruiser style of motorcycle. It is a beefy bike with a relaxed riding position and versatile powerband that works equally well for highway riding as it does in town.
Harley-Davidson Forty-Eight
True to the classic HD Sportster formula, the Forty-Eight stocks an air-cooled, 1200cc Evolution engine, a chain-driven primary and belt-driven final drive, and a 5-speed transmission.
From its V-Twin's immense low-end torque to the Forty-Eight's build style, the rider gets a modern classic cruiser for $12,299.
Harley-Davidson Softail Standard
$13,949 gets you the HD Softail Standard, a bobble style build on the classic Softail frame, now stocked with the Milwaukee 107 V-Twin engine, an adjustable mono-shock for the rear suspension, and a racing-style cartridge fork up front for additional dampening.
Street Bob 114
The Harley-Davidson Street Bob 114 may be the lightest of the Softail cruiser family, but it's got a 114CI powerhouse of a V-Twin for an engine.
Its raw and simplified bobber build is perfect for riders who like a stripped-down look or are seeking a bike ready for customization, costing $15,349 brand new. 
Fat Bob 114
At $18,330, the Fat Bob 114 features the 114 cubic inch version of the Milwaukee Big Twin HD, makes dual disc front brakes, a performance-focused 2 to 1 to 2 upsweeping exhaust system, and an inverted race-style front fork design with premium suspension and single-cartridge technology.
Low Rider ST
The Low Rider ST is an homage to the classic and still-popular FXRT, with a fixed fairing and two tour-ready hard cases that resemble the classic 80s-90s sport tourer.
But the Low Rider ST's fairing includes the Rockford Fosgate Bluetooth Audio system, and its motor is a 117 CI monster version of the Milwaukee engine at a price tag of $21,749.
Fat Boy 114
$19,530 scores you a brand-new Harley Fat Boy 114, the modern spin on the classic Hot Rod style bike made famous by Arnold in Terminator 2.
These days, the Fat Boy gets the Milwaukee 114 engine and vintage-inspired open-centered spoked aluminum wheels, maintaining the beefy fork and rugged, front-end-led cruiser style the Fat Boy is known for.  
Heritage Classic
The Heritage Classic is the quintessential American cruiser that never went out of style, updated with modern frills like the Milwaukee 114 CI engine, a detachable windscreen, an easily adjustable high-performance rear mono-shock suspension, and locking leather saddlebags for $29,799 brand-new.
Before buying a HD bike, you should learn about why Harleys break down so much.
How Much Do New Harley-Davidson Touring Motorcycles Cost?
Harley-Davidson touring motorcycles cost between $19,110 and $44,899 depending on the model, trim and finish, engine size, luggage package, and special feature equipment.
Harley-Davidson Electra Glide Standard
The Electra Glide Special is Harley's most economical touring choice, at $19,429.
For less than 20k, this "dressed down dresser" features floorboards, locking hard bags, a fork-mounted batwing fairing equipped with electronic cruise control, and extra storage rather than screens and features.
Harley-Davidson Road King
The most affordable touring option from HD costs $19,110 brand new and is the Harley Road King.
It features a modern Showa dual-bending valve front suspension, hard bags, a detachable windshield, and a modern 107 cubic inch engine with a headlight and style that looks more at home in the 60s meaty cruiser scene.
Harley-Davidson Street Glide Special
$27,449 gets riders the middle-of-the-road muscle tourer from Harley, the Street Glide Special.
The Street Glide Special stocks a Milwaukee 114CI Big Twin engine, Prodigy wheels, and a high-grade, reusable filter-equipped Ventilator air cleaner.
Its Batwing fairing stocks the Daymaker headlight and Boom Box infotainment system.
Harley-Davidson Ultra Limited
The Ultra Limited costs $29,169 from the dealership and adds a locking Tour-Pack Carrier Trunk that doubles as a luxurious passenger backrest, a Slicer II custom wheelset, the Daymaker LED headlight, and the most up-to-date Boom! Box Infotainment package to its Twin-Cooled Milwaee-Eight 114 Engine. 
Road Glide ST
The Road Glide ST had a wrapped fairing fixed to the chassis rather than the fork. It stocks a monstrous 117 cubic inch version of the Milwaukee engine and Screamin' Eagle race bike upgrades straight from the factory.
Hydraulically adjusted preload suspension and Boom Box Infotainment are included at the new price of $29,999.
How Much Do New Harley-Davidson Adventure Tourers Cost?
Here's how much HD Adventure Tourers cost brand new:
Harley-Davidson Pan America 1250
$17,319 gets you the HD Pan American 1250, an adventure motorcycle designed for riding on and off-road.
Engineered from the ground up as an efficient bike for trails, streets, crawls, and rips, it's a rugged, stylish, technologically-equipped bike with a powerful liquid-cooled 1250cc motor.
Meanwhile, have you ever wondered why Harleys are always so loud?
Harley-Davidson Pan America 1250 Special
The Pan America Special is available brand-new, starting at $19,999 from the dealership. In addition to all the features equipped with the base Pan America model, the Special package includes:
Semi-Active Front and Rear Suspension with Vehicle Load Control
Tire Pressure Monitoring System (TPMS)
Center Stand
Multi-Position Rear Brake Pedal
Brush Guard
Aluminum Skid Plate
Daymaker® Signature Adaptive Headlamp
Hand Wind Deflectors
Heated Hand Grips
Steering Damper
Factory Installed Option: Adaptive Ride Height
Factory Installed Option: Tubeless Laced Wheels
What Is the Cheapest Harley Model?
The cheapest Harley Davidson bike is the Iron 883 at $11,249. The medium-cruiser features an air-cooled rubber-mounted 883cc Evolution engine that follows the long legacy of the Iron Head and its replacement, the Evo engine. 
The 883 stocks two pushrod-operated overhead valves per cylinder; each valve is operated by self-adjusting hydraulic lifters, running hard and smooth.
Its forward riding position/mid-position foot controls give it an easy-to-ride bicycle feel, perfect for both new and experienced riders looking for a fast little ripper to eat curves on. According to HD:
THIS IS THE RIGHT BIKE FOR:

Urban riders seeking iconic style and V-Twin rumble
Middleweight power paired with precision handling
883cc Air-Cooled Evolution® V-Twin engine
883CC AIR-COOLED EVOLUTION® ENGINE: Authentic Harley-Davidson style through and through. The rubber-mounted 883cc Evolution® engine runs hard and rides smooth for thousands of miles so you can just ride.
What Is the Most Expensive Harley-Davidson?
At $44,899, the Harley-Davidson CVO Road Glide Limited is their most expensive motorcycle. It's a luxury touring motorcycle featuring heated hand grips/seat, lower leg protectors, ample luggage space, and a frame-fixed shark-nose fairing stocked with premium audio and an infotainment system. 
Milwaukee-Eight® 117 V-Twin:

The new pinnacle of torque and displacement with a factory-installed powertrain.
Precision oil/air cooling. 126 ft. lbs. of torque at 3750 RPM.
Tuned heavy breather intake and high flow exhaust maximize engine performance.

STYLE:

Premium paints and finishes
Heated Kahuna™ Collection hand grips match Kahuna™ shifter pegs, brake pedal cover, muffler end caps, heated grips and rider and passenger boards
Tomahawk wheels
H-D Touring Chassis
Daymaker® LED headlamp and bright LED lighting for enhanced visibility
Corner Safety Enhancements
HD Audio-Powered Rockford Fosgate
Boom! Box GTS Infortainment
Boom! Wireless Headset
CVO Tri Glide
At $49,999, the most expensive Harley-Davidson vehicle is the three-wheeled CVO Tri Glide. It features heated grips, the HD Trike Chassis and Daymaker LED lamp, safety enhancement features, Rockford Fosgate Soun system, and Boom Box GTS Infotainment on an HD trike chassis with two wheels in the back and one up front. 
Can You Negotiate a Better Price on Harley-Davidson Motorcycles?
There is always space to haggle for a better price at the HD dealership, depending on how well you know your facts concerning the bike you're looking at.
Even if they won't budge on the MSRP, there's room to negotiate for service credit, accessories, or merchandise if you know the market.
We have an article on whether Harleys ever go on sale and how to get good deals.
Sources
CV Road Glide Limited | Harley Davidson
2022 Harley-Davidson Motorcycle Guide • Total Motorcycle
How Much Does a Harley-Davidson Cost? | 2022 Price List | Killer Creek Harley-Davidson
Was this article helpful?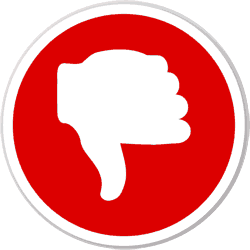 Did you find wrong information or was something missing?
We would love to hear your thoughts! (PS: We read ALL feedback)