You may want to buy a Harley but don't have enough funds to cover your purchase.
In such situations, getting the bike when it's on sale may be the only way to buy your dream motorcycle.
This article discusses how to get the best deals when shopping for HD motorcycles, when not to buy, shopping tips, and more.
Here is the short answer to whether Harley Davidson motorcycles ever go on sale:
Unfortunately for buyers, Harley-Davidson motorcycles rarely go on sale. Due to its premium image, Harley has resisted calls to offer sales discounts on its models. However, Harley-Davidson does offer certain pricing incentives like rebates and financing deals on select models.
You'll need to meet your dealer to know what bikes have any incentives or promotional deals on them.
Does Harley-Davidson Ever Put Their Models on Sale?
For years, Harley-Davidson has cultivated an image as the premium American motorcycle model.
Even when faced with Japanese rivals who cut prices to gain market share, HD never attempted to reduce the prices of its bikes.
This explains why there are few records of Harley putting its bikes on sale. Even with declining sales, Harley-Davidson doesn't show signs of holding any sales campaign or reducing bike prices to attract customers.
Harley-Davidson also discourages licensed dealerships from putting Harleys on sale or offering discounts on them though they cannot force dealers to stop sales discounts. In later parts of the article, we'll explain how to get your dealer discounts on your next Harley.
This is as rivals like Honda, Suzuki, and Indian are putting their bikes on sale, reducing prices by up to $3,000 in certain cases.
The refusal of HD to discount its bikes has added fuel to talks that the iconic motorcycle cannot compete with much more innovative rivals.
In its defense, Harley execs have explained that the opposition to sales discounts is to preserve the long-term success of the brand.
Nonetheless, it's important to point out that Harley-Davidson has begun promotional financing aimed at younger riders.
For instance, we found some financing deals for the H-D Street and Sportster—two models popular among young riders owning their first Harley.
Harley-Davidson also offers lower interest rates for the following groups of people (when they want to finance their purchase):
Graduates of the Harley-Davidson Riding Academy
Harley Owner Group (HOG) members
Active military personnel
Some models that benefit from Harley's promotional financing program include Softtail, Sportster, Street, and Touring.
Buyers of the newer LiveWire electric motorcycle may also get additional rebates and credits on Federal income taxes.
Read our article which explains about Do Harleys Require a Lot of Maintenance?
What's the Best Time of the Year to Buy a Harley?
Using sales data, the best time to buy a Harley is are:
Winter when Motorcycle Sales Is Slow
With snow covering roads, no one's really buying motorcycles. Most would prefer to wait till spring or summer when riding conditions are better.
The drop in demand puts sales dealerships in a desperate situation as they struggle to meet their sales quotas.
It means that they are likely to cut you a deal on a Harley to decrease their inventory during the off-peak season.
The Fiscal Year-End
The fiscal year-end is another period when you can get sweet deals on your Harley motorcycle.
At this time, dealers are likely trying to reduce their stock and meet sales goals. Hence, the sales manager will be more likely to give you a discount as an incentive.
Most dealerships have December 31 as their fiscal year-end.
Walk into an HD dealership around this period, and you'll likely score yourself a great deal on motorcycles.
Immediately After a New Release
The period after a new model release is also great for buying Harleys—old ones, that is.
Dealers have to clear out space for newer models and often sell off older models to do this.
If you can time your journey to the dealership to coincide with the period preceding the arrival of new models, then getting a discount is possible.
A dealer who has to take in new models will be willing to cut deals to get the older ones out the door.
When Not to Buy a Harley-Davidson Motorcycle
So, when should you NOT buy a Harley-Davidson motorcycle?
First, you shouldn't try to buy a Harley during spring or summer.
These are peak periods for motorcycle riding and sales, so dealers are likely not to offer discounts on models.
Also, it would be best if you didn't try buying new models shortly after their release.
Heavy demand for such models at that point means their prices will go through the roof.
Rather, you can wait for months until the demand for those models cool or just opt for the previous-year model (like we suggested before).
This way, you won't suffer high pricing caused by excessive demand.
What Is the Cheapest Harley Model?
The cheapest Harley models are usually found in the Street and Sportster families.
This is hardly surprising, as the two model families are mostly targeted at less affluent, mostly beginner riders.
In terms of pricing, Harleys can cost anything from $6,000 to over $40,000 when new.
Other Harley-Davidson model families like Softtail, Touring, Trike, and CVO, especially the last three, are high-end and cost quite a lot.
We have compiled a list of the cheapest Harley-Davidson motorcycles available.
For this list, we have included only models with an MSRP under $10,000:
1. Harley-Davidson Street 500
The Harley-Davidson Street 500 is, by a long mile, the cheapest Harley you can get right now.
The Street 500 is Harley-Davidson's entry-level model, which explains its low pricing and moderate performance.
On average, Street 500 retails for a little under $7,000 ($6,899, to be exact). It features blacked-out accents and a narrow, lighter frame that's easy to maneuver.
As Street 500 is made for beginners (it's the official motorcycle for the H-D Training Academy), it features a small 494cc engine.
It also has a low seat height, making it easier to handle for smaller riders.
2. Harley-Davidson Street 750
Street 750 is a sibling to the Street 500 model—both models share similar design elements and buyer demographic.
However, what differentiates the Street 750 is its bigger engine and higher pricing.
The average Street 750 retails for around $7,500, slighter more expensive than the Street 500. It uses a 749cc engine that's liquid-cooled.
Even with a bigger engine, the Street 750 weighs the same as Street 500 sibling—492 pounds.
Buyers also get a narrow and light frame along with impressively low ride height.
3. Harley-Davidson Street Rod
Another member of the Harley-Davidson Street family, the Street Rod, offers more power than the Street 750 and Street 500.
While it uses the same 749cc engine as the Street 750, its variant makes more torque and horsepower.
The average retail price for the Harley-Davidson hovers around $8,699.
Street Rod buyers typically get a tuned suspension that promises better handling and a more upright seating position.
The Street Rod's weight is a little above 500 pounds, while seat height is around 29 inches.
4. Harley-Davidson Iron 883
The Iron 883 is part of the Sportster family, long considered entry-level by most Harley-Davidson enthusiasts.
Within the Sportster family, the Iron 883 is the least expensive model, coming in at $8,999.
So, if it's not a Street model, why does the Iron 883 have entry-level status?
It's likely because it has one of the lowest seat heights in the Harley-Davidson lineup (257 inches) and low weight (545 pounds).
With such specs, it makes sense for buyers who are moving from the Street models to buy an Iron 883 model.
The 883cc engine is also tame, especially compared to other Harley V-Twins.
5. Harley Davidson Iron 1200
The Harley-Davidson Iron 1200 is another low-end Sportster model that's pretty affordable.
It shares similarities with the aforementioned Iron 1200 model, such as the 25.- inch seat and other styling cues.
The Iron 1200 costs around $9,999, which is $1,000 higher than the Iron 883's selling price.
It's also heavier, weighing 547 pounds—two pounds more than the Iron 883.
The difference in weight is likely a consequence of the Iron 1200's bigger engine.
Harley put a massive 1200cc engine in the Iron 1200, giving it more horsepower and torque.
Buying the Iron 1200 gets you a five-speed manual transmission and dual-piston caliper disc front and rear brakes.
You also get slung-back styling that's common among Harley's low-riders.
Please also see our article about whether Harleys have automatic transmission.
Can Anyone Buy a Harley Model from the Factory?
At the moment, no one can buy a Harley-Davidson model directly from the factory.
To the best of our knowledge, Harley only supplies bikes directly to dealers who sell them to final buyers.
Why can't Harley-Davidson follow the cue of automakers and allow buyers to order directly from the factory?
Well, unlike carmakers, Harley-Davidson isn't trying to appeal to a broad market with both high-end and low-end versions of the same model.
Besides, Harley would incur greater production costs if it tried to modify its production process to fit the needs of individual customers.
Rather, it produces a range of models with specific add-ons and asks owners to choose from them at the dealership.
Another school of thought is that Harley-Davidson refuses direct orders to preserve sales performance for dealerships.
Often, dealers make extra parts, merchandise, and accessories sold along to motorcycle buyers.
If buyers are ordering straight from Harley-Davidson, bypassing dealers, then dealerships cannot make profits. This is perhaps the simple economic logic at play here.
Should you want a model absent from a dealer's inventory, your dealer can place a special order to get that specific bike. Beware, though; going this route may delay your bike by several months.
Make sure to also read our article about whether Harley's rust!
Any Models and Years to Stay Away from When Buying Used?
Buying a used model is often a great way to score great deals on your Harley purchase.
However, you could end up buying a problematic model that'll cost a lot to keep in good condition.
As such, it's good to know what model and years to stay away from when buying a pre-owned Harley-Davidson model.
Given the enormous amount of used Harley models, we have tried to include all problematic models we could find in this list:
1. AMF-Era Harley-Davidson Models (1969-1980)
The AMF era was a particularly dark period in Harley-Davidson history.
During this period, the build quality of Harleys was highly dismal, with reports of general unreliability of Harleys making the rounds.
Harleys produced during this era were known for leaks and breaking down incessantly.
Only a stricter quality control system set up at the end of the 1970s allowed Harley-Davidson to improve the quality of their bikes.
Asides from being unreliable, the AMF era Harleys often suffer from low parts availability. We'll therefore advise against getting these classic models.
2. 2014 Electra Glide
The Electra Glide is one of the most iconic models in the Harley-Davidson lineup. It's also well-loved among the Harley faithful, thanks to its stable and comfortable ride.
While the Electra Glide is great, the 2014 model leaves a lot to be desired. A clutch issue forced Harley-Davidson to recall over 45,000 Electra Glide models in 2014.
Moreover, there have been about five recalls for this model, along with several complaints related to engine and brake issues. You'd do well to avoid this model.
3. 2016-2019 Street 500 and 750 models
The Street models are notable for being the cheapest entry-level Harley models available.
However, 'cheap' doesn't equal 'quality, with some Street 500 and 750 model years facing many issues.
In particular, the Street 500 and 750 models released between 2016 and 2019 had a faulty brake system, leading to a massive worldwide recall in 2018.
The issues on these models caused crashes and injuries in certain situations.
Surely, Harley-Davidson will have likely fixed the issues on those models. Nevertheless, you have to check well before you buy any of them.
4. 2017 Harley-Davidson Touring Ultra Classic
In 2017, Harley had to recall the Touring Ultra Classic due to problems with the clutch master cylinder. According to reports, clutch issues on the Harley-Davidson caused about 27 crashes among riders.
Given that Touring Ultra Classic models are notoriously overpriced, you may want to avoid buying this model.
No use spending big bucks on a model that'll turn out to be unsafe.
5. 2004 Harley-Davidson Dyna Super Glide
In the early 2000s, Harley-Davidson's Twin Cam engine had a reputation for being unreliable, proven by its long list of mechanical problems.
Unfortunately, the 2004 Dyna Super Glide was one of the first models fitted with the then faulty Twin Cam engine.
Due to the unreliable nature of its V-Twin engine, the 2004 Dyna experienced well-documented issues with reliability. Make sure to avoid this model as much as possible.
6. 2014 Harley-Davidson CVO Road King
Harley-Davidson's Custom Vehicle Operations (CVO) models are top of its motorcycle line up, costing several thousand dollars.
But money doesn't always guarantee the quality, as shown by the issues plaguing the 2014 Harley-Davidson CVO Road King model.
The CVO Road King model had first won praise for its new features and bold styling.
However, it fell on hard times, being part of a major recall involving over 100,000 models because of a malfunctioning clutch.
Check out our article that covers whether Harleys vibrate a lot.
7 Tips to Know to Get the Best Deal on a Harley?
Not everyone who buys a Harley is an affluent Baby Boomer with a lot of cash to throw around.
In that case, you'll want to know how to get a good deal on your Harley purchase and save yourself money.
Here are some tips that will ensure you get the best deal possible when buying your next Harley-Davidson motorcycle:
Buy a used model
Research Manufacturer Suggested Retail Price (MSRP) of motorcycles on the Harley-Davidson website before heading to a dealership.
Be ready to haggle with dealers. You can shop around multiple dealers to find the best deal.
Ask to remove some, if not all, motorcycle options like chrome. Add-ons can quickly bump the final price of a Harley.
Research interest rates at your credit union and/or your bank. They may offer a cheaper interest than what your dealer will offer.
Know the maximum amount you can spare on a bike purchase beforehand. Don't allow the dealer to convince you to take on more financial burdens than you can handle.
Be prepared to walk out of a dealership if they are not offering a good deal. Salespersons are under pressure to sell, so this might be an excellent tactic to force a negotiation.
Was this article helpful?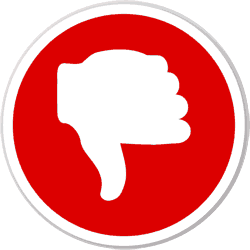 Did you find wrong information or was something missing?
We would love to hear your thoughts! (PS: We read ALL feedback)