Many describe Ducati as "the Ferrari of motorcycles" because both brands share a love for creating high-performance machines.
Like Ferrari cars, Ducati bikes offer unearthly speeds that leave you breathless and pumping with adrenaline.
How fast do Ducati motorcycles go?
Ducatis are some of the fastest motorcycles on the planet. Most Ducati bikes can cross the 100-mph mark, with the Panigale V4 R being the fastest at 180 mph. These superbikes are a must-have for thrillseekers that can afford them.
| | |
| --- | --- |
| Model | Top Speed |
| Ducati Diavel | 169 mph |
| Ducati Panigale | 180 mph |
| Ducati Hypermotard | 176 mph |
| Ducati Scrambler | 125 mph |
| Ducati Monster | 145 mph |
| Ducati Multistrada | 150 mph |
| Ducati Hyperstrada | 176 mph |
| Ducati SuperSport | 142 mph |
| Ducati Streetfighter | 168 mph |
What Is The Fastest Ducati Motorcycle Ever Made?
Per records and official information from Ducati, the Panigale V4 R is the fastest motorcycle Ducati has ever made.
This bike is a powerful improvement from the previous Panigale V4 S.
The V4 R model sports a 998cc 90-degree Desmosedici Stradale engine that produces an astonishing 220 horsepower at 15,250 rpm. This engine can churn out up to 83 lbs-ft of torque at 11,500 rpm.
Photo by CanaryRide
You would consider such numbers extraordinary for a track-only bike, yet the Panigale V4 R is [surprisingly] road-legal.
To fully understand the V4 R's power, compare it to the Honda RC211V (considered the greatest motorbike of the previous decade). The V4 R's 217 horsepower [maximum] beats the Honda RC211V's lower 207 horsepower [maximum]. That makes Ducati's superbike faster than the fastest motorcycle of the last decade.
Ducati had enlisted the help of the Ducati Corse [Ducati's racing team division] to develop the Panigale V4 R. This is why the V4 R has so many track-focused elements that it can pass for a race-only bike.
However, Ducati's superbike is unique and offers riders the best of both worlds. You can use it for races. In fact, Ducati had originally developed it to win the World Superbike Championship. The V4 R is street-legal, meaning you can tear up those roads at insane speeds. We'd prefer you power up a dedicated racetrack at insane speeds instead.
The Ducati Panigale V4 R has a maximum speed of 180 mph, although some test drivers claim that it can reach around 182 mph if pushed to the limit.
What Is The Fastest Motorcycle Across All Brands?
The Kawasaki Ninja H2R holds the title of the fastest motorcycle in production. Official estimates show this bike can reach a maximum speed of 249 mph, making it faster than some of the world's fastest cars.
Behind the Kawasaki Ninja H2R's mind-bending speed is a 998cc supercharged DOHC inline-4 engine capable of producing up to 300 horsepower at 14,000 rpm. As its lovers describe it, the Kawasaki Ninja H2R is "the fastest thing on two wheels in the world."
With all that speed, it's no wonder the Ninja H2R is not road-legal. Who knows what may happen if anyone is allowed to ride this monster machine on the streets!
The crown for the fastest street-legal motorcycle, however, goes to the Lightning LS-218 motorcycle. With only $38,888, you can get an electric bike that can reach a top speed of 218 mph and has a maximum power output of 200 horsepower.
For those who prefer a cheaper and fuel-powered alternative, the Suzuki Hayabusa is a perfect pick. This motorcycle has a respectable top speed of 190+ mph and costs less than half the price of the LS-218 at $14,699. It can produce up to 197 horsepower and hits 60 mph in under three seconds.
This motorcycle's incredible speed probably explains why Suzuki's choice of name for it. "Hayabusa" is the Japanese name for the peregrine falcon, which can reach speeds up to 203 mph and is the fastest bird in the world.
What Is The Speed World Record For Motorcycles?
Rocky Robinson of the USA holds the current speed world record for motorcycles. Riding his Ack Attack streamlined motorcycle, he achieved a world-record 376.33 mph. This record, achieved at the Bonneville Salt Flats on September 25, 2010, stands today.
The Ack Attack has a carbon-fiber paneled body with chrome-moly tubing. Twin Suzuki Hayabusa in-line four-cylinder engines fortified with a 30-psi turbocharger boost power it. The engine churns out a maximum of 12,000 rpm and horsepower between 700-900.
The Ack-Attack measures 19.67 ft. (length) and 2.5 ft. (height) and weighs over 1,600 lbs—Mike Akatiff, who is also a rider, designed it.
What Is The Slowest Ducati Model Ever?
Although we are unsure which Ducati model is the slowest; the 1965 Ducati Sebring is a contender for this ignominious title.
Historical records reveal that the Ducati Sebring's top speed was a little over 78 mph, making it one of the slowest Ducatis ever. What even made the Ducati Sebring's poor performance more remarkable was that it was such a large 350cc engine.
People expected it to perform, but apparently, this bike was never made to impress.
Can You Make A Ducati Go Faster?
Are you looking for ways to get your Ducati to churn out higher performance figures?
Look into our article which reads about 7 Common Problems With Ducati Motorcycles
Here are some tips you can try:
1. Reduce Overall Weight
The weight of a motorcycle affects the machine's aerodynamics.
In short, the heavier your bike, the harder it for it to move through the air.
Using lighter parts will reduce your bike's overall weight and may lead to increments in speed. Carbon parts are usually the lightest on the market, but they can be expensive. Parts you can replace with lightweight variants include brakes, hubs, fork legs, frames, and wheels.
Stripping your bike of unnecessary components is another quick way to reduce weight. However, use this only if you want to convert the bike to a track-only variant. Removing important components such as headlights or mirrors can make your motorcycle illegal for road use.
The weight of your motorcycle directly affects its power to weight ratio. This means the lighter your bike and the more powerful the engine, the faster it will go.
2. Swap Exhaust System
Switching your factory exhaust with an aftermarket variant is one of the easiest and most reliable ways of increasing your motorcycle's speed.
Aftermarket exhausts are typically lightweight and can reduce the overall speed, improving the bike's aerodynamics.
Moreover, they expel exhaust gases faster and more efficiently, which allows your motorcycle's engine to breathe better. This makes for more combustion and increased horsepower and torque, all of which contribute to better performance.
If you are getting a full exhaust system replacement, consider purchasing a slip-on variant, although the power gain will be significantly lower.
However, replacing the full exhaust system [headers, mufflers, etc.] is still the best option to achieve the desired results.
3. Adjust Bike Gearing
Depending on what you want, changing the gearing is often an effective way of improving your motorcycle's performance.
This is done by adding or subtracting teeth on either the front or rear sprocket.
Be clear about what you want to achieve when changing your bike's gearing. Certain gear ratios make for increased top speed, while some improve acceleration. Many online resources can help you determine what gear ratio is perfect for your motorcycle.
Asides from changing the gear ratio, using lighter, aftermarket gears will reduce the bike's weight and improve its speed. Modifying the gearing may mean you have to purchase a new chain, which is a factor in all potential costs.
4. Modify the Engine Control Unit [ECU]
Every motorcycle has an Engine Control Unit [ECU], a small computer chip that controls the bike's power output.
This chip is pre-programmed to regulate your motorcycle's performance to comply with emissions and fuel requirements.
The good news is that you can change the ECU's programming to boost performance. This process is called "re-mapping" or "re-flashing" and involves changing the onboard programming by tuning. You can hire a specialist to tune your system or get an aftermarket fuel/power tuner like Power Commander or Vance & Hines FuelPak.
Aftermarket tuners come in various variants. There are plug-and-play types that can increase power a bit. You can also get the programmable types to tweak the air-fuel ratio to achieve a richer mixture [richer air-fuel mixtures boost performance] or other power settings.
Prices for an ECU re-flash and re-mapping depend on the mechanic shop. Most fall between the $200-$600 range. The prices of engine tuners depend on the features.
A tuner that offers more capabilities will cost more than one with limited functions.
5. Upgrade Bike Brakes
Your motorcycle brakes allow you to halt safely and protect you from potential crashes or collisions.
Riders with good brakes are not afraid to push their bikes to the limits since they know they can stop effectively when the situation calls for it.
When you have low-quality brakes, you may be afraid to ride hard to fear losing control at high speeds.
So motorcycle experts recommend getting better brakes if you are looking to increase your bike's performance.
Here a few ways you can improve brake performance on your brakes:
1. Use Steel Braided Lines
Although the stock brake lines on your motorcycle are made from a special rubber, they wear out.
Aftermarket steel braided lines are a more effective option for various reasons.
First, they last longer than their stock counterparts. Rubber brake lines often stretch and expand when you press the brake lever or pedal. With time, this will cause brake fade and reduce braking performance.
Braided lines are less prone to expanding and stretching, which affects rubber brake lines. They also improve the responsiveness of the brakes and enhance the overall safety of your motorcycle.
However, it would help if you were cautious when switching to braided brake lines. Braided lines often affect the reaction of your brakes.
Therefore, you may need some time to get used to the new feeling you get when applying the brakes.
2. Upgrade Your Motorcycle Brake Pads
The quality of your brake pads is the single most important factor affecting your motorcycle's brake performance.
If your brake pads are low quality, your brake power will decrease, no matter the upgrades you perform on it.
When you press the brake lever or pedal, the rotors grind against the pads and create friction. This friction produces the braking force that allows you to halt.
If the brake pads are soft, the amount of power generated will reduce, and braking will require more effort.
As we said earlier, you will need better brake performance if you plan to increase your bike's speed. Organic [factory-fitted] brake pads are made from soft substances and provide less friction. This eventually makes for brakes with poor response.
If you are riding at higher speeds, you will need brakes that respond quickly to brake faster. Switching to racing-grade pads is a better option.
Racing-grade pads are made from metal compounds fused under extreme pressure and heat. As a result, they are harder and provide more friction. More friction means your brakes will respond faster, especially when you are attempting an emergency stop.
Asides from providing better brake performance, racing-grade pads are less prone to wear and will reduce the rate at which the brake fades.
They also last longer and make for a good investment.
3. Swap Brake Discs & Rotors
Brake discs are another important factor affecting stopping power.
If you are riding down canyon roads and racetracks, your motorcycle will need better brake discs.
Good brake discs are often lightweight, dissipate heat better, eliminate brake dust, and are more durable.
However, replacing brake rotors should be done with caution. Bigger rotors make for better braking performance but can increase the weight of the wheels.
Increased wheel weight can affect the handling, so you should do proper research before replacing the rotors.
4. Replace Wearable Parts
The brakes on your motorcycle have various parts that will wear out as time progresses.
For example, the rubber seals in the master cylinder and calipers may degrade and lose effectiveness.
Also, the buildup of dirt and particles can cause the pistons to produce unwanted friction and heat.
Things like this can affect braking performance negatively. You want to make sure the brake components are always in good condition.
6. Get Better Tires
Tires won't increase your speed or horsepower, but they can make you faster.
High-quality tires are made of high-quality rubber that can grip the road better and enable you to lean further and stop faster.
This can make cornering and traveling at high speeds safer and allow you to shave a few seconds off your lap or travel times.
Cheap tires use low-quality materials that will inevitably affect your riding experience negatively. The most common problem is riding on low-grade tires made with low-grade rubber that takes too long to warm up or doesn't grip even after you've ridden for a long time.
This can cause you to lose control of the bike in a corner if you're trying to ride aggressively.
Another issue that can cause your bike to lose performance is using mismatched tires. Motorcycle tires are engineered to work as a pair. If you have to change out only one tire at a time, make sure the tires and tread patterns are compatible.
Otherwise, you could experience speed wobbles that will slow you down or cause an accident.
It's always better to buy the best tires you can afford as a set.
7. Clean Your Air Filter
If you're serious about getting the most power from your Ducati, be sure you keep up with its maintenance schedule, especially the air filter.
Keeping a clean air filter will make a world of difference when it comes to performance.
Running the bike with a dirty and clogged air filter can result in poor performance from your bike. The bike may start to run lean (not getting enough fuel), have poor throttle response, and diminish your horsepower.
Ignoring your air filter will affect your bike's performance no matter how much money you spent on fancy parts and modifications.
Please keep it clean to get the most out of your Ducati.
Was this article helpful?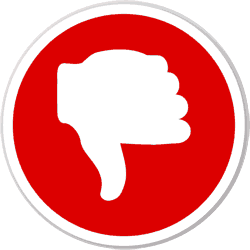 Did you find wrong information or was something missing?
We would love to hear your thoughts! (PS: We read ALL feedback)