Tearing up the highway in a Harley-Davidson has been a dream for many.
The performance and authority of a Harley-Davidson are truly unmatched.
This is now even more so with newer models with advanced riding technologies. These include ABS, Traction Control, Engine Brake Control, Relex Defensive Riding System(RDRS), and Even Tire Pressure Monitoring.
It's no surprise that motorcycle riders of all brands are concerned with how much mileage their motorcycles get in today's economy.
Here's a table that answers do Harley's get good gas mileage:
| | | |
| --- | --- | --- |
| Model | Year  | Mileage (MPG) |
| Harley-Davidson Road King | 2016 | 42 |
| Harley-Davidson Street Glide | 2016 | 42 |
| Harley-Davidson SuperLow | 2016 | 51 |
| Harley-Davidson FLD Switchback | 2015 | 42 |
| Harley-Davidson FLRT Freewheeler | 2015 | 39 |
| Harley-Davidson FLRT Freewheeler | 2015 | 37 |
| Harley-Davidson FLHTK Electra Glide Ultra | 2014 | 42 |
| Harley-Davidson FLSTF Fat Boy | 2014 | 42 |
Judging from the table, we see an average of about 42MPG for various models.
Although this list shows an average of 42MPG, the company reports a 45MPG average for any models made after 2018.
Harleys are not precisely known for their fuel efficiency, though the numbers above prove that they still outperform many other vehicles. The company has a history of delivering robust and iconic bikes; the average gas mileage of 45 miles per gallon doesn't disappoint, considering the power-packed engines get a little thirsty from time to time.
How Fuel-efficient Are Harleys Compared To Other Brands?
Based on user reports, Harley-Davidsons have an average mileage of 44MPG across motorcycle models for city and highway riding. Other motorcycles like Triumph and Kawasaki can get 47 MPG and 49 MPG, respectively.
The fuel efficiency is somewhat in the middle of the spectrum compared to other bikes in the same range.  The lowest in the Harley range seems to be the Street Glide, Electra Glide, and the Road King modes, averaging about 38 miles per gallon.
Of course, how one rides their motorcycle contributes to its average miles per gallon.
If a bike is intended for highway use, like the Street Glide or Road Glide, and its owner uses it to stunt around town bar hopping, it will get poor gas mileage.
If this rider reports a low MPG average, it drives down the average, even though owners of well-kept highway-ridden baggers say 47 or 48.
Some owners choose power and fun over fuel efficiency when it comes to Harleys. That said, plenty of Harley riders use their touring bikes for touring, their commuters for commuting, and keep up with the routine maintenance that also contributes to a higher MPG average.
How Far Can A Harley Go On A Tank Of Gas?
The average Harley motorcycle gets between 120-and 200 miles on a full tank of gas, depending on the style of bike and its fuel capacity. The Harley-Davidson Street Bob, for example, has a tank capacity of 3.5 gallons.
The Street Bob can get around 160 miles on a full gas tank.
The fuel efficiency of a bike is essential. Unlike cars, bikes have limited space for the fuel tank and can only travel limited distances between refills.
Due to smaller fuel tanks, bike owners rely on efficiency to go for as many miles out of a gallon as possible.
A 2012 Harley-Davidson FXD Dyna WideGlide has a 4.7-gallon tank of about 165 miles.
It is important to note that bikes with higher-revving engines will consume more fuel–the 2014 Harley-Davidson Dyna Low Rider also has a 4,7-gallon tank but averages 150 miles from a full tank.
This is a more aggressive bike, meaning it's being revved high in lower gears. Once again, the sportier riders will drive down the average while a reasonable rider could get much more than 150 miles out of a full fuel tank.
Other Factors That Affect How Far a Bike Can Go:
How aggressive the rider rides
High revving in low gears
Low-revving in high gears
City or highway riding
Air,  Fuel, or Exhaust Modifications
The Bike's Weight
City and highway riding will have different MPG ratings because, in a city, the rider changes gears and throttle up and down, make turns, stop at intersections, observe traffic flow, etc.
This keeps the bike in gears 1 to 3 with sporadic revving, which uses more fuel.
On the other hand, highway riding has the potential to use less fuel because the bike is using higher gears to travel at a consistent speed; turns are minimum, and traffic is all going in the same direction at the same rate.
Bad riding habits also play a role in how far a gas tank can go. A rider who revs the bike unnecessarily and makes random gear changes will get worse mileage than a rider with calculated riding habits.
What Is Considered High Mileage For A Harley?
A Harley-Davidson that is well-tuned, maintained, and ridden per Harley's suggested use will offer gas mileage in the 45–54 miles per gallon range.
This is the highest most Harleys will go without any modifications on the bike. As mentioned earlier, riding conditions, engine upkeep, and the rider's habits will affect the mileage.
Harley-Davidson's FX series has been known to get upwards of 45 miles per gallon. These models are some of the most fuel-efficient in the Harley lineup.
That said, one of Harley's primary company objectives is:
'Grow Business Without Growing our Environmental Impact.' Spurred by… analysis of its value chain's enviormental impact, the iconic company laid out a fleet average fuel mile goal of more than 50 miles oer gallon by 2027.

SOURCE: https://www.motorsportsuniverse.com
So, by today's standards, 160 miles and above on a Harley is considered good mileage. Indeed, some other manufacturers of big touring bikes in the same range as the Harley get more miles per gallon; seeing that Harley's are often ridden hard and fast, it's hard to give a fair comparison. 
A completely stock Harley with no modifications will fare better than aftermarket modifications, particularly anything to do with air, fuel, or exhaust. This is because Harleys are designed and factory-tuned so that all its engine components work in unity, achieving ideal average fuel efficiency.
Modifications introduce foreign, third-party parts into the mix, designed by other engineers to enhance a particular aspect of engine performance. This "enhancement" often comes at a cost; frequently, that cost is your Miles Per Gallon.
What Harley Models Are The Most Fuel-efficient?
The Harley-Davidson Sportster series, which includes the XL 883's and the XL 1200's models, have fuel tank capacities ranging from 3.3 – 4.5 gallons. These models feature miles per gallon ratings ranging from 45MPG to 59MPG. 
The Sportster has a small stock tank, making it a double-edged sword of a choice if fuel economy is your priority.
The Harley XL 883L Sportster, for example, has a 3.3-gallon fuel tank but can easily reach about 45 to 55 miles per gallon on a full tank of gas.
With the XL Sportster series, a fuel-efficient Harley does not entirely mean that the fuel tank is big. Half of the XL Sportster Series models have fuel tanks below 4.0 gallons but can still manage miles per gallon upwards of 59MPG.
Other Fuel-Efficient Models:
Harley-Davidson Street 500
Harley Davidson Street 750
Harley-Davidson FLSTC Softail
Harley-Davidson FLSTF Fat Boy
Harley-Davidson FLHRC Road King Classic
All the above models have fuel tanks ranging from 3.5 gallons to 5 gallons. When it comes to miles traveled, these can go for between 38 to 48 miles per gallon, which is relatively fuel-efficient for a Harley.
Another factor that is often overlooked regarding fuel efficiency on motorcycles is the bike's age.
Older bikes tend to be carburated, whereas newer Harleys are fuel injected. Fuel injection is more efficient than carburated bikes, boosting the MPG of all Harleys, and motorcycles in general, when it became the market standard.
Newer models in both cars and motorcycles have efficient technology to enhance the engine's performance while keeping fuel consumption low.
The bike drags dead weight with lower tire pressure and therefore uses more fuel. Even unrelated technologies such as Tire-pressure monitoring can be helpful for higher mileage. This technology can help the longevity of the tires and the fuel efficiency of the cycle.
Other technologies showing up on newer Harley-Davidson models include Traction Control, Engine Brake Control, Relex Defensive Riding System(RDRS), and even Tire Pressure Monitoring.
These all work together to give a comfortable ride and a more efficient one so you can get on the road longer with fewer worries.
Which Harley Models Use The Most Fuel?
Any Carburated Harley model will use more fuel than a fuel-injected Harley would. Carbs provided fuel mechanically on the old carburated Harleys; subtle shifts could reduce the bike's average MPG. Now the market standard, Harley's fuel injection systems deliver and monitor fuel with CPU precision and regulation. 
Like any other bike with a carb, a carburated Harley model runs the risk of falling out of adjustment.
Not only does the resulting frequency of carb inspections and adjustments make the carb models higher maintenance, but sporadic changes also lower their fuel economy.
The injection system monitors air temperature, air pressure, elevation, speed, etc. It adjusts the fuel injection to keep the air: fuel intake ratio up to spec for flawless operation and efficient fuel mileage.
On the older carburated Harley-Davidson models, jet, needle, carb, and throttle must work in alignment to deliver fuel efficiently.
If the air shifts in quality, pressure, and temperature, the air supply may dwindle, and the fuel mix will run rich, burning more fuel than average.
While the ECUs and CPUs on fuel-injected Harleys adjust themselves according to the air quality and maintain efficiency, carburated Harley models have to be modified by hand when the altitude shifts.
The simple mechanics involved makes a carburated Harley use more fuel than a fuel-injected Harley model. 
Here Are Other Models Reported to Use the Most Fuel:
Harley-Davidson – FLHTCUSE Screamin' Eagle Ultra Classic Electra Glide
Harley-Davidson FLHT Electra Glide Standard
Harley-Davidson FLHRS Road King Custom
Harley-Davidson VRSCSE2 Screamin' Eagle V-Rod
These powerful Harley engines will rarely pass the 40 miles per gallon mark when ridden hard and fast.
Some Harleys come with custom-added accessories, which adds more weight to the bike. More weight for the engine to pull will mean more fuel being used and fewer miles being traveled before pulling up for a refill.
We also have to keep in mind that the numbers change drastically according to where the bike is ridden. Highway riding will inevitably be more fuel-efficient than city road driving because of the erratic stopping and low gear changes.
What Is The Best Gas For A Harley-Davidson?
Harley-Davidson specifies the best gas for each specific year model in its owner's manual; most Harley motors require Premium fuel with 91 octanes or higher.
Despite the forum rumors, there's not a performance increase you can achieve by adding more octanes than recommended. Because octane doesn't add power, it alleviates the pre-ignition caused by compression.
The Harley model's service manual will always have instructions on what fuel to use on the bike.
Most owners opt to get the premium gas to avoid repairs related to using cheaper or lower octane gas. In the bigger scheme of things, a few bucks to get premium fuel will be more affordable than having to do repairs caused by the wrong fuel.
A long trip might have gas stations too far and few between, forcing you to fill up with whatever type of gas they might have, such as the lower 87 or 89 octane gas. This has a more negligible effect on your Harley's engine at higher altitudes due to the lower compression ratios when the air gets thin; lower octane fuel is more likely to trigger pre-ignition at sea level.
Use whatever fuel you need to get you to a less limited gas station in an emergency. Just don't make a habit of running low octane fuel through your Harley, or you will shave a few years off its engine life.
How Can You Increase The Mileage On A Harley?
Increasing miles per gallon for a Harley-Davidson without any third-party modifications, regularly servicing the bike, and keeping an eye on your riding habits seem to be the best practices to increase Harley-Davidson's mileage.
Riding habits go a long way in saving fuel on a motorcycle. Smoother gear changes and regulated speeds are your best bet for increasing mileage on a Harley.
Taking excellent care of the bike also means it will take care of you and your pocket for repairs. It's also best to keep in mind that modifications can also increase the mileage on a Harley.
Aftermarket modifications are not cheap but can effectively increase the miles traveled on a full tank before a refill is needed.
Other Things That Increase a Motorcycle's Mileage:
Smooth riding habits
Highway riding
Regular maintenance
Use the recommended fuel type.
Regular tire pressure checks
The main issue with Harley-Davidsons and mileage is that the company's engineering wasn't geared towards fuel efficiency until fuel injection hit the market in the early 2000s.
This means that older Harleys will have lower than average MPG compared to contemporary models of the same class. 
Their goal of reaching 50MPG for their bikes signifies a change in the company's direction regarding fuel efficiency.
While Harley spent several decades prioritizing power and style, the recent technological developments have integrated themselves into their designs.
Harley is moving in the same direction as the rest of the market, at roughly the same rate, when it comes to finding ways to pack power into moto-engines without sacrificing fuel efficiency.
Was this article helpful?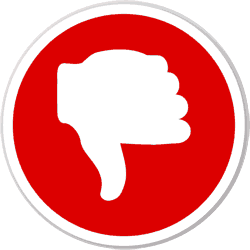 Did you find wrong information or was something missing?
We would love to hear your thoughts! (PS: We read ALL feedback)