500cc motorcycles sit at the lower end of the intermediate class, not only in engine displacement but also in raw power.
This makes them a great beginner bike because they are often small and lightweight enough that a novice rider can easily handle them, but also because you won't necessarily grow out of them too quickly.
In fact, we know several riders who swear by their 500cc motorcycles for around town and long-distance adventure rides as well. 
So how fast are these bikes, exactly? We've compiled a list of six noteworthy intermediate class 500cc motorcycles, along with their top speeds and specs! 
What Is a 500cc Motorcycle?
The term 'cc' stands for cubic centimeters and refers to the size of a motorcycle's engine.
Smaller 'cc' engines will have a lower number between 50cc and 350cc. Medium-sized engines usually are counted as being between 400cc and 950ccs, and large engines are 1,000cc+.
A 500cc motorcycle is a medium-sized motorcycle, erring on the smaller end and some motorcycle enthusiasts may consider them small engine bikes.
But some defining factors of a lot of 500cc engines include higher power and torque specs, and the ability to easily go (and surpass) highway speeds.
Because a 500cc motorcycle is on the smaller side of a 'medium'-sized engine, it can still serve as a learning bike for new riders with some skill level, or for larger riders who will find small-sized motorcycles to be uncomfortable and hard to handle.
500cc motorcycles have a wide range of top speeds because the category includes dirtbikes, sportbikes, cruisers, cafe racers, and scramblers.
Now let's take a look at the wide variety of top speeds that 500cc motorcycles can produce!
1. Honda Rebel 500
To start off our list of notorious 500cc motorcycles, we present to you the Honda Rebel 500. Because cruiser-style bikes are very popular with beginner riders, we want to include some performance metrics as well as top speeds so a beginner can know what they're getting into. 
These sick puppies are really easy to handle. Even though the Rebel 500 looks, feels, and sounds like its bigger road crushers, it weighs in at only 408 lbs which may contribute to relatively impressive top speeds for a 500cc bike. 
The 471cc liquid-cooled, parallel-twin, 4-stroke engines on these bad-looking cruisers are capable of generating 46 hp and rodding out 30 ft-lbs of torque at 6,300 rpm. 
Honda always has a way of outdoing themselves in the American-dominated cruiser class. So how does this translate to a top speed? 
These Honda cruisers can generate a recorded top speed of 95 mph. And that's impressive, given that top highway speeds of 75 mph in the US allow for a smooth ride without redlining it all the way to your destination.
That's another great thing about 500cc bikes-you can comfortably ride long distances on the open road without cranking up to your max rpm every time you want to get across the city.
2. Harley-Davidson Street 500
A lesser-known addition to the 500cc class is Harley-Davidson's Street 500. This entry-level cruiser was in production from 2014 to 2021 in Harley's US factory for North American distribution, although Harley has axed the model.
We think that's unfortunate because Harley's entry-level bike was, and will continue to be, the Sportster 883, perhaps a bit too large for beginner riders. 
Still, Harley-Davidson had quite the bike with the Street 500, although diehard Harley fans poo-pooed the bike for not being a 'real' Harley.
We think it was a pretty sweet design, even if it was a departure from a Harley classic standard.
One obvious difference between the Street series and Harley's larger models is the liquid-cooled, Revolution X 60-degree V Twin engine-as opposed to Harley's iconic 45-degree V Twins found on practically all their other models.
Nonetheless, this engine is powerful, and that's where Harley keeps their notable mention in the 500cc category.
With a responsive, quick, light (for Harley) bike, the 494cc engine is capable of producing 53 hp and 29.5 ft-lbs of torque at 3,500 rpm. 
Weighing in on the curb at 489 lbs, Harley proves to be big, but not too big for someone who wants to get on a Harley for their first couple years of rippin' it up.
A relative lightweight, as well as single-port fuel injection, a six-speed transmission, and all the other fancy do-dads that come with newer model bikes, go together to produce impressive power and high speeds.
Excess features aside, these stylish cruisers top out at 99 mph, which is certainly impressive in the 500cc category!
Related: How Much Weight Can Harley Davidsons Hold? (6 Examples)
3. Royal Enfield Bullet Trials 500
Moving on from the world of cruisers, we arrive on Royal Enfield's doorstep to marvel at the Bullet Trials 500. While trial-inspired bikes aren't the fastest rockers in the world of motorcycles, we decided to include it because it's just a damn cool bike!
Inspired by vintage styling, these dual sport (more street than off-road) machines are purportedly wonderful to handle.
Even though a Trials bike isn't going to blow our minds with top speeds, it's essentially the same 499cc engine that you can find in another Royal Enfield of the same displacement category.
These air-cooled, single-cylinder, 4-stroke engines aren't anything to shake a stick at either, as they are capable of pretty impressive power. Although it's probably the least powerful engine on the list, it's still going to pump out 27.2 hp and 30.5 ft-lbs of torque around 4,000 rpm.
All of this, combined with a curb weight of 423 lbs, is capable of reported top speeds of 89 mph. 
But sometimes these factory-reported top speeds aren't that accurate. A lot of riders said that they were lucky to top out at 75 mph, going downhill with the wind.
4. Honda CBR500R
A fellow rider recently showed up at dinner on a Honda CBR500R and I was amazed that he had made it. Not because he was late, but because he had ridden to our rural stretch of northern New Mexico from Austin, TX!
And so began my interest in the 500cc category (maybe because cruisers like myself tend to scoff at anything under a thousand ccs).
The Honda CBR500R is an impressive competitor in the 500cc race model bike because it allows larger riders to get the handle of a sportbike without feeling like "a giant riding a donkey," as one bigger guy described trying to ride 200cc or 300cc beginner sportbikes.
And it's apparent just by looking at the CBR500R that it is a full-sized bike, compared with its competitors whose small size makes them unavailable to larger riders.
Let's talk about power. One unique thing about the CBR500R is its power and torque in the low/mid-end that creates a broad power band throughout the whole spectrum of rpms.
But even as more of a jack-of-all-trades, the CBR500R still delivers 47 hp at 8,600 rpm and 31.7 ft-lbs of torque in the 7,000 rpm range. 
Add all this alongside a 423 lb curb weight, and the 471cc liquid-cooled, parallel twin-cylinder engine can pump out a whopping 112 mph at the height of its speed.
And since that's approximately the top speed of my 1,300cc cruiser, I'll have to eat the humble pie and stop dissing 500cc bikes!
Related: How Long Do Honda CBR500Rs Last? 8 Examples
5. Kawasaki Vulcan 500LTD
Just to drive home the point about Japanese Big 4 contributions to the cruiser world, we're gonna take a long, hard look at the Kawasaki Vulcan 500LTD.
If I had to trade in my large-displacement American steel for any other bike, it might just be the Vulcan 500!
These small-to-intermediate size motorcycles feature a 498cc, liquid-cooled, parallel-twin engine that pumps out a maximum of 50 hp at 8,500 rpm and 32.6 ft-lbs of torque at 7,300 rpm.
This is not surprising because the Vulcan 500LTD engine is modeled after the zippy Ninja sportbike engine. It's also no surprise that the Vulcan 500 can keep up with its bigger brothers.
Although it pales in size to a larger cruiser, this intermediate can haul it down the highway at an even 100 mph.
It is worth noting that many owners/riders complained that adding a passenger greatly reduces the top speed, so if you're looking for a fast 500cc bike, you might want to go it alone on highway trips!
6. Kawasaki Ninja 500R
The Kawasaki Ninja series has always been a go-to for sportbike riders, and the 500R is no exception.
Unless you have a noted preference for one of the other Japanese Big 4 sportbikes, there's a reason that the Kawasaki Ninja is the number one, best-selling sportbike in the world!
As we stated previously, the Ninja 500R sports the same 498cc, liquid-cooled, parallel-twin engine as the Vulcan cruiser, but with slight tweaking in the power and torque.
Whereas the Vulcan model engine has a maximum of 50 hp at 8,500 rpm, the Ninja 500R is slightly modified for 60 hp at 9,800 rpm! Equally, the torque specs show 34 ft-lbs of torque at 8,500 rpm.
The Kawasaki Ninja 500R has a curb weight of 438 lbs, but that doesn't detract from getting up to those high speeds at high rpm.
The Ninja 500R is capable of doing a cool 110 mph, which is certainly enough power and speed to blow your socks off without being too intimidating for beginner riders.
Related: 5 Most-Common Problems With Kawasaki Motorcycles
What Is the Average Top Speed of 500cc Motorcycles?
As we've shown through our list, the average top speed of 500cc motorcycles is 90-100 mph.
Some bikes like the Royal Enfield Bullet Trial 500 are going to be built for lower speeds and different handling, while sportbikes will blast past their cruiser counterparts by 10-12 mph.
What Are the Fastest 500cc Motorcycles?
The fastest 500cc motorcycles are the Honda CB500F, and the Suzuki GSX-500R, which is tied with the Honda CBR500. 
Honda CB500F has a top speed of 115 mph.

The Suzuki GSX-500R tops out at 112 mph on a flat straightaway.

Honda's CBR500 is comparable with a top speed of 112 mph.
Can Complete Beginners Ride a 500cc Motorcycle?
A complete beginner can absolutely ride a 500cc motorcycle as it may be a perfect size, to begin with, and never want to grow out of.
Relatively low weight accounts for easy handling in this intermediate class and 40-50 hp engines give a high enough speed to comfortably get around town and take longer trips at highway speeds. 
Often, complete beginners are persuaded to start on 200cc or 300cc bikes, but soon want to 'graduate' to a bigger bike. Because of this, a 500cc motorcycle is a perfect size for beginner riders who want to stay on a bike they become familiar with.
Sources
Kawasaki 500 Vulcan LTD | motorcyclespec.co.za
Was this article helpful?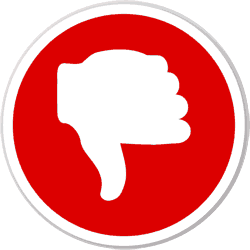 Did you find wrong information or was something missing?
We would love to hear your thoughts! (PS: We read ALL feedback)