With one of the highest resale values of full-size pickup trucks, the GMC Sierra is one of the most popular in America.
In addition, the availability of four-door models that will transport six adults in comfort makes the Sierra as comfortable as a sedan or SUV.
The GMC Sierra 1500 is one of the best full-size pickups on the market, it is safe and reliable, and you can purchase one as a two or four-door. However, even the best truck can have problems, and here are the eight top problems with this truck.
Before we start, make sure you've seen this article about how long the GMC Sierra lasts.
With a GMC Sierra, you can haul a load, as nothing else will, and lose only 37 percent of its value in the first five years.
1. The transfer case position sensor/selector switch on the 4WD transfer case may fail.
The transfer case, position sensor issue, and faulty selector switches are the biggest complaints with the GMC Sierra. If either of these parts fails, you will have a difficult time knowing if your truck is in 4wd mode or not.
The failure of the transfer case position sensor or selector switch sends fault code (s) from the transmission case control module. With this data, a technician can determine the problem with your transfer case.
This problem has shown up in model years from 1991 to 2013 and 2015, and 2016. Even cars with less than 5000 miles have developed issues with these parts.
However, the average mileage of a Sierra with a faulty transfer case, position sensor, or selector switch is about 148,000 miles.
This problem can be costly if not diagnosed before the switch or sensor fails. The diagnosis can cost over $100. However, the complete repair for a replacement can be close to $900.
Before you acquire this model, make sure to check our rundown of the best and worst GMC Sierra years.
2. Heating and air conditioner temperature fluctuations
Heating and air conditioning problems are the next most common problem with the Sierra. This issue also shows up in the Chevrolet Tahoe and GMC Yukon.
The problem is due to a broken actuator. An actuator is a switch that opens and closes the doors in the vents of your AC and heating system. If one fails, the air coming from the vents may be very hot or very cold.
The function of the actuator is to open and close the doors (flaps) in the air conditioning and heating ducts.
Their openings and closing blend hot and cold air, and by mixing the air, you get the temperature you want in the cabin.
The cost of diagnosing the problem of faulty actuators in your AC system with your GMC is between $50 and $70. This occurrence has happened in almost new cars and those with over 300,000 miles. The average mileage of a Sierra with this problem is about 126,000 miles.
3. Faulty fuel level sensor
The fuel level sensor is the third most common problem with the Sierra in some models and years. Not knowing how much fuel is in your vehicle is a nuisance and could be a safety issue in the right conditions.
The fuel level sensor is located in your gas tank, so it takes some work to get to it.
The average cost to repair the fuel level sensor is $322, most of which is the cost of labor.
Many mechanics will suggest replacing the fuel pump while you replace the sensor. It will cost a bit more in parts. However, since they have to go into the tank to change the sensor, they can change the pump, too.
It is more economical in the end to change the fuel level sensor and the fuel pump at the same time.
The fuel sensor problem happened to Sierras between 1999 and 2014.
The average occurrence is at 127,000 miles. However, it has happened to new cars and those over 250,000 miles.
4. Clunking sound from the steering of the GMC Sierra
Noises that come from the steering wheel of a car can be scary. The Sierra has had a few instances of a clunking sound from the steering wheel.
The culprit is the upper intermediate steering shaft. Although there was never a recall for this issue, several published bulletins outline the problem.
GM's fix was a lube kit for the steering shaft that quieted it down. However, some Sierra owners have replaced the steering column, as is suggested by the NHTSA (National Highway Traffic Safety Administration).
This problem has been found in models from:
1999 to 2009,
2012,
2013,
2014,
and 2017.
There has likely never been a recall because it has not affected many Sierras.
There have been steering issues that have prompted recalls, but this problem is not one of them.
5. The gauge cluster becomes erratic
Another issue affecting knowing how much fuel is in your truck is a faulty gauge cluster.
The gauge cluster on the Sierra can become erratic. As a result, the speedometer will give a false reading, as will the other gauges, including fuel. The fix for this problem is the replacement of the gauge cluster.
Due to continued problems, GMC has extended the warranty of the gauge cluster on some vehicles to seven years.
The gauges on your dash keep you aware of the car's temperature, oil pressure, speed, and RPMs and give you other data concerning its systems. A dash cluster that does not work properly may have you speeding when you think you are not, resulting in a ticket.
Although there has been no recall for the gauge cluster, GM has offered discounts for their replacement.
Check with your local GM dealer or mechanic if you have a problem with faulty gauges.
Diagnostics for this repair can be over $100, and replacement of the gauge cluster can be more than $800 for the cluster and installation.
6. Breaking door handles
Door handles that break inside and out on the Sierra are problems on some models. On some early models of the GMC, the door handles are chromed.
Due to sun exposure and weather, the chrome of the door handles would blister and split. This breakdown of the chrome coating would create a sharp edge, and many truck owners have cut their fingers on the handles.
Other models of the Sierra have had problems with the handles inside breaking and on the outside.
Broken door handles are a safety issue that you should worry about when they fail.
The problem with the Sierras door handles began in 1999. As a result, it affects trucks from 1999 to 2008 and 2010 to 2013 model years.
Like other problems with the Sierra, failure of the handles can occur at 40,000 miles or 250,000 miles. It is one of the least expensive fixes to any problem on this list.
7. Daytime running lights burn out prematurely.
Some models of the Sierra have had a problem with the daylight running lights burning out prematurely.
In addition, some units have shown signs of heat damage, and GM recommends using original replacement parts for your truck's various lamps.
The cost to repair a headlight bulb varies and can run from $85 to $103 per bulb. This issue affects models built between 1999 and 2009.
As one of the least expensive problems you can have with your GMC, it may be one you can fix yourself.
8. The vehicle won't start because of a failed fuel pump.
There are many reasons a vehicle will not start, and a failed fuel pump is one of them. Without fuel in the engine, you are not going anywhere.
The fuel pump of a Sierra is electric and is mounted inside the fuel tank. Due to the cost of labor and parts, replacing a fuel pump on a Sierra is between $898 and $1046.
Replacing the fuel pump is one of Sierra owners' most expensive problems with their trucks.
This problem has arisen with new trucks and those with over 230,000 miles. On average, the fuel pump of a Sierra will fail around 150,000 miles.
List Pros and Cons
Every vehicle has good features and bad. The GMC Sierra is no different, and overall, it is better than many vehicles on the market.
Pros
Best in class towing ability
More cargo bed volume
Available with the world's first-ever six-function tailgate
Above-average reliability
Several trim levels
Two or four doors
The Sierra Denali Ultimate is the most luxurious pickup truck in its class.
It's definitely also worth mentioning how much the Sierra models can tow. You can get configurations that tow up to 13,000 pounds!
Check here for a full list of towing capacity for each GMC Sierra model.
Cons
It rides like a truck and is less refined than its competitors.
The interior design needs sprucing up
The quality of interior cabin materials on some models is inferior to its competitors.
The center console of the Sierra is enormous and gets in the way.
Cabin space on two-door models is tight.
Quote Reviews
'The Sierra is essentially a Chevrolet Silverado. Power delivery is smooth and responsive. The fuel economy is 17 mpg overall for the 5.3-liter, V8 engine crew-cab four-wheel-drive version.'
Consumer Reports
'The GMC Sierra 1500 is a full-size pickup truck and one of the most popular vehicles in America. Like all modern trucks, the Sierra 1500 is just as good at hauling a family as a bed full of gravel.'
Edmunds
'Excellent selection of engines, lots of cutting-edge technology, Denali's name finally qualifies as luxurious.'
Car and Driver
Resale Prices
All cars depreciate; however, traditionally, trucks depreciate slower, and the GMC Sierra is no different.
| | | | | | |
| --- | --- | --- | --- | --- | --- |
| Age | Depreciation | Residual Value | Resale Value | Mileage | Resale Year |
| 1 | $6,977 | 84.68% | $38,566 | 12,000 | 2022 |
| 2 | $8,589 | 81.14% | $36,954 | 24,000 | 2023 |
| 3 | $12,547 | 72.45% | $32,996 | 36,000 | 2024 |
| 4 | $16,500 | 63.77% | $29,043 | 48,000 | 2025 |
| 5 | $18,176 | 60.09% | $27,367 | 60,000 | 2026 |
| 6 | $20,139 | 55.78% | $25,404 | 72,000 | 2027 |
| 7 | $23,227 | 49.00% | $22,316 | 84,000 | 2028 |
| 8 | $28,742 | 36.89% | $16,801 | 96,000 | 2029 |
| 9 | $29,940 | 34.26% | $15,603 | 108,000 | 2030 |
| 10 | $30,514 | 33.00% | $15,029 | 120,000 | 2031 |
Final Thoughts
None of the problems with the GMC Sierra are excessive.
The complaints about most of these issues are few, and your local GM dealer or certified mechanic can help you with them.
Go Back: Car problems for all GMC models.
Sources
Was this article helpful?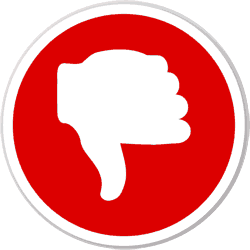 Did you find wrong information or was something missing?
We would love to hear your thoughts! (PS: We read ALL feedback)
ⓘ  The information in this article is based on data from National Highway Traffic Safety Administration (NHTSA) recall reports, consumer complaints submitted to the NHTSA, reliability ratings from J.D. Power, auto review and rating sites such as Edmunds, specialist forums, etc. We analyzed this data to provide insights into the best and worst years for these vehicle models.
---