GMC vehicles have a reputation for rugged dependability and earth-moving muscle, and the GMC Sierra is no different.
The Sierra stands out with its spacious cabin, numerous tech features, excellent towing and hauling abilities, and powerful powertrains, making it a top choice among pickup trucks.
It is available in many model years and generations to satisfy a broad range of buyers' needs.
Let's take an up-close look at the best and worst GMC Sierra years so you can choose the ideal one for your needs.
Best Years for GMC Sierra
GMC Sierra offers exceptional trucks blending power, quality, and driving experience.
Below are the four best Sierra models providing maximum value while avoiding headaches and huge repair bills.
2012
If you want a used truck, consider the 2012 GMC Sierra. It appeals to truck buyers with its:
smooth ride,
noise isolation,
high-quality cabin materials,
and good fuel efficiency.
Tall passengers do not have to avoid the back seats because they are comfortable and have plenty of leg and headroom.
The 2012 Sierra also offers exceptional performance thanks to powerful V8 engines cranking up to 403 horsepower.
2018
Buyers looking for a truck for work and play with love the 2018 GMC Sierra for some reasons.
First, it is available in several trims, so you settle for one that meets your truck needs optimally.
Second, while the GMC Sierra is a truck, it does not ride like one. Thanks to its rigid suspension, it boasts good ride quality, and you don't feel cramped on uneven roads.
Third, this truck has impressive horsepower and torque in the three engines and decent fuel economy.
2020
The 2020 GMC Sierra is a solid truck worth considering when shopping for a truck.
It features:
six powerful and efficient powertrain options,
a roomy cabin,
user-friendly tech features,
and composed handling.
You choose between six trims, three body styles, and three-bed lengths.
Whether driving in the city or the countryside, you get a composed and comfortable drive.
This model's towing and fuel efficiency are class-leading. Check how much each GMC Sierra model can tow.
2022
It is among the latest GMC Sierra models and blends capability, comfort, and functionality, making it an excellent all-around pickup.
The 2022 GMC Sierra has bold and handsome styling, diverse engine options, and an exclusive cargo-bed configuration.
The available turbodiesel offers decent fuel economy, thus a good option for buyers looking for a fuel-efficient workhorse.
The all-new Denali and off-road-oriented AT4 trims appeal to luxurious and adventurous truck buyers.
New for 2022 is a revamped infotainment system and more standard driver aids to make driving fun and increase confidence on the road.
GMC Sierra Years to Avoid
When shopping for a GMC Sierra, it is best to avoid some model years due to low-reliability ratings and numerous problems owners report.
2019
While the 2019 GMC Sierra is relatively new and has been in the market for a few years, it has received several complaints.
The common issues with this model year include:
outdated interior,
battery dying,
incorrect sensor reading,
ECM failure,
and hard shifting.
Some of the model's owners have reported a brake failure, a dangerous problem that compromises drivers' safety and other road users.
2017
The 2017 GMC Sierra is not the best truck in the GMC lineup because of transmission issues, minor engine problems, noisy brakes, and a low-quality interior.
Some owners have reported high oil consumption and tires' inadequate road grip.
Also, climate control is sluggish and does not cool the cabinet adequately on hot summer days.
2014
The 2014 Sierra is the most complained about model year.
One of its biggest problems is low headlight visibility. Drivers complain of the headlights being extremely dim, thus decreasing visibility at night.
Changing the bulbs and switching to high beams does not improve the problem.
Other problems with the 2014 GMC Sierra include excessive oil consumption, AC failure, faulty seat heaters, and an unreliable infotainment system.
Also, owners experience paint issues like peel-offs and rusting body and frame, which affect the truck's aesthetics.
2007
One of the most problematic years for the GMC Sierra, the 2007 model, has received multiple complaints and recalls making it unreliable.
The most prominent problem is engine failure, compromising the truck's performance and safety.
Other issues include battery problems, fuel level sensor failure, and faulty door handles.
Avoiding this car will save you nuisances and extensive repairs and replacement.
1st Generation (1999-2006)
The first Generation Sierra utilized the GM GMT800 platform and was sold in three cab lengths:
regular,
extended,
and crew cab and three cargo beds (a 69.2-inch short box, 78.7-inch standard box, and 97.6-inch long box.)
However, only extended and regular cabs were available in the first model year.
In 2001, GMC introduced the Sierra C3, a luxurious version of the Sierra 1500 that later became the Sierra Denali.
2nd Generation (2007-2013)
In its Second Generation, GMC redesigned Sierra's exterior, interior, suspension, and frame to increase its appeal in the market. Also, it built the Sierra on the GMT900 platform to enhance aerodynamics.
Buyers choose between three body configurations –regular, extended, and crew cab and two-wheel and four-wheel drive variants.
The most remarkable change in this Generation included replacing the previous generation engines with a peppier range of V8 engines.
In 2010, the Sierra was refreshed to include new door handles and a six-speed transmission for models with the 5.3liter V8 engine.
3RD Generation (2015-2018)
Third-generation Sierras feature potent V6 and V8 engines cranking up to 420 horsepower. Sierras with the 6.2liter V8 engine get a maximum towing capacity of 12,000 pounds, while those with the 5.3-liter V8 have the best gas mileage.
These model years are available in various bed and cab configurations, trim levels, and rear-wheel or four-wheel drive.
Also, they feature:
an intuitive infotainment system endowed with USB ports,
Bluetooth,
Bose audio system,
and streaming audio capability.
Third-generation Sierras use aluminum in their construction to reduce weight and improve fuel consumption.
The most notable change in the third-generation Sierras was 2016's refresh.
The GMC Sierra received an exterior upgrade with a new grille, front fascia, and headlights. In addition, HD radio and mobile connectivity were added to its infotainment system.
4th Generation (2019-Present)
Introduced in early 2018, the fourth Generation GMC Sierra has many new features, such as a carbon fiber pickup bed, a two-piece tailgate, and an 8-inch touchscreen.
The engine lineup welcomes a new powertrain, a 300hp four-cylinder engine paired with an 8-speed automatic transmission.
For 2022, the Sierra will receive a significant facelift and interior update.
Higher trims get an upgraded 13.4-inch touchscreen with Android Auto and Apple CarPlay and a 12.3-inch digital gauge display.
Also, new trim levels join the lineup, including:
the AT4,
the Denali Ultimate,
and the off-roader AT4X.
Which GMC Sierra Generation Should You Buy?
With a cavernous cabin, powerful engine lineup, smooth ride, and user-friendly technologies, the 2022 GMC Sierra is a good truck to purchase.
Also, models from 2019 offer good value by combining comfort, performance, and tech features.
They have fewer consumer complaints and high ratings for safety, fuel efficiency, and space.
What Year Is The Most Reliable GMC Sierra?
Although the GMC Sierra offers many outstanding trucks, the most reliable one is the 2012 model. The 2012 GMC Sierra earns this trophy for several reasons.
First, it has received positive appraisals from both consumer reports and vehicle review sites. J.D. Power gave the 2012 Sierra a 5 out of 5 in reliability rating.
Similarly, this truck got an overall score of 8.9 out of 10 from the U.S News Second, an exceptionally high rating compared to other vehicles.
Second, the 2012 GMC Sierra boasts praise-worthy features such as a posh and roomy interior, intuitive technologies, and good fuel economy.
A decade after its debut, the 2012 GMC Sierra still feels contemporary due to its well-designed, high-end cabin and creature comforts at higher trim levels.
With an MPG of 22 on the highway and 15 in the city, this truck is ideal for eco-conscious buyers.
Also, it has excellent crash test ratings, making it a safe choice in its class.
What Are The Most Common Problems with GMC Sierras?
Although GMC Sierra is a good choice among trucks, owners have reported several problems.
The prevalent ones include:
Faulty air conditioner
Malfunctioning fuel level sensor
Strange sounds in the steering
Electric system problems
Failed fuel pump
We have a full list of the problems with GMC Sierras here.
How Many Miles Will a Sierra Last?
With proper maintenance, a GMC Sierra will last 200,000 to 300,000 miles. Since most Americans drive approximately 14,000 miles annually, you can expect your Sierra to serve you for 14 to 20 years.
Essential maintenance tasks for the Sierra include changing the oil and oil filter, brake and clutch fluid, and rotating tires.
What Are The Closest Competitors to the GMC Sierra?
Since the truck market is very competitive, several trucks contend with the GMC Sierra and may be suitable alternatives. The competitors have better or worse features, depending on what you want in a truck. The prominent competitors include:
Chevy Silverado:
It is considered the GMC Sierra's twin as they come with similar engines, transmissions, tech features, interior styling, and body and bed configurations.
However, buyers looking for maximum towing capacity choose Silverado.
Ford F-150:
While this truck offers great towing capacity and engine performance, impressive tech features, and an upscale interior, the Sierra provides a superb driving experience without compromising horsepower, so you can work hard and play harder. F-150 beats Sierra in off-road performance (F-150 Raptor), payload capacity, and more standard safety features.
Ram 1500:
It leads its class in performance, high quality, a posh cabin, and smooth ride.
Unlike the Sierra, which features cheaper interior materials, especially in lower trims, the Ram 1500 is the king of luxury trucks with a high-end interior and excellent creature comforts.
How Long Do The Transmissions Normally Last On These Models?
You can expect your transmission to serve you for 130,000 to 180,000 miles. Proper maintenance and addressing factory design flaws can increase the Sierra's transmission lifespan and avoid costly premature replacement.
That said, Many factors affect the lifespan of a GMC Sierra transmission, such as maintenance, factory design flaws, and aggressive driving.
Go Back: Best & Worst data on all Chevrolet models.
Was this article helpful?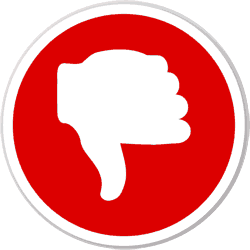 Did you find wrong information or was something missing?
We would love to hear your thoughts! (PS: We read ALL feedback)
ⓘ  The information in this article is based on data from National Highway Traffic Safety Administration (NHTSA) recall reports, consumer complaints submitted to the NHTSA, reliability ratings from J.D. Power, auto review and rating sites such as Edmunds, specialist forums, etc. We analyzed this data to provide insights into the best and worst years for these vehicle models.
---