The compact SUV category is one of the hottest in the market today. This is because it combines the best features of an SUV with those of a car, such as fuel efficiency and agility.
This is the right SUV category if you're looking for a vehicle that can easily handle city driving and off-road terrain.
There are many types of compact SUVs on the market, and they can be divided into compact and sub-compact segments. 
Here are examples of different compact SUV types and models to help you understand the difference. 
Sub-compact SUVs
Subcompact SUVs are smaller than compact SUVs and are designed to provide good fuel economy and a small footprint on the road. 
While subcompacts offer less cargo space than compacts, they're better suited for urban environments where parking is limited.
Subcompact SUVs are smaller and less expensive than their larger counterparts but still offer an ideal blend of space, style, and performance.
Although they don't offer as much storage or passenger capacity as their bigger cousins, if you're looking for a vehicle with all the features of an SUV but easier to drive on city streets and around town, then this category will suit you well.
1. 2023 Kia Seltos
Due to its size, the 2023 Seltos is at the larger end of the subcompact SUV category, providing an advantage in interior volume over smaller competitors of the same segment, like the Hyundai Venue and Nissan Kicks.
When powered by the alternative 1.6-liter turbocharged four-cylinder engine, it is also faster than most crossovers in its category and delivers a more thrilling driving experience.
The entry-level Seltos engine is a 2.0-liter four-cylinder, which is less powerful, and all-wheel drive comes included with most models.
Various features are available based on the trim level, but the Seltos includes well-liked driver-assistance technology on the base trim level too.
The Kia Seltos is sleek, spacious, and equipped with many of the newest safety and technological features. 
Provided you choose the supplementary turbocharged engine, it is also relatively quick.
If you're seeking a reasonably priced, functional, and stylish SUV, think about the 2023 Kia Seltos.
Given its roomy, luxurious interior, extensive list of technological advancements and safety features, and default all-wheel drive, the Seltos is a relative steal for $23,000.
However, the Seltos isn't the only exceptional SUV in this sub-compact small segment.
2. 2023 Hyundai Kona
The Kona is a good option for a decently priced, feature-loaded subcompact SUV. 
According to the engine you select, the Kona can have the characteristics of a potent lifted hatchback or a fuel-efficient, small space-friendly SUV.
Even if you're on a limited budget, you might find it easy to rationalize investing in a higher-trimmed Kona model, given that competitors like the Kia Seltos cost much more, to begin with.
That said, there are better options than the Kona if cargo capacity or off-road prowess is what you're looking for.
The Kona has a fraction of the cargo capacity of most subcompact SUVs. There are 45.8 cubic feet of space when the back seats are folded.
Like most sub-compact SUVs, the 2023 Kona features two rows of seats and has a passenger capacity of five people. However, the second row is a squeeze for adults.
When it comes to driving pleasure, this vehicle is a package of lively entertainment – regardless of whether you feel it's a car or a sub-compact SUV.
Overall, the Kona and Seltos embody all that sub-compacts are. 
They are better suited to tackling urban roads and tight spaces thanks to their smaller dimensions, even if the Seltos leans into the compact SUV segment. 
Please also read our article about the best and worst years for the Hyundai Kona.
Compact SUVs
Compact SUVs are popular for families, as they offer cargo space and seating for up to five people. Smaller than mid-size SUVs, compacts are also easier to maneuver in tight spaces.
Additionally, most compact SUVs let you choose between front-wheel drive and all-wheel drive – making them the more off-road-friendly option.
Let's take a closer look at what compact SUVs have to offer. 
1. 2023 F
ord Bronco Sport
The Bronco Sport is a stunning, square-off vehicle that is both entertaining and practical on the inside and out.
With meticulous attention to detail and vintage appearance, the Bronco Sport more accurately reflects an SUV despite its having crossover roots.
The LED eyelet headlights highlight the renowned Bronco branding that spans the blocky nose and grille. 
Whereas most crossovers that have cladding do so primarily for aesthetic reasons, the cladding protects the edges and flanks. At the same time, the peaks and bulges of the bonnet provide a glimpse of prospective hazards.
To assist you in getting outside and enjoying the outdoors, there is standard all-wheel drive, above-average ground clearance, and optimal performance options. 
The Bronco Sport is more practical due to its spacious interior and large, squeaky-clean load compartment.
While it competes well with other all-terrain rivals such as the Subaru Outback and Jeep Cherokee, it can't achieve the fluidity or elegance of other tarmac-oriented competitors like the Mazda CX-5 or Honda CR-V.
Overall, the Ford Bronco Sport fulfills its claim of off-road prowess.
This compact crossover can traverse some of the most challenging terrains and look stylish. 
Additional positives include the cargo space this compact SUV offers and its technology.
Despite being a rugged off-road small SUV, the Bronco Sport continues to struggle to fulfill customer expectations in various areas that competitors have already perfected, such as ride quality, rear passenger capacity, and precise handling.
2. 2022 Toyota Corolla Cross
Due to the continued appeal of car-based SUVs, the 2022 Toyota Corolla Cross combines the practicality of its larger RAV4 sibling with the dependability of its smaller car namesake.
The Corolla Cross bridges the divide in Toyota's lineup between the CH-R subcompact and the bulkier RAV4. 
As the name suggests, the Corolla Cross is comparable to the Corolla sedan and hatchback. The inside is a direct copy of the sedans, so users accustomed to the Corolla sedan should feel at home.
It enters a growing collection of compact SUVs competing for that ideal balance in practicality and perfect dimensions, such as the Mazda CX-30, Chevrolet Trailblazer, and Volkswagen Taos.
The Corolla also offers a good selection of driver assistance features. 
Toyota's Safety Sense 2.0 includes adaptive cruise control and lane-keeping assistance, which is standard on the most basic trim.
Depending on the selection of a sunroof and all-wheel drive, the Corolla Cross offers at least 24.6 cubic feet of storage capacity behind the second row and at least 65.0 cubic feet when the rear seats are folded down.
Ultimately, the Corolla Cross is a dependable vehicle suited to the daily driver.
It is comfortable and convenient, mainly if you often commute through the city. Toyota also includes many excellent standard features for a great price.
For drivers who appreciate the idea of the Corolla's value and dependability yet need the practicality of a compact SUV, the Corolla Cross presents an appealing option.
3. 2023 Chevrolet Trailblazer
Chevy's Trailblazer is a compact, more economical alternative to the Blazer, which offers a roomy cabin in a smaller, convenient-to-park package.
All-wheel drive variants feature a sharper nine-speed automatic transmission, while the front-wheel drive version comes with a continuously variable automatic transmission (CVT).
The Trailblazer feels lively on town roads at moderate speeds, but it takes preparation to merge onto a freeway or make a fast pass. 
It isn't equipped with an incredibly athletic frame, but it tackles turns quite well. However, its ride is frequently rough over bumps on the road.
Although the cabin's appearance isn't as striking as the exterior's, it is nonetheless roomy, practical, and, in the higher trims, fully stocked with excellent features.
The driving position is also elevated and leans into being mid-size SUV-like, and the rear seat has enough room for two adults to be totally content.
The Trailblazer's bigger size benefits cargo capacity. Even compared to vehicles like Toyota's Corolla Cross and Ford's Bronco Sport, it has one of the largest cargo spaces in its segment. 
Although the Trailblazer is still a compact SUV, it should be adequate for most cargo-hauling requirements.
Overall, the Trailblazer separates from the competition due to a combination of its competent performance and pleasant temperament, as well as its modern but also gritty design.
Although other small SUVs are quicker and have sportier performance, the Trailblazer never seems to lack any capability.
The Trailblazer's ability to perform various tasks makes it efficient and straightforward in most everyday circumstances.
Sources
Best Subcompact SUVs for 2022 and 2023
Best Compact SUVs for 2022 and 2023
The Best Compact SUVs and Crossovers to Buy in 2022
Was this article helpful?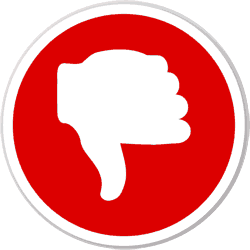 Did you find wrong information or was something missing?
We would love to hear your thoughts! (PS: We read ALL feedback)