City Express vans are a popular choice for small businesses and families alike. They're versatile, affordable, and offer plenty of space for hauling gear or running errands.
However, as with any vehicle, there are certain common problems that can crop up with extended use.
Be sure to also check our article on how long you should expect the Chevy City Express to last.
In this article, we'll explore some of the most common problems Chevy City Express buyers should be aware of.
1) Poor Acceleration
One complaint among Chevy City Express owners is poor acceleration.
The van's engine can feel underpowered compared to others, and some owners report feeling like they have to floor the gas pedal just to get the van moving at a decent clip.
This can be frustrating when trying to merge onto a busy highway or make a quick pass on a two-lane road.
Make sure to check our list of the good and bad years for Chevy Express.
How to Mitigate Acceleration Issues
There are a few ways to mitigate this issue, however.
1) First, avoid hauling heavy loads whenever possible; the extra weight will only exacerbate the problem.
2) Second, plan your routes ahead of time and give yourself plenty of time to get where you're going; there's no need to race the engine and put unnecessary strain on it.
3) Finally, if you do find yourself having to floor the gas pedal frequently, have the van's engine checked for any potential issues.
2) Sub-Par Braking Speed
Vans are meant for hauling weight around, and the Chevy City Express is no exception.
Where this van can take a while to get up to speed due to its mass, similarly, it can take a while to brake.
This is due to the van's weight as well as its aerodynamics; vans are not exactly designed for quick starts or stops. As a result, it's important to give yourself plenty of time and space to brake when driving a Chevy City Express.
How to Mitigate Sub-Par Braking Speed
One way to help mitigate this issue is by leaving yourself plenty of room to stop.
Slow down gradually by taking your foot off the gas pedal rather than hitting the brakes, and start slowing down before you would ordinarily need to.
This will put less strain on the brakes and make it easier for them to do their job despite the weight of your van.
Additionally, make sure that you keep an eye on the brake pads and replace them as needed. Worn-out brake pads will only exacerbate the problem and could even lead to dangerous situations.
Signs of Worn-out Brake Pads
There are a few signs that you can look for to know when it's time to replace your brake pads. First, take a listen.
If you hear squealing or grinding when you press the brakes, that's a good indication that they need to be replaced.
You can also visually inspect the pads. If they're less than 1/4 inch thick, it's time for new ones. Additionally, if the pads are cracked or damaged in any way, they need to be replaced.
Finally, pay attention to how your brakes feel when you use them.
If they feel spongy or soft, that could be a sign of worn-out brake pads.
3) Faulty Engine Control
Models of the Chevy City Express put out between 2015 and 2017 were recalled by General Motors due to a defect associated with the engine control module.
In affected vehicles, the engine control module struggles to identify and diagnose issues with reduced efficiency in the catalytic convert, resulting in the van producing more emissions than the allowable standard without producing a warning.
The Importance of Proper Emission Detection
Emission safety standards are an important part of modern car design.
These standards help to ensure that our cars are not emitting dangerous levels of harmful emissions, such as carbon monoxide and other toxic chemicals.
Today's cars are highly regulated by a variety of different government agencies, including the EPA and various state-level agencies.
These regulations protect the environment, so it's important for cars to adhere to these standards, and for owners to be aware when their cars exceed those standards.
4) Tilt-Only Steering Wheel
When spending long hours in a work van, comfort is paramount.
Because of that, the tilt-only steering wheel in the Chevy City Express has been remarked upon by some drivers to be uncomfortable for long-term use.
The non-telescoping design of the steering wheel means that owners have to rely on adjusting the seat's positioning in order to find a good angle for their hands while driving.
5) Lacks Cargo Space
As a smaller, city-driving-focused van, the City Express is more compact and better able to fit in cramped urban settings.
However, as a tradeoff, it struggles to match the huge cargo capacity that full-size work vehicles have.
When equipment is loaded into the cargo area, it can seem slightly claustrophobic, as its 122.7 cubic feet of luggage capacity is less than what some of its competitors in this space offer.
6) Stiff Seats
The Chevy City Express features a highly adjustable seat that makes it easy to find a comfortable position for drivers.
However, some reviewers have noted that the seats in this van can be stiff and somewhat unyielding.
This lack of flexibility can lead to back pain on long trips, as there's little give in the seat to allow for shifting around.
Despite this, back-support inserts can be included in the van to create a much more comfortable ride and offset the issue.
General Pros and Cons for the Chevy City Express
Pros
Good gas mileage:
Vans aren't known for their fuel efficiency, but the Chevy City Express bucks that trend with a MPG of up to 26 miles per gallon. This van also doesn't require premium gas, making it more affordable to refill.
Reliable, low-maintenance vehicle:
In terms of performance, few have anything negative to say about the City Express. A dependable vehicle unlikely to inflict problems on its owners, it serves as reliable transport for companies or working individuals that need a van they know won't give out on them or blindside them with high maintenance costs.
Good maneuverability:
"Maneuverability" and "work van" aren't phrases that people often find in the same sentence, but the Chevy City Express tends to wow drivers with how easily it can turn and maneuver on the road. The nimble handling and small size of this vehicle will give drivers a greater feeling of control, and in congested areas, you'll be able to easily guide the van.
Affordable compared to other city vans:
Even a fully loaded City Express is less expensive than a European cargo van. Keyless entry, a two-speaker sound system, and air conditioning are all standard equipment. If you're looking for a good city van but don't want to spend an arm and a leg, the Chevy City Express is a great option.
Easy-load design:
Dual sliding doors, a low floor, and a maximum cargo capacity of 112.7 cubic feet all make the City Express easy to load and unload to transport tools and materials. While smaller than a full-sized van, this van is the percet size for countless companies.
Easy-to-maintain interior:
The designers of the Chevy City Express understood what it meant to make this van easy-to-use for the businesses and individuals who would be putting it to work. The vinyl upholstery is designed to easily remove stains from, while still being durable enough to withstand heavy wear and tear. There are also several storage areas throughout the cabin which can be used to keep tools neat and tidy inside.
Intuitive technology package:
Even being a few years old, the technology package still stands up to new car models. Aside from a high-quality infotainment system, the Chevy City Express also sports a satellite radio and a good navigation system. Its rear-view camera also helps make driving easier and safer when driving such a big and bulky vehicle.
Cons
Poor Acceleration
Sub-Par Braking Speed
Faulty Engine Control
Tilt-Only Steering Wheel
Lacks Cargo Space
Stiff Seats
What Do the Reviews Say?
The Chevy City Express has gotten some pretty positive reviews over the years from users who praise its reliability and maneuverability.
"Compact and affordable, the model continues to be a great option for small business owners in search of a small work van. It's excellent for hauling cargo around the city, thanks to its top-notch maneuverability, and comes with a fuel-efficient four-cylinder engine that offers just the right amount of power."
Source: ReliableChevy.com
With plenty of storage space and good maneuverability, the 2017 City Express is a good small cargo van for a small business owner looking for a van that can fit within their budget.
"The City Express is a cargo carrier. Like the Nissan, the Chevy has a 1500-pound payload capacity, a four-cylinder engine, a continuously variable automatic transmission, and 123 cubic feet of cargo space."
Source: CarAndDriver.com
This van is exactly what it says on the tin. It's a compact cargo van made for city travel, with a fuel-efficient engine and an affordable price tag.
What's the Resale Value On the Chevy City Express?
| | | | |
| --- | --- | --- | --- |
| MODEL | YEAR | MILEAGE (km/h) | PRICE ($) |
| Chevrolet City Express LS 1LS | 2015 | 121,257 | $15,390 |
| Chevrolet City Express LS | 2017 | 63,781 | $18,995 |
| Chevrolet City Express LT | 2016 | 115,207 | $15,995 |
| Chevrolet City Express LT | 2015 | 93,080 | $18,888 |
| Chevrolet City Express LS | 2015 | 36,396 | $23,990 |
Final Thoughts
The Chevy City Express is a great option for businesses or individuals who need a small cargo van for city travel.
It's fuel-efficient and has a low starting price, making it an affordable option. Its resale value isn't as high as some other vans on the market, but it still offers good value for the money.
If you're looking for a compact cargo van that is simple, affordable, and easy to drive, the Chevy City Express may be the right choice for you.
Go back to see problems for all Chevrolet models.
Source: https://www.reliablechevy.com/chevrolet-reviews/2017-city-express.htm
Source: https://www.caranddriver.com/chevrolet/city-express
Was this article helpful?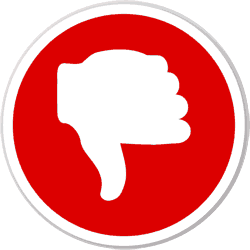 Did you find wrong information or was something missing?
We would love to hear your thoughts! (PS: We read ALL feedback)
ⓘ  The information in this article is based on data from National Highway Traffic Safety Administration (NHTSA) recall reports, consumer complaints submitted to the NHTSA, reliability ratings from J.D. Power, auto review and rating sites such as Edmunds, specialist forums, etc. We analyzed this data to provide insights into the best and worst years for these vehicle models.
---