Talk about earth's favorite car. The Corolla has been a first choice for millions of people over the decades. Its reliability and affordability make it highly sought after.
It is the bestselling car of all time. Look around, you'll likely spot a few Corollas. However, as reliable as it is, not all models are equal.
We talk about the best and worst Corolla model years below.
The Toyota Corolla has lots of cargo space which also has helped make it a very popular first car among families.
What Toyota Corolla Years Are the Most Reliable?
These are the best Corollas that have stood and will most likely continue to stand the test of time. They are your best bet.
2019 Toyota Corolla
The 2019 model has an "outstanding predicted reliability rating" according to U.S. News. The predicted reliability rating stands at 4.5 out of 5, which is based on J.D. Power's vehicle dependability study.
From the ratings, a statement that best describes the 2019 model is "better than most and considered among the best".
It has an 88 out of 100 score for quality and reliability on J.D. Power. Whereas on Cars.com, its overall consumer review rating is 4.8 out of 5. The sedan has its highest rating in its reliability, which is a massive 4.9 out of 5.
Other features that spice up the 2019 model year include emergency braking, lane departure warning, steering assist and forward collision warning. These features allow the '19 Corolla to maintain a competitive edge against rivals, all the while keeping its unique reliability.
Its seats are quite comfortable, and it sports a roomy interior. Of course, this does more to distinguish it from other models that excel in reliability alone and provide limited comfort.
These features together make the 2019 Corolla excellent in many aspects and not just in dependability.
2010 Toyota Corolla
On Edmunds.com, the user reviews on the 2010 Toyota Corolla praise its fuel efficiency, value and reliability. Thus, the '10 model earned a 4.2 rating from consumer reviews.
Of course, the major reason we all want a reliable car is to avoid incessant visits to the auto repair shop. However, another factor is cost minimization. No one wants to keep paying random bills that occur and reoccur without warning.
The car's fuel efficiency is so impressive that it cut fuel costs by over 30 percent relative to other vehicles. Some drivers admitted topping off their gas tanks two times as often on different vehicles than on their '10 Corolla.
Back to its reliability, Cars.com gives it a 4.8 out of 5 reliability rating. On J.D. Power, it bags an 82/100 score in quality and reliability.
In J.D. Power's ranking of "Best Compact Car of 2010", it shares the 2nd position with the Honda Civic. Second only to the 2010 Toyota Prius.
1997 Toyota Corolla
One thing that makes the Corolla easy to maintain is the availability of replacement parts. Since the Corolla is everywhere on the streets, the same goes for its replacement parts.
So we're going to miss the 1997 Corolla. As time passes, fewer people go for this model. Besides, the mileage on '97 models these days would have surpassed 250,000 miles on average.
Still, it is often considered one of the most reliable cars Toyota ever manufactured. It made it to Consumer Reports' list of "Most Reliable Used Vehicles". While it may not be the car we all want, the 97 Corolla may be the car we all need.
Edmunds.com consumer reviews put its rating at 4.6 out of 5. Many drivers made remarks about its longevity and of course reliability. Most owners of the '97 model reportedly have over 200,000 miles on their cars.
We won't recommend that you go looking for a '97 model to buy. However, if you've owned one for some time, stick to the maintenance schedule and enjoy it while you still can.
Related: How Long Do Toyota Corolla Last? (Solved & Explained!)
What Toyota Corolla Years Should You Avoid?
Several people argue all Corollas are reliable despite the model year, and they may not be wrong. Still, some model years would not be as good as the others.
We'll begin with the 2014 model.
2014 Toyota Corolla
This model year has been associated with multiple problems affecting several of its components.
Many of the complaints are related to its interior accessories, which include an unstable dashboard. As a result, rattling and clicking noises may originate from the dashboard. These problems typically occur at around 20,000 miles or even less.
Sometimes, the noise increases when driving the car through a coarse terrain.
The radio is also notorious for malfunctioning, and has earned a 7.8 severity rating on CarComplaints.com. These problems start on average at about 53,000 miles. It also has a "pretty bad" remark, which certainly gets user on their toes when dealing with it.
Sometimes, the problem affects the Bluetooth and GPS, too. There is still some contention on whether it is a hardware or software issue, or even both. The most common solution is to replace the radio, and this usually costs about $1,350.
This model also suffers from a rough idling engine, which typically can start before 17,000 miles. Such a low mileage of occurrence causes a fairly significant alarm. This can occasionally lead to loss of engine power at over 20,000 miles.
Losing engine power could occur during deceleration or turning.
2009 Toyota Corolla
The 2009 Corolla has the highest number of complaints. This alone puts it on our radar of model years to avoid. As expected, the problems majorly involve its engines and most of the issues relate to excessive oil consumption.
This problem got an 8.6 severity rating and may occur on average at a little over 100,000 miles. The repair costs may be as high as $4,500 or even more.
It is easy to see how this problem affects the reliability of the '09 Corolla. This is because excessive oil consumption no doubt leads to excessive oil changes and frequent trips to the mechanic.
Loud noise could also emanate from the engine from around 70,000 miles. While a thousand dollars may fix the problem, users rate it to be a fairly significant one. It mostly occurs when you start the car after it's been turned off for hours.
The water pump in the cooling system could fail and need replacement. This problem got a 7.2 severity rating and occurs at about 62,850 miles. The paint on the car may be defective and wear out before the car even attains 100,000 miles.
The tranny may also need to be replaced after rough shifting, which could lead to failure. This usually takes over $2,000 from your wallet.
Electrical problems also disturbed the '09 model and its interior accessories.
2002 Toyota Corolla
The 2002 model finds itself on our list too. It is mostly plagued by engine and tranny problems. There are also reports of clutch and AC/heater problems.
The cooling system, interior and exterior accessories are not left out. The body and the brakes may also become problematic, eventually.
Besides these problems, the structure can become weak and more susceptible to deformation. According to data from the NHTSA, the roof, windows and door handles may fail or break.
One major reason we dread the 2002 model is that owners have reported the engines to fail completely. There're few things as unreliable as an engine that unexpectedly gives up on you. This could even occur while on the highway.
On average, the problem came up at just 82,600 miles and cost about $3,670 to repair.
Another dangerous problem is the loss of speed control. This has a 10.0 severity rating and, as you'd expect, has led to crashes. More alarming still is that it occurs on average at just over 50,000 miles.
Related: Toyota Corolla In Snow & Winter Driving? (Explained)
What Are Some Typical Problems with Toyota Corolla Cars?
The Toyota Corolla is notorious for developing these faults:
Excessive oil usage
EVAP system problems
Automatic transmission shifting incorrectly
Daytime running light problems
Failed ignition coil
Related: 3 Most-Common Problems With Toyota Corolla (Explained)
Final Thoughts
There is a clear distinction between reliability and technology or features. Do not misunderstand these concepts.
Hence, know that we focused all the above reports on the reliability or dependability of specific model years.
They're not focused on whatever outstanding features it may or may not have. Instead, we're more interested in how frequently it would malfunction.
Also, the many problems related to the models to avoid are not peculiar to them alone. They may also be found on recommended models, but will usually have less severity and volume.
There may also be significantly reliable models that we didn't include in our list. The same goes for notorious models. Hence, do not write off any model because it isn't included here.
We encourage you to do your own research and select the best model for you.
Go back: Best/Worst years for all Toyota models.
Was this article helpful?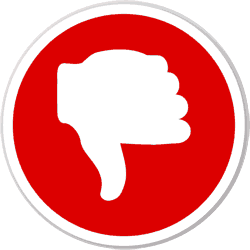 Did you find wrong information or was something missing?
We would love to hear your thoughts! (PS: We read ALL feedback)
ⓘ  The information in this article is based on data from National Highway Traffic Safety Administration (NHTSA) recall reports, consumer complaints submitted to the NHTSA, reliability ratings from J.D. Power, auto review and rating sites such as Edmunds, specialist forums, etc. We analyzed this data to provide insights into the best and worst years for these vehicle models.
---