Derived from the Tundra pickup truck, the Toyota Sequoia is a full-size SUV designed by Toyota and introduced in 2000.
Starting from the 2001 model year, this vehicle now has three generations in its lineup, and the 2023 model is already available.
Whereas some have been praised for their impressive performance, quite a few others have been labeled as the worst Toyota Tundra years.
You'll learn about all of these in this article.
The Best and Worst Years for the Toyota Sequoia Are:
The 2009, 2019, 2011, 2015, and the 2017 Toyota Sequoia model years are the best models you can rely on.  On the contrary, the 2002, 2001, 2003, 2004, 2005, and the 2006 model years have received criticism for different issues and faults.
What Toyota Sequoia Years Are the Most Reliable?
Here are the Toyota Sequoia model years that are the most reliable. Meanwhile, find out how long Toyota Sequoias last.
1. 2009 Toyota Sequoia
Toyota introduced the second generation of the Sequoia in 2007 when the brand unveiled the 2008 model. The second generation went ahead to span from 2008 to the 2022 models.
It is important to note that while the 2008 model still has a number of complaints about the engine, the 2009 model seems to have ushered in the beginning of good years for the Toyota Sequoia.
Unlike all the preceding Sequoia model years, the 2009 version has just 7 complaints on Car Complaints as of the time of writing this review.
Only one complaint has been received so far on the vehicle losing power due to the underlying issues with the SUV's electrical unit. As noted by the complainant,
For the past 3 years, my VSC, ABS, brakes and check engine lights came on twice…. This is very scary as the vehicle loses power all of the sudden.

Source: Car Complaints
Note that electrical issues have remained Sequoia's most prominent issue, and it hasn't called for any major concern in the 2009 edition.
Also, most Toyota Sequoia models boast impressive ratings from critics and the 2009 model didn't disappoint. While Edmunds scores the SUV 4.8/5, Kelley Blue Book (KBB) also gives it 4.7/5 out of 180 reviews.
Moreover, the 2009 Toyota Sequoia introduces a sport package as an available option on the SR5. Toyota tags this package as SX, and it features 20-inch wheels, foglights, a rear spoiler, a color-keyed grille, and a power driver seat.
2. 2011 Toyota Sequoia
The 2011 Toyota Sequoia is another model you can rely on. While it also has minimal user complaints on Car Complaints, it has also beaten many of its competitors on overall performance.
Precisely, US News ranks this model #3 out of 8 among affordable large SUVs, with an 8.3/10 overall rating. That aside, it also emerged as the winner of the US News' award for the best affordable large SUV for families in 2011.
Other critics have also praised this SUV for its versatility and user-friendly features. The vehicle also boasts up to 7,400 towing capacity, and a much improved 310 horsepower.
3. 2015 Toyota Sequoia
The 2015 Toyota Sequoia is also another impressive model with little to no serious user complaints. While it has a good reliability rating, its driving dynamics are also cool, unlike some of its predecessors.
However, its poor fuel economy and average cabin materials make US News ranks it #3 out of six in 2015 affordable large SUVs, with an 8/10 overall rating. Many other Sequoia models didn't fare any better.
This model also introduced the inclusion of a sunroof and rearview camera as a standard feature in the Toyota Sequoia.
For other Sequoia models, you can also rely on the 2019 and 2017 models. You can also find out where Toyota Sequoias are made.
What Toyota Sequoia Years Should You Avoid?
You'd better avoid these Toyota Sequoia model years:
1. 2002 Toyota Sequoia
The 2002 Toyota Sequoia is the model with the most issues out of all Sequoia model years. As of the time of writing this article, this vehicle has a total of 1,186 complaints on Car Complaints to justify how problematic it can be.
Amongst the numerous issues with the model, the brake, the engine, the steering, and the electrical system have the most complaints. This justifies how unfortunate this model is for the vehicle brand.
The brake, engine, and steering are highly essential components of every vehicle. When they are not in the right state, the vehicle becomes vulnerable to safety and unexpected behavior.
Quite a number of users have complained about experiencing a grinding or clunking noise when using the brake. That's even fair when compared with how the antilock brake activates itself unexpectedly while driving.
Also, on numerous occasions, different owners have complained about the vehicle losing its stability and steering power while the VSC and the traction control warning lights turn on.
This shows that there's an issue with the vehicle's stability control sensor.
Aside from these issues, the 2002 Toyota Sequoia is rated well by critics for its overall performance. While KBB and SureCritic rate it 4.8/5, Edmunds also scores it 4.6/5.
2. 2001 Toyota Sequoia
As of the time of writing this review, the 2001 Toyota Sequoia has also received a total of 894 complaints on Car Complaints. Just like its successor, the brake, the engine, and the steering are the major areas of concern for most of its users.
This car is also known for its faulty stability control system, steering failure, suspension defects, and grinding noise.
As noted by a concerned owner:
The vehicle stability control turns itself on at random times while driving. Has no correlation to driving conditions, type of roadway, or speed vehicle is moving.

There is a beep and then a pull on the steering while a grinding noise and sensation occurs.

Source: Car Complaints
Moreover, the vehicle often experiences sudden deceleration and steering failure whenever its stability control system fails and when a car suddenly loses acceleration and steering power, especially on the highway, it could endanger the driver.
Another common issue with this car is how the frame rusts up quickly. Although this is a problem common with many Sequoia models, it has remained prevalent with the 2001 model.
It is important to also note that there's been a series of complaints about the driver-side lower ball joint failure. This often affects the wheel and the tires of the car.
Mind you, aside from the issues derived from user complaints, this car has also received rave reviews from critics. KBB scores it 4.8/5 while Edmunds rates it 4.6/5.
The truth is, a review of a car will only focus on its overall performance on a single or series of tests. It takes more practical tests by owners, who must have used the ride for a longer period, to get the real issues with a vehicle.
3. 2003 Toyota Sequoia
Like many Toyota Sequoia models, the 2003 edition also boasts impressive reviews from critics. KBB has scored it 4.8 out of 598 reviews, and Edmunds has also rated it 4.7 out of 309 consumer feedback.
While this vehicle has been praised for its overall performance, its ride quality is less impressive.
Besides, it also has 382 complaints on its brake alone, totaling 906 overall complaints.
The malfunctioning VSC, traction, and ABS dash lights still surface in this model. That means the inconsistencies with the braking, steering, lighting, and transmission system remain recurrent in the 2003 Sequoia model.
4. 2004 Toyota Sequoia
The 2004 Toyota Sequoia also appears to have taken over the issues with its predecessors. It has also received 600 user complaints on Car Complaints as of the time of writing this review.
Amongst these bundles of unpleasant feedback, the brake still remains the major point of concern.
While this model is the fourth Sequoia version to be introduced by Toyota, the prevalent VSC and traction lights, erratic braking, as well as failing steering issues still resurface.
Also, the brake of this model doesn't come out impressive as well. Quite a number of owners have reported a series of abnormalities, like its mushy and, sometimes, stiff impression.
A unique issue with this car is its weak rear hatch handle that many owners have also faulted. Aside from all these issues, the 2004 Toyota Sequoia is also rated well by critics. While it receives 4.6/5 on Edmunds, KBB rates it 4.7/5.
Besides, Toyota had issued a series of recalls aimed at correcting most of the issues with these model years. So, using the car and having a cool experience with it is possible.
5. 2005 Toyota Sequoia
Like all of its predecessors, the 2005 Toyota Sequoia model didn't fare any better on the complaints notable for the first set of Sequoias.
This model has also received 564 complaints on Car Complaints so far, with the brake and engine having the largest shares of poor feedback.
Toyota has improved the engine power of the 2005 model, making it produce 282 horsepower and 325 lb.ft of torque. However, it seems Toyota still gave lesser attention to the Sequoia's much-criticized components.
After four models, more expectations would be expected of the 2005 models. However, over 200 people have still faulted its electrical and braking system.
This means the issues with the traction and VSC lights coming on while the vehicle slows down unexpectedly are still very pronounced in the 2005 model.
In terms of critics' reviews, the 2005 Toyota Sequoia also has some attractive ratings. Whereas Edmunds scores it 4.6/5, Carfax gives it 4.9/5 and KBB rates it 4.8/5. That shows that this vehicle is also not a bad ride after all.
What Are Some Typical Problems With the Toyota Sequoia Models?
The Toyota Sequoia is known for a few issues, especially common with first-generation models. These are some of the typical problems with the Toyota Sequoia models:
Premature rust on the frame
Problems with the vehicle's electrical system
Erratic response of the brake
Weak rear hatch handle
Make sure to read more about the common issues with the Toyota Sequoia model years here.
Final Thoughts
The first-generation models of many vehicles models are not usually the best. They often suffer from a lot of imperfections which the newer models build on.
You must have noticed that almost all the first-generation Toyota Sequoia model years fall under the ones to avoid.
Mind you, it is still possible to use either of these vehicles and have a perfect experience with it. This is because they all boast impressive ratings from critics and reviewers.
Go back: Best/Worst years for all Toyota models.
Was this article helpful?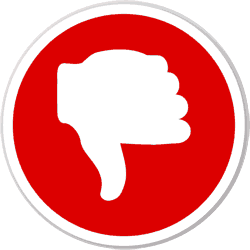 Did you find wrong information or was something missing?
We would love to hear your thoughts! (PS: We read ALL feedback)
ⓘ  The information in this article is based on data from National Highway Traffic Safety Administration (NHTSA) recall reports, consumer complaints submitted to the NHTSA, reliability ratings from J.D. Power, auto review and rating sites such as Edmunds, specialist forums, etc. We analyzed this data to provide insights into the best and worst years for these vehicle models.
---