In the realm of sedans, the Mazda6 has gained a reputation for its dependability, making it a popular choice among discerning drivers. However, not all Mazda6 years are created equal when it comes to reliability. 
In this article, we look at the Mazda6 and issues related to reliability, exploring the best and worst years based on real-world data, owner experiences, and expert insights. 
The Best and Worst Years for Mazda6 Are:
The best model years include the Mazda6 2019-2021, 2017, and 2013. These models show enhanced reliability, engaging driving dynamics, and advanced safety. Model years to be avoided are the Mazda6 2003-2006, 2008-2010, and 2014-2016 due to a host of mechanical issues and reliability concerns. 
What Mazda6 Years Are the Most Reliable?
To determine the most reliable years, various factors must be considered, including performance, safety features, customer satisfaction, and real-world data. 
In this section, we explore the Mazda6's reliability, unveiling the standout years that have consistently demonstrated impressive dependability and earned praise from owners.
2019-2021 Mazda6
These recent iterations of the Mazda6 have not only captured the attention of sedan enthusiasts with their sleek design and sporty performance but have also established themselves as exceptionally reliable vehicles.
One of the key indicators of the Mazda6's reliability is the low incidence of reported issues by owners during this period. 
Through extensive data analysis and owner surveys, these models have consistently exhibited minimal problems, making them a popular choice for those seeking a trouble-free ownership experience. 
In addition to their reliability, the 2019-2021 Mazda6 models come equipped with advanced safety features, providing an additional layer of assurance for drivers and passengers. 
Under the hood, the 2019-2021 Mazda6 models boast efficient and capable engines, delivering a perfect balance of power and fuel efficiency. 
Whether it's the standard 2.5-liter four-cylinder engine or the available turbocharged 2.5-liter engine, these powertrains have been praised for their smooth performance and responsiveness. 
Customer satisfaction also plays a vital role in evaluating a vehicle's reliability, and the 2019-2021 Mazda6 models have received resounding acclaim from owners. 
Positive feedback regarding the car's longevity, build quality, and overall driving experience has solidified its reputation as a dependable and beloved sedan.
Overall, the 2019-2021 Mazda6 models shine as beacons of reliability, with a track record of minimal issues and satisfied owners. 
2017 Mazda6
The 2017 Mazda6 is not only a reliable choice for a family sedan but also a vehicle that injects a sense of excitement into every drive. 
This model offers an impressive array of technology and surprising cargo space, making it a practical and enjoyable option for daily commuting or long journeys.
The following notable features set the 2017 Mazda6 apart from its predecessors:
G-Vectoring Control:

 This technology optimizes engine torque distribution to enhance the car's chassis dynamics, resulting in smoother and more precise steering inputs. 

Technology upgrades:

 The inclusion of a larger 7-inch infotainment display, automatic emergency braking, and lane-keeping assist are standard on higher trim levels, further bolstering the safety features of the Mazda6.
Positive reviews from owners further solidify the 2017 Mazda6's reputation as a remarkable sedan. 
Edmunds, a trusted source in the automotive industry, awarded the 2017 Mazda6 an impressive rating of 4.6 out of 5.0 stars based on owner feedback and evaluations. 
This exceptional rating reflects the high level of satisfaction among Mazda6 owners, acknowledging the model's reliability, performance, and overall quality.
Overall, the 2017 Mazda6 continues to capture the hearts of drivers who seek a reliable, engaging, and well-rounded driving experience.
2013 Mazda6
The 2013 Mazda6 undeniably stands out as another notable year for its exceptional reliability. 
This model has received high marks and accolades for its robust build quality and long-lasting performance, making it a trusted choice for those seeking a dependable sedan.
One of the key factors contributing to the 2013 Mazda6's reliability is its reputation for durability. 
Owners have reported that this model maintains its mechanical integrity over the years, showcasing its ability to withstand the test of time. 
Therefore, the solid construction and reliable components used in its manufacturing have contributed to its outstanding longevity, ensuring that the 2013 Mazda6 remains a reliable vehicle for many years to come.
In addition to its durability, the 2013 Mazda6 delivers an engaging driving experience with responsive handling. 
Owners of the 2013 Mazda6 have consistently praised its:
Reliability
Low maintenance costs
Overall satisfaction with their ownership experience. 
The positive feedback and high ratings from Mazda6 owners further solidify its reputation as a reliable and practical sedan.
As a reliable companion for daily commutes and long journeys, the 2013 Mazda6 delivers a satisfying driving experience for those who prioritize dependability in their choice of sedan.
Please also take a look at our article about Mazda car owner demographics.
What Mazda6 Years Should You Avoid?
While the Mazda6 is known for its sleek design, agile handling, and advanced technology, certain years have experienced issues that prospective buyers should be cautious about. 
In this section, we will explore the Mazda6 years that are best to avoid based on known problems and customer feedback. 
2003-2006 Mazda6
While the Mazda6 has garnered a reputation for its sleek design and engaging performance, the model years from 2003 to 2006 have unfortunately been plagued by reliability issues. 
Based on feedback from both experts and customers, it is advisable to exercise caution when considering a Mazda6 from this particular period.
The following are major concerns owners experience with 2003-2006 Mazda6 models:
Engine and transmission: 

Many owners have reported experiencing frequent mechanical failures, including engine misfires, premature engine wear, and transmission malfunctions. 

Electrical system:

Owners have cited issues with faulty wiring, which can lead to various electrical failures, such as malfunctioning lights, power window failures, and issues with the vehicle's audio and navigation systems. 

Rust and corrosion: 

Reports of rusting in critical areas, such as the wheel wells and undercarriage, can compromise the structural integrity of the vehicle over time. 
Expert reviews and customer feedback further validate the concerns associated with the 2003-2006 Mazda6 models. 
Industry experts have highlighted the recurring mechanical and electrical issues, emphasizing the importance of thorough inspections and maintenance when considering a used Mazda6 from this era. 
Overall, it is recommended to thoroughly inspect the vehicle, seek professional advice, and consider alternative model years that have demonstrated better reliability to ensure a satisfying and trouble-free ownership experience with a Mazda6.
2008-2010 Mazda6
Another period of concern is the 2008-2010 Mazda6, which experienced issues that potential buyers should consider before purchasing.
Known problems associated with the 2008-2010 Mazda6 have been identified through a combination of expert assessments and customer feedback. 
One recurring issue reported by owners of these particular model years is related to transmission problems. These problems can result in significant driving discomfort and potentially costly repairs.
In addition to transmission concerns, some owners have reported electrical problems with the 2008-2010 Mazda6. These issues may manifest in various ways, including malfunctioning lights, non-responsive controls, or faulty electronic components. 
Despite these reliability concerns, it is worth noting that Mazda has a strong reputation for addressing issues and improving vehicle reliability in subsequent years. 
That said, considering alternative Mazda6 model years or seeking professional guidance can help ensure a more satisfying ownership experience with this beloved sedan.
2014-2016 Mazda6
Like the aforementioned model years, the 2014-2016 Mazda6, unfortunately, stands out as a period marred by reliability issues and concerns. 
Known problems with the 2014-2016 Mazda6 primarily revolve around engine-related issues. One significant issue reported by owners is the potential for engine failure or malfunction. 
Some drivers have even experienced:
Sudden engine stalls

Loss of power

Rough idling
Additionally, there have been reports of excessive oil consumption, which may lead to engine damage if not addressed promptly.
Expert feedback and industry evaluations have also highlighted the reliability concerns of the 2014-2016 Mazda6. 
Organizations like Consumer Reports and J.D. Power have indicated lower reliability ratings for these specific model years. 
In terms of safety, the 2014-2016 Mazda6 received lower ratings from organizations such as the National Highway Traffic Safety Administration (NHTSA) and the Insurance Institute for Highway Safety (IIHS). 
Furthermore, there were several recalls issued for the 2014-2016 Mazda6 during this period.
If you are considering a Mazda6 from this particular timeframe, it is recommended to thoroughly inspect the vehicle's maintenance history. 
What Are Some Typical Problems With the Mazda6 Models?
Here are some typical problems that have been reported with Mazda6 models:
Engine Issues: 

Including engine stalling, rough idling, or loss of power. In certain cases, excessive oil consumption has also been reported.

Transmission Concerns: 

Such as delayed or rough shifting and jerking motions.

Electrical System Malfunctions: 

Including problems with the infotainment system, malfunctioning dashboard displays, or electrical shorts that affect various components.

Suspension and Steering Problems:

 Such as noises or vibrations while driving, uneven tire wear, or excessive play with the steering wheel.

Brake and Rotor Wear: 

Premature brake and rotor wear have been reported by Mazda6 owners. This can result in reduced braking performance, squeaking noises, or pulsation when applying the brakes.

Dangerous Airbag Inflators: 

Certain Mazda6 models, specifically those produced between 2003 and 2013, have been subject to recalls due to the potential for these airbag inflators to rupture.
Please also read our article about known issues with Mazda vehicles.
It's important to note that not all Mazda6 owners will experience these problems, and the severity can vary. Regular maintenance, prompt addressing of any issues, and thorough inspections can help mitigate these concerns. 
The Most Reliable Mazda is the Only One Good for Over 200,000 Miles
Back to best/worst years across all Mazda models.
Was this article helpful?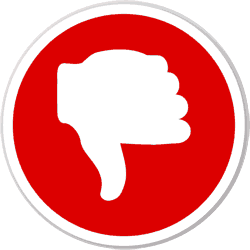 Did you find wrong information or was something missing?
We would love to hear your thoughts! (PS: We read ALL feedback)
ⓘ  The information in this article is based on data from National Highway Traffic Safety Administration (NHTSA) recall reports, consumer complaints submitted to the NHTSA, reliability ratings from J.D. Power, auto review and rating sites such as Edmunds, specialist forums, etc. We analyzed this data to provide insights into the best and worst years for these vehicle models.
---