The RX is Lexus's competitor in the mid-size luxury SUV category.
Featuring the brand's signature reliability and a premium feel, it generally offers a smooth drive with class-standard features.
While you won't find sporty handling anywhere in the RX line, it still rides like a dream, particularly when highway driving.
If you're looking for the best used RX models, you've come to the right place.
You should also check our rundown of the most-common problems among Lexus SUVs.
Best Years for Lexus RX
Generally, the Lexus RX models are among the cars with the fewest problems.
Our list rounds up the best Lexus RX models by year, based on the highest consumer ratings and lowest number of safety and mechanical issues.
Since used cars tend to yield significantly decreasing returns after about 20 years, we only looked at Lexus RX models from 2005 and later.
2012
The 2012 RX's qualities have been lauded, and include exceptionally precise handling, a luxe interior feel, and superb reliability. Drivers often report having no major issues after more than 100,000 miles.
All this results in an impressive 4.8 stars on Edmunds, proving that the 2012 RX 350 is about as good as they come.
The 450 model is not far behind, either, with a rating of 4.5.
2014
While the entertainment systems may be a bit outdated, and you certainly won't find the newest gadgets on a model nearly a decade old, the 2014 RX still delivers a premium feel and smooth handling.
It also has top-tier safety ratings, even for a Lexus.
With zero recalls and only 19 NHTSA safety complaints, this model is a sure bet for reliability and security.
2018
The 2018 RX was another year of Lexus doing what they do best, delivering long-lasting reliability and a luxurious-feeling ride.
By this time, the RX 350 had also been updated with more aggressive styling and sharp angles, which drivers tend either to love or hate. The brand expanded its drivetrain options to both all-wheel and front-wheel drive as well.
The 2018 Lexus RX also has an edge over the 2014 model in terms of towing capacity – Lexus raised the towing capacity of the RX 350 from 1,500 to 3,500 pounds in 2016, but the 2018 model doesn't suffer from the myriad technical bugs of the earlier two.
There were still a few complaints – a new automatic transmission designed to save fuel that gave drivers some trouble when accelerating, and less-than-ideal levels of road noise.
Lexus RX Years to Avoid
While Lexus offers a very reliable car overall, the RX has had its share of manufacturing problems.
Most of these issues occur in the years immediately following a major re-release of the model.
These four years are the ones you'll want to avoid to save on costly repairs and find the safest vehicle for your money.
2004
The 2004 RX 330 model was the first of its kind, and had some kinks to work out, including transmission problems and fuel economy that failed to live up to expectations.
Drivers also had continuing problems with engine noise – while some report it as one of the quietest cars they've driven, others reported clicking noises and a roaring acceleration.
Lexus's inconsistency on this front isn't ideal.
It also had a high number of safety complaints registered with NHTSA, along with 6 recalls for problems ranging from brake fluid leaks to rear seatbelt malfunctions.
This wasn't the case, however, for the RX 350 and 400H models of the same year.
2007
2007 saw some of the highest number of safety complaints for the RX 350 and RX 400H, with more than 300 complaints across both models, with the top problem being a severely cracking dashboard.
Lexus also issued a recall for a problem with the accelerator and floor carpeting.
It was possible for the pedal to become stuck when pressed down, making it difficult to slow down and increasing the risk of a high-speed crash.
Despite this, the RX 350 still has a 4.8 rating on Edmunds, likely because it was one of the only SUVs at the time that offered a nice blend of factors that consumers were looking for.
However, now that Lexus has had a chance to refine the RX 350, it would be better to avoid the 2007's potential safety issues with another year model.
The case was similar in 2008, which saw 179 reported NHTSA safety issues, although there were no recalls.
2016
The 2016 RX kicked off the fourth generation of the model, and as a result, it had more than a few quirks that buyers weren't fans of.
The 350 model has only a 3.8 average star rating on Edmunds, a significant drop from the 2015 model's 4.2 rating.
Reviewers' common complaints include engine droning and vibration when accelerating, a low quality infotainment system, and awkward shifting.
The 2016 model was also subject to a high number of recalls for Lexus – 3 were issued regarding problems with the model's airbags.
On the plus side, drivers did appreciate the roomy interior and the smooth (if sometimes noisy) driving experience.
2017
The 2017 Lexus RX suffered some of the same flaws as the 2016 one, such as continued airbag deployment issues. A few drivers also reported problems with their vehicle's vacuum pump and inexplicably cracked windshields.
Lexus was also reportedly unhelpful in fixing problems related to vibration and engine noise, with several drivers saying they were simply brushed off.
It seems the brand failed to correct many of the problems with the fourth generation until 2018 – we wouldn't recommend buying a used model from the previous two years.
First Generation: 1998-2003
The RX line debuted with the RX 300 in 1997, and was meant to combine the best of an SUV, sedan, and wagon.
With a 4-speed automatic transmission, I4 and V6 engine options, and a range of safety features, it won several awards from 1998 to 2001.
Technology offerings included an LCD screen and an optional DVD-based navigation system.
An updated model was released in 2000 for the 2001 model year, featuring new headlight and taillight design as well as a wider range of color options.
Second Generation: 2004-2009
Updates to the second generation included an increase in dimensions, an added speed for the transmission, and new features such as swivel headlights and height-adjustable air suspension.
The V-6 engine was also raised to 3.3L with 230 horsepower, leading the model to be renamed the RX 330.
In 2007, this was bumped up again, to the RX 350 with a 3.5L and 270 horsepower.
The RX 400h, a hybrid version of the vehicle, was also released in North America in 2005. While not a plug-in vehicle, it was one of the first SUVs that was able to drive as an EV for short distances and received recognition as a top environmentally friendly option.
Third Generation: 2010-2015
The third generation saw another gear added to the transmission, making it a six-speed automatic, as well as another jump in size and sleeker exterior styling.
The vehicle got a facelift in 2012, and featured new wheels, interior colors, and grilles.
It maintained top safety ratings; J.D. Power and Associates named the model the most dependable vehicle in the U.S. in 2013.
Lexus also offered a more premium F Sport trim in 2012, which gave consumers the option of a more aggressive eight-speed transmission and sportier interior design.
Fourth Generation: 2016-2022
The fourth generation of the RX saw major stylistic redesign, with a more angular exterior and more interior space.
The model maintained the 3.5L V6 engine, but bumped it up to 295 horsepower.
New features included a panoramic sunroof and adaptive variable suspension.
In 2017, Lexus debuted the RX L, a three-row version of the vehicle that also came in a hybrid option.
This generation also saw the first use of a touchscreen for the control system, switching over in 2019 from the brand's previous touchpad standard.
Fifth Generation: 2023-current
For the fifth-gen of the RX, the multimedia system saw significant updates, and the exterior received some touch-ups. Lexus nixed the third-row option, but provided more interior space with the help of a wider body.
The brand also released the RX 500h, featuring a new 2.4L T24A-FTS turbo engine, and introduced a plug-in version of their hybrid model with the RX 450h.
Which Lexus RX Generation Should You Buy?
There are a few strong options among used Lexus RX models. If power and towing capacity is important, go for the 2018 350 RX.
If the newer styling is a turn-off, the 2014 and 2012 models have a more classic look that also won't be out of place on the modern road.
What's more, these models will likely still have a good 10 to 15 years in them, depending on mileage.
What Year Is the Most Reliable Lexus RX?
For our top pick, the 2018 RX 330 is the clear choice. With almost perfect safety ratings and few complaints from both experts and consumers, with this model year you'll run no risks.
It's also relatively recent, meaning you'll get a good number of technology features and the latest that the RX has to offer in terms of power and fuel efficiency.
What Are the Most Common Problems With Lexus RXs?
Some of the most commonly reported problems with the RX line include transmission issues and awkward shifting, loud engine noises and vibration, oil leaks and loss of oil pressure, and AC malfunctions.
These problems most commonly occurred in the 2007 and 2008 model years, as well as in 2016 and 2017.
How Many Miles Will an RX Last?
Lexus has long been known for its steady reliability.
Though the RX models have their flaws like any other car, most vehicles last for 150,000 to 300,000 miles, a pretty impressive life expectancy.
Good driving practices and proper maintenance upkeep are always important factors when considering the life of a car. If you're buying used, make sure to check with the dealership or previous owner to find out how well the vehicle's been taken care of.
What Are the Closest Competitors to the Lexus RX?
Wondering which vehicles are most similar to the RX? There are a few alternatives that offer slight advantages and disadvantages that may be more suited to the preferences of different drivers.
Acura MDX:
Offers agile handling and responsive quickness, and a decent if not-quite-luxe interior. Comes with three rows, though the back is a bit cramped.
Mercedes Benz GLE: 
Exceptional off-road capabilities for a luxury vehicle and strong fuel economy, but rides a bit stiff and has a high asking price.
BMW X5:
Delivers on the power and acceleration (zero to sixty in 4.8 seconds definitely isn't bad for an SUV) that the RX lacks, but ranks far below in terms of reliability.
Buick Enclave:
Sleek exterior styling and lots of cargo space, but not much else is notable about the Enclave – and its pricetag is only slightly lower than the RX.
How Long Do the Transmissions Normally Last on These Models?
The Lexus RX transmissions last 250,000 to 300,000 miles on average.
While there are always flukes, the brand is fairly reliable on overall transmission lifespan.
Go back: Overview of best/worst years for all Lexus models.
Was this article helpful?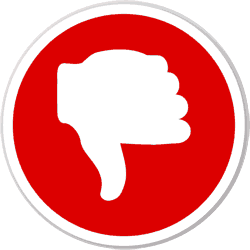 Did you find wrong information or was something missing?
We would love to hear your thoughts! (PS: We read ALL feedback)
ⓘ  The information in this article is based on data from National Highway Traffic Safety Administration (NHTSA) recall reports, consumer complaints submitted to the NHTSA, reliability ratings from J.D. Power, auto review and rating sites such as Edmunds, specialist forums, etc. We analyzed this data to provide insights into the best and worst years for these vehicle models.
---