The BMW X6 is a luxury crossover SUV that has been in production since 2008. Over the years, this vehicle has undergone several changes and updates, making it a popular choice among car enthusiasts. 
This article will take a closer look at the best and worst BMW X6 years based on statistics and examples. 
We will be examining factors such as performance, reliability, and consumer reviews to give you a comprehensive understanding of the strengths and weaknesses of this vehicle throughout its production history. 
The Best and Worst Years for BMW X6 Are:
The best and most reliable model years for the BMW X6 are 2016 and 2017. This is based on consumer satisfaction reviews and reliability records. On the other hand, based on vehicle recalls and consumer complaints, older vehicle models like the 2011 and 2009 should be avoided.
What BMW X6 Years Are the Most Reliable?
It is difficult to make a broad statement on the reliability of all the BMW X6 years since production. However, general trends can be observed in the reliability of different BMW X6 model years.
Let's take a closer look at some of the most reliable model years below. 
2016 BMW X6
The 2016 BMW X6 is a luxury crossover SUV that was well-received by consumers upon its release. 
Consumer satisfaction reviews for this model year generally praise its sleek design, powerful engine, and comfortable interior. 
Many also highlight the X6's sporty handling and responsive steering, making it a fun car to drive.
Regarding reliability, the 2016 BMW X6 has an above-average rating from Consumer Reports and J.D Power of 3.5 out of 5. This model year has fewer reported problems than earlier models and is considered relatively dependable.
The most common issues owners report include problems with the infotainment system and the automatic transmission. However, these issues are relatively minor and are not widespread.
The X6 has not been tested by the Insurance Institute for Highway Safety or the National Highway Traffic Safety Administration.
Although numerous driver-aid systems exist, no crash test results have been published. 
Nonetheless, the rearview camera provides an excellent view of what's behind the SUV, and all versions are equipped with front and rear parking sensors.
Alternative driver-aid systems from BMW's Assistance Plus Package are also available at an extra cost. These features include the following:
Blind-spot monitoring
Lane departure warning
Forward collision warning (with pedestrian detection)
Automatic emergency braking
Additionally, the 2016 BMW X6 comes with a standard 4-year/50,000-mile warranty and a 4-year/50,000-mile complimentary scheduled maintenance, which may help to alleviate concerns about reliability.
It's also important to note that this model has received 0 recalls from BMW. This makes the buying process more manageable and highlights the above-average reliability rating this model year has received.
Overall, the 2016 BMW X6 receives reliable consumer satisfaction reviews. 
However, as always, it is vital to research a specific car's maintenance history and get it inspected by a professional mechanic before making a purchase.
2017 BMW X6
Customers generally gave the 2017 BMW X6 luxury crossover SUV favorable ratings for its dynamic handling, potent engine choices, and opulent interior. 
The X6 received high marks from critics for its sporty driving characteristics and agile handling, making it pleasurable for all car enthusiasts to maneuver.
In terms of interior, the 2017 X6 received high marks for its luxurious cabin and high-tech features. The X6 comes standard with leather upholstery, a panoramic sunroof, and a host of advanced driver assistance features, such as:
Lane departure warning
Automatic emergency braking
A rearview camera
However, several reviews pointed out that the 2017 X6's baggage space is smaller than competitors in its class and that the rear seat headroom is constrained.
The 2017 BMW X6 earned generally favorable reviews for reliability. Consumer Reports and J.D Power gave the 2017 X6 a reliability rating of four out of five, considered above average. 
The organization also pointed out that owners of the 2017 X6 have reported fewer issues than older models.
Like the 2016 model, the X6 has yet to be crash-tested by the National Highway Traffic Safety Administration or the Insurance Institute for Highway Safety. But a host of additional safety features are available.
Although the 2017 BMW X6 delivers the driving experience one would expect from a BMW, it could be better at transporting people and goods. However, this BMW has a nice interior and is anticipated to be more reliable than average.
In conclusion, the 2017 BMW X6 is a vehicle that is well-liked by consumers for its sporty driving dynamics and luxurious interior. 
It also has a good reputation for reliability and has fewer problems reported by owners compared to the earlier models.
However, it's worth noting that the rear seat headroom is limited, and the cargo area is smaller than other vehicles in its class.
What BMW X6 Years Should You Avoid?
Knowing which model years to avoid can help you make an informed decision when purchasing a used car. It can help you identify which cars are more likely to have problems and which have a better track record for reliability. 
While the BMW X6 is generally considered a high-quality vehicle, specific model years have more reported problems and lower reliability ratings than others. 
This section will take a closer look at the BMW X6 years you should avoid.
2009 BMW X6
The 2009 BMW X6 is a luxury crossover SUV that is considered a combination of a coupe and an SUV, as it has the sleek and sporty design of a coupe but also offers the practicality and versatility of an SUV.
When the X6 was first released, it received mixed reviews from consumers. 
Some praised its unique design and impressive performance, while others criticized it for being too expensive and needing to be more practical.
When it was first released, the X6 was one of the most expensive SUVs on the market. As such, one of the main complaints about the 2009 X6 was its high price tag. 
At the time of its release, it was one of the most expensive SUVs on the market, which made it unattainable to many consumers.
Additionally, some criticized its lack of cargo space, as the sloping roofline and sporty design sacrificed some practicality.
Despite these criticisms, many consumers were still drawn to the X6's unique design and impressive performance.
 The X6 was available with various engines, including a powerful V8 that offered quick acceleration and smooth handling. 
Without a doubt, there are positives about this model year. However, the vehicle can be considered outdated and has received over 10 recalls, about the following:
Airbags
Engine and engine cooling
Fuel system
Brakes
Some owners have reported issues with the transmission, while others have reported problems with the electrical system. 
Additionally, a handful of owners have reported issues with the suspension and steering. 
Overall, consumers have primarily varied opinions on the 2009 BMW X6. While some questioned its exorbitant cost and lack of utility, others praised its distinctive design and outstanding performance. 
However, some users have noted that there have been a few dependability problems with the X6, which is likely associated with its age. 
BMW has a solid reputation for manufacturing reliable vehicles, and the X6 is no different. Nevertheless, before buying any car, it's crucial to research any known problems.
2011 BMW X6
The 2011 BMW X6 is a high-end crossover SUV with a negative reputation for dependability. 
The engine, fuel system, and electrical difficulties are just a few of the troubles associated with this particular model year.
Several owners have also encountered difficulties with the 2011 X6, citing concerns with the water pump, oil leaks, and turbocharger malfunction.
A potential fuel pump issue was the subject of one of the biggest recalls for the 2011 BMW X6.
During one of the 12 recalls, over 20,000 vehicles were recalled because of a flaw that increased the chance of an accident by causing the engine to stall. 
Although BMW launched a recall to rectify the fault, it serves as a warning of the possible problems that can develop with this model year.
That said, it's no surprise that the 2011 BMW X6s reviews based on customer satisfaction were inconsistent.
While some critics complimented the X6 for its sporty performance and potent engine choices, others condemned it for its lackluster reliability and a slew of reported issues.
Numerous owners criticized how often their vehicles broke down, how costly the repairs were, and how frequently they needed to see the mechanic.
Some even claimed that the car spent more time being repaired than it did on the road.
At approximately 70,000 miles on the clock, there have been reports of an overheating engine and a Tire Pressure Monitoring System light that continues to be illuminated, indicating that the tire pressure may be too insufficient for safe driving.
It is advised against purchasing the 2011 BMW X6 due to this issue alone because it could provide a risk.
While it's vital to remember that not every car from that year will have a comparable experience, it is always advised to carefully investigate a specific car's history and check it out by a qualified mechanic before committing to a purchase. 
To minimize wear and tear, it's also crucial to maintain your car and have regular maintenance performed on it.
Ultimately, the 2011 BMW X6 has received the most grievances of any previous model year, which is why it finds itself in this list.
What Are Some Typical Problems With the BMW X6 Models?
The BMW X6 is a mid-size luxury SUV that stands out from its rivals owing to its excellent cabin and attractive design. 
Additionally, the BMW X6 is more straightforward to operate than other vehicles in this segment and delivers performance at a top level.
But what are a few of the BMW X6's typical issues?
While it is generally considered a high-quality vehicle, there are a few common issues that have been reported by owners and mechanics. 
Some of the most typical problems with the BMW X6 include the following:
Diesel engine issues
Loose tailgate spoiler
Rattling doors
Broken Isofix Mounting Point
Loss of brake power
Battery problems
For a more in-depth analysis, take a look at our article about common issues with the BMW X6.
It's important to remember that these issues differ depending on the year and model of the BMW X6. So it's essential to understand what to expect when purchasing a new or used BMW X6. 
Maintaining your vehicle and servicing it regularly is also vital to reduce the risk of these problems. Furthermore, most issues can be resolved at a BMW repair facility or by a skilled BMW repairman.
Final Thoughts
According to Consumer Reports, the BMW X6 model years from 2015 and newer generally have better reliability than the earlier models.
In particular, the 2016 and 2017 model years have above-average reliability ratings from Consumer Reports. These years have fewer reported problems than earlier models and have been well-reviewed by owners.
Based on statistics and consumer reviews, it is generally recommended to avoid the earliest model years of the BMW X6 (2008-2011).
They have more reported problems and have been known to have transmission, suspension, and electrical issues.
Sources
Was this article helpful?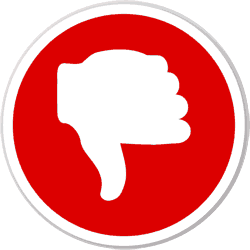 Did you find wrong information or was something missing?
We would love to hear your thoughts! (PS: We read ALL feedback)
ⓘ  The information in this article is based on data from National Highway Traffic Safety Administration (NHTSA) recall reports, consumer complaints submitted to the NHTSA, reliability ratings from J.D. Power, auto review and rating sites such as Edmunds, specialist forums, etc. We analyzed this data to provide insights into the best and worst years for these vehicle models.
---