The BMW X4 is a compact luxury SUV that was first introduced in 2014. It is a member of BMW's X lineup of SUVs and is considered a Sports Activity Coupe (SAC) due to its sporty design and coupe-like roofline.
Since its introduction, the X4 has undergone several updates and changes, including a redesign in 2019 that brought new exterior and interior styling, updated technology, and improved driving dynamics.
Let's take a closer look at some of the BMW X4's best and worst years.
The Best and Worst Years for BMW X4 Are:
The best and most reliable years for the BMW X4 are 2019 and 2017. These models incorporate a blend of performance, technology, reliability, and style. Alternatively, due to negative consumer reviews and a lack of credible reliability records, you should avoid the 2015 and 2018 model years.
What BMW X4 Years Are the Most Reliable?
Since 2014, the BMW X4 has been a popular compact luxury SUV. With a combination of sporty performance and practical functionality, it's no wonder why the X4 is a sought-after vehicle. 
However, buying a vehicle with a reputable reliability record is essential because it ensures the car is less likely to experience unexpected breakdowns or costly repairs. 
While this can save you money in the long run and provide peace of mind when driving, a reliable vehicle is also often more desirable to potential buyers if you decide to resell it in the future.
To help make your purchase easier, below you'll find some information on the most reliable model years for the BMW X4.
2019 BMW X4
The 2019 BMW X4 marks a significant redesign for the X4, bringing new exterior and interior styling, updated technology, and improved driving dynamics.
Although it shares many features with the BMW X3, we still wouldn't refer to it as the coupe edition of the X3. The X4 has a sharper suspension and offers a very unique driving experience underneath its distinctively sculpted body.
The xDrive30i and the M40i are the two trim levels that are offered for the car. Both have different engines and are aimed at satisfying various customers.
This vehicle's low center of gravity is maximized by the suspension, which is made up of lightweight components. Its superb ride quality and nimble handling add to the car's driving enjoyment.
In terms of safety, the NHTSA or IIHS have not given the 2019 BMW X4 a safety rating. 
Nonetheless, as you would anticipate from a vehicle of its quality, the vehicle is well-equipped with cutting-edge safety features, including:
Frontal collision detection with emergency braking
A crash detection system
six bags located around the cabin
Telematics – a feature that alerts emergency services in the event of an accident involving your X4
The 2019 BMW X4 benefits from changes and enhancements made by BMW as a more recent model year, ensuring that it is a more dependable car than previous models.
The reliability of the BMW X4 is Better Than Most, according to J.D Power. A four out of five grade, which indicates that the car is very dependable, is given to it.
For those seeking a small SUV with a premium feel and a sporty driving experience, the 2019 BMW X4 is a solid choice.
But before making a purchase, as with any car, it's crucial to do your homework and take into account your wants and needs.
2017 BMW X4
According to consumer reports, the second most reliable model years for the BMW X4 are the 2017 models. These model years have a low rate of reported problems and consistently receive high marks for reliability.
A combination of dynamic performance and useful practicality can be found in the 2017 BMW X4. This model year has an outstanding reliability track record, great customer satisfaction scores, and cutting-edge safety features.
The 2017 BMW X4 excels in terms of reliability. 
Despite a lower score than the 2019 X4 on J.D. Power, the 2017 model receives 3.5 stars out of 5 and obtains consistently good rankings for dependability with a low rate of reported faults. 
Owners should anticipate fewer unforeseen problems and less expensive repairs as a result, which can help them save money over time.
One of the reasons the 2017 model year is regarded as one of the most reliable options among many of the BMW X4 model years is due to the X4's reputation for dependability.
The 2017 BMW X4 also receives high marks for customer satisfaction. 
Customers highly applaud the X4's blend of sporty performance and functionality, luxurious interior, and cutting-edge technology features. 
Additionally, several effective and potent engine alternatives are available for the 2017 model year. These engines have also won praise for their performance.
Safety is another excellent point for the 2017 BMW X4, even if the vehicle hasn't undergone IIHS and NHTSA testing. 
Five stars (out of a possible five stars) were awarded to the X3, on which this model is based in the NHTSA's overall safety rating.
Stability control, traction control, and several airbags are included as standard equipment on the X4, along with a sophisticated suite of driver assistance systems, such as:
Lane Departure Warning 
Frontal Collision Warning 
City Collision Mitigation
The 2017 BMW X4 offers a solid blend of sporty athleticism, sophistication, and utility in a durable and well-rounded car. 
For those looking for a compact luxury SUV, its high-reliability rating, high customer happiness, and cutting-edge safety features make it a fantastic choice. However, there isn't much cargo room, and the majority of small luxury SUVs are more practical.
To put it another way, stay away from the X4 entirely if you frequently fill more than just the front seats.
What BMW X4 Years Should You Avoid?
Knowing which vehicle model years to steer clear of is crucial since it will enable you to make a better-informed decision when buying your vehicle.  
You can prevent potential problems and pricey repairs in the future by knowing which model years have a higher rate of reported faults and poor reliability track records.
Consumer reviews indicate that certain BMW X4 model years, such as the 2015 and 2018 models, have greater rates of reported issues and should be avoided.
Let's take a closer look at what makes the 2015 and 2018 model years ones to avoid.
2015 BMW X4
The first-generation BMW X4 began production in 2014 and was released as a 2015 model. 
As the first model to the X4 line-up, this vehicle can be described as outdated when compared to a newer version, resulting in fewer safety features and advanced technology. 
When researching the reliability and consumer reviews of this vehicle, the results were a mixed bag. However, it's clear that the 2015 model lacks reliability and has a low consumer satisfaction rate. 
In terms of reliability, the 2015 BMW X4 has been reported to have a higher rate of problems compared to other model years. 
Kelley Blue Book reports that the following services are most commonly reported by owners:
Oil change 
Wheel alignment
Flushing brake fluid and bleeding brakes
Air filter replacement
Engine diagnostics
Brake pad replacement
Owners have also mentioned transmission problems, such as jerky shifting, reluctance, and even complete failure. These problems can be expensive to fix and may call for a transmission replacement.
Additionally, some owners have mentioned noises, vibrations, and uneven tire wear related to the vehicle's suspension. These problems may call for replacement parts or alignment modifications and can be brought on by worn or damaged suspension parts.
The 2015 BMW X4 has earned poor evaluations from customers in terms of satisfaction. Along with the aforementioned concerns, the infotainment system and power windows also present problems. 
The 2015 X4 has also drawn criticism for having a high cost of ownership.
These problems show that to make the greatest vehicle option, it's crucial to do your homework, verify the vehicle history record, and have a pre-purchase inspection.
2018 BMW X4
Reviews of the 2018 BMW X4's dependability, customer satisfaction, and reported issues have been mixed. 
Compared to several other model years of the BMW X4, the 2018 model year has a greater rate of reported issues, per Consumer Reports.
Although the X4 is praised for its blend of athletic performance and useful utility, some customers have expressed concerns about the vehicle's high ownership costs and lack of cargo room in comparison to other SUVs in its class.
According to U.S. News, the predicted five-year expenses for petrol, insurance, repairs, and maintenance for the 2018 X4 are expected to be an astonishing $33,385, or $6,677 per year.
High costs of ownership may relate to the increasing rate at which 2018 model owners are finding themselves having to service their vehicles. 
According to Kelley Blue Book, this X4 has the highest number of common services of all models in its generation.
Despite having zero recalls, Consumer Reports indicate that the 2018 BMW X4 is less dependable than some existing BMW X4 model years. 
The powertrain, suspension, and infotainment system issues some owners have noticed can be expensive to fix and inconvenient.
It's crucial to remember that these difficulties are not exclusive to the 2018 model year, and their frequency can vary based on the model, the year, and how well it has been maintained.
However, based on the documented issues, the 2018 BMW X4 is seen as being less dependable than some BMW X4 model years.
What Are Some Typical Problems With the BMW X4 Models?
All vehicle enthusiasts adore the BMW X4 because it is a stylish, potent, and opulent compact luxury SUV. But like most vehicles, this small SUV also has some drawbacks that are important to note.
Some issues won't surface for several years of use, while others are caused by technical problems that compelled the manufacturer to issue a recall.
Below we have listed the most common problems that BMW X4 owners have reported experiencing: 
Frontal passenger airbags fail to inflate
The vehicle doesn't start properly
The brakes have some trouble performing
The windows won't open or close
There's a lack of visibility with the backup camera
For a more in-depth analysis, please read our article about common issues with the BMW X4.
It's important to note that these issues are not exclusive to the BMW X4 and that their frequency might change based on the model, year, and level of maintenance given. 
Nonetheless, when considering buying a BMW X4, it's crucial to be aware of these potential problems.
Final Thoughts
In terms of consumer satisfaction, the BMW X4 has consistently received high marks for its driving dynamics, premium cabin, and advanced technology features. 
However, some consumers have raised concerns about the X4's high cost of ownership and the lack of cargo space compared to other SUVs in its class.
Overall, the BMW X4 is a well-rounded vehicle with a good balance of sporty performance, luxury, and practicality. It's a good option for those looking for a compact SUV with a premium feel and a sporty driving experience.
Sources
Was this article helpful?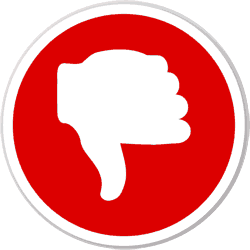 Did you find wrong information or was something missing?
We would love to hear your thoughts! (PS: We read ALL feedback)
ⓘ  The information in this article is based on data from National Highway Traffic Safety Administration (NHTSA) recall reports, consumer complaints submitted to the NHTSA, reliability ratings from J.D. Power, auto review and rating sites such as Edmunds, specialist forums, etc. We analyzed this data to provide insights into the best and worst years for these vehicle models.
---