The BMW 3 Series is the company's model that sells the most units. It is responsible for almost 30 percent of the total number of cars sold by the corporation.
However, this does not imply that it has always been performing at its highest level.
We've rated every iteration of the BMW 3 Series, from the most desirable to the least desirable, and here's how its history has unfolded up to this point.
The Best and Worst Years for BMW 3 Series Are:
2006, 2007, 2019, and 2021 are the model years of the BMW 3 Series that are considered to be the greatest ever produced. Models from the years 2002, 2005, 2008, and 2012 don't have as good a reputation. It's essential to keep these years in mind if you're in the market for a pre-owned BMW 3 series.
What BMW 3 Series Years Are the Most Reliable?
If you are interested in purchasing a pre-owned BMW 3 Series, you may be curious about which model years are known to be the most dependable.
Some model years of the BMW 3 Series stand out as being exceptionally trustworthy, even though all of the 3 Series cars are generally well-built and durable overall.
2006
The BMW 3 Series from the 2006 model year has the best reputation for reliability. According to Consumer Reports (CR), this particular 3 Series model year had the fewest number of repairs needed.
This is most likely the result of a combination of reasons, one of which is the fact that the BMW 3 Series from 2006 was constructed using materials of better quality and greater durability than those used in previous versions.
In addition, the year 2006 was the first year that BMW installed six-speed automatic gearboxes in all of the models in its 3 Series lineup. These transmissions have shown themselves to be more dependable than the earlier five-speed versions.
If you want to buy a used BMW 3 Series that you can count on being trustworthy, a good option is to go for a model that was produced in 2006, with relatively low mileage.
And, because these automobiles are now more than 10 years old, you may get them for more reasonable costs.
2007
According to CR's statistics, this year's 3 Series models had the lowest number of reported faults compared to other years.
The years 2006 and 2007 were both considered to be successful ones for BMW in terms of their general reliability.
2006 and 2007 were only years since the year 2000 in which BMW did not produce a single model with reliability that was below average.
That being said, if you are interested in purchasing a used BMW and it is from one of the model years listed above, you can be certain that it will be a trustworthy automobile.
When shopping for a secondhand automobile, reliability is, of course, just one of many considerations to make.
You will also want to check to see that the car you choose comes standard with the amenities that cater to your requirements and inclinations.
All this said, if reliability is really important to you, a BMW 3 Series from either 2006 or 2007 should serve you well.
2019
The 2019 BMW 3 Series is an excellent choice for a used premium compact vehicle. The BMW 3 Series comes with a choice of three different body types and has powerful engines, dynamic handling, a pleasant ride, and high scores for its gas consumption.
The estimated reliability rating for the 2019 BMW 3 Series is three out of five, which places it in about the middle of the pack.
Its interior is outfitted with two rows of seats that are both comfortable and capacious, as well as a multitude of gadgets, both standard and optional.
It has a considerable amount of room available for cargo. However, when it comes to the quality of the cabin and the operation of the infotainment system, the 3 Series is severely lacking in comparison to its competitors.
2021
An estimated reliability rating of 79 out of 100 has been assigned to the 2021 BMW 3 Series.
A projected reliability score of 91-100 from J.D. Power is regarded as the Best, 81-90 from J.D. Power as Great, 70-80 from J.D. Power as Average, and 0-69 from J.D.
This means that the 2021 model ranks very well in terms of reliability.
However, the power of the vehicle is fair as well as considered below average.
The interior of the 2021 BMW 3 Series is not as impressive as that of some of its competitors, even though the vehicle's handling is engaging and the engine produces sufficient power.
What BMW 3 series Years Should You Avoid?
If you are interested in purchasing a pre-owned BMW 3 Series, you must be aware of which models you should avoid.
Because there are a variety of perspectives about the characteristics of an "avoidable" BMW model year, there is no response that can be categorically determined to this topic.
The years 1995–1999 and 2005 are generally considered to be undesirable by the majority of people. These years saw a variety of manufacturing and design flaws, which resulted in a poor driving experience.
If you are not expressly seeking a car to restore or modify, you should probably stay away from these years while shopping for a vehicle.
Here are the years of the BMW 3 Series to avoid:
2005
The model from 2005 should generally be avoided as a pre-owned vehicle.
The new generation had a rough start in its first year of existence. The reliability of the engine was poor, and there were problems with the vehicle's electrical system.
2008
This was yet another difficult year, with people having issues with everything from the reliability of their engines to the noise their suspensions made.
In addition, 2008 was the last year that the older E46 version of the 3 Series was manufactured, which means that you will be receiving a vehicle that is already beginning to show its age.
2012
You should avoid the 2012 BMW 3 Series in particular since it has a reliability rating of just one out of five stars and an owner satisfaction rating of only two out of five stars.
Notably, the 2012 model year had substantial engine problems, which greatly affected the reliability.
If you desire a BMW 3 Series but can't afford a brand new one, do you have no other options left?
The most recent batch of the 2019+ BMW 3 Series is generally regarded as having a reasonable degree of reliability.
If it helps, a common guideline to follow here is always to get the best and most recent model of the 3 Series that you can afford.
If you are going to have to strain to be able to afford it, it is probably preferable to come back when you have a larger budget.
What Are Some Typical Problems With BMW 3 Series Cars?
The BMW 3 series has faced some problems over the years. The following are some of the most common problems faced by the BMW 3 series:
Crankcase bearing bushing
Some variants of the BMW 3 Series manufactured between 11 March 2019 and 9 July 2019 are being recalled because the crankcase bearing bushing may not have been pushed into the engine properly.
These vehicles were manufactured between 11 March 2019 and 9 July 2019.
Talk to a BMW dealer if you want more information about this matter, even if it may seem to be a little problem at first glance. The vehicles that are affected will need to have brand-new engines installed in them.
Crankshaft sensor
If there is an issue with the crankshaft sensor in certain instances that were constructed between the 16th of May and the 7th of June 2018, the engine may enter an emergency reduced power mode, which will restrict performance.
A BMW dealer will be able to determine whether or not your 3 Series is impacted by this issue and assist you in replacing the sensor if necessary.
Engine may stall
Some BMW 3 Series vehicles have engines that stall owing to the fuel pump. This pertains to models that were manufactured between the 1st of September 2013 and April 2014.
Before the engine completely shuts down, there is a possibility that a warning light and an error message display.
To determine whether or not your particular model is impacted by this issue and whether or not the fuel pump will need to be changed, you should get in touch with a BMW dealer.
EGR cooler
There have been several recalls of the BMW 3 Series for leaky EGR coolers, and they relate to a variety of BMW models.
However, for the 3 Series, it only impacts vehicles that were manufactured between September 2015 and November 2017.
Because the model years affected are across a wide timeline, you should get in touch with your dealer to find out more information, as you will need to have the car examined if there is a possibility that it is one of those that are impacted.
Rear headrest
If you own a 3 Series manufactured between July 5 and 31, 2019, and the foldable central rear headrest isn't functioning as intended, we recommend that you have your local BMW dealership evaluate it to see if it needs to be replaced.
Suspension and brakes
The BMW 3 Series has had a reputation for wearing down brake pads and discs at an alarming rate, something that owners have observed.
If your vehicle has an electrically adjustable damper that makes a rattling sound, this does not necessarily signal a problem. However, if this persists, we recommend that you take your car to a trusted BMW service facility.
Final Thoughts
This line of BMWs was first manufactured in 1975, and it is still going strong to this very day. It is presently in its seventh iteration and is widely considered to be among the most worthwhile purchases available at its price range and within its industry.
J.D. Power surveys revealed the greatest issues with vehicles in 2009. The year 2010 was the poorest for fuel efficiency, while 2011 was the most expensive year for repairs.
Used BMW 3 Series models from 2012 are the most desirable to purchase due to the car's comprehensive makeover and the low number of documented issues up to this point.
Was this article helpful?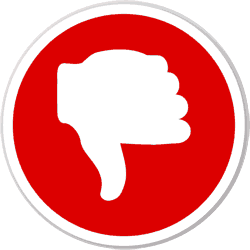 Did you find wrong information or was something missing?
We would love to hear your thoughts! (PS: We read ALL feedback)
ⓘ  The information in this article is based on data from National Highway Traffic Safety Administration (NHTSA) recall reports, consumer complaints submitted to the NHTSA, reliability ratings from J.D. Power, auto review and rating sites such as Edmunds, specialist forums, etc. We analyzed this data to provide insights into the best and worst years for these vehicle models.
---