The Hyundai Elantra GT has seen various model years with its fair share of ups and downs. In this article, we dive into the best and worst years for this popular vehicle.
Over time, the Elantra GT has evolved to meet changing consumer preferences while keeping its reputation for value, efficiency, and reliability.
Let's dive into the good and bad years for Elantra GT.
The Best Year for Hyundai Elantra GT
The 2017 Hyundai Elantra GT stood out as the best year for the model. This specific year marked the beginning of an important transition for the Elantra GT, showcasing a redesigned exterior, sleek styling, and improved performance.
The 2017 Elantra GT boasted a new, more efficient engine: a 2.0-liter four-cylinder, offering 25 more horsepower than the previous 1.8-liter engine.
Customers had the option to choose between a 6-speed manual transmission or a 6-speed automatic transmission. Both options provided smooth shifting and commendable fuel efficiency.
In addition to the improved engine, the interior of the 2017 Elantra GT saw a noticeable upgrade. The cabin offered ample legroom and comfortable seating, making long car rides much more enjoyable. Drivers and passengers alike appreciated the advanced infotainment system, featuring a touchscreen display, intuitive controls, and seamless smartphone integration.
This model year also saw the introduction of safety features such as blind-spot detection, rear cross-traffic alert, and lane-change assist. These additions played a key role in the 2017 Elantra GT's recognition as the "2017 Best New Car for Teens" by USNews.
Finally, the 2017 Elantra GT maintained a competitive price point, positioning itself as an attractive option for buyers seeking a fun, efficient, and reliable hatchback.
With performance, style, and features on par with top competitors like Honda and Toyota, the 2017 Hyundai Elantra GT made its mark as the best year for this model.
The 2nd Best Year
The 2018 Hyundai Elantra GT grabbed attention as one of the best years for the model.
This year marked the beginning of the 3rd generation (PD) and brought some noteworthy updates and features that made it superior in the lineup. The exterior design was refreshed with sharper lines and a more modern appearance that both impressed and attracted buyers.
Under the hood, the 2018 Elantra GT offered two engine options, which included a 2.0L inline-4 gas engine and a more powerful 1.6L turbo inline-4 gas engine. The engines were paired with either a 6-speed automatic or a 6-speed manual transmission, providing smooth and efficient performance to match various driving styles. The available turbocharged engine appealed to those looking for a spicier driving experience without sacrificing fuel economy.
Inside the cabin, the 2018 Elantra GT boasted a spacious and comfortable interior. The updated infotainment system, complete with Apple CarPlay and Android Auto, made it easy for drivers to stay connected and entertained on the road. In addition, Hyundai's commitment to safety manifested in the array of standard safety features, such as a rearview camera, blind spot monitoring, and automatic emergency braking.
One more aspect that made the 2018 Elantra GT a remarkable year was its adaptability. For consumers looking for extra cargo space, the hatchback variant of the Elantra GT allowed for increased utility without sacrificing the attractive design and engaging driving experience.
In conclusion, the 2018 Hyundai Elantra GT stands out as the 2nd best year for the model due to its refreshed design, impressive performance options, comfort, connectivity, safety features, and versatility.
Other Good Years
When it comes to the Hyundai Elantra GT, there are other good years to consider if you're looking for a reliable and well-performing vehicle.
These standout years include:
2018-2020 – This period marks the 3rd generation (PD) of the Hyundai Elantra GT. Equipped with either a 2.0L Inline-4 Gas or a 1.6L Turbo Inline-4 Gas engine and a 6-Speed Automatic transmission, these models offer a good mix of power and fuel efficiency. In addition, they also have modern technology and safety features.
2016 – The 2nd generation (GD) of the Hyundai Elantra GT offers updated styling and improved performance. These years saw an introduction of new technology and safety features, as well as a more sophisticated suspension setup. Drivers can choose between a standard 6-speed manual or an optional 6-speed automatic.
Here are some additional good years for the Hyundai Elantra GT, with each year's standout features:
2019: This year saw the introduction of the Elantra GT N Line, which offered a sportier appearance and increased performance with a 201-horsepower turbocharged engine and sport suspension. It also included features such as 18-inch wheels, leather seats, and a large touchscreen with Apple CarPlay and Android Auto integration.
These good years for the Hyundai Elantra GT show that the vehicle has consistently offered numerous benefits to drivers throughout its history, such as performance, reliability, and features, making it an excellent choice for a compact car.
The Worst Year for Hyundai Elantra GT
2013 was not a great year for the Hyundai Elantra GT. During this time, it faced several challenges and issues, making it one to avoid for potential buyers. Some of the problems that arose during this particular model year were related to engine and transmission performance, as well as other technical issues that affected customer satisfaction.
The 2013 Hyundai Elantra GT experienced engine problems, including instances of engines stalling or shutting off unexpectedly. Several owners reported that the car's engine would stall without warning, putting them in dangerous situations while driving.
Additionally, there were some reports of engines seizing, leading to costly repairs or replacements.
Transmission issues were another concern for the 2013 Elantra GT. Some drivers reported unresponsive transmissions and difficulty shifting gears.
This led to unpleasant driving experiences and diminished the car's overall performance and efficiency.
There were also some technical glitches in the 2013 Hyundai Elantra GT's electronic systems. Some owners experienced issues with the infotainment system, Bluetooth connectivity, and GPS navigation. These problems, while maybe not as serious as the engine and transmission issues, still caused frustration and inconvenience for drivers and passengers alike.
Despite these setbacks, it's important to consider that not every 2013 Hyundai Elantra GT had these problems. Many owners had positive experiences with their vehicles, and Hyundai has since worked to address some of the concerns raised by customers.
So, while the 2013 model year wasn't the best for the Elantra GT, Hyundai has continued to improve and refine the popular compact car in the years since.
Other Bad Years
2015 Hyundai Elantra GT: Some owners of the 2016 Elantra GT reported transmission troubles, but while these issues may cause inconvenience, they are not as widespread as in other years.

The refreshed Elantra GT gained an updated exterior design with new front and rear fascias, along with new wheel designs. The interior was also updated, adding more convenient features such as a standard 8-inch infotainment system and an available panoramic sunroof. Additionally, this model year also introduced an upgraded engine option, a 173-horsepower 2.0L Inline-4, delivering a more engaging driving experience.

2017 Hyundai Elantra GT: The 2015 model was not immune to issues. A few cases of steering problems were reported by the owners, and some transmission concerns surfaced, which should be taken into account when considering this model year.
It's important to remember that while these years stand out for having some issues, Hyundai has continuously strived to improve their vehicles over time. All cars may experience occasional hiccups, and the issues mentioned above may not be representative of every vehicle from those years.
It's always wise to research thoroughly and assess individual vehicles before making a purchase.
Common Problems to Look for in a Hyundai Elantra GT
The Hyundai Elantra GT has a good reliability score.
Also , the average annual repair cost is roughly $400, making it a cost-effective option for many buyers. However, there are still a few common issues that owners have reported over the years.
Steering issues appear to be a frequent complaint among Hyundai Elantra GT owners.
Here are some common problems with Hyundai Elantra.
Some have experienced power steering failure, while others report inconsistent power steering functionality. Popping noises and wheel locking in the straight position have also been reported. These issues can be troublesome and potentially dangerous, so it's essential to keep an eye out for any signs of steering difficulty when considering a used Elantra GT.
Another area where the Elantra GT may have problems is with its fuel economy.
While the 2022 model has recorded impressive fuel efficiency ratings, with 33-40 MPG, it's crucial not to assume that earlier models share this same performance. Make sure to research the specific model year you're interested in to get an accurate understanding of its fuel economy.
Lastly, there have been several model-specific issues reported by owners.
It's important to research the particular model year you're considering and be aware of the typical problems that could arise.
In summary, while the Hyundai Elantra GT generally has a good overall reputation for reliability, prospective buyers should be aware of common issues such as steering problems and model-specific concerns. Doing thorough research on the specific model year you're interested in can help ensure a smoother and more satisfying ownership experience.
Go Back: Overview over best and worst years for all Hyundai car models.
Was this article helpful?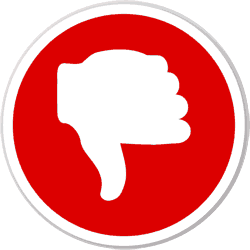 Did you find wrong information or was something missing?
We would love to hear your thoughts! (PS: We read ALL feedback)
ⓘ  The information in this article is based on data from National Highway Traffic Safety Administration (NHTSA) recall reports, consumer complaints submitted to the NHTSA, reliability ratings from J.D. Power, auto review and rating sites such as Edmunds, specialist forums, etc. We analyzed this data to provide insights into the best and worst years for these vehicle models.
---