The Buick Riviera is a classic luxury car that has been around since 1963. Over the years, the Riviera has seen some changes in design, features, and performance. Some years were better than others, and some were worse.
In this article, we will take a look at the best and worst years for the Buick Riviera.
Let's start.
The Best Year
The Buick Riviera had a long and successful run, but one year stands out as the best of the bunch.
It's an oldie – year 1965.
In 1965, the Riviera received a number of updates that made it even more desirable than before. The most notable change was the addition of a new 425 cubic inch "Super Wildcat" V8 engine. This engine was capable of producing an impressive 360 horsepower and 465 lb-ft of torque, making the Riviera one of the most powerful cars of its time.
In addition to the new engine, the 1965 Riviera also received some styling updates that helped it stand out from previous models. The grille was redesigned with a more aggressive look, and the taillights were revised to give the car a more modern appearance.
Inside, the 1965 Riviera was just as impressive.
The interior was spacious and comfortable, with plenty of room for passengers and their luggage. The dashboard was redesigned with a more modern look, and a number of new features were added, including power windows and a tilt steering wheel.
Overall, the 1965 Buick Riviera was a true masterpiece of automotive engineering. It was powerful, stylish, and comfortable, making it the perfect car for anyone who wanted to make a statement on the road.
Other Good Years
Aside from the top three years for the Buick Riviera, there are a few other years that are worth mentioning. Here are some additional good years and what makes them stand out:
1966: The 1966 Riviera was largely similar to the previous year's model, but it did feature some minor updates and improvements. One of the biggest changes was the addition of a new Gran Sport package, which included a more powerful engine, stiffer suspension, and other performance upgrades. The Gran Sport package made the Riviera even more of a performance car than it already was.
1971: The fourth-generation Riviera was introduced in 1971, and it featured a new, more angular design that was a departure from the previous generation's curves. The 1971 Riviera also had a more powerful engine than the previous year, with a 455 cubic inch V8 that produced 315 horsepower. The 1971 Riviera is often praised for its combination of luxury and performance.
1985: The fifth-generation Riviera was introduced in 1979, but it wasn't until 1985 that it received a major update. The 1985 Riviera featured a new front-wheel drive platform, which improved handling and overall performance. It also had a more modern, aerodynamic design that was a departure from the previous generation's boxy styling.
1995: The final year of production for the Riviera was 1999, but the 1995 model is often considered one of the best. It featured a supercharged V6 engine that produced 225 horsepower, which was a significant improvement over the previous year's model. The 1995 Riviera also had a more refined interior and improved handling, making it a great option for anyone looking for a luxury coupe with some serious performance chops.
Overall, while these years may not be the absolute best for the Buick Riviera, they are still worth considering for anyone looking for a great luxury coupe with plenty of style and performance.
The Worst Year
The 1995 Buick Riviera is considered the worst year for this model. While it had a sleek exterior design and a comfortable interior, it was plagued with issues that affected its overall performance and reliability.
Other Bad Years
1974: This year saw the introduction of the downsized Buick Riviera, which was a departure from the previous models in terms of size and styling. The car was less luxurious and had a boxy design that was not well-received by consumers. It also had a smaller engine and lower horsepower, which affected its performance.
1986: The 1986 Buick Riviera was plagued with electrical issues that caused the car to stall and shut off unexpectedly. This was a major safety concern and led to a recall of over 100,000 vehicles. The car also had a poor fuel economy and lacked the luxury features that were expected from a Buick.
Overall, while the Buick Riviera has had some bad years, it has also had many good years where it has been a popular and well-regarded luxury vehicle.
Riviera Years and Recalls
When it comes to recalls, some years of the Buick Riviera have had more issues than others.
Here are some of the notable years with recalls:
| Year | Number of Recalls |
| --- | --- |
| 1995 | 1 |
| 1996 | 2 |
| 1992 | 2 |
| 1979 | 2 |
| 1990 | 4 |
The 1990 Buick Riviera also had 4 recalls, including issues with the seat belts, break fluid, and the power train.
It's worth noting that while these years had the most recalls, it doesn't necessarily mean that every vehicle from these years had issues. It's important to check the specific recalls for a particular vehicle and have them addressed by a qualified mechanic.
Overall, it's important to stay up to date on any recalls for your Buick Riviera, regardless of the year. Keeping your vehicle in good condition and addressing any recalls promptly can help ensure its safety and longevity.
Common Problems to Look For
When considering purchasing a Buick Riviera, it's important to be aware of common issues that owners have reported. By knowing these problems, you can make an informed decision on which model year to purchase and what to look for when inspecting the vehicle.
According to RepairPal, the most common issue reported by owners of the Buick Riviera is the anti-theft system that uses a raised-chip key.
This problem affects the starting of the car and has been reported by 23 people. Another common issue is the trunk lid not closing properly due to trunk pull down switch failure, which has been reported by 18 people.
Kelley Blue Book also notes that the 1995 Buick Riviera had some common problems.
These include issues with:
the power steering pump,
fuel pump,
and transmission.
The 1996 model year had similar issues, along with problems with the air conditioning system and engine cooling system.
In addition, the 1990 Buick Riviera has been reported to have 19 known complaints by owners. These include issues with the fuel system, electrical system, and suspension system.
When inspecting a Buick Riviera, it's important to check for these common issues and to have a mechanic inspect the vehicle thoroughly. By doing so, you can avoid potential problems and ensure that you're purchasing a reliable car.
Overall, while the Buick Riviera has had some common issues reported by owners, it remains a popular and stylish car for those looking for a classic luxury vehicle.
Frequently Asked Questions
What are the top years for the Buick Riviera?
The first generation of the Buick Riviera, produced from 1963 to 1965, is considered the top years for the car. The second generation, produced from 1966 to 1970, is also highly regarded for its powerful engine and sleek design.
Which years should I avoid when buying a Buick Riviera?
The third generation, produced from 1971 to 1973, is often considered the worst years for the Buick Riviera due to its lackluster performance and unappealing design. The fourth generation, produced from 1974 to 1976, is also not highly regarded.
What was the last year Buick Riviera was made?
The Buick Riviera was last made in 1999. The car was discontinued due to declining sales and a shift in consumer preferences towards SUVs and trucks.
What are the common problems with Buick Riviera?
Some common problems with the Buick Riviera include issues with the transmission, electrical system, and suspension. It is important to have these issues addressed promptly to avoid further damage to the car.
How does Buick Riviera compare to other classic cars?
The Buick Riviera is often compared to other classic cars such as the Ford Thunderbird and the Chevrolet Corvette. While it may not have the same level of performance as these cars, the Buick Riviera is known for its luxurious design and comfortable ride.
Go Back to list of all Buick models (best and worst years)
Was this article helpful?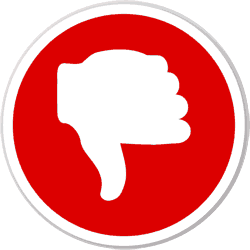 Did you find wrong information or was something missing?
We would love to hear your thoughts! (PS: We read ALL feedback)
ⓘ  The information in this article is based on data from National Highway Traffic Safety Administration (NHTSA) recall reports, consumer complaints submitted to the NHTSA, reliability ratings from J.D. Power, auto review and rating sites such as Edmunds, specialist forums, etc. We analyzed this data to provide insights into the best and worst years for these vehicle models.
---