The Buick Enclave has gained popularity since its introduction in 2007, with General Motors selling over 600,000 units. However, not every model year of this midsize SUV has lived up to the high standards expected from the brand.
This article explores the best and worst model years of the Buick Enclave to help potential buyers make an informed decision.
The Best Year for Buick Enclave
The 2023 Buick Enclave emerges as a top contender for the best year of this popular SUV. It comes with various improvements and enhancements which make it a favorite among drivers and reviewers alike.
Note that this model is still quite new so it might not end up at the top of the list – but for now, we think it's the best Enclave model ever made!
One of the key factors that contribute to the success of the 2023 Enclave is its performance.
It is equipped with a 3.6L V6 engine, producing 310 horsepower. This engine is paired with a smooth 9-speed automatic transmission, giving drivers confidence and power on the road.
Another strong suit of the 2023 Enclave is its spacious and luxurious interior.
With ample room for up to seven passengers, this SUV is designed for comfort, offering features like heated and ventilated leather seats, wood accents, and an available panoramic sunroof. Besides passenger comfort, the Enclave also caters to cargo needs with a generous amount of storage space.
When it comes to technology, the 2023 Buick Enclave doesn't disappoint.
It is equipped with various standard and available features, including the latest infotainment system compatible with both Apple CarPlay and Android Auto, an available in-vehicle Wi-Fi hotspot, and a high-definition rearview camera.
Additionally, the Enclave offers impressive safety features such as adaptive cruise control, lane-keep assist, and forward collision alert, ensuring a secure driving experience for all on board.
In conclusion, the 2023 Buick Enclave checks all the boxes for a top-tier SUV. With its excellent performance, comfortable and spacious interior, advanced technology, and safety features, it's no wonder that this year's model stands out as the best version of the Buick Enclave.
The 2nd Best Year
The 2020 Buick Enclave made a significant impression with its striking balance of comfort, performance, and overall value. Boasting a smooth ride and a cozy cabin, the 2020 model year also came equipped with an impressive array of standard features.
The 2020 Enclave's 3.6-liter V6 engine also delivered 310 horsepower, ensuring the vehicle had ample power to tackle various driving situations with ease. Its nine-speed automatic transmission allowed for seamless gear shifts and contributed to the Enclave's commendable fuel efficiency.
Safety remained a priority for Buick, and the 2020 Enclave came equipped with several driver assistance technologies, such as lane departure warning, blind-spot monitoring, and rear cross-traffic alert. These features helped to promote a more secure driving experience and instilled confidence in its owners.
With seating for up to seven passengers, the Enclave offered generous amounts of legroom and headroom, making it suitable for long trips. The high-quality materials used throughout the cabin further elevated the driving experience and gave occupants a sense of luxury.
In terms of infotainment, the 2020 Buick Enclave featured an 8-inch touchscreen, Apple CarPlay, and Android Auto integration as standard. The user-friendly interface and robust connectivity options allowed drivers and passengers to stay connected on the go.
Though overshadowed by the exceptional 2018 redesign, the 2020 Buick Enclave still shines as a strong contender in its segment by offering comfort, power, and modern features that stand out.
Other Good Years
In addition to the popular and reliable 2023 Buick Enclave, there are several other years that have stood out for their performance and quality.
Here's a short list of additional good years for the Buick Enclave:
2016: The 2016 Enclave featured a new OnStar system with 4G LTE connectivity, which improved the vehicle's technology and convenience. It was also praised for its smooth ride, comfortable cabin, and strong safety ratings.
2018: The 2018 model brought a few updates, including a rearview camera system as standard equipment, as well as improvements in interior materials quality. Drivers appreciated its refined ride quality and attractive exterior design, as well as useful features like the hands-free power liftgate.
2020: This model year saw a slight facelift and several new standard safety features. In addition, the Enclave received generally positive reviews for its roomy interior, smooth ride, and ample cargo space.
While these years may not be as recent as 2023, they still offer considerable value for Buick Enclave buyers looking for a reliable midsize SUV with solid performance and a comfortable, feature-packed interior.
Remember to always research and test-drive any used vehicle before making a purchase decision to ensure it's the right fit for your needs.
The Worst Year for Buick Enclave
The 2008 Buick Enclave model takes the spotlight as the least favorable year for the vehicle.
In comparison to other years, this model has received the most complaints, with transmission problems being a key concern among owners.
CarComplaints.com and MotorBiscuit.com both affirm that the 2008 Enclave had severe maintenance issues, with the most common being transmission failure and power steering failure. Transmission failure typically occurs at roughly 90,000 miles, and often, the most practical solution is to replace the transmission entirely.
It is important to note that the Enclave's reliability rating is 3.0 out of 5.0, ranking it 24th out of 26 for midsize SUVs. The average annual repair cost is around $700-$900, indicating average ownership costs.
However, both the frequency and severity of repairs are slightly higher than normal for this vehicle, making the Enclave more likely to require ongoing maintenance.
While it is true that the 2008 model had its share of issues, it does not necessarily imply that the entire line of Buick Enclaves is flawed.
At all.
As with any vehicle, there are bound to be years that experience more difficulties than others. By being aware of potential problems, consumers can make informed decisions when shopping for a car.
Other Bad Years
2009 Buick Enclave: This year's model faced issues with its transmission. There were some reported instances of premature transmission failure, with owners needing major repairs or even complete transmission replacements. Even though this problem was prevalent among a limited number of vehicles, it's still worth noting for potential buyers.
2011 Buick Enclave: This model experienced problems with its steering system. There were cases of power steering pump failure and leaking, which led to difficult steering. While this issue wasn't widespread, drivers affected experienced a significant impact on their vehicle's overall performance.
2013 Buick Enclave: In this year, the Enclave had some complications related to air conditioning systems. The most common problem was leaking refrigerant, which would lead to a lack of cool air and a musty smell inside the car. Although not a major issue, it's still something that may be bothersome for some owners.
It is essential to keep in mind that the issues mentioned above were not present in every vehicle from those specific years. Many satisfied Enclave owners have had positive experiences with their vehicles, and it's fair to consider these issues as exceptions rather than the norm.
Taking a closer look at each car's history and maintenance records can help potential buyers make a more informed decision when considering an Enclave from these years.
Common Problems to Look for in Used Buick Enclave
When searching for a used Buick Enclave, it's essential to know the most common issues faced by owners. For instance, the stretched timing chain is a prevalent problem with the Enclave. This component, which is wrapped around the camshaft and crankshaft, regulates the engine's turning and ensures valves open and close at the proper time.
We have a ful list of the most common problems across Buick Enclave models.
A stretched chain can easily result in performance issues.
Another issue to look for is the failure of the power steering pump. A failing pump can lead to difficulties while turning and require additional effort to steer the vehicle.
This kind of problem might be accompanied by a whining noise, making it easier to identify. Additionally, it's worth checking for leaks in the steering rack, as these may exacerbate the issue further.
Buick Enclaves also have a history of problems related to air conditioning and climate control systems. This might include weak airflow, a lack of cool or warm air, and unpleasant odors coming from the vents. It's essential to test the A/C and heating systems thoroughly during a test drive and note any inconsistencies in function or unusual smells.
Lastly, an issue faced by some Enclave owners is a faulty wave plate in the transmission. This can result in difficulty shifting gears, slipping gears, or even complete transmission failure in severe cases. A sudden increase in engine RPMs without an accompanying increase in speed can often indicate this problem. It's crucial to pay attention to the vehicle's gear transitions during the test drive and listen for any unusual noises.
Being aware of these common problems when purchasing a used Buick Enclave can help make a more informed decision and decrease the likelihood of future issues with the vehicle.
Go Back to list of all Buick models (best and worst years)
Was this article helpful?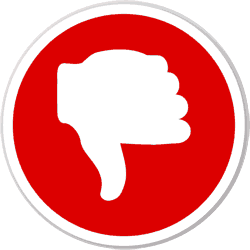 Did you find wrong information or was something missing?
We would love to hear your thoughts! (PS: We read ALL feedback)
ⓘ  The information in this article is based on data from National Highway Traffic Safety Administration (NHTSA) recall reports, consumer complaints submitted to the NHTSA, reliability ratings from J.D. Power, auto review and rating sites such as Edmunds, specialist forums, etc. We analyzed this data to provide insights into the best and worst years for these vehicle models.
---