The motorcycle scene has steadily evolved into a wide selection of fine-art engineering.
A century of international competition has resulted in a market full of high-class, high-performance, and high-powered motorcycles.
The BMW Motorrad line exemplifies originality and performance-focused engineering, but are BMW Motorcycles good for beginners?
Here's the Short Answer to Are BMW Motorcycles Good for Beginners:
While some high-end BMWs are too powerful and specialized for beginner riders, they make a handful of medium-powered, easy-handling, and comfortable-to-ride motorcycles that are great for responsible beginner riders. They are expensive to maintain and must be well-kept to last long and hold value. 
Are BMW Motorcycles Easier or Harder to Ride?
BMW motorcycles are comfortable and easy to handle if they're ridden per their intended use. BMW Motorrad has a broad selection of motorcycles, including cafe racers, street-fighters, touring bikes, and dual sport adventure motorcycles.
BMW motorcycles manifest some of the most innovative engineering techniques in the game, incorporating state-of-the-art features with comfortable riding positions and agile chassis.
Meanwhile, you can also explore how reliable BMW motorcycles are.
I was blown away by how impressively planted and stable this [BMW] bike feels at excessive highway speeds. At one point I glanced down at the speedo and saw that we were nearing triple digits. The BMW made it feel like we were cruising around 70 mph. I think the shorter suspension and tire selection gave it the advantage here over the F 850 GSes that we tried.
BMWs are known for their forgiving suspension, which amplifies the comfortable ergonomics and generally makes riding more accessible.
The bikes in the BMWs Motorrad stable offer intuitive handling, even weight distribution, and responsive but predictable power accessibility, making them an excellent choice for riders looking for a comfortable but sporty and performance-focused ride.
The [BMW] F 750 GS just felt extremely approachable overall. There was an easy reach to the ground yet it still felt roomy and comfortable for long-haul street riding. The electronics worked flawlessly, the giant TFT dash is extremely clean and easy to read, and the electronic suspension was superb. While I wish the fork was adjustable, I was really impressed with how it was damped in stock form.
How Well Do BMW Motorcycles Handle?
BMW motorcycles handle incredibly well thanks to their slender but robust chassis, even weight distribution, and forgiving suspension. BMW bikes are typically on the sportier side of handling, offering riders a comfortable, ergonomic position.
BMWs aren't as light as some other bikes in their class. They are weighted exceptionally well, with a center of gravity fit for nimble leaning, curving, and turning both on country roads and in more urban cruising settings.
But don't take our word for it; here are some reports from real-life BMW riders reviewing the steller handling of a BMW Motorrad Motorcycle.
Taking sharp turns that fold over themselves up and down the mountain, I found that the [BMW] G 650 GS handles exceptionally well making it fun to ride and easy to control.
At rush hour around San Diego, motorcyclists must stay up with normal traffic speeds on the highways which often exceed 80 mph or risk certain death. The G 650 GS held its own and even had extra reserve power for passing giving me confidence and a feeling of safety as darkness fell.
Furthermore, BMW motorcycles are low to the ground for easy control while still offering plenty of comforts and an upright, easy-to-master riding position.
As a 5-foot 6-inch rider, I like the low seat height of 30.7 inches (low for a dual-sport) which allows me to sit astride the bike flat-footed and with my knees bent. Since heated grips and anti-lock braking systems two must-haves in my book come standard, you dont have to pay extra or dink around with getting aftermarket parts installed later on. The three-position clutch lever is nice for those with smaller hands. You can adjust the setting to bring the lever to the hand grip.
Please also read our article about whether cruiser motorcycles are good for beginners.
What Is the Best BMW Motorcycle for Beginners?
Here's the best BMW motorcycle for beginners:
BMW G 310 GS
Not only is the G 310 GS one of the most affordable motorcycles in the BMW Motorrad lineup, but it's also a small-displacement adventure bike that doesn't sacrifice quality. It was designed to be an entry-level adventure bike, and they nailed it.
Its single-cylinder 310 cc engine is a reliable and consistent source of 34 horsepower, enough power for beginners to hit the off-road trails. That said, the entry-level engine is a low enough limit to allow them to safely access the full range of the bike's gearbox, on and off-road.
The G310 GS has a light-action clutch and comes standard with an Anti-Lock Brake System, both pluses where learners are concerned.
The ABS can be switched off for a true off-road riding experience, which benefits riders who plan on learning adventure bike riding once they get more experience.
Finally, the entry-level in the GS series offers smooth handling and easy control layout as all their other models.
If you're wondering whether you can handle the G 310 GS as a learner, read up on how fast 300cc motorcycles go.
BMW C 400 X
The BMW C400 X is a street bike/scooter hybrid great for beginners looking for something reliable and agile to commute on but aren't concerned with learning the technical and manual aspects of motorcycle riding.
Its engine is tuned with a focus on efficiency and stability in a compact package that's almost as easy to ride as a bicycle.
That said, if you're looking to master highway riding, technical riding, and multi-tasking balancing with hand-clutch foot-shifting, you might want to start on a manual bike with more power.
BMW F 900R
The BMW F 900R is a naked, or standard motorcycle-a stripped motorcycle that's little more than a frame, seat, and motor.
While it packs a 900CC motor that pushes 105 HP, beginners looking for a first bike they can grow into and master highway-riding on will find the F 900R is a reliable, powerful-yet-manageable option for a first bike.
What Defines a Good Starter Motorcycle?
A good starter bike is a middleweight with enough engine power for a new rider to grow into without being overwhelming, with predictable and responsive management. An excellent first bike has a comfortable riding position, good resale value, and safety features like Traction Control and Anti-Lock Brakes.
Rumble.com, a website specializing in selling used motorcycles, published this shortlist of attributes new riders should consider when shopping for their first moto:
Here are a few considerations to take into account if you are in the market for your first motorcycle:

Weight – A bike between 300 – 400 lbs is a good weight and is not too hard to find.
Engine size – Anywhere from 150 – 600 cc will give you enough power, but not overwhelming
Price – A good used bike can be purchased for as low as $1,500 but we go up depending on the size, type, and brand.
Speed – Beginners don't need more speed than they can handle with their first bike. Look for something between 80 – 130 mph.
Technology – Anti-Lock Braking System is a must. Newer motorcycles have some upgraded tech such as GPS, digital systems, audio systems, and other mechanics.
Manufacturer – Most major manufacturers make motorcycles that are a good fit for new riders.
Community – You will find that different motorcycles come with a different community of riders to engage in.
Terrain – Motorcycles can handle different types of terrain. You'll need to know where you want to ride "street, dirt, both" before committing to buying.
Are There Any BMW Motorcycles Beginners Should Avoid?
BMW makes motorcycles of all sizes, especially in its iconic GS adventure bike series.
While the GS models ranging between the 300 and the 750 make great beginner motorcycles, the 800 and up are expensive, heavy, and high-powered adventure bikes better fit for the pros.
You may also be interested in our article about whether Indian Motorcycles are good for beginners.
Was this article helpful?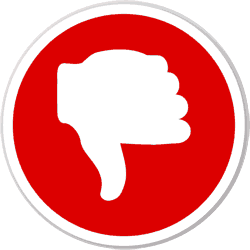 Did you find wrong information or was something missing?
We would love to hear your thoughts! (PS: We read ALL feedback)