Founded in 1870, BfGoodrich is what you would call an old hand at the business of making tires.
The company has manufactured several iconic tires, including those used on the first Model T. A century and a half later, BfGoodrich tires still have that uniqueness that separates them from other brands.
Are BfGoodrich Tires quiet or noisy?
Mostly, BfGoodrich is an average-performance tire and doesn't really have any dedicated noise-reduction features. Per research findings, only a few BfGoodrich tires are quiet, while the rest are quite noisy.
This means BfGoodrich is probably not the tire brand you would consider if you were in the market for a quiet tire.
Are BfGoodrich Tires Quieter Than Other Brands?
As explained earlier, BfGoodrich has slowly become an average tire brand over the years.
Even though it is under the control of Michelin, it cannot match the latter's quiet performance.
In fact, hardly any BfGoodrich tire is as quiet as tires from premium brands such as Goodyear, Bridgestone, and Continental.
Thus, we can say for sure, BfGoodrich tires are noisier compared to other brands.
How Noisy Are They?
BfGoodrich tires can and do offer a tranquil riding experience.
The problem is that only a few BfGoodrich tires can boast of such qualities. On the other BfGoodrich tires, you often trade off comfort for performance, which is somewhat disappointing.
From its rock-crawling tires to G-Force tires, BfGoodrich places emphasis on performance override tranquility and passenger comfort.
This is evident in its lack of a signature noise-canceling technology. Parent brand Michelin has its Acoustic Technology; Goodyear has SoundComfort; Continental has ContiSilent, and Pirelli has Noise Cancelation System (NCS).
We must note here that BfGoodrich is comparably less noisy than many budget tires that sell for cheap on the market. This is because of the innovative tread pattern on the tires.
In fact, we found some BfGoodrich tires were quieter than expected. A good example is the All-Terrain T/A KO2 tire, which has surprisingly low road noise for an all-terrain tire.
A handful of BfGoodrich tires also feature tread block phasing, which helps reduce tire vibration and noise.
While the primary purpose of the tread block phasing is to boost performance, the lower noise comes as an advantage for individuals who desire a quieter ride.
How Are BfGoodrich Tires Tested for Noise?
Like other brands, BfGoodrich tests its tires for both interior noise and exterior noise.
Interior noise is tire noise that affects the driver and passenger in a car.
In contrast, exterior noise refers to tire noise that affects those outside the car, such as other road users.
Exterior Noise or External Rolling Noise
Testing for exterior noise takes place on a driving track that test drivers navigate using cars fitted with the tires slated for testing.
While BfGoodrich's testing procedure may have a few different details, it is likely similar to those used by other manufacturers, including parent company Michelin.
Below, we have compiled procedures tire companies like BfGoodrich use to measure external rolling noise on their tires:
Glide or coast-by test:
In this procedure, the test driver advances towards the track at a constant speed, says 60 mph.

Once she reaches the track properly, she moves into neutral and turns off the engine.
These actions allow the car to glide or coast through the track and past the sound sensors.
The sensors pick up the noise from the moving vehicle and analyze it.

Acceleration test:
The driver approaches the test zone at 50 mph, with the car in second or third gear.

As he enters the track, he presses the accelerator pedal and speeds past the sound sensors.
The acceleration through the track is why we call this the 'Acceleration Test.'

Fixed speed test:
For this procedure, the driver advances toward the track and drives through it while maintaining the same speed.

The fixed speed test goes by another name in cases: 'the cruise-by test'.
This name comes from the cruising motion of the car as it moves through the test area.
Note: In all the tests mentioned, the sound sensors record noise from the cars as they pass by. The sensors analyze the volume of the sound to determine the level of external noise on the tires.
Interior Noise Testing
Assessment for tire-induced interior noise often takes various forms.
In cases, a driver will drive over a rough portion of the road, and thereafter, describe the noise output of the tires.
At other times, engineers will monitor internal noise by accelerating the car up to a point and measuring the sound pressure.
What BfGoodrich Tires Are the Quietest?
Although BfGoodrich is not the quietest tire brand out there, some of its models offer minimal road noise and vibrations.
Below, we review the quietest BfGoodrich tires:
BfGoodrich T/A KO2
Designed for SUVs and trucks, the BfGoodrich T/A KO2 is a rugged all-terrain tire built to last.
It features nylon-reinforced twin steel belts and a thick rubber sidewall compound, which helps increase its durability.
In addition, it comes with Tri-Gard, BFGoodrich's unique polyester cord sidewall ply construction for added toughness.
Keeping with its all-terrain designation, the BfGoodrich T/A KO2 is home on both wet pavement and dry roads. A computer-optimized tread design improves the tire's grip on wet or icy pavement.
Concurrently, side biter lugs boost traction in deep mud and in rocky terrain. In addition, mud buster bars located in the shoulder tread area eliminate compacted mud, improving grip in muddy conditions.
Even with its rugged performance, the BfGoodrich T/A KO2 tire offers a somewhat quiet ride. This is impressive because all-terrain tires have a reputation for being noisy.
The computer-optimized tread pattern on this tire is likely responsible for the low noise levels.
However, like every other popular product, the T/A KO2 tire has a handful of complaints, particularly for noise. Still, we recommend this tire if you want a quiet All-Terrain tire, as the complaints are rare.
BfGoodrich Radial T/A Tire
A staple of American sports cars and trucks, the BfGoodrich Radial T/A is among the best-known performance tires on the market.
Thanks to its unique tread compound and symmetric tread pattern, the Radial T/A offers year-round traction, with minimal wear.
The Radial T/A uses BfGoodrich's g-Wedge technology, which uses a sidewall stabilizer to bolster lateral stability and steering response. Previously found only on higher performance cars, the g-Wedge technology gives you more confidence when driving your sports car.
Unlike other performance tires, the BfGoodrich Radial T/A is quiet, as it features advanced tread block phasing.
This technology boosts performance and makes for a quieter ride.
What BfGoodrich Tires Are Noisier?
Here are some BfGoodrich tires which are known to be noisy:
BfGoodrich Advantage T/A
Engineered for coupes and sedans, the BfGoodrich Advantage T/A tire offers great all-season performance at an affordable price.
However, you may find that these tires are noisy, especially after the initial months of use.
Buyers have expressed varying levels of displeasure at the noisy level of the Advantage T/A tire. While some say it is manageable, a large majority say it is unbearable on rides.
A Toyota Highlander user said the noise on the Advantage T/A was loud enough to be audible even with loud music.
In a similar case, a Lexus owner reported that his Advantage T/A tires were noisy. This owner was forced to buy another tire brand to get a quiet ride on his vehicle.
While we found some positive reviews for the Advantage T/A tire, be prepared to face severe road noise with the product.
Can You Make BfGoodrich Tires Quieter?
Excessive tire noise is distracting for drivers and reduces ride quality.
So, what can you do to reduce tire noise output?
Here are five things you can do to make your BfGoodrich tires quieter:
1. Check the Wheel Bearings:
Although an important part of the wheel assembly, wheel bearings are hardly paid any attention.
However, wheel bearings can cause several problems if they wear out or suffer damage.
Particularly, bad wheel bearings are among the factors responsible for excessive tire noise.
2. Inflate the Tires Properly:
Under-inflation refers to a situation where air pressure in the tire is not enough.
Conversely, over-inflation refers to a situation where you have excess air pressure in the tires.
Both situations often lead to a squealing noise from the tires. Besides, improper inflation will cause uneven tire wear, which is another factor responsible for increased noise output on tires.
You can easily check for underinflation or over-inflation in your tires by measuring the air pressure with a tire gauge.
We advise that you consult the service manual to know the recommended amount of air pressure.
3. Perform Regular Tire Rotations:
BfGoodrich recommends that buyers rotate tires periodically.
Rotations prevent uneven wear, which increases noise output on tires.
4. Inspect Suspension:
The condition of your suspension often affects the tire's performance, such as noise output.
If the suspension shocks or forks are worn, tire noise will increase significantly.
Which Tire Brand Is The QUIETEST?
These days, almost every major tire brand offers tires with "quiet performance" and "no road noise."
As such, picking the quietest tire brand is more difficult than ever.
However, we analyzed reviews to select the quietest tire brands for you.
Here they are:
Pirelli
Dunlop
Continental
Michelin
Bridgestone
Goodyear
Cooper
Hankook
Was this article helpful?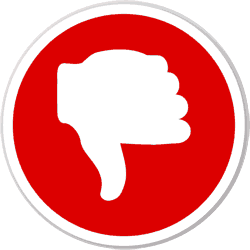 Did you find wrong information or was something missing?
We would love to hear your thoughts! (PS: We read ALL feedback)