For many people who want to learn to ride a motorcycle or are new riders who have already learned, it is a good idea to start on a 600cc bike.
A midsize, 600cc-650cc motorcycle is an excellent choice for beginner riders because it is not too big to handle or small enough to grow out of.
We've put together this list of popular midsize motorcycles for beginners to check out!
1. Royal Enfield INT650
In another redesign of an iconic motorcycle, in 2018 Royal Enfield began a new release of their Interceptor, the INT650. A slightly smaller engine than its predecessor, the 648cc Interceptor is a sleek, lightweight, and easily handled bike that suits beginners and aficionados alike.
Boasting an excellently designed suspension, sleek chassis, and smooth riding, this mid-weight champion is a steal at $6,699. If you get what you pay for, you'll be coming up on top with Royal Enfield's modestly priced vintage screamer!
One notable thing to consider when choosing a beginner bike is seat posture. This classic bike rides you high above the pavement in an upright position with a seat height of 31.7 inches, ideal for taller riders looking to get on a motorcycle.
The seat position can really benefit a new rider because it feels similar to bicycle riding in terms of balance and handling.
Similarly, the middle-of-the-road handlebar height is very comfortable and responsible when learning to steer and control the bike.
Weighing in at 434 lbs, this is an average weight for the 600cc arena, and the INT650 is as light as it is nimble. You'll find yourself naturally learning smooth movement, cornering, and handling in no time.
There are a few downsides we've come across in studying this popular 600cc model, but at this price, Royal Enfield was bound to cheap out on some parts. 
First is the seat design. Although the design was borrowed from earlier models to replicate the rad vintage look, the Interceptor's seat is unforgiving for long rides.
Forks and shocks make the naughty list as well, as these components are lackluster in a world full of rip-tight suspension systems. 
On another excellent note regarding the INT650, it's a perfectly suitable bike for getting off the beaten track and into the off-road world. This makes the 2022 Royal Enfield INT650 a double whammy for the beginner.
While we don't suggest doing any hardcore scrambling on this bike, some lighter rough-riding is in the cards if you want the means to the road less taken.
If you want an around-town noisemaker that can easily hit highway speeds for short trips, this powerful little rocket might just be for you! Check out the link below to see this affordably priced 2022 Royal Enfield INT650, coming in at $5,995.
https://www.cycletrader.com/listing/2022-Royal-Enfield-INT650-5018400386
2. 2017 Suzuki Boulevard S40                
It would be foolish to exclude this classic thumper from the list of great 600cc beginner bikes. Suzuki released this mid-size mover and shaker as the Savage but was re-marketed in 2005 as the consumer-friendly Boulevard S40. 
Although the Suzuki Boulevard is an entry-level cruiser from the Japanese giant, you can expect nothing less than classic perfection. 
Suzuki's entry into the world of cruisers features a 652cc, air-cooled four-stroke engine that links smaller 250cc models to their bigger, cruisin' cousins both in style and power control.
The single-cylinder engine actually pumps out more torque than its larger V twin brothers in the same mid-size class. 
The Boulevard is known as a quality Big 4 brand beginner bike. Because of its slender, lightweight body (380 lbs wet), it has very nimble handling around the city.
This also means that higher speeds can rattle your bones. Why not learn to ride confidently around your city or town before heading out on the highway, anyway?
$4,990 will get you on this Suzuki Boulevard:
Related: 5 Suzuki Models With The Most Recalls (Check Before Buying)
3. Hyosung GV650 Aquila Pro
Hyosung is often overlooked by motorcycle enthusiasts because we tend to stay staunchly connected to the Big 4 (Honda, Kawasaki, Suzuki, Yamaha). That being said, it's a good idea to take a head-turning look at the Hyosung GV650 Aquila. 
Featuring a liquid-cooled, 4-stroke V twin engine with a 647cc displacement, a rider can go 0-60 in an impressive 4.72 seconds. Some have said that the lower-end power of these Hyosung engines tops the performance of Western and Asian cruisers alike, in the mid-sized range.
The well-reviewed 6-speed clutch will not only keep you pumping out power in lower gears, but maintains well in the higher register. This keeps the Aquila roaring smoothly at highway speeds.
With the cruiser-adapted, wider-spread handlebars and upright riding position with forward controls, riders gaining experience can handle the Aquila Pro easily.
With a dry weight of 480 lbs, the Hyosung GV650 is a lighter option for cruiser enthusiasts who might have difficulty controlling a larger cruiser.
Another important feature of the Hyosung GV650 Aquila is a lower ride.
The 26.5 inch seat height and lower center of gravity appeals to riders who have a difficult time keeping taller bikes balanced during stops. Although this helps for smaller riders, the long frame length and spread-out wheelbase also allow for taller riders to stay comfortable.
In its essence, the GV650 covers all the bases for a beginner rider. 
With excellent reliability, cheap upkeep costs, and good availability for replacement parts, the Hyosung Aquila is a wonderful choice for someone looking to get out on a cruiser.
We found 2015 Aquilas listed for as little as $6,199!
4. 2020 Kawasaki Vulcan S 
Known for incredible rider comfort, this cruiser-style bike handles and corners with ease. A perfect fit for the beginner rider, Kawasaki's Vulcan S is as iconic as it gets for the Asian cruiser market. 
The Vulcan's 650cc liquid-cooled, 4-stroke engine is a great place to start.
Essentially the same engine as the Ninja & Versys, Kawasaki brings street-style torque and horsepower to the powerhouse of a classic cruiser.
Fitted with a single spring, preloaded shock in the back, the comfort afforded the rider allows for longer hours grinning in the saddle. Although sportbike-oriented critics of the Vulcan S complain about the soft handling, for a cruiser, it handles like a dream.
A secondary factor to the masterful control of this Kawasaki cruiser is the low curb weight. At just under 500 lbs, this midweight champion centers and maneuvers equally easily.
Now let's address the highly lauded comfort quality of the Vulcan. The upright positioning, soft suspension, and easily adjustable, rider-specific fitting make even the most novice of riders feel right at home astride Kawasaki's magnificent Vulcan 650.
We won't dock any points off of the Kawasaki Vulcan 650 S for a relatively low top speed. That's because cruisers are for…well, cruising. With great control and little vibration reported even at highway speeds, a beginner rider should be well within their comfort zone on this sporty-looking, cruiser-style motorcycle.
$7,595 might be a little higher on the price range to get into a 2020 Kawasaki Vulcan, but with a slightly higher price than other 600cc bikes surely comes a higher value!
Related: What's The Top Speed For Kawasaki Motorcycles? (6 Examples)
5. CCM Spitfire Cafe Racer 
For the beginner rider who wants to shoot out the gates with class and style, consider the CCM Spitfire 600cc series. This incredibly stylish run of cafe-style, custom bikes keeps CCM's vintage-inspired model at the top of the charts in the new vintage cafe arena. 
A classic British motorcycle manufacturer, CCM specialized in 4-stroke, single-cylinder dirtbikes, but introduced these street-legal cafe racers to much applause from the international motorcycle community.
We'll be honest right up front: CCM makes all their bikes in limited edition runs, often no more than 150. It's an honor to get one of these 600cc beasts, so be sure to keep your eyes and ears open for CCM's yearly releases. 
With butter-soft throttle control, the midrange power from the Husqvarna engine is just enough. The 6-speed clutch is a portal to great RPM control and ease of shifting adds to the smooth riding that the CCM Spitfire Cafe Racer is known for. 
The suspension is designed to accommodate the thrill of both on- and off-road riding.
With almost 5 inches of wheel movement accounted for, as well as an already high clearance, the CCM Spitfire is as well equipped for hitting the trails.
At a seat height of 32.3 inches, this bike might be perfect for the taller aficionados and beginner riders!
On the off chance that you can find one of these on the used market, scoop it up if you can- the reliability of these relatively low-tech machines is well worth the higher price point. Used 2018-2021 CCM Spitfire Cafe Racers in good condition start around $10,000.
https://www.autotrader.co.uk/bike-details/202204124583259?advertising-location=at_bikes
6. Royal Enfield Continental GT650 
Last, but not least, is the Royal Enfield Continental. Royal Enfield is very proud of its roots in the 1960s cafe racer culture, and it's a pride well deserved. 
The Continental GT650 is the sleeker, more tucked-in cousin of the Interceptor, but by no means is it inferior.
The crouched down, knees-in riding position found in sportbikes today evolved from the original cafe racers, and the positioning on the Continental GT650 is a testament to this. Divots in the gas tank to tuck those knees, well-positioned footpegs, and clip-on handlebars keep drag down when rocketing forward.
Royal Enfield's Continental is an exceptional bike for beginners who are looking to ride fast in a forward position. We actually recommend it over any of its sportbike cousins because the bike tops out at 105 mph.
If you want to graduate to high-speed, high-stakes sportbike riding, what better bike to learn the positioning than the Continental GT650?
Royal Enfield is really knocking it out of the park with lower-mid pricing on their two 650cc models! It starts at $6,199 for a brand-spanking-new bike straight off the lot, with lots of colors and upgrades available!
https://www.royalenfield.com/us/en/motorcycles/continental-gt/
Related: 4 Most-Common Problems With Honda VT600 Shadow VLX
Sources
Various New & Used Motorcycle Listing/Pricing | CycleTrader.com
The Royal Enfield INT650 Delivers On More Than Just Nostalgia | Hagerty.com
Was this article helpful?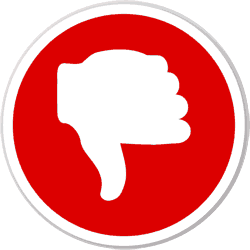 Did you find wrong information or was something missing?
We would love to hear your thoughts! (PS: We read ALL feedback)