The car industry has come a long way in innovation and technological advancements.
Safety technologies like Automatic Braking Systems (ABS) have been around for a long time. They have shaped the auto industry into what it is today.
Collectively, automatic braking systems and other technologies are called driver-assists. These are made to help the driver be aware of their surroundings while driving.
Modern ABS components can help the driver by correcting, stopping, or warning the driver of their surroundings. ABS is now combined with other driver-assist technologies to automatically steer the car away from danger.
ABS was not meant to replace focused and careful driving, but it is still considered one of the most reliable safety technologies in the car industry. There are still modern cars that do not come with ABS as a standard safety feature.
In this article, we're looking at some popular cars without ABS that people love driving.
[TOC]
1. Kia Picanto LS
The Picanto is Kia's smallest car, and it's an affordable car, which is great for first-time car buyers. It is a small city car that is nifty around traffic.
The LS model of the Picanto does not come standard with ABS brakes. However, the Picanto LS does come with standard safety belts and an airbag for the driver only.
It's got a modern design both on the outside and the dashboard layout in the interior. The interior is also fitted with comfortable cloth upholstery.
It is deemed a good option for city driving and a first-time buy for its size and price. However, it will struggle if used for everyday highway trips.
This LS trim of the Picanto comes with a 1.0-liter three-cylinder and a 1.0 T-GDi turbo engine. These engine options are available in the base models of the Picanto.
Older models of the Picanto used to come with only two-door variations. This was changed to offer the Picanto in a 5-door variant.
Tall adults will have trouble fitting in the back passenger seats with limited headroom and legroom. This is not ideal for long road trips, but the front seats offer bigger space for tall adults.
Although the Kia Picanto LS does not have standard ABS brakes, it is still a great option. It's suitable for those looking for a compact and small city car which is fun to drive.
2. Hyundai i10
The Hyundai i10 needs no introduction in the small car segment. It's been around for a while and is still a trusted buy for those looking for a compact city car.
Some base variations of the i10 do not come with standard ABS brakes. However, Hyundai has made sure that the models come with other standard safety features.
Because of its price range, the i10 has had to do without the modern bells and whistles in safety features. ABS is not available as standard in two of the i10's variants.
The bigger brother in the Hyundai i10 lineup, the Grand i10, does include ABS as standard across its trim levels. The Grand i10 comes with more safety features like airbags and traction control.
The i10 is quite spacious in the interior and has a sharp look on the outside. The design has been played around with from 2015 and earlier models.
It comes with a 1.0-liter three-cylinder engine or a 1.2-liter four-cylinder engine which is better for longer highway trips. Both these engine options are great for city driving and perform rather well in fuel efficiency scores.
For space, the front seats will provide adequate space for adults. The rear seats are a bit cramped for tall adults but do fair well compared to competitors.
The models range from the basic level S to the premium SE model. The SE is preferred because it has more features.
The Hyundai i10 is relatively basic, with a limited amount of safety features and no ABS. It is still regarded as a safe bet for affordability and reliability in the small car segment.
Related: Do All Cars Come With Airbags Today? (Explained)
3. Renault Kwid Expression
The Renault Kwid has always been a fun-to-drive and affordable car in its segment. Even with the lack of ABS brakes, the Kwid Expression has lots of features going for it.
A Renault Kwid without ABS still performs quite well during brake tests. This means Renault made sure that the vehicle's lack of ABS did not affect the overall performance.
Back in 2016, when the first variants of the Kwid were revealed, it got a lot of criticism. This was because of the lack of basic features that were available in similarly priced cars.
Base models of the Kwid Expression come with only one airbag for the driver. This earned the Kwid a one-star rating for adult occupant protection.
Earlier models of the Kwid now come equipped with better safety and performance features. Additions now include a seatbelt warning function and ABS brakes across the range.
The Kwid Expression also gets an upgrade to its infotainment system. The system now comes with Android Auto and Apple CarPlay compatibility.
It gets its power from a naturally aspirated 1-liter engine, which produces 50kW and 91Nm. This is sufficient power for city driving.
However, the Kwid does not perform well on highways where more power is required. The lack of power is noticeable when overtaking on the highway.
Renault Kwid comes in 4 variants which are the Expression, Dynamique, Dynamique AMT, and the Renault Climber. All the trim levels come with a standard five-year/150,000km warranty.
Base models like the Expression model do not come with ABS as standard. The higher-priced models have ABS included together with more features.
There's no arguing that the Renault Kwid is a fun-to-drive small city vehicle. The overall price and reliability are great selling points.
Related: 4 Cars Without GPS & Navigation Systems (With Pictures)
4. Datsun Go
The Datsun Go has had its fair share of controversies throughout the years. When first introduced, it had no airbags and no ABS brakes and had limited features.
With that said, the Go has been improved upon throughout the years to make for a more rounded offering. It now makes for a very appealing choice for first-time car buyers.
In terms of performance, the Go is up there with some of its competitors like the Chery QQ3 and Chevrolet Spark Lite. it drives steadily on city roads and the size is good for parking spaces.
The Go is powered by a 1.2-liter 3-cylinder engine that pushes the rear wheels. This is enough power for weekend shopping weekend trips but will leave you lacking on highways.
In addition to the rather noisy drive, the body and the interior design feel cheap and plasticky. With that said, the Datsun Go got good reviews for its exterior design.
Datsun is now improving the Go for efficiency in terms of performance on later models. The Go has always been an affordable option to get you from A to B.
All variants of the Datsun Go come standard with a 3-year/100,000-kilometer warranty and an option to upgrade the service plan.
Common Problems with the Datsun Go
Here are common problems with the Datsun Go:
Gearbox Problems
Noisy Cabin and Interior
Door-Open-Alert Lamp
Rough Drive and Vibration At High Speeds
Even though the Datsun has its share of problems with performance and reliability, it is still one of the best-selling small cars.
With a claimed 5 liters per kilometer, the fuel efficiency of the Go is rather good. This makes it a good option for an everyday commute to work and back.
Small cars are often very fuel efficient and this can be attributed to the small engines. The price range is also a determining factor for fuel economy and this reduces the overall ownership costs.
5. Chevrolet Spark Lite
Yet another great addition to the small city car segment is the Chevrolet Spark Lite. This is a basic offering from Chevrolet and it does not come with ABS as standard.
The Spark Lite is an affordable city car with the most basic of features to entice first-time car buyers. It only comes with standard disc brakes and no ABS or electronic stability features.
The lack of these basic safety features means it will get low safety and crash test scores. Included as standard is reinforced side collision protection bars in the doors and one airbag for the driver.
Features of the Chevrolet Spark Lite
Power Steering
Front Fog Lamps
Driver Side Airbag
Air-Conditioning
Newly Designed Grille
With that said, the fuel economy on the Chevrolet Spark Lite is great and should offset the lack of other features.
This small hatchback offers five seats, and they are made of cloth upholstery across the range. Tall adults will find the rear seats rather small due to the limited legroom and headroom.
People love driving the Spark Lite because of the price and small compact design. It will also have a lower ownership cost compared to other small city cars.
The lack of ABS and other basic safety features might be a deterrent for potential buyers. A crash in a Spark Lite will be dangerous, but with small bumps and scratches, the repair costs will be low.
All the models of the Chevrolet Spark Lite come standard with a 5-year or 120,000 km warranty. This also includes roadside maintenance and 5 years/unlimited km anti-corrosion warranty.
Related: Are Chevy Sparks Good On The Highway (Solved)
Was this article helpful?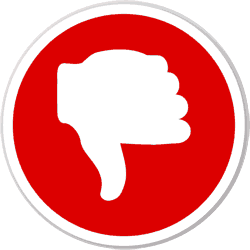 Did you find wrong information or was something missing?
We would love to hear your thoughts! (PS: We read ALL feedback)