The Buick Park Avenue has had its share of ups and downs throughout its production history. Over the years, certain models have stood out for their impressive design and performance, while others have fallen short of expectations.
As we explore the best and worst years for the Buick Park Avenue, we'll uncover which model years shine in comparison to others.
By examining their features, reliability, and overall performance, we can better understand the legacy of this prominent full-size sedan.
The Best Year for Buick Park Avenue
The 2002 Buick Park Avenue stands out as the best year for this classic luxury sedan. This model year added several significant enhancements, making it a top choice for those seeking the perfect balance of luxury and comfort.
In 2002, the Park Avenue received a facelift, updating its exterior styling and giving it a more modern, elegant look. The front end was revamped with a new waterfall-style grille and sleeker headlights, while the rear end also saw updates in the form of a redesigned bumper and taillight assembly.
Additionally, the chrome accents were increased, adding a touch of sophistication to the overall design.
Under the hood, the 2002 Park Avenue was equipped with a powerful 3.8-liter V6 engine, producing 205 horsepower and 230 lb-ft of torque. This engine provided ample power for smooth acceleration and highway cruising, while also offering relatively good fuel efficiency for a full-size sedan.
The Ultra trim level, with its supercharged 3.8-liter V6, pushed the performance even further, delivering 240 horsepower and 280 lb-ft of torque.
Ride quality was a top priority for Buick, and it showed in the 2002 Park Avenue. With its independent rear suspension and specially tuned front struts, this model delivered a comfortable and well-controlled ride that was perfect for long road trips or daily commutes. The cabin was designed to minimize road noise, providing a quiet and peaceful environment for passengers.
The interior of the 2002 Park Avenue was filled with luxury features and creature comforts. Standard amenities included dual-zone climate control, power-adjustable front seats, and an easy-to-use infotainment system.
Optional extras, such as heated seats, a sunroof, and a premium audio system, were also available, allowing drivers to tailor their Park Avenue to their preferences.
The 2002 Buick Park Avenue is still an excellent choice for those seeking a luxurious and comfortable full-size sedan. With its updated design, powerful engine options, smooth ride, and well-appointed interior, this model year stands out as the pinnacle of the Park Avenue's storied history.
The 2nd Best Year
The year 2002 was a standout time for the Buick Park Avenue.
As a flagship sedan, it offered a comfortable driving experience and showcased Buick's dedication to quality. This model gained 29 votes on Ranker as a reliable choice among Buick enthusiasts.
With its smooth ride and luxury features, the 2002 Buick Park Avenue was a strong contender in its category.
One reason the 2002 Park Avenue shined was its spacious cabin.
Featuring roomy and comfortable seating for up to six passengers, it proved to be an ideal choice for families and road trip aficionados. Additionally, it came standard with dual-zone automatic climate control and premium sound systems, making it a pleasure to drive.
Under the hood, this model was powered by a 3.8-liter V6 engine that offered a balance of power and fuel efficiency. Paired with a 4-speed automatic transmission, the 2002 Buick Park Avenue provided a smooth and responsive driving experience.
Safety features were not overlooked in this model year. The 2002 Park Avenue came equipped with standard 4-wheel anti-lock brakes and dual front airbags. Traction control was also offered, giving drivers added confidence on slippery roads.
In conclusion, the 2002 Buick Park Avenue holds its place as the 2nd best year for this luxury sedan. With its combination of comfort, performance, and safety features, it's easy to see why it remains a popular choice among Buick aficionados.
Other Good Years
In addition to the many outstanding models, there were a few other years that stand out as memorable and highly sought after among Buick Park Avenue enthusiasts.
Let's highlight some of those gems:
1998 Buick Park Avenue: This particular year received popular vote among Buick Park Avenue enthusiasts. The 1998 model featured an updated design with smoother lines and a more aerodynamic appearance.
1997 Buick Park Avenue Ultra: Featured in the February 1997 issue of Car and Driver, the Ultra was praised for its luxurious style. It had modern-day performance and comfort.
2002 Buick Park Avenue: Garnering 29 votes in the popular vote, this model year was a hit among fans. The 2002 Park Avenue boasted a refined body style and some upgraded features while retaining the classic comfort this line is known for.
1996 Buick Park Avenue: This year witnessed the launch of the Series II 3800 V6 engine, a highly regarded powertrain that provided a more powerful, yet still a smooth ride. The 1996 model is perceived by some as the perfect year for the Park Avenue, thanks to its updated engine and distinctive features.
2005 Buick Park Avenue: Considered by some as the last true Buick, the final generation model is a classic that reflects the brand's rich history and commitment to luxury. The 2005 variant features improved performance and the familiar plush comfort that Buick enthusiasts love.
These additional years each bring something unique and valuable to the Buick Park Avenue legacy.
They carry forward the tradition of inspired design and performance while also incorporating contemporary enhancements that add delight to the driving experience.
The Worst Year for Buick Avenue
The 2002 Buick Park Avenue faced some challenges that led to its negative reputation among the car's enthusiasts and consumers. One common issue with this particular model was the window regulators, which caused frustration among owners.
Despite the setbacks, the brand continued to improve and evolve, leading to better models in subsequent years.
While the year 2001 had the highest number of overall complaints, it is the 2002 Buick Park Avenue that earned the title of the worst year. With +20 votes in a Ranker survey, the car was known for its problems with the window regulators and other minor issues that left owners wanting more from their purchase.
However, it is essential to understand that every vehicle model might face certain issues and this should not discourage potential buyers as Buick has a solid reputation for producing reliable cars.
In the grand scheme of all the years the Buick Park Avenue was produced, it is marginally fair to say that the 2002 model may not have been the best example of the brand's capabilities.
Nonetheless, Buick remained committed to providing a better experience for their customers and improving the Park Avenue in the following years. Moreover, the issues faced by those specific models should not overshadow the exceptional vehicles and years that Buick did deliver.
It's always good to remember that every car manufacturer has its ups and downs, and these mentioned years don't represent the entire history of Buick.
There are plenty of other years and models that showcase the brand's positive contributions to the automotive industry.
Common Problems to Look for in Buick Avenues
1996 Buick Park Avenue owners reported a few common issues. One major concern involves Mode/Temperature Door Actuators failing. Another prevalent problem is the engine stalling due to Mass Air Flow/Crankshift Position Sensor Failure.
Check also the best and worst years for Buick Electra.
For the 2000 Buick Park Avenue, some common problems include the Heating and AC Temperature and Air Delivery Mode Door Actuators failing. Owners also experienced Intake Manifold Gasket issues leading to engine oil leaks, with people reporting such incidences.
Another frequent issue is Fuel Level Sensor Failure, with several people encountering this problem. Additionally, it's advised to replace the fuel filter every 30,000 miles to prevent fuel pump failure.
In terms of reliability, the 1992 Buick Park Avenue model is considered one of the best, while the 2002 Buick Park Avenue model also receives positive reviews. On the other hand, the 2012 Buick Park Avenue has been identified as a less reliable model with more complaints.
Go Back to list of all Buick models (best and worst years)
Was this article helpful?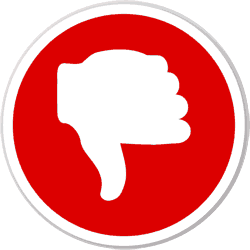 Did you find wrong information or was something missing?
We would love to hear your thoughts! (PS: We read ALL feedback)
ⓘ  The information in this article is based on data from National Highway Traffic Safety Administration (NHTSA) recall reports, consumer complaints submitted to the NHTSA, reliability ratings from J.D. Power, auto review and rating sites such as Edmunds, specialist forums, etc. We analyzed this data to provide insights into the best and worst years for these vehicle models.
---