The Ford Fiesta was first manufactured over four decades ago. Over the years, more than 16 million Fiestas have been sold.
The sky-daring sales which puts the Fiesta third only to the Ford F-Series and the Ford Escort can be justified. This is largely due to the car's functional and reliable design.
When it debuted, the Fiesta was the smallest car that the Ford Motor Company had made, although the Transit Connect Cargo took the title away.
Read on to see why the Fiesta remains a superb choice for car owners even after 45 years.
How Many Ford Fiestas Have Been Sold Per Year in the US?
About 562,951 Ford Fiestas have been sold in the US over the course of 11 years.
This is still an impressive figure because the Fiesta only started selling in the United States about a decade ago.
The Fiesta Mark VI was the first model to be sold in the United States. That is of course different from the Fiesta Mark I that was discontinued in 1980.
Below is a tabular representation of the annual sales for the Ford Fiesta.
| | |
| --- | --- |
| Year | No. of Cars Sold |
| 2010 | 23,273 |
| 2011 | 68,374 |
| 2012 | 62,293 |
| 2013 | 71,073 |
| 2014 | 63,192 |
| 2015 | 64,458 |
| 2016 | 48,807 |
| 2017 | 46,249 |
| 2018 | 51,730 |
| 2019 | 60,148 |
| 2020 | 3,354 |
| Total | 562,951 |
Ford Fiesta Production Statistics
Since the Fiesta was first manufactured, it has undergone several upgrades.
These upgrades culminate into seven generations. The first generation Fiesta lasted till 1983, when the second generation Fiesta was introduced.
A table showing the transitions from the 1st to 7th generations is below:
| | | | |
| --- | --- | --- | --- |
| Generation | Engine | Transmission | Country of Assembly |
| First: 1976-1983 | 1,117 cc Kent/Valencia I4, 1,597 cc Kent/Crossflow I4 | 4-Speed BC4 manual | Spain, England and Germany. |
| Second: 1983-1989 | 1,297 cc Kent/Valencia I4, 1,597 cc CVH I4, 1,608 cc Diesel I4 | 4-speed BC4 manual, 5-speed BC5 manual, CVT automatic | Spain, England and Germany. |
| Third: 1989-1997 | 999 cc Kent/HCS OHV I4, 1,596 cc CVH turbo I4, 1796 cc Zetec I4,1753 cc Lynx Diesel I4 | 4-Speed IB4 manual,5-speed IB5 manual, CVT automatic | Spain, England and Germany. |
| Fourth: 1995-2002 | 1,299 cc Kent/Endura-E I4, 1,753 cc Endura-D I4, 1,388 cc Zetec-SE I4 | 5-speed IB5 manual, CVT automatic | Spain, United kingdom, Germany, China and South Africa. |
| Fifth: 2002-2008 | 1,560 cc Duratorq DLD-416 TCDi I4 | 5-speed IB5 manual, 4-speed 4F27E automatic | Spain, Germany, China and India. |
| Sixth: 2008-2019 | 1.6 L Ecoboost I4 turbo, 1.6 L Duratorq DLD I4 turbo | 4-speed 4F27E automatic, 6-speed Powershift DPS6 DCT | Germany, Spain, Mexico, Brazil, china and Russia. |
| Seventh: 2017-date | 1.5 L Ecoboost (Dragon) I3 turbo, 1.5 L DLD-415 I4 turbodiesel | 5-speed IB5 manual, 6-speed automatic. | Germany. |
What Year Did Ford Start the Fiesta Models?
The first Ford Fiesta was manufactured in 1976. Although Henry Ford II, the chief executive officer at the time, had approved the Fiesta for production four years earlier.
The company would go on to produce several Fiesta models across several decades, including eye-capturing models like the Ford Fiesta Trend, Titanium, ST, and Active.
Please also read our article about how long the Ford Fiesta lasts. 
How Is the Fuel Economy on a Ford Fiesta?
The Fiesta is frankly one of the most fuel economic cars Ford has ever made.
A glance at history would reveal that the Fiesta was produced while fuel prices were on the rise. This was due to certain problems in the Middle East.
Earlier year models on an average had combined MPGs of 30. Note that the growing demand for fuel-efficient cars at the time may be the reason the Fiesta was so successful.
According to Consumer Reports, the 120 hp, 1.6-liter, 4-cylinder engine has a fuel consumption rate of 32 mpg and 33 mpg with automatic transmission.
Other tests may show varying results due to several factors.
Ford also manufactured the famous EcoBoost engine, which they claim increases fuel efficiency by 5%.
Fiestas with the EcoBoost engine have a fuel efficiency of 32 mpg in the city and 45 mpg on the highway.
How Quickly Do Ford Fiestas Depreciate?
The Ford Fiesta has always enjoyed high demand. So it's no surprise that a Fiesta maintains much of its initial value after some time.
All cars undergo depreciation in their prices, which is expressed as a percentage of the initial price. The important thing is finding a car that doesn't lose too much of its value after a while.
Themoneycalculator estimates that Ford Fiesta models on average depreciate just 31% in the first three years.
J.D. Power sets the resale average of a new Ford Fiesta at 72/100, equivalent to only a 28% loss in value.
Hence, it's accurate to say that the Ford Fiesta has a good resale value.
Make sure to also check our article about the Ford Fiesta in snow and winter driving. 
Did Ford Recall Any of the Ford Fiesta Models?
Ford has recalled the Fiesta models nine times, the most recent being the 2019 Ford Fiesta.
An incorrect assembly fluid may have been used for the brake calipers according to the NHTSA.
A few NHTSA complaints were made including transmission problems, airbag problems, and engine problems etcetera.
Other years to steer clear of are the 2013, 2014, 2015, 2011 and 2012 model years.
These years have had the highest number of complaints and recalls over the years like electrical and clutch problems.
Other issues related to recalls include steering, brakes, fuel system, heater, AC, suspension, wheels, and paint with exterior and interior accessories problems.
So far, the 2016 and 2017 model years seem to be the most promising models. They have the fewest number of complaints.
Check our article about Ford Fiesta and keys.
How Much Do the Fiesta Models Pollute?
The Fiesta engines do not cause much pollution to the environment.
Most modern Fiestas are equipped with the EcoBoost Engine, which not only helps in fuel economy but also has a lighter footprint on the environment.
The engine reduces the carbon dioxide by 15% when compared to other engines.
It's also noteworthy that the Fiesta was one of five finalists in the 2011 Green Car of the Year award. That is alongside the Chevrolet Volt plug-in hybrid and the Nissan Leaf battery electric car.
The most environmentally friendly Fiesta is the Econetic model, like the Ford Fiesta Econetic 1.6 TDCi DPF 5dr with a carbon dioxide emission of 98 g/km. Other models have emission figures anywhere from 110 g/km to 155 g/km.
Also read our article about where Ford Fiestas are made.
How Much Can the Fiesta Models Tow?
A wide range of Fiestas or simply put, the average Fiesta can tow weights up to 900 kg. A few Fiestas exceed that figure.
However, it is always a good idea not to test your car's limits. Always attach weights that fall somewhere in the middle of your vehicle's towing range.
If you cannot do that, then at least keep a safe allowance of 50 pounds from the maximum weight.
How Reliable Is a Ford Fiesta?
The Ford Fiesta is quite reliable by several standards.
Repairpal gave the Ford Fiesta a reliability rating of 4 out of 5. This is quite impressive and may literally mean that four out of five times your car would be in perfect shape.
Repairpal also estimates the annual cost of repairs and maintenance for a Ford Fiesta to be $552, which is about $100 higher than the average for subcompact cars which is $456.
However, this figure is lower than the average maintenance costs for all cars.
You should also check out our article about the key system on Ford Fiestas.
How Safe Is a Ford Fiesta?
The IIHS gives the Fiesta a marginal overall safety evaluation. They also award a marginal rating for the structure and safety cage.
The body, however, rates the Fiesta poorly in terms of driver restraints and kinematics.
Meanwhile, the NHTSA gives the Fiesta a 4-star rating.
Consumer Reports gives a good owner satisfaction on driving experience and comfort. Owners also seemed satisfied with the value and the styling of the car.
Comparing the data from these three credible sources, the Ford Fiesta may be the ideal car for you if you're on a budget.
What Is the Typical Buyer Demographic for this Model?
Generally, women tend to buy the Fiesta more than men.
Data reveals that sales of the Fiesta to younger individuals rose remarkably in the past few years.
A large part of the buyers come from ages 18 to 35, including single and newly married people, most of whom have modest salaries and are on budgets.
Ford Fiesta Theft Numbers
When it comes to avoidance of theft, the Fiesta is a safe option.
Compared to other models like the Ford Mustang, Focus, Fusion, Edge and Escape, the Fiesta is not a favorite of car thieves.
Below is a table with data containing the Ford Fiesta theft data, according to the NHTSA.
| | |
| --- | --- |
| Year | No. of Theft |
| 2014 | 113 |
| 2013 | 73 |
| 2012 | 50 |
| 2011 | 55 |
| AVERAGE | 72.75 |
Resources
https://www.consumerreports.org/cars/ford/fiesta/2019/road-test/
https://www.jdpower.com/cars/2019/ford/fiesta
https://m.carcomplaints.com/Ford/Fiesta/2019/
Was this article helpful?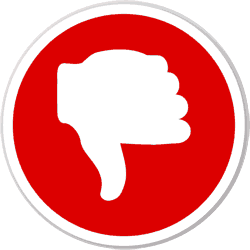 Did you find wrong information or was something missing?
We would love to hear your thoughts! (PS: We read ALL feedback)