Triumph has produced some of the most iconic motorcycles around. From track-devouring sportbikes to ripping cafe-racers to modern but classic cruisers, Triumph has every breed of motorcycle figured out.
The Triumph Scrambler one of many great motorcycles produced by Triumph. The Scrambler might be one of the best bikes the motorcycle manufacturer ever made. It features an unparalleled track record of excellent reliability and performance.
With all these good reviews about the Scrambler, it might be difficult to find any information bout troubleshooting some of the issues that have arisen with the motorcycle over the years.
So we've put together some common queries that owners of a new Triumph Scrambler have experienced.
Let's get into it!
1. Electrical Problems Due To Corrosion
Vehicles will always be prone to corrosion and rust.
It's something about which any titleholder needs to stay vigilant.
Corrosion affects both cars and motorcycles, and the corrosion on a Scrambler can lead to other issues. If not promptly dealt with, corrosion on a motorcycle can go as far as affecting the wiring of the bike.
Corrosion issues aren't limited to Triumph Scramblers, nor do all Scramblers have a history of Corrosion; it depends on where the bike is ridden and how it is stored.
In wet or coastal areas where there's a salty and humid climate, for example, a bike like the Scrambler is more susceptible to rusting or corrosion problems.
In severe cases, humidity can get through to the wiring on the bike until, slowly but surely, the bike shows signs of failing electrical components.
These symptoms will usually mask themselves as electrical issues, which is why we've decided to shine some light on the subject.
Some symptoms of electrical issues caused by corrosion
Starting problems
Headlights stop working
Dash lights stop working
If you're experiencing electrical issues and you've tested your battery, and it's okay, it might be time for a quick trip to the mechanic. If the electrical issues are indeed due to corrosion, the wires will likely be stripped and discolored- signs of damage will be apparent.
Replacing the wiring can be done at your local Triumph dealership. Still, the best offense is a good defense, and we suggest checking for rusting and corrosion regularly, especially if you live near the ocean or store the bike in a humid place.
2. Oil Filter Leak Issue
Triumph motors are robust—self-sufficient off the factory floor, built to last.
A few years ago, there was a streak of Triumphs having issues with oil leaks- all oil filter related. A damaged oil filter can leak oil onto the bike, onto the road, and tires and worst-case scenario cause a loss of traction between the tires and the road.
Eventually, it came out that this wasn't an issue with Triumph's engineering, nor with the OEM oil-filters, but with non-Triumph, after-market oil filters.
In some cases, riders had upgraded to a longer filter, a trifling adjustment to get ⅛ cup more oil into the filter. A more extended filter is in danger of being damaged by road debris.
However, in most cases, the issue was caused by a specific, aftermarket oil-filter by a brand called K&N. K&N made oil-filters that were marketed as being an upgrade to the stock Triumph oil filters. Their selling point was that their filters had a 17mm nut tack-welded onto it for "easier removal."
The weld on the nut would heat up and break, and oil would leak from the damaged seal.
Triumph Motorcycles are designed by some of the best engineers in the game.
We can't resound their suggestion of using Triumph oil filters on their bikes loud enough- all the oils leak issues we encountered resulted from using aftermarket filters instead of Triumph filters, many of which are actually more expensive.
While the offer of a convenient 17mm bolt may be tempting, the proper-sized Oil-Filter Removal wrench is only about $12, and it makes changing your filter a walk in the park without the added risk of a blown-out filter seal.
Side-effects from a faulty oil filter include:
Oil leaking
Intermittent starting problems
Oil light coming on even when oil is full
If your experiencing filter issues, examine the quality of your filter. Be sure it's maintained on a regular schedule, adhering to the guidelines of the owner's manual, and be sure you're using the OEM, Triumph approved filter suggested for your year-model Scrambler.
3. Starter Relay Issues
This section addresses a problem that isn't very widespread but has been reported a few times none the less.
A few Triumph Scrambler owners have reported problems with the bike turning over. The issue could be related to the starter solenoid, but it's an issue with the Starter Relay more often than not.
If you're not comfortable wrenching on your bike, starer issues are a good time to take her to a mechanic for some diagnostics.
If you're itching to troubleshoot on your own, here are some quick steps to take to figure out why the bike's not turning over like normal:
Locate the starter solenoid
With a multimeter or a circuit tester, ensure your solenoid coil terminals receive 12volts as you press the starter button.
If not, take a look at your starter relay. This relay turns off the headlight and hits Terminal 1 of your solenoid with an electrical current when you press the button.
Bypass the relay while testing, or use a paper clip. Press the button and see the motor cranks on; if she turns over, the relay is faulty.
If the starter motor operates, the relay contacts could be damaged. Inspect the state of the contacts, clean if necessary.
You can test to see if the solenoid coil is the issue connecting a wire from terminal 3 on the solenoid and contact terminal 1 with eh same wire. If the engine kicks on then, the solenoid coil and contacts aren't the issues.
Electrical work on a motorcycle is a different animal than mechanics and requires its own set of tools and know-how.
If you have any doubts about your electrical skills, taking your bike to a Triumph Pro is healthier, for you and the bike, than messing around with the bike's wiring harness.
You should also be reading our article which talks about 5 Most-Common Problems With Triumph Motorcycles
General Pros and Cons for the Triumph Scrambler
Pros
The Triumph Scrambler seems to be a well-built motorcycle. Owners love the brilliant performance and looks of this modern classic.
From the unique sounding motor right down to its offroading capability, the Scrambler can have even the most hard-to-please riders smiling from ear to ear when riding it.
The latest 2019 Triumph Scrambler XE and Scrambler XC are a great addition to this adventure bike line. These Scrambler models include traction control, ABS, and improved riding modes.
With all those tech gadgets installed on the Scrambler, the 1200 cc engine is what most owners keep talking about. It's quiet enough to breeze through traffic but let's loose on the racetrack or highway.
Braking is very responsive due to the tough Brembo M50 monoblock calipers, and the seating position is just as comfortable.
Cons
Electrical problems due to corrosion
Oil filter leak
Starter relay issues
Valve and exhaust issues
What Do the Reviews Say?
"Looking at the Scrambler 1200 XC and XE through either scrambler or adventure glasses, we'd say Triumph has built a motorcycle that sets a new standard with technology and suspension performance while keeping true to the cool that is a scrambler."
"It's a bike that is a winner in both segments, and that is the real deal."
[Source: CycleWorld.com]
"Based on looks, equipment, technology, and value for money alone, the new Triumph Scrambler 1200 is worthy of a space in your garage. But it isn't just another 60s-inspired retro; it's so much more than that."
"On the road, it can be calm, refined, and give you the thrill of a sports bike, but its ability to be a scrambler in more than just name is impressive. A serious off-road tool, the Triumph is an adventure bike that happens to look like a retro."
[Source: MotorCycleNews.com]
What's The Resale Value On The Triumph Scrambler
| | | |
| --- | --- | --- |
| Year | Mileage (miles) | Price ($) |
| 2007 | 4,680 | 4,950 |
| 2013 | 9,000 | 5,999 |
| 2016 | 11,924 | 5,995 |
| 2017 | 8,499 | 2,573 |
| 2018 | 1,486 | 7,999 |
| 2019 | 2 | 11,995 |
NB: These prices are estimated and may vary concerning your location. Also, the model and the mileage may play a part in its price range.
Final Thoughts
Even though this bike can have its fair share of problems, it is still a fantastic piece of machinery! If you invest your time and patience, you can have a motorcycle to last you years!
References:
Was this article helpful?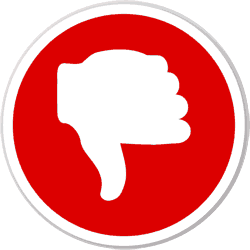 Did you find wrong information or was something missing?
We would love to hear your thoughts! (PS: We read ALL feedback)
ⓘ  The information in this article is based on data from National Highway Traffic Safety Administration (NHTSA) recall reports, consumer complaints submitted to the NHTSA, reliability ratings from J.D. Power, auto review and rating sites such as Edmunds, specialist forums, etc. We analyzed this data to provide insights into the best and worst years for these vehicle models.
---