The ST1100 and ST1300 have a loyal following and have been considered Honda's best kept secret since their inception.
While these bikes have many happy riders and are a frequent contender in the Iron Butt Challenge, they are not without some flaws.
Being underpowered, poorly designed fairings, and limited availability of accessories are just a few of the flaws that plague these bikes.
Perhaps this is why the STs never quite won the spotlight they deserved. This article looks at the common problems of the ST1300.

In 2002, Honda stopped production of the popular ST1100 and replaced it with the ST1300. It was more powerful, lighter, and an all-around better motorcycle.
However, even though Honda aimed for perfection and achieved vast improvements from the preceding ST1100, the ST1300 was still affected by a few problems, such as:
1. Problematic Engine Design
The ST1300 was a heavy bike and lagged in power compared to its competitors, like the BMW R 1250RT and Yamaha's FJR1300. Here are the design elements that make the bike problematic:
Heavy Bike
Even for a sport touring model, which is usually heavier than sport bikes due to the extra fairings and luggage equipment, this bike was heavy.
When compared to its closest contenders, the BMW R1250 RT and Yamaha FJR1300, the weight difference is even more glaring.
The ST1300 tips the scales at a whopping 631 pounds. The FJR weighs 582 pounds followed by the lightweight BMW of 504 pounds. The 50-pound weight difference is most noticeable in the turns, but also in power.
Problematic Engine Design
Honda loves a good V-4 engine design. They have experimented with many V power designs in their vehicles, motorcycles included.
Their most notable engine design was the RC213V championed by the late Nicky Hayden in 2002 World Superbike. 
Honda generally has success with their V-twin and V-4 designs but perhaps the V4 design of the STs was not a good fit for the bike. There are certain problems that arise from this design in motorcycles. 
As mentioned above, the bike was heavy and underpowered, producing only 117 horsepower at 8,000 RPMs with a 1261 cc engine. The engines of both its competitors' bikes were smaller, yet more powerful. 
The V4 engine also left the ST1300 with a heavy front end weight distribution.
Less Horsepower
Weight could be one factor contributing to this bike's lack of horsepower compared to the Yamaha and BMW. 
The BMW produces 136 HP, and the Yamaha produces an impressive 141 HP. The ST1300 is left in the dust with a mere 117 HP. 
Though the engine has proven to be reliable, it was not as powerful as other bikes in its class. 
                             ST1300                FJR1300                BMW R 1250RT
Engine Type:   90 degree V-4       Inline 4                      2 cylinder opposed twin
Engine Size:    1261 ccs                   1298 ccs                     1254 ccs
Horsepower:  117 @ 8,000rpm   141 @ 8,000rpm      136 @ 7750rpm
Dry Weight:    631 lbs                     582 lbs                        504 lbs
Please also read our article about 6 most-common problems with Honda Valkyrie.
2.
Poorly Designed Fairing
Another problem ST1300 owners complain about is related to the fairings. The most specific problems were that the plastics felt flimsy, they trapped in hot air and they weren't very aerodynamic.  
Flimsy Design
A few riders have reported that the fairings feel cheap and unstable.
They would sometimes flap or vibrate while riding. The rivets would also break. 
Holds in Hot Air from the Engine
Many riders complain that the fairings would trap in hot air from the engine.
Instead of allowing the hot air to flow to the side away from the rider, the air is actually pushed towards the rider.
Unsurprisingly, this caused rider discomfort during long rides or in warmer climates.
Riders reported having to take breaks for the bike to cool down because the heat became unbearable to continue riding. 
Reports of Crosswinds
It seems that the fairing were also not designed well as riders have reported feeling crosswinds more than usual. 
Unfortunately, not much can be done about this problem except to be conscious of riding conditions.
You may still experience some pushback from the wind on occasion, but being aware and avoiding these conditions will substantially help.
Here are steps you can take to control this issue:
Avoid riding in high winds

Be cautious when passing large vehicles

Keep your coolant fresh
Make sure to also read our article about how long the Honda Shadow lasts.
3
.
Limited Accessories Available
The STs had a large following in the US, yet Honda limited the availability and selection of accessories available for the US models. 
A 2020 Honda accessory book would only offer you accessories for the built-in luggage bags, an accessory socket, and a cover for the ST1300. 
Many riders end up buying accessories from overseas vendors. Riders have reported ordering from vendors "across the pond", like UK suppliers.
The ST1300 was much more popular in Europe and thus was offered more accessory options.
If you need more accessories than Honda offers, search through aftermarket vendors. Aftermarket vendors in the US offer a wider selection of accessories like windshields, levers, auxiliary lights, and even seats. 
Sometimes aftermarket vendors even offer more accessory options than the manufacturer. 
Also read our article about how long the Honda Gold Wing lasts.
Pros and Cons of the ST1300
Here is a summary of the advantages and disadvantages of the ST1300 bike:
Pros
1. It Is Reliable
All problems aside, the STs stay true to the Honda legacy of reliability.
These bikes have been discontinued by Honda since 2014, but you can still find them on the market and on the road.
This is most likely because of their simplicity, which leads to easy maintenance and inexpensive upkeep. 
2. They Are Inexpensive
You can pick up a used ST1300 for less than $10,000.
This makes them easily accessible to riders on a budget or who want to try out a touring bike without making an expensive investment.
3. Easy Maintenance
Part of the reason STs are so reliable is their easy maintenance.
The ST1300 has no carburetor, which means easy starts and you don't have to worry about taking it apart to clean out carbs.
Nor do you have to worry about adjusting the fuel-air mixture. The bike is also shaft-driven, which means no chain or belt inspections, adjustments, or replacements. 
They have a simple maintenance schedule that makes it easy for even the most forgetful (or lazy) rider to keep their bike in tip-top shape. 
4. Fuel Economy
A touring model at heart, the ST1300 is well equipped to handle long trips.
It can carry just over 7 gallons of fuel in the tank with an average range of 45 miles to the gallon. That's 315 miles conservatively.
The more conservative riders can probably push it another 40 miles before having to refuel.  
Cons
1. Engine Design
The V4 of the ST1300 has some problematic features, including not being able to power the heavy bike as efficiently as other bikes in its class.
2. Poorly Designed Fairings
The fairing on the STs push air towards the rider instead of to the sides, feel flimsy, and cause crosswinds.
3. Limited Accessories
Riders are left to resort to aftermarket or even overseas companies for accessories. 
What the Reviews Say
"The ST1300 represents the high standards of Japanese manufacturing in general and Honda R&D especially. These guys know the US touring rider's needs and preferences, and provide them in one strong, torquey, reliable, easy-to-handle bike that can cross the nation from any direction in style and comfort."

https://www.roadrunner.travel/magazine/read/march-april-2004/page/74/
"As is so often the case, the 2009 ST1300 reflects Honda's relentless (and typically successful) pursuit of perfection…In the case of the ST1300, it's all about touring in exceptional comfort, with the ability to ride it like an upright sportbike when desired."

https://ultimatemotorcycling.com/2010/01/03/2010_honda_st1300_abs_motorcycle_review
Resale Prices
Here are resales prices of the ST1300 based on model year and mileage:
Year             Mileage             Price
2004             31,000                $5,300
2007             18,000                $5,900
2012             12,000                 $8,500
Final Words
Even with these problems, the ST is a great option for those who want to transition from a sport bike to a touring bike on a budget, or just want an all around, reliable motorcycle.
The ST1300 is flashy, but lacks the fancy bells and whistles of its big brother, the Gold Wing. It is basic, yet comfortable and will undoubtedly get you from A to B (however far that may be).
Handling, fairings and limited accessories are very minor problems to have from a motorcycle. There are many more pros than cons to this bike. 
Was this article helpful?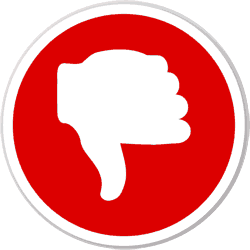 Did you find wrong information or was something missing?
We would love to hear your thoughts! (PS: We read ALL feedback)
ⓘ  The information in this article is based on data from National Highway Traffic Safety Administration (NHTSA) recall reports, consumer complaints submitted to the NHTSA, reliability ratings from J.D. Power, auto review and rating sites such as Edmunds, specialist forums, etc. We analyzed this data to provide insights into the best and worst years for these vehicle models.
---