The Nissan Titan is a full-size pickup truck that was first introduced in 2004.
We've also written about how long a Nissan Titan lasts and now it's time to look into some of the problems and issues with these models.
It's built on a rugged frame and offers plenty of power and towing capacity, making it a popular choice for those who need a reliable truck for work or play.
However, like all vehicles, the Titan is not without faults, so if you want to buy a Nissan Titan, be aware of these common issues before hitting the gas on that purchase!
Transmission Problems
The most common complaint about the Nissan Titan is transmission problems. Some drivers reported trouble shifting gears, especially when climbing hills or towing a heavy load.
Owners report that the Titan can shudder and/or jerks forward when stopping.
Of course, all trucks can handle heavier lifting than other cars on the road, and the Titan is no exception, but it's important for your truck to stand up to the competition.
Signs of Transmission Problems
There are a few key indicators that your Titan may be having transmission problems.
If you notice any of the following while driving, it's time to take your truck to the shop and get it looked at so you can find the cause of the problem.
Difficulty shifting gears:
A hard or erratic shift can be a sign that your transmission needs servicing. This is especially true if your Titan has trouble climbing hills or towing a heavy load, as these are typically more challenging for the transmission system to handle.
Shaking or grinding noises:
Another common symptom of transmission issues is shaking or grinding sounds while driving. Depending on the severity of the problem, your truck could even make noise without shifting at all, which may indicate an issue with one of the other components in your transmission system.
Fluid leaks:
Transmission fluid is an essential part of keeping your truck's gearbox running smoothly and efficiently. If you notice any drips underneath your truck, it could be a sign of a leak in your transmission system.
Rear Axle Failure
Another common problem with the Nissan Titan is rear axle failure. The rear axle is what connects the drive shaft to the wheels, and it's what allows your truck to move forward.
Most common in Titans released between 2004–2006, rear axle failure can often be predicated by overheating and lack of proper ventilation.
Uncontrolled fluid loss caused by overheating and poor ventilation can cause substantial damage to the rear differential assembly and axle bearings.
Signs of Rear Axle Failure
There are several signs that your rear axle is failing or has failed. The first and most obvious sign is a loud noise coming from the rear end of your truck while driving.
This noise will be accompanied by a feeling of vibration in the cabin, and it will get worse the faster you drive.
If you notice any of these symptoms, it's important to take your Titan to a mechanic as soon as possible. Rear axle failure can cause serious damage to your drivetrain, and it can even render your truck immobile.
Rear Differential Failure
Rear axle failure isn't the only issue that plagued the back end of early models of the Nissan Titan.
Failure of the rear differential could also happen, often resulting in the entire back of the truck needing to be replaced.
Nissan has addressed these issues in more recent models of the Titan to improve the user experience, but buyers of older Titans should be aware of these issues before they make their purchase.
Signs of Rear Differential Failure
If you notice any of the issues below with your truck, they may be signs of rear differential issues.
Take your truck in for servicing as soon as possible to avoid causing further damage:
Gears grinding or crunching when turning.
A hissing noise from under the vehicle can indicate that fluid is leaking from the differential.
The truck feels like it's stuck on something when turning and accelerating at the same time.
To avoid having to face costly repairs for rear differential failure down the road, make sure you get regular maintenance checks for your Nissan Titan.
If problems do occur, take it in immediately so that they can be addressed quickly and prevent further damage to your truck.
Poor Fuel Efficiency
Due to how powerful trucks are and the weighty demands trucks are expected to meet, their fuel efficiency has never been as good as smaller, more delicate cars.
In fact, the brawniness of trucks is a pride point for many owners, and the Titan is no exception.
However, even compared to other trucks, the Nissan Titan has lower fuel efficiency than comparable alternatives.
Factors that Affect Fuel Efficiency in Trucks
There are a number of factors that can contribute to your fuel efficiency, beyond the build of the truck.
If you want to keep your fuel efficiency up, try consider the following variables:
Truck weight and size:
The more you carry in your truck bed or on the hitch, the less efficiently it will run. This is because extra weight requires more fuel to move around.
Driver behavior:
If you accelerate hard or brake quickly, this can cause your engine to work harder than necessary and use more fuel.
Incorrect tire air pressure:
Keeping your tires at the correct pressure helps them grip the road better and reduces rolling resistance, so they don't require as much power from the engine to keep moving.
If you want to improve your Nissan Titan's fuel efficiency, these tricks can help you keep your fuel usage down.
Interior Accessory Issues
Other models of the Nissan Titan have also had their own issues.
In the 2017 model, many Titan owners reported that their truck's dash lights would dim during daylight hours, and others even found that the starter button on their dash had disappeared, rendering it unusable.
There have also been issues documented with the seats, reported to NHTSA.
Passengers and drivers alike have discovered that their seats will shake or even separate entirely from the seat frame after just a few years of use.
Faulty Navigation Units
Some Nissan Titan owners have also noticed issues with the navigation units on their trucks, particularly the 2004 and 2005 Nissan Titan.
These units will intermittently display "disc error" on the screen, rendering the navigation system unusable.
Others reported their devices showing no maps available for navigation, despite that there should have been some on hand.
Fortunately, with the rise of GPS and phone integration into cars, this error is less prominent than it used to be.
Premature Shock Failure
One of the most prevalent problems reported by 2011 Nissan Titan drivers in 2011 was premature shock failure.
This problem occurs in vehicles with less than 100,000 kilometers on the odometer, but fortunately, the majority of Titan owners were able to fix the issue by changing the faulty shocks.
Signs of Faulty Shocks
There are a few signs that can indicate faulty shocks in Titan trucks. These include the vehicle drifting to one side when you brake and turning corners and if your truck bounces excessively when crossing depressions in the road.
If you notice any of these signs or suspect your truck may have faulty shocks, take it to an experienced mechanic for a checkup. If needed, they will replace the shocks to help ensure your safety on the road.
There are a few potential factors that can contribute to the rate of failing shocks in a truck.
These include worn-out shock absorbers and misaligned suspension components, as well as overloading the vehicle with heavy cargo or bad road conditions.
General Pros and Cons for the Nissan Titan
Pros
The Nissan Titan is a powerful entry-level truck for drivers who want to get started driving something brawnier than what they had previously.
With a powerful engine, reliable off-road performance, and cutting-edge technology and safety features, the Titan is well worth the price tag for buyers looking for a new truck.
Here are a few notable features that help the Titan shine:
A powerful, quiet engine:
All Nissan Titans come equipped with a 5.66 liter, 32-valve, DOHC V8 engine that can put out 400 horsepower and 413 pound-ft of torque. Its engine is also quiet, with no extreme noise or vibrations anywhere in sight (or earshot).
Good off-road performance:
There are a number of different trims for the Nissan Titan, and all of them offer decent off-roading performance. However, the Pro-4X package is the gold standard for off-roaders who want to maximize their time off-road, as this model offers all-terrain tires, steel skid plates, and an upgraded suspension system.
A quiet, luxurious interior:
Nissan knows how to help its users travel in comfort, and they've delivered with the Titan, once again. The cabin is thoroughly sound-proof, and everything from the engine to the road noise is pleasantly reduced. The front seats, known as Zero Gravity seats, are designed to evoke the feeling of weightlessness for the maximum experience in comfortable driving.
Cutting-edge tech installations:
The newest version of the titan is stuffed full of new technology, from its infotainment system to its voice-command technology. Titan buyers can get an 8-inch touchscreen display and a premium Fender sound system that guarantees all trips will be taken in luxury. The truck also has Apple CarPlay and Android Auto integration, bluetooth technology, and voice-command technology for hands-free operation.
Plenty of in-cabin storage:
The cabin is outfitted with a lot of cup holders, pouches, and little-item storage places, so you never have to worry about where to store your belongings. An additional hidden storage area under the rear seats distinguishes this model from others in its class, as the rear seats can be folded down to reveal a locking safe.
Space for passengers to stretch their legs:
The 2021 Nissan Titan can fit up to five or six people, depending on the body style. With the Crew Cab, you get one extra seat, so you should always have enough room for the family. Even in the rear seats, head, leg and elbow room are plentiful.
A fantastic warranty:
Nissan's warranty is one of the most comprehensive available and regularly outperforms the warranties of almost every other full-size truck on the market. This bumper-to-bumper warranty covers you for up to five years or 100,000 miles, whichever comes first.
Exemplary safety features and test scores:
The Nissan Titan earned a respectable four out of five stars in its crash-test ratings. With an advanced airbag system, lane departure warning system, tire pressure monitor, and blind-spot warning system, you can feel safe when you hop behind the wheel of this truck. The Titan also offers a rear-view camera, front-and-rear Sonar Systems, Rear Automatic Braking, and a theft-prevention system.
Cons
Transmission Problems
Rear Axle Failure
Rear Differential Failure
Poor Fuel Efficiency
Interior Accessory Issues
Faulty Navigation Units
Premature Shock Failure
What Do the Reviews Say?
Reviews for the Nissan Titan have been generally positive, though some were more mixed than others. Here's what car enthusiasts have to say:
"The new 'Powerful Exterior' design… sure makes it look slightly classier. The grille now features a thick border and more prominent horizontal slats. I like this more than the previous grille as it reduces the honeycomb design on the inside and looks a lot cleaner."
Source: TopSpeed.com
Owners praised the sleek, modern design of the truck, particularly how clean and bold the new exterior and interior design updates make it look.
"Overall, the Nissan Titan XD with its best-in-class five-year/100,000-mile bumper-to-bumper warranty, long list of standard tech and safety equipment, and new upgrades make it a smart choice for those people who want a solid truck with a tremendous amount of value."
Source: MotorTrend.com
Others lauded its laundry list of safety features and tech upgrades, highlighting the support Nissan has put into this truck to help it stand out from the competition.
What's the Resale Value On the Nissan Titan?
| | | | |
| --- | --- | --- | --- |
| MODEL | YEAR | MILEAGE (km/h) | PRICE ($) |
| Nissan Titan SV | 2018 | 36000 | $37,989 |
| Nissan Titan SV | 2017 | 27,800 | $33,985 |
| 2018 Nissan Titan Platinum Reserve | 2018 | 54,611 | $41,987 |
| Nissan Titan PRO-4X | 2020 | 20,179 | 51,995 |
Final Thoughts
While the Nissan Titan has many great features and benefits, it also has a number of common issues that can affect its performance.
Transmission problems, rear axle failure, and rear differential failure are just some of the issues that drivers may encounter with this truck.
Additionally, it also suffers from poor fuel efficiency and interior accessory issues, such as faulty navigation units or premature shock failure.
Despite these issues, however, the Nissan Titan remains a popular choice for drivers in search of a powerful truck that is safe and reliable.
With an excellent crash-test rating and a number of advanced safety features, this vehicle still offers great value for money.
And with excellent resale value and versatility across multiple industries, the Nissan Titan stands out as one of the best pickups on the market.
Whether you're looking to use your Nissan Titan for work or pleasure, it is sure to serve you well for years to come.
GO BACK: Problems for all Nissans.
Was this article helpful?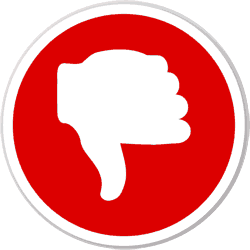 Did you find wrong information or was something missing?
We would love to hear your thoughts! (PS: We read ALL feedback)
ⓘ  The information in this article is based on data from National Highway Traffic Safety Administration (NHTSA) recall reports, consumer complaints submitted to the NHTSA, reliability ratings from J.D. Power, auto review and rating sites such as Edmunds, specialist forums, etc. We analyzed this data to provide insights into the best and worst years for these vehicle models.
---