Added to Mazda's lineup in 2023, the new CX-50 model holds a lot of promise. Joining the CX-5 as the brand's second compact crossover, it offers drivers a sportier alternative with greater off-roading capacities, while still being a practical and sleek compact SUV.
Becoming available in early 2022, the model has barely hit the roads and is still gaining in popularity, but early reviews have been largely positive.
Most of the problems reported so far are fairly minor, ranging from quirks to mild annoyances. As yet, there have been no major safety issues or recalls for the new model.
But even small quirks are an important thing to consider when it comes to cars – read on to find out more about Mazda's latest.
Problems with the Mazda CX-50
1. The interior is lacking in ambient lighting
One of the most puzzling issues for many Mazda CX-50 drivers is that there is no additional lighting in the interior aside from that on the dashboard.
Overhead interior lights come on when the doors are opened, and most buttons and dials are backlit, but there is no extra lighting for spaces such as cupholders, the inside of the center console, in the glove or side compartments. This can make navigating the car after dark more difficult than it should be.
While for some, this may be hardly noticeable or a minor inconvenience, it's worth noting if good lighting is important to you. It's not easily modifiable, either, as rewiring cars to add your own lights can be a difficult and costly move.
This is an odd choice on Mazda's part, particularly for the top trims, which aim for a more luxury feel, where ambient lighting should be a feature that's taken for granted.
It's also strange considering that many of their other models, including the CX-5, do have additional ambient lighting.
2. The Smart Brake is a bit touchy
One of the more serious issues found with the CX-50 so far has to do with its Smart Brake Support technology. Many drivers have reported that the automatic breaking feature is inconsistent and too sensitive, switching on in reaction to things like hitched bike racks and falsely detected obstacles.
While the Smart Brake is a good option in theory, auto-engaging the brakes and potentially preventing collisions, they can also be dangerous and jarring in the case of a detection error.
Whether it is an issue of sensitivity or sensor placement, there may need to be some improvements in accuracy before more drivers feel comfortable trusting the feature.
It's ultimately up to you whether you want to use the Smart Brake Support – while Mazda has it on by default, there is an easy way for drivers to switch it off.
3. The wireless charger tends to overheat
Mazda tried to implement the convenience of wireless charging into the CX-50, but they may not have pulled it off perfectly. For Android users, the wireless charging feature tends not to work at all, while many iPhone owners reported that the charge rate is very slow.
Some drivers have even had experiences where the wireless charger overheats while their phone is charging.
Thankfully, the CX-50 has an automatic heat sensor that shuts off the charger if it begins to get too hot, so there is no safety risk. Regardless, this malfunction makes the wireless charger essentially useless for many drivers.
If your CX-50 is having this issue, the short-term fix is simply to use a cable to charge your phone. Mazda's wireless charging may improve in the future, but since this is not a true safety issue, Mazda seems to have no plans to issue a recall for the feature.
4. Loud seatbelt warning
Perhaps the most minor of these fairly minor complaints, many drivers have expressed dislike of the model's unusually grating seatbelt reminder.
The tone and frequency of the chime are certainly higher than most cars, and make it essentially impossible to sit in your car while its on without your seatbelt.
While we applaud Mazda's commitment to ensuring the safety of their drivers, this may not be a noise you want to hear most days. There is a way to lower the volume of the alert – try checking your owner's manual for details.
5. Less than ideal fuel economy
The CX-50's larger frame and all-wheel drive make it so it requires more fueling up than comparable crossovers, including Mazda's own CX-5. The EPA rates the basic trim at 27 mpg combined highway and city driving, and the turbo model at 26; real-world drivers report mpg rates as low as 16 and as high as 30.
This is definitely on the lower end of the fuel-efficiency range for most crossovers, but it's the price you pay for the CX-50's greater adventuring capabilities.
Mazda has also hinted that they will be adding hybrid and plug-in versions of the vehicle to their lineup – drivers who place a very high priority on fuel efficiency might think these models are worth the wait.
Of course, towing will affect mileage a lot. Check our towing guide for Mazda CX-5 here.
6. Rattling panoramic sunroof
Some CX-50 drivers who opted for the Turbo model with the new panoramic sunroof feature have reported a loud rattling noise when the car is in motion. This not only creates an unpleasant experience for those inside the cabin, but could also indicate a problem such as an out-of-place crossbar or loosened side-panels.
This is an issue that your dealership should be able to deal with, by adding noise insulation or replacing the faulty pieces. A problem like this should also be covered under your Mazda warranty.
7. Its notifications to the MyMazda app are delayed
While this issue has more to do with the MyMazda app than the CX-50 specifically, its still worth considering as a feature of the car. When you register your car with the MyMazda app, it allows you to access capabilities such as remote start, remote locking and unlocking, and calling for roadside assistance.
However, the Mazda app also notifies users of car activity such as low tire pressure or open doors, and its often late on delivering these notifications. This delay has caused some confusion, with drivers being notified of activity that occurred hours or even days before.
It's possible that this is simply a glitch that Mazda will address in future app updates, but for now it's probably best to keep the notifications silenced so you don't experience any false alarms.
Please also read my article about the best and worst years for the Mazda3.
General Pros and Cons for the Mazda CX-50
Pros
As has become signature for Mazda, the vehicle offers a sleek, trim exterior design and a luxury feeling inside the cabin, with leather seats and unique stitching accents. There's also a 12-speaker Bose sound system for music lovers.
The CX-50 also shines in terms of handling – despite its extra inch of ground clearance compared to the CX-5, the lower overall height makes handling tight turns and winding roads a breeze. The model also comes with all-wheel drive and a firm suspension, as well as increased towing capacity – up to 3,500 pounds on the turbo versions.
It also offers longer and narrower storage space, ideal for outdoor gear, as well as a lower roof to mount equipment with ease.
The range of optional features, with the model coming in six trims and three turbocharged options, is also a plus for many drivers, making it easy to find a model that suits individual needs and price points perfectly.
Cons
Lack of interior lighting
Sensitive Smart Brake
Faulty wireless charger
Loud seatbelt warning
Low fuel economy
Rattling sunroof
Delayed app notifications
What Do the Reviews Say?
All things considered, Mazda delivers a great car with the CX-50.
However, in trying to span the best of both worlds, it also seems to be caught somewhere between wanting to be a luxury vehicle and a real off-roader.
While the CX-50 does come with increased towing capacity, an outdoorsy look, and greater ground clearance, it's not as heavy-duty as, say, a 4-Runner. You won't find power shocks or controlled descent features.
It's enough, however, for some rough roads, trails, and tough weather, while still offering a sharp look and secure feel.
JDPower offers a balanced review, praising the Mazda's handling, interior comfort, and safety while expressing distaste for the infotainment controls and putting its outdoors capabilities into perspective.
They also note a feeling commonly expressed in CX-50 performance reviews, saying:
"Mazda goes to great lengths to make its products feel smooth, natural, and engaging to drive. The automaker's decades of dedication to creating a sensation of a horse and its rider as one, a philosophy it calls jinba ittai, is plainly evident in the new CX-50. It is a delight to drive."
[Source – JDPower.com]
The car also has some polarizing features, such an old-school six-gear transmission and the dial-centered control system – drivers seem either to love or to hate these aspects of the car, and you might want to try them out firsthand to see your opinion.
What's the Resale Value On the Mazda CX-50?
We have a good overview here of how well the Mazda SUVs hold their value.
Mazda CX-50 2023 – bought at $39,188
2.5 S Premium Package, 4dr AWD Sport Utility Model
| | | |
| --- | --- | --- |
| Year | Mileage | Price |
| 2023 | 12000 | $38,002 |
| 2024 | 24000 | $36,763 |
| 2025 | 36000 | $35,634 |
| 2026 | 48000 | $31,763 |
NB: The above prices are estimated and may vary based on individual preferences and your location 
Go Back: Problems for all Mazdas.
Was this article helpful?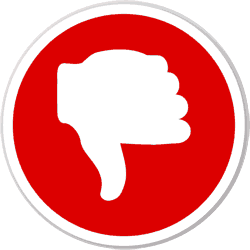 Did you find wrong information or was something missing?
We would love to hear your thoughts! (PS: We read ALL feedback)
ⓘ  The information in this article is based on data from National Highway Traffic Safety Administration (NHTSA) recall reports, consumer complaints submitted to the NHTSA, reliability ratings from J.D. Power, auto review and rating sites such as Edmunds, specialist forums, etc. We analyzed this data to provide insights into the best and worst years for these vehicle models.
---