Are you thinking of working as an Uber/Lyft driver? You need to know the requirements and the things that can prevent you from being an Uber driver. We've researched this topic and provide complete detail of the things which can prevent you from earning on the Uber platform.
What disqualifies you from being an Uber driver?
You cannot be an Uber driver if you have a poor driving record. The company will bar you from joining its driver platform if you have a history of multiple driving violations, DUIs, criminal records, or accidents.
Some other things that can get you disqualified are: include using an invalid driver's license, invalidly registered a number plate or having a suspended/revoked car insurance.
We've compiled a more detailed list for you here!
What Is Required To Be An Uber/Lyft Driver?
Drivers often join UberX (Uber's driver platform) to make extra money during their free time. We have created a list that covers the essential criteria you need to fulfill to become a driver for Uber/Lyft.
Requirements for Drivers
To be eligible for consideration as an Uber/Lyft driver, you must meet the following criteria:
Age: You must be above 21 years of age at the time of your application.
Prior driving experience: You must have had a valid driver's license for a minimum of a year (if you are 21) or three years (if you are under 23).
Car insurance: You must have a current car insurance plan registered in your name. The insurance must also meet the minimum auto insurance requirements.
Driving record: You must have a clean driving record – no history of driving under the influence (DUI) or speeding violations.
Criminal history: Your criminal history must be clean.
Social Security Number: Your SSN will be used in the background check and is necessary.
Compatible mobile device: You must have a phone that can download and run the Uber/Lyft app.
Requirements for Vehicles
To use a vehicle for Uber/Lyft taxi services, it must meet the following criteria:
Valid license plates: Your car must have a valid state-issued license plate.
Doors/Seating: Your car must have a minimum of four doors. It must also have enough space to seat four people and must have working seatbelts.
Vehicle Age: Your car must not be older than 10-15 years.
Safety: Your car must pass a safety inspection before you can use it as an Uber/Lyft taxi.
NB: You cannot use your car for Uber/Lyft if you have used it for a similar taxi service in the past.
Does Uber/Lyft Do Background Checks On Drivers?
Passenger safety has constantly plagued Uber and its rival Lyft for years now. Multiple drivers have been accused or convicted of crimes such as rape, assault, robbery, and other violent acts. As a result, Uber and Lyft have come under fire for not screening drivers properly before accepting them, putting passengers in potential danger.
To solve the problem, Uber and other ride-hailing services now conduct comprehensive background checks on drivers before hiring them. Often, third-party firms like Checkr Incorporated carry out these background checks and not the company itself.
What Does Uber/Lyft Look For In Background Checks?
A background check looks through certain parts of your history for potential red flags. Different regions have different laws that influence how Uber or Lyft carry out background checks. But, regardless of a region's laws, the background check must comprise a "Motor Vehicle Record review and a criminal background check" according to Uber's official website.
In the driving record review, Uber/Lyft assess:
Driving experience:
These companies assess how long you have held a driver's license and will disqualify you if you do not have at least one year of driving experience. The company requires three years for those aged 23 or slightly below.
Driving violations:
Here, they check your driving history to see if you are a reckless, unsafe driver or not. A record of multiple serious driving violations and accidents will get you disqualified.  Minor driving violations matter too-you can still be disqualified if you have a recent history of minor driving violations.
For the Criminal History check, they will check records from local and national databases and local courthouses for any convictions during your adult life. Some of the databases include the United States Department of Justice Sex Offender Registry and the Federal Criminal Records.
Also read our article about the Privacy Policy on Motor and Wheels
You will be automatically disqualified if you have been convicted of the following crimes:
Felonies
Violent crimes, e.g., kidnapping, murder, assault
Sexual offenses, e.g., rape, sexual abuse, sexual harassment
Terrorism
Theft/property damage
Driving under the influence
NB: If you have a present court case that hasn't been resolved, you are not eligible to be an Uber/Lyft driver (even though you haven't been convicted). You are only eligible when the court case has been resolved in your favor.
How Far Back Does The Background Check Extend?
Typically, most driving record and criminal background checks may not extend past the seven-year mark. States like California are different, though, as they allow for a person's entire criminal history to be examined during the background check.
While states may differ in terms of how far back the background check goes, they are all equally tough on driving offenses and may deny you if your recent driving record is abysmal.
How Old Do You Have To Be An Uber Driver?
While you have to be at least 18 to use the Uber app, you cannot sign up for the UberX drivers' platform if you are lesser than 21 years of age. The same goes for Lyft, although New York laws reduce the minimum age for drivers of 18.
Do You Have To Speak English To Drive An Uber/Lyft?
As per current provisions, you need not speak English before you can become a driver for Uber or Lyft.  They will not test you for English-speaking ability when you sign up.
The app is multilingual, so even if a driver and the passenger speak different languages, they can use the app in their languages and get to where they want without issues.
What Happens After You Submit Your Application?
Once you have submitted your application, you can visit partners.uber.com and choose the "my profile" option to see your status. The page will display any of these statuses depending on whether you were accepted or rejected:
"Onboarding": If this status is displayed, it means Uber is reviewing your documents and going through your background check. If you are stuck there for more than a week (seven working days), contact Uber to find out why.
"Waitlisted": This means there are issues with your documents, and they are being re-examined. It could also mean Uber is running your background check again.
"Considered": This can either mean the background check is still on or your background is being scrutinized for certain issues. If your status doesn't change from "Consider" by the end of seven working days, then you'll likely get rejected.
"Active": If this is what you see on the dashboard, then it means you've been accepted, and you need to log in and start accepting ride orders from customers.
"Rejection": This means your application was rejected or that you have been deactivated. If you are rejected because of issues in your background, you can reapply in 3-8 months.
What Does "Need Attention" Mean On The Uber App?
If you log in to your Uber app or go online to access your Uber account and see the words "Your account needs attention," it means you have been deactivated, and you can no longer accept ride orders. You can get deactivated for violating the Code of Conduct, unsafe driving, and low star ratings, etc.
Sometimes, deactivation notices come with brief explanations about the reason for the deactivation. If you received no notice, you could contact the Uber Support center to ask why you got deactivated. Your account may be reactivated if you are patient and can correct the issue that got you deactivated.
Final Words
Uber is the disruptive unicorn unraveling the taxi industry. It provides a flexible way to earn an extra buck and gives full-time drivers a vast pool of passengers. But Uber and its arch-rival Lyft also have stringent requirements for drivers that wish to use their platform.
Unfortunately, small misdemeanors can prevent you from using these platforms even if you are a changed person. A lot of states are erasing such offenses from their official records because it curtails the earning potential of people with criminal records, even trivial offenses from over ten years ago. This robs them of precious income tax and is mostly unfair to most of the affected people.
Whatever the case, it helps to know the requirements for becoming a driver on Uber and Lyft. We hope this article will make it easier for you to earn whenever you like as a driver on these ride-hailing platforms.
Was this article helpful?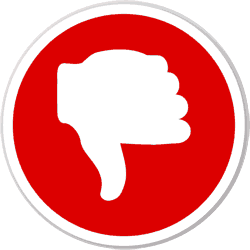 Did you find wrong information or was something missing?
We would love to hear your thoughts! (PS: We read ALL feedback)