The most spacious offering from Volvo, the XC90 is a midsize SUV that can seat up to seven in its upscale cabin.
Boasting both a pleasant ride and a strong safety record, it makes an ideal family vehicle.
If you're looking to purchase a used XC90, though, some models are definitely a better value than others.
We've researched the best and worst years for the vehicle, and compiled the findings below.
The Best And Worst Years For Volvo XC90 Are:
For all the perks of an XC90 with few of the potential drawbacks, look for a model from 2009, 2014, or 2020. These tend to have the best standards of reliability and improved features. Try to avoid models from 2004, 2005, and 2016 – they all had high numbers of registered complaints.
What Volvo XC90 Years Are The Most Reliable?
2009
The 2009 is one of the strongest years from the early XC90 models.
It has only six NHTSA complaints, along with one recall concerning overheating GPS batteries.
U.S. News and World Reports states that critics gave it an average of 8.5 stars, particularly praising its safety features and comfy first and second row seating.
The vehicle also received a steady 4.2 out of 5 rating from consumers on Edmunds.com.
Several drivers report that their Volvo has kept them safe in a crash, crediting it with allowing them to walk away with only minor bruises.
The main downsides to the 2009 model are that its third row seats are really only suited to kids, and its real-world fuel economy isn't the greatest.
If you can handle those minor inconveniences, though, the 2009 XC90 will deliver you with a safe and still-upscale ride.
2014
The 2014 model is the last model in the first generation of XC90s.
This means that while its styling may not be the most modern on the road – it still sports the original design from 2003, with only superficial updates – Volvo had also pretty much perfected the vehicle's production.
The model has seen zero recalls and only two driver complaints, which is impressive by any standard.
The 2014 model also received excellent safety scores from the IIHS, and was praised for its comfortable, upscale interior. The suspension is smooth, even if the acceleration lags a bit, and a sharper ride is available with the sporty R-Design trim.
This model won't get you the latest tech or updated safety features, however, so if those things are important you'll want to look at a model later than 2016.
But the 2014's track record for reliability is still hard to beat, so it earns a spot on our list of the best XC90 years.
2020
If you're looking for a more recent model of the XC90, the 2020 hits a value sweet spot.
A few years after the initial second generation launch, Volvo has tweaked its new model enough to restore it to the highest standards of reliability.
It received only seven official complaints, continuing the decline from the sharp peak in 2016.
The 2020 XC90 was also met with critical praise, receiving a 9.5/10 rating from Car and Driver, and an 8.2 rating from critics at U.S. News and World Report.
The model was recognized for its luxe styling inside and out, as well as its impressive array of driver-assist safety features.
While Volvo has continued to add features to its latest models, this XC90 will still keep pace with many other modern vehicles when it comes to tech.
Volvo also prioritized cargo space even more since the 2016 redesign, and the 2020 is on par or better than most other SUVs in its class.
A plug-in hybrid version was also available for this model year, and even for the gas-powered engines, Volvo has come a long way in improving the unimpressive fuel economy of the earliest XC90 years.
What Volvo XC90 Years Should You Avoid?
Actually, the Volvo XC90 is one of the Volvos with the most recalls.
2004
In 2004, the XC90 saw a staggering 457 complaints, along with 6 recalls and 3 investigations.
While the issues were wide-ranging, the most common categories include the fuel system, the electrical components, and the air bag system.
While all of the problems could be annoying and often expensive, a few were particularly dangerous.
Some drivers reported that their airbags failed to deploy in a crash, and others noted that gasoline leaks could potentially lead to a fire.
The model was also prone to experiencing a sudden loss of power while driving, with the instrument cluster and all vehicle control suddenly powering down. Some drivers were able to restart their cars shortly after, but others were left stranded and required a tow truck.
The problem often occurred in high temperatures, leading many to believe there is a defect in the way the engine cools down.
The issue may also be due to a faulty Central Electronics Module, or CEM – a pricey replacement to have done.
It seems that Volvo hasn't issued a recall for this particular problem, however, leading many drivers to be disappointed by their response.
This and the model's other issues make 2004 a year to steer clear of for the XC90.
2005
The 2005 didn't do much to improve on the legacy of the 2004 model.
As of today, the NHTSA site lists 219 complaints and 6 recalls for the 2005 XC90, as well as 4 investigations.
The recalls were for problems ranging from short-circuiting batteries to fuel pump leaks to inoperative windshield wipers.
The vehicles experienced many complaints beyond those covered in the recalls, as well, many having to do with the power train and electrical system.
These vehicles also experienced transmission failures alarmingly often, a repair that could run owners up to a steep $8,000 in fees.
The failure sometimes occurred as early as 60,000 miles. Normally, though, the issues would not occur until the XC90 had gone 100,000 miles.
We have more here on the most common problems across the Volvo models.
Even if the transmission didn't break down completely, many drivers report jerky shifting and frequent stalling, often due to defective components. The problem occurred most often with the V8 engine.
All in all, the 2005 model is just too risky to recommend, which earns it a spot on our list of years to avoid.
2016
2016 saw the launch of the XC90's second generation, and included a host of new features.
The vehicle saw a complete redesign, becoming sharper and more modern, and also featured a lower and wider body structure.
The interior also saw updates, with changes to the seating to make the passenger area more spacious. The latest in safety technology have also become standard.
While these updates were met with approval in first-round reviews, the 2016 model also fell prey to the mechanical inconsistencies that often plague newly-redesigned models.
The model now has more than 100 complaints on the NHTSA site, as well as seven official recalls.
The reported problems range from issues with speed control and rainwater leaks, but some of the most common areas affected include:
the engine,
the electrical system,
and the braking system.
Many drivers reported that their engines were burning oil excessively, and the coolant system was also prone to leaks.
Over 34,000 vehicles were affected by a recall over a leaking coolant hose.
The brakes were also a common issue, with several instances of malfunctions in the auto-brake system.
These issues were reflected in the consumer reviews – the 2016 XC90 earned only 3.1 out of 5 stars from drivers on Edmunds.com.
A recently updated review lists the many problems experienced over the span of 110,000 miles, and knocks their original 5-star review down to 2.
What Are Some Typical Problems With The Volvo XC90 Models?
The XC90 tends to have the most problems with the following:
Electrical system and power shutdowns
Transmission failure
Fuel system and gas leaks
These problems tend to be concentrated around the 2003 to 2007 and 2016 to 2018 models, which were the initial launch years for the first and second generations.
Final Thoughts
Shopping for a used vehicle can feel like navigating a minefield of potential costs – but a little research can go a long way to help you make an informed decision.
Even if you're set on a Volvo XC90, there's still a lot of variation between model years.
Choosing one of our recommended models can help ensure that you're getting the best value for your money, and can enjoy your Volvo for years to come.
Sources
– Volvo XC90 Prices, Reviews, & Pictures | U.S. News
– Volvo XC90 Review & Ratings | Edmunds
– Volvo XC90 – CarComplaints.com
– 2020 Volvo XC90 Review, Pricing, and Specs
Was this article helpful?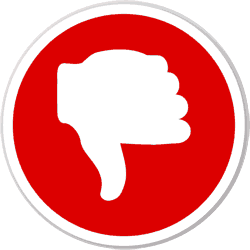 Did you find wrong information or was something missing?
We would love to hear your thoughts! (PS: We read ALL feedback)
ⓘ  The information in this article is based on data from National Highway Traffic Safety Administration (NHTSA) recall reports, consumer complaints submitted to the NHTSA, reliability ratings from J.D. Power, auto review and rating sites such as Edmunds, specialist forums, etc. We analyzed this data to provide insights into the best and worst years for these vehicle models.
---