The BMW 5 Series is a luxury mid-size car that has been in production since 1972. It is currently in its 7th generation and offers a variety of powertrain options. 
In terms of size, the 5 Series is slightly larger than the 3 and 4 Series and smaller than the 7 Series. It offers a comfortable and spacious interior, with options for leather seats and a panoramic sunroof. 
Let's look closely at some of the best and worst BMW 5 Series model years. 
The Best and Worst Years for BMW 5 Series Are:
According to consumer satisfaction records and reliability data, the 2008 and 2017 BMW 5 Series model years offers the best reliability with over 300 000 miles with regular maintenance. However, the 2018 model offers similar features to the 2017, but for a higher price, and it should be avoided.
What BMW 5 Series Years Are the Most Reliable?
When purchasing a BMW 5 Series, it is important to consult consumer satisfaction reviews and reliability records to get an idea of the overall quality and performance of the specific vehicle model year
Consulting these reviews and records before purchasing a BMW 5 Series can help you make an informed decision and avoid potential issues down the road.
Luckily, we've done this for you. Below you'll find the most reliable BMW 5 Series model years. 
2008 BMW 5 Series
The 2008 5-Series received a mid-cycle update for 2008, which resulted in minor modifications to its exterior design and additional power added to the standard and mid-level powertrain. 
According to AutoWeek, the 2008 5-Series "offers everything you come to expect from BMW."
The 2008 BMW 5-Series is still a potent, luxurious, and technologically advanced vehicle, according to AutoWeek, despite its difficult and disliked iDrive information system and lack of interior cargo space.
According to a U.S. Car News review of 54 pieces of research and data from various sources, the 2008 BMW 5-Series currently has an overall score of 9.2 out of 10 in its category.
This ranking is based on the performance, comfort, and technology it offers, which is the best in its class.
The safety and interior ratings of other large luxury cars may be higher, but the BMW 5-Series performs admirably across the board and merits close consideration from any buyer.
Additionally, J.D. Power awards the 2008 model a 4 out of 5 rating for reliability. 
According to Car Guru, the 2008 5 series is also capable of lasting an impressive 300 000 miles when well-maintained.
The most significant redesign of the 5 series happened in 2008 after the manufacturer brought two new six-cylinder engines to the lineup.
The vehicle also had cutting-edge technology, and BMW added several optional extras for the 2008 5 Series.
The 5 Series is excellent at navigating winding roads and avoiding harsh sections of motorways. In addition to offering an optional active steering system that enhances the vehicle's driving experience, BMW modified the suspension to make it particularly capable in turns.
Several standard safety measures are also present in this 5 Series, including:
Stability control
Antilock disc brakes
Front-seat side airbags
Front-and-rear side-curtain airbags
For side impact tests and front passenger-side impacts, the NHTSA gave the BMW 5 Series an excellent five-star rating. The 2008 BMW 5 Series only received three out of a possible five stars for driver front-impact protection.
The 2008 5 Series is still among the best BMWs ever produced, despite having fewer technological amenities than recent models. 
2017 BMW 5 Series
The 2017 5 Series boasts the responsive driving of a sports vehicle and the luxurious ride you'd expect from a luxury sedan, and it is accessible in both sedan and hatchback style variants.
Modern technology is featured throughout the luxurious cabin of the 5 Series, including one of the better infotainment systems available in its class and a sizable cargo capacity.
On the negative side, this model year is among the most expensive in its class and is best purchased used.
For instance, you can save money by purchasing a 2017 5 Series today for roughly $36,917 as compared to paying $62,976 if you had purchased one brand-new.
For a dependable vehicle that has undergone a thorough overhaul since 2016, that is a remarkable 41% savings.
In general, purchasing a secondhand 2017 is a fantastic deal!
You not only benefit from the remodeling of the sedan, but you also pay roughly 50% less than the initial cost. The average mileage is also not too bad – it should still offer a safe trip.
This 5 Series model also underwent several significant changes in 2017. It included an improved interior in addition to the following technological changes:
WiFi hotspot
Apple CarPlay
Wireless charging
Seat massage
J.D. Power has given the 2017 BMW 5 Series a predicted dependability score of 3.5 out of 5, which is standard for the class. 
The 2017 BMW 5 Series has no active safety recalls at this moment.
This 5 Series received the highest possible grade of Good in all of the Insurance Institute for Highway Safety's crash tests, the label of Top Safety Pick, and a Superior front crash prevention rating for cars with the optional frontal collision warning system.
Hatchback models received an overall rating of five out of five stars from the National Highway Traffic Safety Administration, with five stars in the side and rollover crash tests and four stars in the front collision test.
Overall, the 2017 BMW 5 Series offers a wide range of available high-tech options, a pleasant ride, nimble driving, a spacious trunk, and a strong powertrain selection.
What BMW 5 Series Years Should You Avoid?
When considering purchasing a used BMW 5 Series, it is important to research the specific years and models to determine which ones may have a higher likelihood of issues or problems. 
Let's take a closer look at the BMW 5 Series model years you should be avoiding.
2018 BMW 5 Series
The 2018 BMW 5 Series is a luxury mid-size car that was available in several different trim levels and powertrain options.
 According to Consumer Reports, the 2018 BMW 5 Series had an average reliability rating, with some owners reporting issues with the power equipment, suspension, and engine. 
Additionally, some owners reported issues with the infotainment system, including problems with the touchscreen display and the navigation system.
When it comes to Consumer Satisfaction reviews, the 2018 BMW 5 series received mixed reviews. 
Some praised its refined driving dynamics, comfortable ride, and high-quality cabin. Others criticized its high price point and the cost of maintenance. 
Some owners also reported that the iDrive infotainment system was difficult to use and not intuitive.
Since it is an older model and has been on the market for longer, the 2017 model is typically less expensive than the 2018 model. If you're looking for a more economical choice, this may work in your favor.
Furthermore, the 2018 model has been recalled 4 times according to Kelley Blue Book. Recalls were related to airbags issues, sensor system issues, electrical problems, and engine problems. 
Overall, even if the 2018 BMW 5 Series isn't the least reliable car, you can get comparable features for less money with the 2017 model.
However, to get a better understanding of its general quality and performance, it is crucial to research the precise model and trim level you are interested in. You should also study reliability statistics and customer satisfaction ratings.
What Are Some Typical Problems With the BMW 5 Series Models?
The BMW 5 series is generally great in every way thanks to its performance, excellent ride quality, flawless overall design, and spacious interior.
The 5 Series provides you with the performance you want without sacrificing the top-notch functionality needed for a family.
However, after owning your vehicle for a couple of years, your 5 series might present you with several common issues over time. 
The BMW 5 Series is generally considered a reliable vehicle, but like any car, it can have its share of problems. Some of the most common issues reported with the BMW 5 Series include:
Air Conditioning Problems
Faulty Fuel Pump
Cooling System Failure
Timing Chain Snaps
Worn-Out Tensioners
Sun Roof Seal Issues
It's important to keep in mind that these are general difficulties and that not all models or years will experience them. 
Furthermore, some of these issues might have been rectified in subsequent model years or fixed by a recall. Therefore, it's crucial to research the particular model and year you're interested in, as well as its maintenance history and any possible recalls.
For a more in-depth analysis, please read our article about problems with BMW cars.
Final Thoughts
BMW vehicles, including the 5 Series, have a reputation for being well-built and reliable. They are known for their performance, handling, and luxury features. However, like any vehicle, they can have issues and may require repairs. 
Websites such as Consumer Reports and RepairPal, for example, provide comprehensive reliability data, including a breakdown of issues by model year and specific problem areas. 
By looking at these records, we can identify which years and models of the 5 Series have a higher likelihood of issues and which ones have a better track record.
Another way to find out which BMW 5 series years to avoid is by looking at the NHTSA and IIHS records. Cars that have poor ratings or have been subject to a high number of recalls may be less reliable and safer than others.
According to Consumer Reports, the 5 Series has an above-average reliability rating, with the majority of reported issues being related to small problems such as squeaks and rattles.
Sources
Which year model of used BMW 5-series is the best to buy used?
BMW Service: Common Problems With The BMW 5 Series
Was this article helpful?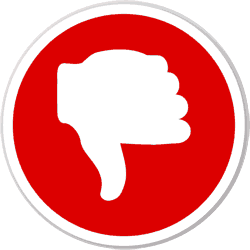 Did you find wrong information or was something missing?
We would love to hear your thoughts! (PS: We read ALL feedback)
ⓘ  The information in this article is based on data from National Highway Traffic Safety Administration (NHTSA) recall reports, consumer complaints submitted to the NHTSA, reliability ratings from J.D. Power, auto review and rating sites such as Edmunds, specialist forums, etc. We analyzed this data to provide insights into the best and worst years for these vehicle models.
---