The Toyota Tacoma is one of the few pickup trucks in Toyota's reputable line-up and it entered production in 1995.
Now in its third generation, the model is one of the top-selling pickup trucks in the U.S. and has sold at least 200,000 units in each of the last 4 years.
It has also notched mostly positive ratings across its models and won the 2005 Motor Trend Truck Of The Year Award.
Toyota Tacoma models are highly sought after because they are known for their reliability and ruggedness. Lots of people are in the market for used models of the Toyota Tacoma and that speaks to its value.
In this article, we'll be looking at used models of the Toyota Tacoma, their cost and all the other things you need to know before buying one.
If you're considering a Toyota Tacoma you should make sure to read our list of the best and worst Toyota Tacoma models to buy.
Here's How Much Used Toyota Tacomas Cost:
According to TrueCar, used Toyota Tacoma models cost anywhere between $4,699 and $69,995. The cost largely depends on several factors, such as the mileage and model recency, location, maintenance record and your bargaining skills.
How Much Does a Toyota Tacoma From 2010 to 2021 Cost?
Below is a list showing the estimated costs for used Toyota Tacoma models between 2010 and 2021:
| | | |
| --- | --- | --- |
| Model Year | Mileage | Price |
| 2010 Toyota Tacoma | 192,110 miles | $16,988 |
| 2011 Toyota Tacoma | 120,688 miles | $19,675 |
| 2012 Toyota Tacoma | 140,014 miles | $20,995 |
| 2013 Toyota Tacoma | 100,777 miles | $23,499 |
| 2014 Toyota Tacoma | 76,999 miles | $27,999 |
| 2015 Toyota Tacoma | 63,107 miles | $31,563 |
| 2016 Toyota Tacoma | 59,455 miles | $33,999 |
| 2017 Toyota Tacoma | 57,392 miles | $35,530 |
| 2018 Toyota Tacoma | 47,807 miles | $38,878 |
| 2019 Toyota Tacoma | 30,653 miles | $41,891 |
| 2020 Toyota Tacoma | 15,560 miles | $45,000 |
| 2021 Toyota Tacoma | 10,953 miles | $46,999 |
Related: 11 Toyota Tacoma Statistics You Should Know (Facts & Numbers)
What Toyota Tacoma Years Are the Best to Buy?
The Toyota Tacoma has been on the scene for quite a while and it has had some really excellent years. Below is a look at some of them:
1. 2001- 2004 Toyota Tacoma
These models belong to the first generation of the Toyota Tacoma and they are some of the best Tacoma models ever made.
They also have some of the fewest complaints from Car Complaints—2001 Tacoma (14), 2002 Tacoma (19), 2003 Tacoma (15), 2004 Tacoma (21).
When you compare these numbers to other models with hundreds of complaints, you realize how relatively unproblematic these models are.
In addition to that, these models also have a perfect 5/5 reliability verdict ratings on Consumer Reports. You likely won't go wrong with any of them.
Just conduct all the necessary checks to make sure whichever one you settle for is in optimal condition.
2. 2005, 2010-2015 Toyota Tacoma
These models all belong to the second generation of the Toyota Tacoma, and they are the standout models from the decade-long generation.
They are amongst the Tacoma models with the least complaints on Car Complaints- 2005 (45), 2010 (43), 2011 (61), 2012 (69), 2013 (47), 2014 (27), 2015 (44).
To put these numbers in perspective, the 2016 Tacoma, a more recent model, has no less than 155 complaints on the same platform. That's more complaints than the first three models put together. Isn't that something?
On Consumer Reports, these models have perfect 5/5 reliability ratings, although the 2005 Tacoma has the highest owner satisfaction rating of them all, with 4/5.
Nonetheless, buying any of these Tacoma models should pose little to zero problems. Just take the necessary precautions and have a trusted auto technician run a check before settling for one.
3. 2018-2019 Toyota Tacoma
The 2018 and 2019 Toyota Tacoma models are amongst the third generation offerings of the Toyota Tacoma. They are also the best models from this generation, if total complaints and user experiences are anything to go by.
On CarComplaints, the 2018 Toyota Tacoma has only received 16 complaints, while the 2019 Toyota Tacoma has 20. To put that in perspective, the 2017 Tacoma from the same generation has amassed 82 complaints so far.
Data from Consumer Reports reveal that critics and owners alike have not really been pleased with the Tacoma's third generation. However, it is noteworthy that, amidst the displeasure, the 2019 Tacoma still manages a rare 4/5 satisfaction rating on Consumer Reports.
If you are looking to buy a very recent Tacoma model, any of these two models will do, especially the 2019 model. Not only do you get a very reliable and unproblematic truck, you also get access to all the intuitive tech features and overhauls of the new generation.
Related: 4 Most-Common Problems With Toyota Tacoma (Explained)
Which Year Should You Avoid?
While there have been excellent models, great models and average ones, there have also been complete disasters. These models are so bad that some of them have an "avoid like a plague" tag on some complaints aggregators.
Below are some of the worst Toyota Tacoma models you should avoid:
1. 2016 Toyota Tacoma
The 2016 Toyota Tacoma marked the beginning of the much-anticipated third generation of the Toyota Tacoma. However, upon its release, critics and users alike found it to be grossly disappointing, with some calling it the worst ever made.
Little wonder, it has the most overall complaints amongst Tacoma models on CarComplaints with 155 and counting.
Its worst problems include delayed engagement, occurring at an average mileage of 4,000 miles.
It also has problems with hesitation during hard shifting and the average mileage for this is 6,000 miles. Not to mention others like howling noise, body problems, and sudden vibration in the steering.
Even if someone offered this to you for free, you can accept it, just to be nice, but get rid of it afterwards. The 2016 Toyota Tacoma has too many problems, and it is simply not worth having or keeping.
2. 2017 Toyota Tacoma
The 2016-2017 model years were certainly not the proudest years for the Toyota Tacoma engineers. After all the backlash that followed the release of the 2016 Tacoma, the 2017 Tacoma came on board and was almost just as bad.
It had 82 total complaints on CarComplaints, which is one of the highest figures for any Tacoma model on the platform.
A major problem with this model was the erratic transmission with improper and flat-out annoying shifts. To make it even worse, the average mileage for this very serious issue is 6,000 miles.
Other problems included carry-over issues from the previous models like whining noise, frequent engine surging and air conditioner issues. The NHTSA also mandated recalls owing to unacceptable drivetrain problems and sudden jerking, amongst others.
If you are looking to buy a used Tacoma model, we would advise that you not entertain any offers for the 2017 Toyota Tacoma.
3. 2009 Toyota Tacoma
Many have said that the 2009 Toyota Tacoma is the worst model of the second generation, and they are probably right. The model has the second most complaints amongst Toyota Tacoma models on CarComplaints with 119 complaints, right next to the 2016 model.
Some of its worst problems include a defective radio with haphazard display, frustrating volume problems and unprovoked shut-downs. CarComplaints estimate an average mileage of 11,000 miles, which makes it worse.
There are also issues with the parking lights overheating and eventually cracking. Other issues include clutch slipping and engine start complications during cold weather.
While you can get very competitive deals for used 2009 Toyota Tacomas, we'll tell you this: It's not worth it.
4. 2007 Toyota Tacoma
The 2007 Toyota Tacoma is one of the worst Toyota Tacoma models ever made, and the numbers plus user testimonies seem to agree.
On CarComplaints, the model has racked up no less than 83 complaints, which is the third highest amongst Tacoma models on the platform.
One of the major problems of this model is paint peeling off the vehicle as early as 100,000 miles. Other issues include drivetrain problems, bad suspension, and possible throttle control failure.
These are not problems you just gloss over; they are problems you should run from, especially if you want the best value for your money. Guess what we are trying to say is: keep the 2007 Toyota Tacoma off your list of considerations.
Related: How Long Do Toyota Tacomas Last? (Solved & Explained!)
3 Things to Look for When Choosing a Toyota Tacoma
Below are some things to look for before selecting any used Toyota Tacoma model:
1. Maintenance Records
The Toyota Tacoma is one of the longest-lasting trucks in its class. However, even the tough trucks will crumble without proper maintenance. Hence, it is important to ask for maintenance records before settling for any, to see if it's well maintained.
We'll put it this way: You're better off with a well-maintained 100k miles Tacoma than with a poorly maintained one with 30k miles.
2. Rust Inspection
One of the worst problems of Toyota Tacoma models is rust.
So, before settling for one, be sure to inspect the frames and check for rusts.
If you notice any undisclosed rust, you can either walk away or negotiate a lesser price to cover fixing costs.
3. Model Year
As we mentioned earlier, the Toyota Tacoma has had some excellent models and some terrible ones as well. Lucky for you, we have curated a list of the best and the worst ones above, so let the list guide your considerations.
After picking out the best models, you can check reliability ratings for the models on J.D. Power and choose the highest-rated ones.
You can also visit sites like Edmunds, Consumer Reports and owner forums to read the opinions of long-term users.
Was this article helpful?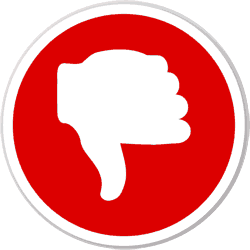 Did you find wrong information or was something missing?
We would love to hear your thoughts! (PS: We read ALL feedback)