Continuous variable transmissions (CVTs) have surged in popularity thanks to their excellent fuel economy.
While CVTs definitely have their advantages, they can also be noisy and expensive to repair.
Thankfully, there are still plenty of popular SUVs that are available without CVT transmissions.
We have previously looked at cars with CVT transmissions and now it's time to list the SUVs.
1. Hyundai Tuscon
This compact SUV is Hyundai's best-selling SUV model. Even though this is a smaller SUV, it has a surprisingly spacious interior with very comfortable seats.
This is a feature-rich SUV available at an affordable price point. Pricing for the 2023 Tuscon with SE trim starts at $26,450, and pricing for the SEL model begins at $28,050.
Not only is this a popular SUV without CVT, but there are several transmission options to choose from. Hyundai offers the SUV with both manual and automatic transmissions, as well as a dual-clutch transmission.
While the Tuscon comes standard with a 4-cylinder engine, a hybrid model is also available. The Tuscon hybrid combines a gas engine with an electric motor and a 6-speed automatic transmission, delivering an impressive performance.
The vehicle comes standard with front-wheel drive, but all-wheel drive is an optional upgrade.
In addition to offering a smooth ride, this vehicle is equipped with cutting-edge technology. Driver's assistance features and infotainment systems are standard.
However, the Hyundai Tuscon also has it's issues.
2. Nissan Armada
Pricing for the 2023 Nissan Armada starts at around $49,000. The luxurious Armada Platinum has pricing starting at $65,000.
This full-size, 5-door SUV comes with a 7-speed automatic transmission. It's also equipped with a 400 horsepower V8 engine and is available with both rear- and 4-wheel drive.
The Armada is the largest SUV offered by Nissan and is truly a heavy-duty vehicle. In fact, it has an 8,500-pound tow rating, making it a great vehicle for pulling boats and travel trailers. There are three rows of seating, and the vehicle has room for up to 8 passengers.
Thanks to its independent rear suspension, this vehicle offers a very smooth ride. Its size makes it less fuel efficient than many other popular SUVs, but if you need the extra space, you may find that it's worth the trade-off.
Inside the vehicle, you'll also find:
a 12.3-inch touchscreen,
a built-in Wi-Fi hotspot,
and 4 USB ports.
The interior is plush and comfortable, especially if you choose the premium Platinum model. You can also explore some SUVs without transmission problems.
3. BMW X5
The X5 is a mid-size luxury SUV that's known for its power and versatility. While there are several X5 models to choose from, every vehicle comes with an 8-speed automatic transmission.
Its smooth ride and stable handling has made the X5 one of the most popular SUVs in its class. Whether you opt for the plug-in hybrid model or choose a model with a V-8 engine, like the M50i or X5 M this SUV feels great to drive.
The X5 is equipped with basic safety features, like automated emergency braking and blind spot monitoring. Other standard features include heated front seats and a power-adjustable steering column.
Also, BMW SUVs have been known to last long.
Inside the vehicle is a spacious cabin with plenty of seating, along with lots of cargo space. The rear seats can easily be folded down when additional space is needed.
Since the BMW X5 is a luxury vehicle, it has a higher price point, with pricing for the 2023 model starting at $61,600. Prices for the hybrid model begin at $65,700, while the M50i starts at $85,400.
The X5 M has a base price of $108,900.
4. Jeep Compass
If you're looking for an SUV that you can drive off-road, the Jeep Compass is a fantastic option. It's available with a 6-speed automatic transmission or 9-speed annual transmission with 4-wheel drive.
This compact crossover SUV was recently redesigned, adding updates like a touchscreen infotainment system and an improved dashboard. There are many models to choose from, as well as an excellent selection of standard and optional features.
The Trailhawk model is especially great for off-roading. It offers a mode that can keep the vehicle in first gear, giving you more traction on uneven terrain.
Even though it's a sporty-looking vehicle, it has an impressive tech interface. It comes standard with an 8.5″ touchscreen and a six-speaker surround system.
Whether you're on or off-road, the vehicle is easy to control and comfortable to drive. It's equipped with plenty of safety features, such as adaptive cruise control and automated emergency braking.
The 2023 entry-level model of the compass has a price starting at $25,000, making this a very affordable option. Pricing for other models starts at $30,000.
Also, check the most common problems across the Jeep Compass models here.
5. Mazda CX-5
Mazda has been producing this compact crossover SUV since 2012. It's one of Mazda's best-selling vehicles and one of the top-selling vehicles in its class.
The CX-5 is equipped with a snappy 6-speed automatic transmission, as well as all-wheel drive. It offers cutting-edge features like electric assisted steering and handles smoothly even on rougher roads.
While the standard CX-5 already has a solid 4-cylinder engine, it's also available with a turbo engine. No matter which model you decide on, the vehicle will also come with an impressive suite of safety features, including adaptive cruise control and lane-keeping assistance.
Apple CarPlay and Android Auto come standard, and the vehicle also offers access to Mazda Connected Services. The infotainment system responds to voice commands and has buttons on the vehicle's steering wheel.
We have a list here of the best and worst Mazda CX-5 years.
The interior is very comfortable, with seats made from premium materials. Although the real draw of this vehicle is its performance, it's a fantastic-looking SUV with an appealing design.
Pricing for the 2023 CX-5 starts at $26,700. Models with turbo engines are slightly more expensive, with prices starting at around $37,000.
7. Ford Bronco
While the Ford Bronco was discontinued in the 90s, it was relaunched as a midsize SUV in 2021.
Since then, it's proven to be one of the best SUVs without a CVT transmission on the market today.
The Bronco is available with a 7-speed manual transmission and a reliable 10-speed automatic transmission. It's a great vehicle for offloading, with large tires as well as a soft suspension. This provides better traction and helps to keep the vehicle steady as you drive.
There are a range of options available, allowing you to make the vehicle feel like it's your own. It offers three engine choices: a four-cylinder engine, a 2.7-liter Turbo V6, and a twin-turbo 3.0-liter V6 engine.
Other customization options include eight trim levels, soft or hardtops, and removable body panels. It comes standard with a solid suite of safety features, including automated emergency braking and blind-spot monitoring.
The two-door model of the 2023 Bronco has prices starting at $31,000. Prices for the 4-door model are slightly higher, starting at $35,000.
8. Acura MDX
The MDX is Acura's flagship vehicle. This mid-size luxury SUV is equipped with a 3.5-liter V6 engine and a 10-speed automatic transmission.
While there are several MDX models to choose from, all models accelerate quickly and handle smoothly on the road. The SUV comes standard with front-wheel drive, but all-wheel drive is also an option.
One of this vehicle's best qualities is its fuel efficiency. It offers an impressive 19 MPG for city driving, along with 25 MPG on the highway.
The vehicle's interior is luxurious, with supported leather seating, ample legroom, and plenty of cargo space. It comes with a three-year subscription to AcuraLink, which allows you to monitor and control your vehicle through your phone.
If you opt for the base version of the 2023 Acura MDX, you'll find prices starting at $49,050. The MDX Type S starts at $67,350.
Final Thoughts
Even though CVT transmissions have surged in popularity, there are a wide range of SUVs without CVT transmissions.
Whether you're looking for an affordable, compact SUV or would prefer a luxury model, you'll have no shortage of SUVs to choose from. Take a closer look at these SUVs so that you can find the best option for you.
Was this article helpful?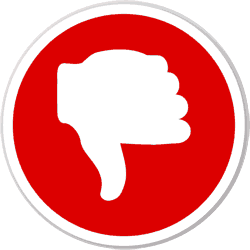 Did you find wrong information or was something missing?
We would love to hear your thoughts! (PS: We read ALL feedback)