SUVs are among the more preferred car types, both in the United States and all over the world.
As you probably know, the term "SUV" is a short form for Sports Utility Vehicle and it's nowhere near an exaggeration to say it has taken the global auto market by storm. 
Given their size and overall exterior, one of the most common problems with SUVs is their proneness to roll over. Many SUVs often risk a chance of rolling over, especially during their attempts to turn. 
However, there are some SUVs that have a sterling reputation for having the least prone to body rolls. In other words, these SUVs have great handling and we have prepared a list of them below:
Subcompact SUVs
Subcompact SUVs are the smallest SUVs around, which is why they are also known as "small SUVs." Below are a few subcompact SUVs with the least body roll:
 1. Mazda CX-30
The Mazda CX-30 debuted in 2019 as a subcompact crossover SUV. Due to a slew of undeniably stellar features, it is often considered one of the best SUVs in its class. As a matter of fact, it sits pretty atop U.S. News' list of the best subcompact SUVs for the 2022 model year.
The CX-30 offers impressive handling and very minimal body roll, which means stable turning and a generally smooth ride. If you are looking to cop a subcompact SUV with great handling and minimal body roll, you couldn't go wrong with the sleek Mazda CX-30. 
2. Hyundai Kona
The Hyundai Kona hit the auto market in 2017 and has since garnered a reputation for being one of the top SUVs in the subcompact segment. 
It boasts myriads of intelligent driver-assistance features, a sophisticated yet simple infotainment system, and incredible turbocharged engine options. The Hyundai Kona also boasts a stiff suspension on the front and rear ends, giving it balanced handling and a low body roll. 
For decent cornering and minimal body roll, the Hyundai Kona definitely makes for a great choice. 
Compact SUVs
Compact SUVs are also known as compact crossover SUVs and they are the second smallest SUVs. Below are a few compact SUVs with minimal body rolls:
3. Honda CR-V
The Honda CR-V made its debut in 1995 as a compact crossover SUV, sharing the same platform as the iconic Honda Civic. It has since become Honda's best-selling vehicle and also holds the record for second most sales amongst SUVs in 2020. 
Some of the top features of the Honda CR-V include its spacious seats, excellent gas mileage, gorgeous interior, and great handling. It also has excellent front and rear suspensions, which makes for low body roll and helps the vehicle stay steady while making sharp turns. 
4. Mazda CX-5
The Mazda CX-5 debuted back in 2012 as a compact crossover SUV. It has been the best-selling Mazda model by year since 2014 and holds a great reputation amongst critics and reviewers. 
It boasts top features like an elegant exterior, an impressive list of standard safety features, and a more-than-decent cabin.
Much like its earlier mentioned sibling, the Mazda CX-5 also offers nimble handling, accentuated by its precise steering. This makes for excellent body control and low body roll. 
5. Subaru Forester
The Subaru Forester was launched by Subaru in 1997 as a compact crossover SUV. Over the years, it has garnered several awards and multiple positive ratings that have placed it among the very best in its class. 
Amongst the Forester's best features are its excellent gas mileage, spacious row of seats, and artful interior. The Subaru Forester also offers nimble handling and a rigid suspension, which makes for great ride quality and low body roll.
Thanks to its standard AWD capability, the Subaru Forester also makes an excellent SUV for hill and snow driving.
6. Kia Sportage
The Kia Sportage has been manufactured since 1993, but became a compact crossover SUV in 2004. Since its debut, it has received many positive reviews and ratings and is one of Kia's best-selling models. 
Some of the Sportage's best features include spacious cargo area, an excellent cabin, and a composed ride/handling. Its steady steering and sporty ride make for minimal body roll even when switching lanes on tricky pavements. 
Mid-Size SUVs
Mid-Size SUVs are also known as mid-size crossover SUVs slotted in between the smaller compact SUV and the larger full-size crossover SUV. Below are some mid-size SUVs with low body rolls:
7. Hyundai Palisade
In late 2018, Hyundai officially launched the Palisade. In the last few years, it has grown to become one of the best midsize SUVs on the market.
A powerful V6 engine, ample passenger and cargo space, and a number of standard technology features make it one of the most impressive vehicles on the market. 
It also boasts a composed ride quality and a pretty good suspension, which makes for limited body roll during tricky turns. 
8. Chevrolet Traverse
Originally released in 2008, the Chevrolet Traverse is a three-row mid-size SUV. This mid-size SUV is now in its second generation and has accumulated millions of sales as well as earned a place among the very best in its class. 
It sports excellent features like spacious seats, decent fuel economy, and arty styling. The Traverse also offers composed handling which makes for limited body rolls despite its size and soft suspension. 
9. Honda Pilot
Originally introduced in 2002, the Honda Pilot is a mid-size crossover with three rows of seats. Furthermore, the Honda Pilot is the brand's largest SUV. Over the last two decades, the model has gone through four generations and sold millions of units. 
Besides its commercial success, it has also garnered positive ratings and reviews over the years. It boasts impressive features like top-notch acceleration, spacious seats/cargo areas, and a long list of standard intuitive features. 
The Honda Pilot also has incredible ride quality, great steering, and a tough suspension, all of which combine to limit possible body roll.
Thanks to its rear air vents, the Honda Pilot is one of the great SUVs with dual climate control.
Full-size SUVs
Full-size SUVs, as the name implies, are the largest SUVs on the market. Below are some full-size SUVs with minimal body rolls:
10. Toyota Sequoia
Toyota introduced the Sequoia as a full-size SUV in 2000 for the 2001 model year. It is Toyota's largest SUV and has achieved considerable commercial success as well as being a top-rated vehicle. 
Some of its top-tier features include spacious seating, excellent off-roading, impressive tow rating, and myriads of exciting standard features.
It also boasts effortless steering and great suspension, which makes for a balanced ride and minimal body rolls even during sharp turns. 
11. Chevrolet Suburban
The Chevrolet Suburban is one of the most iconic vehicles to ever grace the U.S. auto market. It debuted in the 1930s and after 12 generations; it has managed to retain a spot among the best full-size SUVs of the day. 
It boasts amazing features like huge cargo space, immensely potent engines, and great infotainment. The Suburban also features nimble handling and reduced body rolls despite its soft suspension. 
12. Lincoln Navigator
The Lincoln Navigator hit the ground running in 1997 as part of select vehicles sold by the Lincoln division of the Ford Motor Company. Now in its fourth generation, it is regarded as one of the best large SUVs in the market by critics and consumers alike. 
Among its best features are its powerful engine options, plush interior, and impressive tow ratings. It also boasts impressive handling for a vehicle of its size as well as low-effort steering, all of which ensure reduced body roll.
The Navigator is also one of the few true SUVs that aren't crossovers.
Was this article helpful?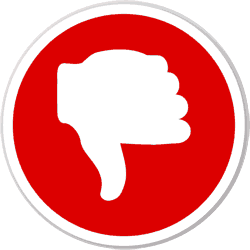 Did you find wrong information or was something missing?
We would love to hear your thoughts! (PS: We read ALL feedback)