Nowadays, we crave more convenience in almost every of our activities, including driving our vehicles. It is no surprise that many of us now prefer the push-button start to the key ignition.
If you love the utility and luxury offered by SUVs, you'll love to discover that some of these vehicles feature the push-button-start technology. 
In this article, we offer you 10 SUVs with a keyless ignition.
Subcompact SUVs With Push-Button Start
Subcompact SUVs have a length of about 173 inches and can house up to 5 passengers. Based on their taller and larger size compared to sedans, they appeal to many Americans.
Here are three subcompact SUVs that feature the push-start button.
1. Hyundai Kona
The Hyundai Kona has a turtle-like look. Although it features a lot of trimmed plastic in the interior, its quick and light handling makes it an enjoyable ride.
The 2023 Hyundai Kona can house up to five passengers and comes in five trim models-SE, SEL, N Line, Limited, and N.
Kona N is the fastest and uses a turbocharged 2.0-liter engine capable of producing 276 horsepower and 289 lb-ft of torque.
This small SUV is easy to use and offers safety technology plus drive convenience. It features a rearview monitor, parking guidance, and a push-start button.
2. Kia Soul
For a vehicle of its size to pack a host of modern technologies, the Kia Soul is an exciting ride.
It offers an Auto Emergency Braking System Technology, Pedestrian Detection and Blindspot Collision Avoidance Technology.
With a push-button Ignition System, starting and stopping the Kia Soul hides around a press of a button.
This small SUV may not have the most alluring sporty design, but it boasts of an inspiring interior.
With a 10.25-inch touchscreen display and LED subwoofer speaker lights, this small SUV offers an enticing in-car experience.
3. Nissan Kicks
The 2023 Nissan Kicks offers an eye-pleasing design. Standing on 17-inches aluminum alloy wheels, this ride packs a blend of stylishness, tech, and utility.
While it can accommodate up to 5 passengers, it has enough cargo space for a family trip. However, the Nissan Kicks may not be suitable for off-road trips.
This ride offers a traffic-intelligent cruise control that helps maintain the pace with other riders ahead, a surround-view camera, and a blindspot monitor. It also works with a push-start button to give an appealing keyless experience.
If you prefer starting your car with key, you will love our article about cars without push-button start function.
Compact SUVs With Push-Button Start
For the compact SUVs, they are a little bigger than the subcompact ones but a little smaller than the mid-size brothers. Below, we feature two admirable compact SUVs that feature a push-button start engine.
4. Mercedes-Benz GLC
The Mercedes-Benz GLC presents a noteworthy competition for other SUVs in its class.
Aside from a muscular body and comfort-aiding suspension system, it offers a technologically enriched luxurious cabin.
Drivers and passengers enjoy wireless charging, heated front seats, ambient lighting, and biometric authentication, including voice and touch control.
Did we also mention that this SUV features a hybrid fuel efficiency system that allows you to drive without using the combustion engine?
As you should expect, a driver won't start this vehicle with a key. The Mercedes-Benz GLC also features a push-button start technology.
Please also check out our article about the best and worst years of the Mercedes-Benz GLC.
5. Ford Escape
Ford has claimed to be more interested in SUVs than small cars.
While this may be because Americans prefer the luxury and uniqueness of SUVs, this brand purposely designed the Ford Escape to offer SUV utility while still sharing some features with a regular car. 
While the Ford Escape does not come with one of the most alluring front-base designs, its overall look competes at the top. With a sport handling suspension and 18 inches metallic aluminum wheels, this vehicle has an enticing side view.
The SUV has an inspiring cabin that features a Panoramic Vista Roof and a 13.2-inch touchscreen infotainment display.
With the push-start technology, which you'll find around its dashboard, riding a Ford Escape can be so cool and easy.
Mind you, a review by Edmunds shows that the handling of this vehicle is not as brilliant as expected.
Mid-size SUVs With Push-Button Start
On average, mid-size SUVs falls between 187-201 inches long, and they are more fuel efficient than the full-size SUVs.
There are a few mid-size SUVs that feature a push-start button. 
Here are 3 mid-size SUVs that have a push-start button.
6. Honda CR-V
The 2023 Honda CR-V has one of the remarkable designs of a mid-size SUV. With a sporty style, it runs with two exhaust mufflers that enhance its performance.
It also features a hands-free power tailgate that you can activate with a kick under the bumper.
Starting and stopping this vehicle is easy with a push-start button well placed around the dashboard. As much as it's cool to ride this SUV on urban roads, you can as well take it for an off-road journey.
Honda CR-V offers a sport mode suitable for a highway drive and a snow mode which helps to adjust the acceleration to slippery road conditions.
In terms of the driver-assistance technology, this SUV maintains a strong competition with other SUVs. It packs a personalized sensing suite that assists the driver on the road by providing alerts, steering, and braking assistance.
The Honda CR-V features other advanced driver-assistance technology. They include the road departure mitigation system, adaptive cruise control, collision mitigation braking system, lane keeping assist system, and traffic sign recognition. 
Mind you, these features may not be available in all of its trims.
7. Toyota Highlander
With an EPA estimated at 22/29 miles per gallon, for a 2.4l 4-cylinder turbocharged engine, the Toyota Highlander is one of the best mid-size SUVs that is fair on fuel economy.
Of course, Toyota is reputable for fuel economy, and the Highlander doesn't disappoint.
Carved with a hippo-like front base, this SUV is not very stylish on the exterior, even though it has a very classy look from the rear. However, the vehicle offers a user-friendly infotainment system and an easy-to-use dashboard.
A driver will start and stop the 2021 and later Toyota Highlanders using a push-start button.
The SUV also thrills passengers with a 12.3-inch touchscreen infotainment display that offers both an Apple CarPlay and Android Auto.
Just like the other SUVs on this list, the Toyota Highlander also features the pre-collision system (with pedestrian detection), dynamic cruise control system, and the lane-assist technology. 
As noted by Toyota, the 2023 Toyota Highlander goes a little further by adding the Road Sign Assist and Automatic High Beams (AHB) which helps see clearly at night, especially when speeding above 25 mph.
8. Nissan Pathfinder
Nissan has impressively created a blend of ruggedness, stylishness, and utility in the Nissan Pathfinder.
This SUV has a maximum towing capacity of 6000 lbs and is compatible for off-road ride. Although, its off-road capability is not as strong as that of a Jeep.
With a V6 engine that works with a 9-speed automatic transmission, the Nissan Pathfinder can produce 284 horsepower and 259 lb-ft of torque.
This moderately sized SUV can accommodate 8 passengers, and it offers an exciting in-car experience.
It offers Apple CarPlay integration, adaptive cruise control, forward collision alert, automatic emergency braking, lane departure, and blindspot alert.
With a 9-inch touchscreen, the vehicle also offers a rearview and surround view display system.
Did we also mention that Toyota Highlander has a push-start button? Of course, it works with a keyless ignition.
Before buying a car with this technology, make sure you're familiar with common problems with push-button start cars.
Full-size SUVs With Push-Button Start
Full-size SUVs are more spacious and rugged than other smaller SUVs. With a height of around 76 inches, they also look a little more bulky than a mid-size SUV.
Here are 2 full-size SUVs with a push-start button:
9. Lexus GX
The Lexus GX comes with a very charming design and an executive cabin. This SUV can only seat 7 passengers conveniently.
With a 10.3-inch touchscreen display and Apple CarPlay integration, the Lexus GX offers a thrilling multimedia experience.
Like the other SUVs in this review, the Lexus GX also features a push-start button.
While the vehicle is powered by a 4.6-liter V8 engine, it features 5 multi-terrain settings that make it convenient on either rocky, sandy, or muddy terrain.
Starting and stopping this big SUV is convenient with the press of a button.
10. Chevrolet Suburban
The Chevrolet Suburban is an executive SUV that offers a luxurious cabin and a three-row seats.
The overly lengthy body may not give the most elegant design, but its spacious cargo space makes it suitable for a family ride and a long trip.
With a 6.2L EcoTec3 V8 engine with dynamic fuel control, you'll enjoy the convenience attached to starting and stopping this vehicle with a push-start button.
Large vehicles like the Suburban are some of the SUVs with most trunk space, making them ideal for large families.
Was this article helpful?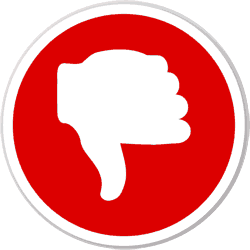 Did you find wrong information or was something missing?
We would love to hear your thoughts! (PS: We read ALL feedback)