Most people want SUVs today for several reasons.
A common reason is that they are more comfortable than smaller cars. This is mainly because of their generous interior space and more comfortable seats.
In this article, we list 11 SUVs with the most comfortable seats, sorted by category. You can also explore cars with big middle seats.
Sub-compact SUVs
It's pretty hard for sub-compact SUVs to compete with bigger ones in comfort. Their smaller sizes make interior space limited.
However, some automakers are great at optimizing space and adopting high-grade upholstery to make their small SUVs stand out. You can also explore cars where you seat really low.
These sub-compact SUVs are overachievers.
1. Kia Soul
The Kia Soul is popular for its versatility, meaning it gives satisfactory SUV performance while maintaining the advantages of sedans.
So, as you'd expect from a small SUV, our favorite sub-compact car only has two rows of seats. Thankfully, it has heated front seats and a heated steering wheel.
The front seats are also elevated and adjustable at several angles, so there's functional visibility. That's why the Kia Soul is among the SUVs with the highest driver seat position.
Its front headroom and legroom stand at 39.4 and 41.1 inches, respectively. For the rear seats, the headroom stands at 39.5 inches while the legroom is only 38.8 inches.
So the rear seats are less comfortable, though not by a large margin.
These features mean we can even use the Kia Soul for road trips. It seats five adults comfortably over long distances.
Part of why it has such suitable seating and overall interior space is because of its boxed shape. The Kia Soul is also among the cars with high seats for seniors.
2. Volkswagen Taos
The Volkswagen Taos is quite new and has already made a good impression on car buyers.
It has spacious first and second-row seats, so a comfortable ride is always guaranteed no matter where you sit.
U.S. News describes the Taos as having enough head and legroom in both rows for 6-foot-tall passengers.
Its front seats are ventilated and this can help make the summer more bearable. Other than ventilation, they're also height adjustable with 6-way manual adjustments.
Headroom for front and rear seats are 40.7 and 39.8 inches, respectively. For legroom, the front seats have a 40.1 inches allowance while the rear seats have 37.9 inches of space.
3. Kia Seltos
The Kia Seltos is a younger and bigger alternative to its older sibling; the Kia Soul.
It has a more conventional SUV look than the unconventional Soul. Also, its exterior dimensions are larger, but it may not be as optimized as the Soul in cabin space.
Nevertheless, the Seltos has spacious seats and a large interior as well. Ultimately, the Kia Soul doesn't surpass it with too much space.
Besides, the Kia Seltos still has more interior quality than the Kia Soul, including its infotainment system.
It also has heated front seats and a power-adjustable driver's seat. Its front headroom is 40 inches, while its legroom stands at about 41.4 inches. Rear headroom and legroom stand at 38.4 and 38 inches, respectively.
Ultimately, the Seltos and the Soul seem evenly matched. This is because what each lacks in one segment it makes up for in another. Kia seems to be the leading automaker in optimizing space in the sub-compact SUV segment.
Compact SUVs
We expect compact SUVs to be more spacious than sub-compact ones. However, it's noteworthy that seating space depends on the allocated cargo area.
So if an automaker prioritizes cargo space over cabin space, compact SUVs can have less seating space than sub-compact ones. Do well to explore some compact SUVs with extra comfortable seats.
4. Volkswagen Tiguan
The Volkswagen Tiguan has pretty comfortable front seats relative to other compact SUVs. This is remarkable for several reasons.
First, the front-wheel-drive variant comes with three rows of seats—naturally, that'd make front seats shrink up a bit.
Also, a compact SUV with three rows of seats isn't something you see every day. However, the Tiguan ignores these traditions and possesses comfortable seats, regardless.
It also has heated and power-adjustable front seats. U.S. News describes it as having a "premium cabin", but that's not all there is to comfort. So, let's see how much space is available for adults.
The headroom and legroom vary for different variants of the Tiguan.
Conclusively, for front-wheel-drive types, headroom is 39.6, 39.1, and 33.8 inches for the first, second, and third rows respectively. Legroom stands at 40.2, 36.6, and 27.9 inches for the first, second, and third rows correspondingly.
So, the Volkswagen Tiguan is fairly spacious for first and second-row passengers.
However, if you want the best it offers regarding comfort, choose variants without the third-row seats. You'd also get more cargo space that way.
5. Hyundai Tucson
The Hyundai Tucson was redesigned for the 2022 model year and it has some notable features. However, the one we're interested in is its roomier interior and super comfortable front seats.
It has manually adjustable front seats, and rear seats deliver optimal comfort as well.
Front and rear headroom are 40.1 and 39.5 inches, respectively. Also, front and rear legroom are closely 41.4 and 41.3 inches, respectively.
They also made its cabin of "upmarket materials". Additionally, Hyundai didn't have to compromise on cargo space to deliver the Tucson's large cabin.
Add its modern safety features and the Tucson may just be the first all-rounder on our list.
Lastly, it has a relatively quiet interior, so road noise is limited.
If you prefer sedans to SUVs, you should also read about cars with the most driver legroom.
Mid-size SUVs
At this point, the standard for comfort gets significantly increased. This is because mid-size SUVs are meant to be the perfect balance between performance, comfort, and cost savings.
Speaking of cost savings, you should look at some popular electric cars with bucket seats.
If there was a one-size-fits-all SUV, it'll probably be a mid-size one.
However, like before, we only want to explore how comfortable they are.
6. Subaru Ascent
The Subaru Ascent provides comfortable seating for adults in its front and rear seats. Third-row seats are common in mid-size SUVs today, so the Ascent can seat 7 or 8 people.
The number varies depending on whether you opt for bench seats or captain seats in the second row. Subaru designed the captain seats as single chairs, just like the front seats. Hence, if you pick them, it's just like having another row of front seats in the second row.
Captain seats also make room for a small passageway between them, so it's easier to access the third-row seats. However, the passage also sacrifices the seating space for one more passenger.
So, only the third-row seats are slightly less comfortable. Still, adults shouldn't have a problem as long as it's not a road trip.
The first, second, and third-row seats have 41.3, 40.0, and 36.3 inches of headroom, respectively. For legroom, the first, second, and third-row seats have 42.2, 38.6, and 31.7 inches of stretchable length, respectively.
7. BMW X5
The X5 doesn't come with third-row seats as standard so it seats just 5 adults comfortably, given its mid-size status.
Although you can get third-row seating as an added option, we'd let you in on an automobile secret. If a third row isn't standard, it's usually a sign that it'd be uncomfortable if added.
Thankfully, the X5 has very comfortable front seats. You won't get ventilated front seats or heated rear seats as standard yet. However, you'd get heated and height-adjustable front seats.
That's not all, power-adjustable lumbar support is also featured in the X5.
The front and rear seats have 40.7- and 38.7-inches lengths of headroom accordingly. For legroom, first and second-row seats have 39.4- and 37.4-inches lengths, respectively.
8. Volkswagen Atlas
The Volkswagen Atlas seats 5 to 7 people depending on whether third-row seats and captain's chairs are available. If you opt for captain's chairs, remember that you'd lose one seating space to a passageway.
It is a high-grade mid-size SUV, so we expect nothing short of spacious front and rear seats for adults. Also, the elevated driver's seating position provides good driving visibility.
We'd be disappointed if heated front seats and a power-adjustable driver's seat are absent, so those are standard too.
The front seats have 41.3 inches of headroom and 41.7 inches of legroom. Second-row seats step it down with just 40.4 inches of headroom and only 37.6 inches of legroom.
Headroom is an important factor to consider if you're tall. Make sure to read about SUVs with more headroom for tall people if you're above average height.
Full-size SUVs
In the full-size segment, every SUV has comfortable seats and ample space. However, other than space, cabin materials, and modern tech features distinguish ultra-comfortable full-size SUVs from fairly comfortable ones.
Most of them further have head and legroom over 40 inches. We've listed the best large SUVs that make you feel at home the most.
9. Chevrolet Suburban
The Suburban has powerful engines and up-to-date tech and safety features, then it houses 8 people comfortably.
This means it comes standard with three rows of seats and all three rows have enough room for adult passengers. You can opt for captain seats in the second row, which drops the total seating capacity to 7 people.
Conversely, there's an option for an additional seat in between the two front seats. This increases the seating capacity to 9 people. However, it wouldn't be as comfortable as every other seat in the car.
The Suburban satisfies full-size SUV seating standards. However, we admire it because it doesn't deliver excellent seating at the expense of cargo space.
U.S. News describes the Suburban as "having more cargo room than nearly every other SUV on the market". So, occupants can go on road trips along with sufficient luggage.
Talking about luggage, you can also read about SUVs with the most trunk space, if that's a priority for you.
10. Ford Expedition
Just like the Suburban, there's enough pressure on the Ford Expedition to perform, given its full-size status. Like the Suburban, it delivers.
It is also one of the few full-size SUVs with two-row seats. However, other than the base trim, every Expedition has three rows of seats and seats 7 or 8 people comfortably. So, irrespective of what row you sit in, you'd be comfortable.
Again, the exact number of seats depends on if you opt for captain seats.
If you've got a large family and you all commute fairly long distances, you'd be better off with bench seats. Otherwise, captain seats give a first-class feeling.
11.  BMW X7
The BMW X7 is just a bigger and more comfortable alternative to its smaller sibling, the BMW X5.
With the X7, you get three rows as standard and they offer superb seating. Hence, instead of buying an X5 with an optional third row, getting an X7 seems like a better alternative.
The best way to enjoy the X7 is to go for captain's chairs in the second row. This provides the most luxurious seating package with two comfortable seats in each row.
While we consider a seating capacity of 6 sub-par in full-size SUVs, remember that luxury vehicles prioritize comfort over quantity.
It also has an air suspension, and this helps it absorb bump shocks more efficiently. Talk about premium-level comfort.
Sources
SUVs With Captain Seats | JD Power
Most Comfortable SUV Front Seats According to Consumer Reports | Motor Biscuit
12 Most Comfortable SUVs in 2022 | U.S. News
Was this article helpful?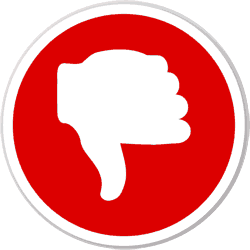 Did you find wrong information or was something missing?
We would love to hear your thoughts! (PS: We read ALL feedback)