SUVs are popular for many reasons. One of them is that they sit higher than average vehicles, partly owing to their higher ground clearance.
The problem is; sometimes, people want high seating positions without the baggage of a mammoth ground clearance.
If you need an SUV with low ground clearance for convenience, we've explored some of them.
Sub-Compact SUVs
The sub-compact SUVs in this list include those with less than 7.0 inches of ground clearance.
You'd want to know how this relates to SUVs having a high center of gravity.
1. Toyota C-HR
The 2022 Toyota C-HR is quite a good choice when looking for SUVs with the lowest ground clearance.
It not only aids easy entrance and exit for the old and disabled, but it also provides better stability and handling when driving.
This SUV rides the lowest on our list with only 5.9 inches of ground clearance. That and its ability to seat five passengers make it a splendid choice for a family that includes the elderly, kids, or the disabled.
However, with the low ground clearance, the 2022 C-HR is only suitable for those who do not have to drive on uneven roads or rocky trails. It can't perform adequately on such roads.
Further, explore how ground clearance affects the Toyota C-HR's winter driving.
Instead, this SUV can only take light off-roads as driving over critical ones may cause damage to the undercarriage. So, car owners would have to stick to the highways.
Contributing to its inability to go off-roading is also the engine performance which critics reported weak. Not to mention its lack of all-wheel drive.
2. Buick Encore
The 2022 Buick Encore is the next on this list with a ground clearance of 6.22 inches for the preferred all-wheel drive trims.
Buick has been quite consistent with its ground clearance in production since 2013. Though the Encore sits higher than the Toyota C-HR, it is still low and thus suitable for easy entry and exit.
However, you cannot drive your 2022 Encore off-road where there are large rocks or logs as these may damage the undercarriage of your vehicle.
We have a list here of the best and worst years for the Buick Encore generations.
Note that ground clearance is not the only consideration for whether your vehicle can go on off-road drives.
In addition, while the option for an all-wheel drive can aid off-road journeys, the low ground clearance is still not enough.
Also, the engine might not be strong enough to handle uneven roads. Thus, people who need vehicles with off-road capabilities would have to consider other models.
3. Chevrolet Trax
Another SUV below 6.8 inches of ground clearance is the 2022 Chevrolet Trax at 6.2 inches. This is also quite low for easy entry and exit where necessary.
While it is a good choice for small families with little ones, the elderly and the disabled too won't have issues getting into the 2022 Trax.
Its low ground clearance is also a factor among many that make the 2022 Chevrolet Trax imperfect for off-road drives. Thus, owners should stick to driving it in the city.
However, the option for all-wheel drive makes it easy for the car to find traction easily on certain surfaces. Despite that, its engine is another contributing factor to its inability to perform off-road.
You should also explore compact SUVs with the highest ground clearance.
4. Mini Cooper Countryman
The Mini Cooper Countryman comes with a ground clearance of 6.5 inches. However, like other models, this low ground clearance disqualifies your 2022 Countryman from taking off-road drives.
Here are the best years of Mini Countryman to buy.
Experts recommend a minimum of 8.5 inches for such drives. So, it's obvious the Countryman's undercarriage would be at risk if owners take it off-roading.
However, the Countryman offers enough power to drive through light off-road surfaces like gravel.
5. Kia Soul
The 2023 Soul has 6.7 inches of ground clearance. This is fairly high compared to some of its rivals.
Notably, it's suitable for older folks where there is a need for easy access.
However, the ground clearance cannot protect the undercarriage of your vehicle from off-road damage if owners take it through critical terrain.
6. Hyundai Kona
The 2023 Kona is another sub-compact SUV that comes with one of the lowest ground clearances at 6.7 inches.
However, though the 2023 Hyundai Kona is capable of off-road drives, it can't drive through dangerously uneven roads. It will hold well when it goes through gravel paths or mildly rough roads.
Finally, driving with it through uneven road conditions can damage its frame.
Compact SUVs
The compact SUVs under this category come with a ground clearance of 8.0 inches and below.
Meanwhile, also explore electric cars with high ground clearance.
7. Ford Escape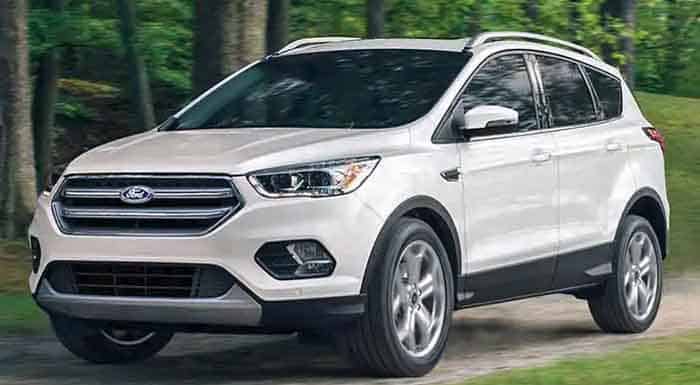 Depending on the trim level, the Ford Escape comes with a ground clearance between 6.8 inches and 7.3 inches.
This low ground clearance makes access easy for aged people.
Still, taking it on an off-road drive is only easy if it is on light trails. Otherwise, these critical road conditions would likely damage its undercarriage.
Nevertheless, the 2022 Escape should be enough for owners' everyday driving needs, limited to tarred roads.
8. Chevrolet Equinox
The Chevrolet Equinox comes with ground clearance starting from 7.6 inches in some trim levels and up to 8.0 inches in others.
This is higher than we have in the sub-compact SUV class, but it may not be enough for typical off-road drives. That's if we use 8.8 inches as our yardstick.
Note that this does not mean you can't take your Equinox on light off-road trips. In fact, the Equinox would serve you well on average off-road terrain.
Mid-Size SUVs
The mid-size SUV listed include those with 7.3 ground clearance and below.
9. Kia Sorento
The 2022 Kia Sorento comes with a ground clearance of 6.9 inches on all trim levels except for the X-line trim levels at 8.2 inches.
However, for the trim levels that come with a ground clearance of 6.9 inches, passengers with disabilities or that are old will not have entrance and exit difficulty.
While it may not be the perfect off-road beast, a little off-road trip with the Sorento won't hurt.
The undercarriage of your vehicle should also be safe as long as you limit the type of terrain you subject it to.
10. Honda Pilot
This mid-size SUV comes with a ground clearance of 7.3 inches on all trim levels.
Also, the low ground clearance aids in providing the excellent handling feature this SUV has, which is a feature that drivers loved when taking their 2022 Pilot on drives.
However, driving in the 2022 Honda Pilot is only optimal on pleasant off-road trails. Off-roads that are critical may otherwise damage the vehicle frame.
Its unibody frame further adds no off-road advantage to it.
Full-Size SUVs
We included SUVs that have ground clearance of 7.5 inches and below in this category. That's pretty low for full-size SUVs. So, find out what the problems are with lowered cars.
11. Cadillac XT6
The 2023 Cadillac XT6 comes at 6.7 inches of ground clearance.
It's one of the cheapest full-size SUVs.
However, the offside to this low ground clearance is the inability to take your 2023 XT6 on critical off-road drives. This is owing to the effect it may cause on your car, which can damage the frame.
Driving on easy off-road routes, however, is not an issue, as your Cadillac XT6 can handle those very well.
Not all years and models are as good as the latest models, though. Here's a list of the best and worst years for the XT6 Cadillacs.
12. Aston Martin DBX
The last on our list is the 2023 Aston Martin DBX with 7.5 inches of ground clearance.
However, just like other aforementioned SUVs on this list, driving the 2923 Martin DBX off-road is fine only if it involves light off-road. This may include minor rough road surfaces or those with marbles.
Driving on rocky or critically uneven roads may otherwise damage some parts of your SUV.
Final Thoughts
If you frequently drive off-road, you may know by now that SUVs and trucks are the ideal choices for uneven terrain.
So, it may sound strange when we say you should take caution even with an SUV.
Today, crossover SUVs have taken over the market so SUVs don't have the same off-road capability they used to.
Hence, with unibody frames and reduced ground clearance, you can still embark on mild gravel journeys. However, for off-road beasts, explore some true SUVs that aren't crossovers.
Sources
Best Cars, Best Trucks, and Best SUVs | U.S. News and World Report
New Cars, Used Cars, Car Reviews, and Pricing | Edmunds
20 Best Full-Size SUVs for 2022 & 2023  – Ranked | TrueCar
Was this article helpful?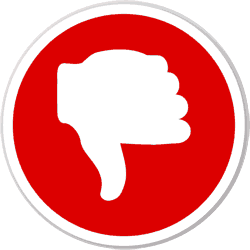 Did you find wrong information or was something missing?
We would love to hear your thoughts! (PS: We read ALL feedback)