For many, the idea of a small SUV is appealing. It's a rugged vehicle with off-road capability, but it's small enough to maneuver through city streets and comfortably park in a garage.
Having a small SUV can be advantageous if you live in a mountainous area or a region with heavy snowfalls. They offer more ground clearance than sedans and hatchbacks and come with all-wheel drivetrains that make them even more capable in adverse conditions.
Here are the best small SUVs for those who live in snowy areas or have steep hills to deal with on the way up to their homes.
Sub-Compact SUVs
The sub-compact SUV is a small vehicle that combines the utility of an SUV with the maneuverability and fuel economy of a small car or crossover vehicle.
These vehicles are usually equipped with four-wheel drive to help handle rough terrain and inclement weather conditions during off-road travel.
Sub-compacts are less expensive than mid-size SUVs but still provide ample room for passengers, cargo space, and the ability to go off-road.
Below you'll find some of the best sub-compact SUVs with superior off-road capabilities for driving in all sorts of challenging terrain.
1. 2022 MINI Cooper Countryman
If you're looking to buy a sub-compact SUV, the Mini Cooper Countryman is a great choice thanks to its comprehensive list of features, striking design, spacious cabin, and optional all-wheel drive system.
Mini Coopers may be little, but accompanying a potent engine that produces 301 horsepower, the Countryman features all-wheel drive and performs exceptionally well on light snow.
The Mini Countryman's handling on winding roads is the strongest element of the driving experience.
The steering is precise and provides a good sense of the road.
Although the Countryman's ground clearance isn't as significant as other models of its class, the sub-compact SUV can still get you out of a sticky situation.
Whether traveling in the rain, snow, or sleet, AWD will be of great use to you. The Countryman is enjoyable overall and can easily travel down a back road, hill, or snow faster than most other vehicles.
In general, Mini Coopers are regarded for having superior traction than similar vehicles, giving them an excellent all-around choice for winter driving.
Expect exceptional handling and superior agility at every turn, whether navigating mountainous routes or destroying city streets. You'll get the flexibility of a Mini Cooper's light weight and the steadiness and control of AWD mechanics.
Ultimately, you have total control over all roads and weather conditions when you get a Mini Countryman with an all-wheel drive.
2. 2023 Subaru Crosstrek
Subaru has long been an off-road brand. The company has been building cars for decades that can handle the best and worst that Mother Nature offers, and the new Subaru Crosstrek is no exception.
While it's one of the best small SUVs for hills and snow driving, the Crosstrek doesn't compete with leading off-road cable vehicles like the Jeep Wrangler.
That said, the Crosstrek, especially the Sport variant, is skilled at navigating light off-road conditions.With a few adjustments, it can also manage even more difficult circumstances.
Fitting in tight spaces and handling traffic more efficiently, the 2022 Crosstrek is the smaller cousin of the Outback.
Starting at $24,320 for the base model, if you're a city person who enjoys weekend explorations, it's a good alternative because it costs less than competitors with off-road capability.
One of the crucial characteristics to consider when choosing a reliable off-road vehicle is its ground clearance. Ideally, a car with a ground clearance between 8.8 and 10.8 inches offers the best off-roading performance.
This way, you can drive on rocky roads with a higher minimum clearance without worrying about hurting your car's underside.
With 8.7 inches of ground clearance, the 2022 Crosstrek is a capable off-road vehicle.
Torque is another crucial factor to consider when evaluating a vehicle's off-roading potential.
Vehicles with low-end torque offer excellent off-roading possibilities because turning power is more crucial than speed while you're discovering the countryside.
The 2.5-liter four-cylinder powertrain in the Crosstrek produces 145 lb-ft of torque, but bumping up to the Sport or Limited trim levels would increase it to 176 lb-ft.
In either case, the Crosstrek's torque is not the greatest for off-roading, but it's also not horrendous – it's less suited to the more extended and challenging expeditions.
Lastly, all-wheel drive is standard on the 2022 Crosstrek – even on the base trim level. Therefore you'll have no issues traveling on casual off-roads, including snow.
3. 2023 Jeep Renegade
The 2023 Jeep Renegade is a more than versatile and reliable subcompact SUV.
Even though it doesn't have the same off-road prowess as its much more well-known Jeep sibling, the Wrangler, it still performs better than many of its rivals when the tarmac ends and the dirt begins.
To assist you in navigating grooves and gravel more effectively, the Trailhawk trim has a raised suspension and all-terrain tires.
With the help of a Select-Terrain traction control system and the fundamental Jeep Active Drive System that is standard on every Renegade model, you'll be able to tackle all road conditions.
The Renegade features its unique 4×4 Jeep Active Drive Low system and includes four drive modes:
This means that your vehicle's drivetrain and the engine will be tuned for the appropriate mode depending on the selected conditions, making it one of the best compact-SUV options for off-road use.
Jeep's Active Drive Low technology is also essential for ascending hills and rocky terrain and is particularly helpful in mud and other slick weather like snow.
In addition, the Trailhawk trim expands the variety of Select-Terrain modes by including Rock Mode.
For these reasons, buying the Trailhawk trim is strongly advised if you seek an off-road-capable Renegade.
Compact SUVs
Compact SUVs are a popular choice for families and folks with active lifestyles. Their small size, maneuverability, and fuel efficiency make them perfect for city dwellers and suburban commuters alike.
They offer great versatility because they can be used for work and play – making them great for commuting, hauling cargo, and taking on road trips by combining the off-road capabilities of an SUV with the on-road practicality of a car.
These vehicles are available in two or four-wheel drive configurations, depending on how much rugged terrain they'll need to tackle.
1. 2023 Subaru Forester
The 2023 Subaru Forester is a versatile compact crossover with an aura of ruggedness and a functional interior.
Although it doesn't have the most enjoyable driving characteristics compared to competing SUVs like the Honda CR-V, it is still a pleasant and comfortable drive that would get you through rough terrain without issue.
The Subaru Forester is engineered for off-road use and is equipped for rugged terrain right out of the box.
Even though the Forester might not be the experienced trailblazers' first pick, it is a fantastic place to start for those looking to go on more adventures and tackle challenging terrain.
Firstly, when driving over rough terrain, ground clearance is one of the most important things to be considered.
The Subaru Forester offers 8.7 inches between the vehicle's bottom and the point at which its wheels touch the ground.
The ideal ground clearance range for most off-road adventures is 8.8 to 10.8 inches. Even though the Forester falls short of this mark, the vehicle is still prepared for various landscapes without damaging the undercarriage.
Although your vehicle is protected from steep hills by ground clearance, you'll require torque to ascend those slopes.
With a peak output of 176 lbs of torque, the Subaru Forester is perfect for low to medium-difficulty conditions.
The torque of the Forester is similar to that of the Toyota Rav4 TRD Off-Road, another attractive off-road vehicle. But ultimately, you'll need more torque when tackling challenging, steep terrain.
It goes without saying that all-wheel drive is required for off-road vehicles – otherwise, how might you travel on dirt roads?
Fortunately for Subaru owners, all Forester vehicles come standard with all-wheel drive.
This makes the Subaru Forester one of the most trail-ready crossovers in the compact SUV class, but it's not quite an all-terrain, mountain-scaling car.
Nonetheless, the Forester is a good option if you're searching for a vehicle that can handle off-road driving and general city commuting.
You'll be more competent in various situations, including light snow and steeper inclines.
2. 2023 Toyota RAV4
The Toyota RAV4 is consistently one of the top-selling SUVs in the industry.
Toyota's success undoubtedly has much to do with its record for dependability. This compact SUV is also commended for its spacious interior, smooth ride, and user-friendly technology.
Additionally, a wide range of trim options is offered to match your preferences or financial situation.
For instance, with its all-terrain tires and unique suspension modifications, the RAV4 TRD Off-Road trim is one of the only vehicles in its class to provide superior off-road performance.
As its name suggests, the 2023 RAV4 TRD Off-road trim has superior capabilities to travel off-road compared to other trim levels.
Should it be the top option for devoted off-road enthusiasts? Most likely not.
However, it does include off-roading characteristics like all-terrain tires and an off-road-tuned suspension, and it is reasonably priced, with an MRSP of $26,975.
Since the minimal ground clearance for the RAV4 TRD Off-Road is 8.4 inches, you ought to be mindful when venturing off the regular road.
Nevertheless, The RAV4 is capable of modest off-roading even if it lacks the required ground clearance for undertaking the most challenging off-road excursions.
The 2.5-liter four-cylinder powertrain in the RAV4 TRD Off-Road has a maximum torque of 184, making the compact SUV less suitable for more challenging off-road excursions.
But the RAV 4 Off-road can still get you out of a sticky situation and travel up steep inclines. This is especially the case considering that this vehicle comes standard with heavy-duty, all-terrain tires and an all-wheel drivetrain.
All in all, the RAV4 is a good vehicle for handling less challenging off-road conditions, particularly the TRD Off-Road trim.
This includes steep inclines, snow, and bumps, but it's not designed to handle extreme terrain or severe off-roading.
Final Thoughts
If the main concern for you when considering a small SUV is that it gets good traction in the snow, or will be able to handle hills easily, then the Subaru Forester and the Toyota RAV4 TRD Off-Road are your best choices.
These compact SUVs offer bigger engines with greater power, better off-road features, and more adaptable drivetrains, giving them superior off-road capabilities.
Sources
The Best Small SUVs for Snow and Winter Driving Conditions
Best Subcompact SUVs for 2022 and 2023
Best Compact SUVs for 2022 and 2023
Was this article helpful?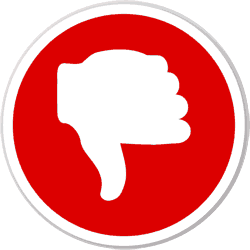 Did you find wrong information or was something missing?
We would love to hear your thoughts! (PS: We read ALL feedback)