If you are asked to mention a famous automaker, you will likely remember names like Chevrolet, Nissan, Toyota, and Ford.
Honestly, Mitsubishi is unlikely to come up as it is not as popular as some auto brands such as:
Mazda,
Subaru,
and Honda.
The reliability ratings of the Mitsubishi brand have remained high, but some of its models have received mediocre scores.
If you want to purchase a Mitsubishi vehicle or own one already, this article will help you learn about common problems with the Mitsubishi models.
1. Brake Failure, Engine Stalling, Oil Leaks
Despite being hailed as one of the best models of the Mitsubishi brand, the Lancer is far from perfect.
You need to be aware of some common issues of the 2008 Mitsubishi Lancer, which include inconsistent fan speeds, ventilation loss, and air conditioning unit failure.
Drivers also complained about the engine light switching on at will, oil leaks, short battery life, gearbox and transmission issues, and overheating of the engine.
You may also experience the steering wheel pulling to one side and struggle to start your vehicle.
Though the maintenance expense is not on the high side, you may need to check if you can cope with these issues.
2. Transmission Issues, Brake Problems
The Mitsubishi Eclipse also suffers from several issues.
You may have to battle with common issues such as the inability of the sunroof to open, the thwarting of its wheels, brake failure, and transmission system problems.
These issues affect the 2001, 2008 and 2009 Eclipse models, so be vigilant if you want to buy any of those years.
We also see these transmission issues among some of the Outlander models. Here are the worst and best Mitsubishi Outlander years.
3. Transmission and Shifting Problems, Defective Airbags and Seatbelts
As a Mitsubishi owner, you must understand that you are not immune from shifting problems.
If you want to own a 2015 Mitsubishi Mirage, check it for transmission issues. Also, make sure you get one of the most reliable years for the Mitsubishi Mirage.
Other problems common with the Mitsubishi Mirage include premature deterioration of the brakes and tires, which usually occurs when you are yet to hit the 100,000 miles mark.
Drivers have also complained about the loud screeching noise from the brakes in their Mirage models. They even whine about their car key getting stuck in the ignition.
Mirage models also have problems with their air conditioning units, airbags, seatbelts, and doors.
Make sure to also read our article about problems with Vauxhall articles.
4. Leaking Coolant Fluid, Defective Braking System, Transmission Failure
You don't have to be carried away by the low-maintenance appeal of this automobile. The 2002 Mitsubishi Diamante is not your perfect model, as you will encounter some problems driving the vehicle.
Some issues include constant leakage of coolant, trembling brake pedals, failure of a transmission system, and quick wearing out of brake pads.
Safety is not adequately prioritized with this vehicle, as some safety gadgets are defective.
The seatbelts and airbags are not entirely effective.
5. Transmission Failure, A/C Failure
Due to its vulnerability, the Outlander has been tagged as the most unreliable model from the Mitsubishi brand.
The 2018 Mitsubishi Outlander came with several defective HVAC temperature knobs, air conditioning failures, and irregular cruise control.
Drivers of this vehicle have severely complained about its cruise control system.
This cruise control system usually switches itself arbitrarily and fails to respond to the standard control.
We all know the importance of brakes and airbags in a car.
However, these vehicles' owners must cope with:
continuous failures of seatbelts,
braking systems,
and airbags.
Once the brakes start to malfunction, this could lead to a crash that can cause loss of lives.
The Outlander also has overheating issues, and its transmission systems are known to deteriorate too soon.
The severity of the 2018 Mitsubishi Outlander issues can be damaging, and its flaws outweigh its beauty points.
Some of the most common issues include the faulty Electronic Stability Control [ESC] system and abrupt switching off of the engine while you are driving.
The front sub-frame of the 2018 Mitsubishi Outlander gets rusted easily, which usually goes unnoticed for a long time.
Other models, such as Lancer, have a similar issue, especially the 2002-2008 models.
Drivers of the Mitsubishi Outlander also complained about engine stalling when the car failed to accelerate. This issue makes the vehicle lose control and could cause a crash.
You may need to change the spark plug more often.
Once you notice the slow acceleration and find it hard to start your car's engine, you may need to change your spark plugs.
A defective rotor worn out by friction overheats the brakes, which leads to grinding noises whenever you apply the brakes. It puts more pressure on the tires and makes them wear out quickly.
Most Mitsubishi models have the problem of hard starting due to a defective alternator.
Their batteries also have a short life span, and the reason is that several components damage the alternator.
You can also read our article about problems with Buick cars.
General Pros and Cons of Mitsubishi Cars
Here are some pros and cons of Mitsubishi cars:
Pros of Mitsubishi
Advanced Security features and Climate Control
Access to keyless ignition
Strong fuel economy. Individuals who want vehicles with great fuel management can trust Mitsubishi.
Cons of Mitsubishi
Brake Failure, Engine Stalling, Oil Leaks
Transmission Issues, Brake Problems
Transmission and Shifting Problems, Defective Airbags and Seatbelts
Leaking Coolant Fluid, Defective Braking System, Transmission Failure
Transmission Failure, A/C Failure
Please also read our article about problems with Mazda cars.
What Do the Reviews Say?
Once a force to be reckoned with thanks to its famed sports cars, Mitsubishi's star has fallen from the automotive firmament in recent years. Its current lineup consists of lackluster crossovers and miserable economy cars, but there are signs of life in the coupe-like Eclipse Cross SUV.

The Mitsubishi Mirage is simple and honest transportation but offers few frills, while Outlander and the Outlander Sport SUVs do much of the same on a larger scale.

Affordable pricing, a 10-year warranty, and a reputation for reliability are Mitsubishi's few remaining calling cards. We've heard rumblings of a revived Lancer Evo sport sedan, but we'll believe it when we see it.
Source: caranddriver.com
What's the Resale Value of Mitsubishi Cars?
Here are resale values of Mitsubishi vehicles:
| | | |
| --- | --- | --- |
| Model | Approx. Mileage | Value |
| Mitsubishi Outlander | 12,000 | $24,379 |
| Mitsubishi Mirage | 12,000 | $13,975 |
| Mitsubishi Mirage G4 | 12,000 | $14,834 |
| Mitsubishi ASX | 11,000 | $23,771 |
Was this article helpful?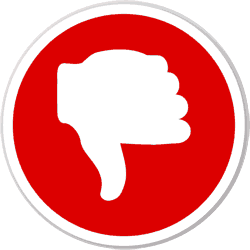 Did you find wrong information or was something missing?
We would love to hear your thoughts! (PS: We read ALL feedback)