Chevrolet is one of the most popular vehicle brands in the world, and it is a subsidiary of General Motors.
The company produces some of the most popular cars in the U.S., including the Chevrolet Corvette and the Silverado truck. These are not only high-performance vehicles, they are also reliable.
In some models, Chevrolet drivers have experienced several problems, including fuel pump failure, a sticking ignition key, air conditioning issues, excessive oil consumption, and rough shifting.
This article provides you with a guide on common issues faced by Chevrolet drivers and also gives you insight on how to make an informed decision.

1. Transmission System Failure
The 2005 Chevrolet Impala model has a notorious record, and the company recalled it four times. In fact, the National Highway Traffic Safety Administration received over 600 complaints about the car.
The 2005 Chevrolet Impala has several issues, including transmission failure, power lock malfunction, heater issues, excessive oil consumption, Pass lock failure, and intake manifold gasket failure.
Most Impala models have a common issue, and that is a transmission problem. Drivers complained about loud noise, jerking, and stuttering before the failure of the transmission system.
These models have frequent power lock problems, and these locks fail in most cases, requiring replacement as soon as possible. Whenever there is an issue with the transmission system, you may need a complete overhaul, costing around $2,990.
2. Inability to Adapt to Cold Weather and Oil Consumption
The 2005 Chevrolet Equinox is one of the Chevrolet vehicles with issues.
Some issues pointed out by most users of this brand are battery problems, excessive oil consumption, frequent check engine lights, flimsy wheel wells, air conditioning compressor problems, and lower control arm rattling.
Models from 2005, 2007, and 2013-2016 have these issues mentioned here, and it will be in your best interest to avoid them.
The Chevrolet Equinox is notorious for excessive oil consumption, and most drivers complain that the oil burns off too quickly, causing damage to the engine.
The interior components of the Chevrolet Equinox are not well suited for cold weather.
3. Defective Air Conditioning Blower, Drivetrain Problems
Some common problems associated with the Chevrolet Colorado are malfunctioning air conditioning blower, fuel level sensor failure, and transmission and drive train issues.
Other problems are:
Soft brake pedal
Loss of power steering
Key stuck in the ignition
Engine misfire
Models 2004, 2005, 2015, 2016, and 2018 have these issues.
One serious mechanical problem of the Chevrolet Colorado is a shifting delay. Drivers complain the delay usually lasts for more than three seconds.
There have been reports of engine misfires and loss of power steering from drivers, and these are issues you must not ignore.
4. Fuel Pump Failure
The Chevrolet Blazer is one of the most excellent automobiles from Chevrolet. Problems peculiar to this model are gas cap issues, ABS failure, faulty distributor, fuel pump failure, and fuel gauge problems.
The 1994, 1998, 1999, and 2000 models are the makes that are affected by these issues.
One of the most prominent issues Chevrolet drivers face is fuel pump failure. If there is an insufficient fuel supply from the tank, the chances of starting a Blazer are low, which will cause you to spend on repairs.
The 2000 model has a bad reputation for a severe transmission problem, which could be dangerous. In some cases, drivers have complained that the vehicle fails to enter the reverse gear.
5. Loss of Engine Power
The Chevrolet Malibu suffers from engine power loss.
Loss of engine power, pass lock failure, transmission failure, turn signal failure, power door lock problems, headlight issues, and CD player failure are some problems encountered by Malibu drivers.
Other issues are power steering malfunctioning, cracked intake manifold gasket, and broken front coil spring that most drivers of the Chevrolet Malibu experience.
Valued at $24,395, the Chevrolet Malibu models of 2002, 2004, 2005, 2009, 2010, and 2016 often have the problems listed here.
Transmission problems are part of the issues faced by the drivers of the Chevrolet Malibu. The transmission is susceptible to jerking, rough gear changes, and failure in higher-mileage vehicles.
Related: Chevy Malibu Problems: 9 Common Issues (Explained)
6. Hard Shifting
There are more complaints from individuals who drive the Chevrolet Trailblazer about transmission issues.
There are reports of hard shifting, near wrecks, stall outs, lurching, and jerking from drivers, and this is also common with models such as Cruze and Silverado.
7. Water Leaks
The water leak is a common problem in Chevrolet, but Equinox is the most affected. There are reports of leaks around the windows that cause mistiness and moisture.
Chevrolet Equinox has problems with broken and leaking sunroofs, and it may fill the floor of the vehicle with water. Some users complain about water in their trunks due to leakage.
Related: Chevy Equinox problems: 5 Common Issues (Explained)
8. Brakes & Electrical Problems
There are several complaints about brakes and brake sensors on models, such as the Suburban, Camaro, and Silverado.
In some cases, the brakes get locked up and fail to work while driving, and other drivers said the brake assist failed woefully.
Owners of the Camaro complained about electrical issues such as Bluetooth connectivity, defensive parking assist, failing backup cameras, and leaking sunroof.
9. Locked Up Steering
Some owners of the Chevrolet Silverado and Colorado trucks have issues with locked-up steering. There are several complaints from users about the steering wheel getting locked while driving on the road.
When this happens, the drivers must jiggle the steering wheel to reach their destination. This could cause a near miss, a critical issue that Chevrolet must address.
Related: Chevy Silverado Problems: 11 Common Issues (Explained)
10. Engine & Excessive Oil Consumption
Many drivers complain about the Chevrolet brand's engine issues, including owners of its SUVs, pickup trucks, and cars.
Excessive oil consumption is another issue with most Chevrolet vehicles that need to be addressed.
Was this article helpful?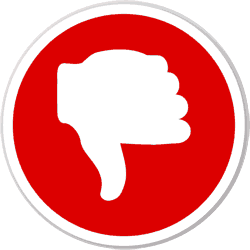 Did you find wrong information or was something missing?
We would love to hear your thoughts! (PS: We read ALL feedback)
ⓘ  The information in this article is based on data from National Highway Traffic Safety Administration (NHTSA) recall reports, consumer complaints submitted to the NHTSA, reliability ratings from J.D. Power, auto review and rating sites such as Edmunds, specialist forums, etc. We analyzed this data to provide insights into the best and worst years for these vehicle models.
---