The Mercedes GLB is the petite Mercedes automobile on the list of the luxury SUVs of the Mercedes family.
It is an attractive luxury SUV that offers value for your money and has a boxy shape with a unique appearance and comes with extra space for cargo and passengers. 
It is advisable to learn about these common issues before you buy a Mercedes GLB or use the knowledge to handle any problem with your Mercedes GLB if you already own one. It'll also help if you know the best and worst Mercedes-Benz GLB years.
1. Infotainment Screen Problem
The Mercedes-Benz GLB has a stylish interior that beats competitors in the subcompact SUV category. 
This excellent infotainment system has two large screens that accommodate features such as
Trip information

Fuel information

Oil temperature information

Speedometer

Odometer, and

Infotainment screen 
However, one common issue with this exquisite automobile is that the middle screen turns off abruptly. 
This issue can lead to an unpalatable experience as the screen controls essential features of the vehicle. 
The problem should be addressed as quickly as possible, as it could lead to a severe engine issue if not resolved on time. 
2. Suspension and Steering Problems
Another major issue with the Mercedes-Benz GLB is the defective front axle carrier.
This problem prompted the automaker to issue a recall in December 2021, as a failure of the front axle carrier could lead to steering control problems. 
Corrosion has been identified as the reason for the problem with the faulty front axle carrier. 
It is advisable to have your front axle carrier checked each time you go for maintenance and service of your vehicle. 
Most accredited Mercedes dealers can fix your axle carrier without charging a dime. You may need to speak with your dealer about this. 
3. Airbag Problems
Mercedes Benz GLB is also not exempted from airbag problems, and this is a significant issue that needs to be addressed quickly.
In August 2021, the manufacturer recalled some vehicles due to a potential design defect on the Mercedes-Benz GLB. This flaw could cause a malfunction in the seatbelts and airbags whenever there is a crash. 
When the airbags fail to deploy and seatbelts cannot function properly, the crash could be fatal and lead to loss of lives. 
The problem is a combination of hardware and software errors and needs to be resolved by a professional mechanic accredited by Mercedes-Benz. 
If you notice this problem on your vehicle, you may need to replace or revise your airbag control module. 
Once the airbag control module is fixed, you can have your beautiful ride back on the road.  
4. Electrical system issues
Most automobiles are not exempt from electrical system problems these days, and you can hardly find one without electrical system issues. 
Most of the luxury vehicles loaded with sophisticated features are mostly affected by this issue. 
The features in most of these new luxury vehicles are bound to fail, and the Mercedes-Benz GLB is not an exception. 
In the case of the Mercedes-Benz GLB, the blank rearview camera is the component that gets damaged quickly. 
Whenever you want to reverse your vehicle, the rearview camera should work with the system, but if the rearview camera is faulty, you may need to restart the camera.
This issue may persist, and the best way to fix it is to hire a professional to correct it. 
5. Fuel system issues
Most automobiles have fuel and oil leakage issues, and it is essential to know that some cases are more severe than others. 
It is essential to take care of the front axle carrier of your Mercedes Benz GLB. 
The fuel leak issue will be noticed and fixed if you have taken your vehicle to the dealership for the front axle carrier repair or service. 
This problem results from the flawed process in some Mercedes-Benz models that professionals can fix without stress. 
Having read about these problems, you may or may not want to buy the GLB. Hence, it might be great news to you that the Mercedes-Benz GLB is among the Mercedes models you can lease.
General Pros and Cons of the Mercedes-Benz GLB
There are several benefits of owning a Mercedes-Benz GLB, and these include:
Pros
Spacious Cargo Capacity

Excellent Powertrains

Fantastic Fuel Economy

Ample Cabin Space
Consequently, there are downsides to owning a Mercedes-Benz GLB.
Cons
Too expensive for a vehicle of its class

They are loaded with excess controls

Renowned for crappy shifts
What Do the Reviews Say?
The Mercedes Benz GLB focuses on convenience and luxury rather than performance. 
It has an agile suspension and a long wheelbase, and these are some of the excellent features that endeared enthusiasts to the vehicle.  
The vehicle has a discretionary adaptive suspension that tightens the handling on demand, but it is far from a perfect SUV. 
Meanwhile, let's hear what the reviews have to say.
The 2023 GLB is a good luxury compact SUV. It boasts an upscale cabin, a long list of features, a comfortable ride, and an available AMG model. Its boxy shape also helps make it a versatile option that can handle a variety of storage demands. A somewhat finicky infotainment system and cramped optional third-row seats are minor flaws, but they shouldn't prevent you from buying this Mercedes.

U.S. News
Also,
The GLB is a fantastic option for those looking for a luxury crossover vehicle. With two decent engine options, including a 302-horsepower AMG variant, this Mercedes combines a composed drive with luxury trimmings for a nice overall package. It also has a competitive price for the class. However, it might be worth checking out other SUVs in the class.

U.S. News
Finally, let's hear one last review.
As Mercedes-Benz broadens its reach to bring young buyers into the brand, new, seemingly affordable vehicles like the GLB have been developed to welcome them to the family. Although the GLA continues to be the entry-level SUV for the three-pointed star, the GLB is right above it with its boxy styling, cool interior, and space for up to seven passengers.

Motor Trend
What's the Resale Value of the Mercedes-Benz GLB?
Several factors determine the resale value of a vehicle. They include:
Present condition

Mileage, and

Trim levels 
However, the GLB has a 47% depreciation value over five years. 
The current price for a new Mercedes-Benz GLB is around $35,000. 
| | | |
| --- | --- | --- |
| Year | Mileage | Price |
| 2020 | 18,383 | $37,590 |
| 2021 | 12,070 | $41,590 |
| 2022 | 6,749 | $41,736 |
Final Thoughts
Though the automobile is far from perfect, it is still a decent vehicle that offers comfort. 
The Mercedes-Benz GLB is a new entrant into the luxury SUV market and has to face severe competition from other brands. 
The exterior is more of an SUV than the GLA-Class sibling, and it has a 2.0-liter turbocharged inline-four engine. This engine delivers enormous power to work at an incredible rate, to the owners' delight. 
The BMW X1 may be sportier on the road, but you can trust the Mercedes-Benz GLB for a more comfortable ride. 
The Mercedes-Benz GLB delivers one of the most beautiful interior spaces, with incredible features that give you a sweet experience. 
The third row on the Mercedes-Benz GLB is restricted, which is one of this vehicle's drawbacks. It is good to weigh your options before buying the Mercedes-Benz GLB, as that is the right thing to do. 
If you are not bothered about the drawbacks of this automobile, you can purchase this luxury SUV and get a pleasant riding experience.
Go Back: Problems for all Mercedes models.
Was this article helpful?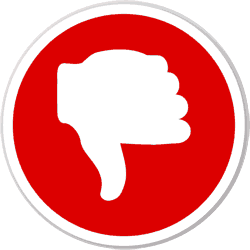 Did you find wrong information or was something missing?
We would love to hear your thoughts! (PS: We read ALL feedback)
ⓘ  The information in this article is based on data from National Highway Traffic Safety Administration (NHTSA) recall reports, consumer complaints submitted to the NHTSA, reliability ratings from J.D. Power, auto review and rating sites such as Edmunds, specialist forums, etc. We analyzed this data to provide insights into the best and worst years for these vehicle models.
---