A mid-size SUV is a vehicle that sits halfway between a compact and a full-size SUV. 
Primarily due to their versatility and reliability, mid-size SUVs have become one of the most well-liked cars in recent years – they typically satisfy the demands of most people.
Several traits of a mid-size SUV include:
Ground clearance
Generous cabin space
Off-road capabilities with a modern and stylish interior
Continue reading to discover some top mid-size SUV models and learn more about the features that define them. 
1. 
2023 Kia Telluride
If you're looking for a mid-size three-row SUV but don't require a lot of towing capacity, the well-rounded 2023 Kia Telluride deserves mention.
It's a comfortable and practical family transporter and considering its level of sophistication, it's reasonably priced.
Depending on how the seats are arranged, the Telluride's interior is roomy, quite luxurious, and can accommodate up to seven or eight passengers. 
It boasts a lot of cargo space, a simple entertainment system, and is fully equipped with abundant standard leisure and safety features.
This Kia has roughly the same amount of off-road capabilities as the typical crossover SUV, which isn't much. 
So what makes the Telluride a mid-size SUV?
With its 8 inches of ground clearance, all-wheel drive, and optional all-terrain tires, the SUV can easily travel across seasonal roadways and occasionally on dirt roads.
Additionally, the Kia Telluride provides 21 cubic feet of cargo capacity behind its third-row seating. When the third row is folded down, users can expect 46 cubic feet of cargo capacity and 87 cubic feet with the second and third rows folded simultaneously.
This makes the 2023 Kia Telluride a mid-size SUV with above-average load capacity in its class, meaning there is more than enough storage for large items.
The front seats are comfortable and supportive irrespective of the configuration, and the SUV offers a dominating perspective of the road ahead and good visibility towards the sides and rear.
Adults can sit in the first and second rows with plenty of head and leg room.
Even the third row can squeeze in adults. However, it works best for smaller children.
The 2023 Kia Telluride's appeal is not surprising, given the SUV's well-rounded design, attractive style, and affordable price.
The Telluride has a broad list of standard features across the board, and its top trim gives a premium ride on par with SUVs that cost more.
2. 2022 Subaru Ascent
The Ascent distinguishes itself with its default all-wheel drive, practical technological features, and premium construction. 
Although a more spacious third-row seat and a better transmission would be preferable, this family hauler is nevertheless desirable.
By utilizing an all-wheel-drive system, 8.7 inches of ground clearance, an X-Mode traction management system, and hill descent control, the Subaru Ascent can tackle moderate off-roading.
Additionally, the suspension system works well and does a fantastic job of minimizing road imperfections, producing a pleasant drive.
The three-row vehicle boasts one of the highest cargo capacities in its category, easy-to-use electronic controls, and seating suitable for adults.
As a mid-size SUV, it is safe to assume that the Ascent has plenty of cargo space, albeit not as much as the Telluride.
Behind the third row, there are 17.8 cubic feet of cargo capacity, 47.5 cubic feet when the third row is folded, and 86.5 cubic feet when the second and third rows are both down simultaneously.
Eight individuals can be accommodated in the three rows of Ascent's standard configuration. 
Alternatively, the Subaru can seat seven when the optional bucket seating is utilized in place of the second-row bench seats. 
Furthermore, the first two rows provide plenty of room, and adults would feel most comfortable riding in the third row only on short trips.
Overall, the 2022 Subaru Ascent is a vehicle to consider, particularly if you're looking for a mid-size SUV with all-wheel drive and off-roading prowess.
3. 2023 Chevrolet Traverse
The 2023 Chevrolet Traverse is a capable three-row family SUV with plenty of room for passengers and cargo, an attractive appearance, and a sensation of agility that contradicts its bulk.
Despite its inferior interior construction compared to other vehicles of its class, the Traverse delivers an outstanding balance of reasonable value and solid performance.
With an extensive list of standard technological and driver-assistance functions, more than enough passenger capacity in all seating rows, a powerful V6 engine, considerable cargo capacity, and a comfortable ride, the Traverse excels across all fronts.
However, it's important to note that the Traverse is among the larger mid-size SUVs around and can be challenging to handle in confined situations, so it isn't perfect.
Even though competitors offer better, more modern designs and higher-quality interior construction components, few mid-size SUVs can transport as much cargo as the Traverse.
There are 57.8 cubic feet behind the second row, 23 cubic feet behind the third row, and a total volume of 98.2 cubic feet, similar to what most full-size SUVs can provide.
The Traverse can accommodate up to seven passengers in configurations with second-row captain's seats and eight passengers in those with a second-row bench seat.
Passengers get enough head and legroom in the first and second rows, and the chairs are notably plush and supportive up front. 
Even though the third row isn't as roomy, it can still fit adults on brief journeys.
Overall, the Traverse boasts superior cargo capacity, seating up to eight people, excellent performance, and a bulkier design. 
These features, particularly its bulkier design, cause people to associate this vehicle with the full-size SUV class. However, its sibling, the Suburban, will beg to differ.
4. 2023 Honda Passport
Honda's 2023 Passport faces various rivals with contrasting skill sets in the mid-size SUV category. Even so, the Passport enters the fiercely competitive class because of its outstanding all-around performance and lack of shortcomings.
The Passport only has two rows of seats to demonstrate the variety within the mid-size SUV segment, unlike many of its competitors with three rows of seats. 
However, it is a good option if you want a roomy mid-size SUV five-seater with plenty of cargo space. To put this into perspective, the Passport has superior cargo room compared to other two-row mid-size SUVs. 
You can expect up to 41.2 cubic feet of cargo room behind the rear seats, which, when folded, give you a further 77.7 cubic feet.
As you can imagine, this is far less superior compared to 8-seater SUVs.
Nonetheless, all the front and rear seats have plenty of head and legroom. 
Although the interior design is modest, the materials are sufficient and the controls are well-arranged. The broad, comfy front seats have a convenient armrest that may be moved for the best fit. 
Generally speaking, the inside compartment storage is excellent, thanks to practical bins all across the cabin, including a sizable center console cubby.
That said, the Passport is less capable off-road than a mid-size SUV should be.
While you can navigate gravel roads and reach a campground owing to the all-wheel drivetrain with 8.1 inches of ground clearance, you could struggle with more challenging journeys.
This makes the TrailSport trim, which has tires with improved off-road treads, the ideal choice if you're an avid off-road adventurer.
The Passport isn't a clear standout overall, but its decent all-around performance help it rank higher than most in this crowded and fiercely competitive category.
5. 2023 Jeep Wrangler
The 2023 Wrangler is a terrific option for some buyers, but for others, it might be only some of what they're looking for in a mid-size SUV.
To its defense, the Wrangler has a substantial and diversified engine range and is incredibly competent off-road.
The touch-screen infotainment center is also simple, and the cabin is decently manufactured. 
However, the Wrangler's drawback is that driving for daily commutes isn't very comfy.
Its rugged suspension struggles to absorb road imperfections, and its fuel efficiency ranks among the lowest in the mid-size SUV category.
The 2023 Wrangler's interior embodies its adventurous spirit.
There are significantly more hard plastics than cushioned surfaces throughout the interior, giving it a rugged and practical appearance and highlighting its off-road ability.
The Wrangler sports between 9.7 and 12.9 inches of ground clearance, depending on its configuration – even base trim levels can tackle the off-road.
Therefore, the Wrangler will compensate you with outstanding off-road capability, provided you can put up with its on-road flaws.
While robust axles are a blessing for traversing uneven surfaces, the suspension adapts smoothly at low speeds, enabling the Jeep to start climbing over obstructions that would disable most other SUVs.
Ultimately, Jeep's Wrangler is a mid-size SUV that puts off-roading capabilities at the forefront of its design, which contradicts other vehicles of the same category on this list. 
If you're looking for a new SUV with true off-road capability, consider looking at the Wrangler – a few other vehicles in this class can travel as far off-road. 
However, there are better alternatives if you want a mid-size SUV for daily commuting and the odd off-road trip.
Sources
10 Best Mid-size SUVs for 2022
Best Mid-size SUVs for 2022 and 2023
Was this article helpful?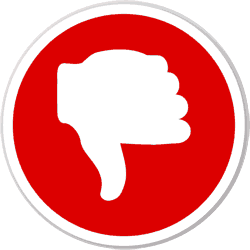 Did you find wrong information or was something missing?
We would love to hear your thoughts! (PS: We read ALL feedback)