The Kia EV6 is an electric vehicle that has been making waves in the automotive industry. As a company, Kia has been making strides in the EV market, and the EV6 is a testament to their commitment to innovation.
We have taken a closer look at the pros and cons of this vehicle to help you make an informed decision about whether it is the right fit for you.
One of the standout features of the EV6 is its impressive range, which can go up to 300 miles on a single charge.
But are there more pros or cons?
Let's dive in.
Pros of Kia EV6
Performance
The Kia EV6 is a powerful electric vehicle that can go from 0 to 60 mph in just 5.2 seconds. Its electric motor delivers 320 horsepower and 446 lb-ft of torque, providing a smooth and responsive driving experience. The EV6 also has a top speed of 115 mph, making it a fun and exhilarating car to drive.
Range
The EV6 has a range of up to 300 miles on a single charge, which is impressive for an electric vehicle. This means that you can drive for long distances without having to worry about running out of battery.
Additionally, the EV6 has a fast charging capability, allowing you to charge the battery up to 80% in just 18 minutes.
| Electric Car | Range (EPA est.) |
| --- | --- |
| 2023 Kia EV6 Wind | 310 miles |
| 2023 Kia EV6 GT-Line RWD | 310 miles |
| 2023 Kia EV6 GT-Line AWD | 252 miles |
| 2023 Kia EV6 GT (e-AWD) | 206 miles |
| 2023 Tesla Model Y Long Range AWD | 326 miles |
| 2023 Ford Mustang Mach-E Extended Range RWD | 310 miles |
| 2023 Volkswagen ID.4 Pro S | 275 miles |
| 2023 Chevrolet Bolt EUV | 247 miles |
Design
The Kia EV6 has a sleek and modern design that is sure to turn heads. Its aerodynamic profile and bold lines give it a sporty look, while its spacious interior provides ample room for passengers and cargo.
The EV6 also has a panoramic sunroof that lets in plenty of natural light, creating a bright and airy cabin.
One of the most striking elements of the EV6's interior is its dual curved 12.3-inch screens seamlessly integrated into the dashboard.
This design choice provides both the digital instrument cluster and infotainment system with an intuitive interface that minimizes driver distractions.
The EV6's cabin is spacious and comfortable, offering ample headroom and legroom for both front and rear passengers. The seats are made from eco-friendly materials, including recycled PET bottles, offering a sustainable choice without compromising on comfort.
Moreover, the flat floor design, made possible by the dedicated EV platform, allows for unobstructed foot space and a more relaxed seating position.
Another remarkable feature is the innovative zero-gravity relaxation mode.
The front seats can recline and offer lower leg support, providing an ideal position for resting during charging breaks. Ambient lighting throughout the cabin creates a soothing atmosphere, and the vehicle-to-load (V2L) function allows passengers to power electronic devices on the go.
The EV6 also focuses on convenience with features such as wireless smartphone charging, multiple USB ports, and ample storage compartments. With its well-appointed interior and advanced technology, the Kia EV6 raises the bar for electric vehicle cabin design and user experience.
Technology
The EV6 is loaded with advanced technology features, including a 12.3-inch infotainment display, a 12.3-inch digital instrument cluster, and a heads-up display.
It also has a range of driver assistance features, such as adaptive cruise control, lane departure warning, and blind spot monitoring, which make driving safer and more convenient.
Charging
The EV6 uses an 800-volt architecture and can use 350-kilowatt charging stations, the most powerful type available. This means that the EV6 can be charged up quickly, allowing you to get back on the road in no time.
Additionally, the EV6 has a regenerative braking system that helps to extend its range by capturing energy that would otherwise be lost during braking.
Cons of Kia EV6
While the Kia EV6 has a lot of great features, there are some downsides that we think are important to consider before making a purchase. Here are a few cons of the Kia EV6:
Price
One of the biggest cons of the Kia EV6 is its price.
The EV6 cost more than other similar EVs.
While it is competitive with other electric vehicles in its class, it is still a significant investment.
| Car Model | Base Price (USD) |
| --- | --- |
| Kia EV6 | $48,000 |
| Hyundai Ioniq 5 | $41,400 |
| Tesla Model Y | $54,000 |
| Volkswagen ID.4 | $39,995 |
| Ford Mustang Mach-E | $47,495 |
Keep in mind that prices can vary depending on the region, and the prices listed above are for the U.S. market.
The base model starts at around $48,000, while the high-end GT model can cost upwards of $+60,000. This may be a barrier for some buyers who are looking for a more affordable electric vehicle option.
Cargo Space
Another downside of the Kia EV6 is its limited cargo space. While it is a spacious vehicle overall, the battery takes up a significant amount of room in the back, which can limit the amount of storage space available.
Car Model
Cargo Space (Seats Up)
Cargo Space (Seats Down)
Kia EV6
27.7 cu ft (784 L)
53.5 cu ft (1,516 L)
Hyundai Ioniq 5
27.2 cu ft (770 L)
56.2 cu ft (1,591 L)
Tesla Model Y
28.0 cu ft (793 L)
68.0 cu ft (1,926 L)
Volkswagen ID.4
30.3 cu ft (857 L)
64.2 cu ft (1,818 L)
Ford Mustang Mach-E
29.7 cu ft (840 L)
59.7 cu ft (1,688 L)
Please note that front trunk (frunk) capacities are not included in these figures.
This may be a concern for buyers who need a lot of cargo space for things like groceries, luggage, or outdoor gear.
Limited Availability
Currently, the Kia EV6 is only available in select markets. This can be frustrating for buyers who are interested in the vehicle but live in an area where it is not yet available.
Additionally, some dealerships may not have the EV6 in stock, which can make it difficult to test drive or purchase the vehicle.
Conclusion
Overall, the Kia EV6 is an excellent electric vehicle with a lot of pros and a few cons. It offers impressive performance, a comfortable and spacious interior, and advanced driver assist features.
Its eye-catching design is sure to turn heads, and its fast charging capabilities make it convenient for long road trips.
One of the biggest pros of the EV6 is its range, which can reach up to 300 miles on a single charge. This means that drivers can go longer without needing to stop and recharge, making it a great option for those who frequently travel long distances. Additionally, the EV6's fast charging capabilities allow it to charge up to 80% in just 18 minutes, making it easy to top up during a quick pit stop.
Another pro of the EV6 is its advanced driver assist features, which are intuitive and impressive.
The EV6 can follow gentle curves and even execute its own lane changes at a prod, making it a great option for those who want a more hands-off driving experience. Additionally, the EV6's quick steering response and absorbent ride make it a joy to drive on the open road.
However, there are a few cons to consider before purchasing the EV6.
One of the cons is its relatively short wheelbase, which can make for a slightly choppy ride on rough roads. Additionally, the EV6 GT's stiffened suspension can translate road imperfections directly into the driver's rear end.
Lastly, the EV6's price point may be a bit steep for some buyers, but it's important to remember that it comes packed with advanced features and impressive performance.
Overall, we believe that the Kia EV6 is an excellent electric vehicle that offers a lot of pros and a few cons.
It's a great option for those who want a stylish, high-performance EV with advanced driver assist features and fast charging capabilities. While it may not be perfect, it's definitely worth considering for anyone in the market for a new electric vehicle.
Was this article helpful?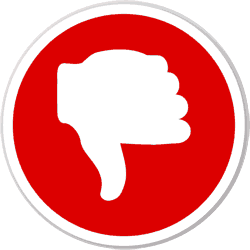 Did you find wrong information or was something missing?
We would love to hear your thoughts! (PS: We read ALL feedback)