The Dodge Journey is a mid-size crossover SUV produced and marketed by Chrysler since 2008.
It had a decent run, pulling in thousands of sales yearly until its discontinuation after the 2020 model year. 
The Dodge Journey, during its production run, was often criticized for its poor reliability, lackluster handling, and disappointing safety features.
We already looked at some of the most common problems with the Dodge Journeys, and in this article, we will look at an aspect that isn't talked about very often-longevity.
Is longevity a strong point of the Dodge Journey, or does it lack in that aspect as well?
Let's find out.
How is the short answer to how long the Dodge Journey lasts:
On average, the Dodge Journey can last for 150,000 to 200,000 miles, subject to regular maintenance. A couple of users even reported having 200,000+ miles on their Journeys. If you drive 15,000 miles every year, you may be able to get 10 to 15 years out of your Dodge Journey.
How Many Miles Can You Expect from a Dodge Journey?
If you own a Dodge Journey, you can expect 150,000 to 200,000 miles from it. However, the vehicle may struggle to reach those numbers if they don't use and maintain it properly.
Also, we must mention that reliability is not a strong suit of the Dodge Journey. Regarding that, you might have to carry out major repairs from time to time.
How Soon Should You Expect Rust on a Dodge Journey?
Most vehicles are susceptible to rust and corrosion. However, some get rust faster than others.
Dodge Journey owners should expect rusts within the first two to six years.
Also, if you live in a Salt Belt region where roads are often salted, your Journey will likely get rusted sooner.
Our research also showed that parts of the Journey most likely to get rusted are the interior hinges, rotors, and the car bottom.
To help your Journey stay rust-free for longer, we advise keeping the interior dry always and using ceramic coating.
¨You should also wash your vehicle often as dirt accumulation could also invite corrosive substances.
How Long Do Dodge Journeys Last Compared to Similar Models?
Frankly, the Dodge Journey isn't one of the top vehicles in its class, thanks to its mediocre and unfavorable ratings.
The question then begs, "Even if it doesn't measure up to the top crossover SUVs, does it at least last as long as they do?" We have provided answers to that below.
Dodge Journey Vs. Chevrolet Traverse
The Chevy Traverse launched back in 2008 and has gone on to become one of the top vehicles in its class. It ranks well above the Dodge Journey in pretty much every category except the starting price.
Chevy Traverses can last anywhere between 200,000 to 250,000 miles if regularly maintained. It also boasts excellent reliability ratings with relatively low functional issues.
Compared to the Dodge Journey, the Chevrolet Traverse is more likely to serve its owners longer. It is also more reliable and will develop less severe issues in the long run.
Please also read our article about how long the Chevrolet Traverse lasts.
Dodge Journey Vs. Honda CR-V
The Honda CRV has been around since 1997 and remains one of the best crossover SUVs in the market.
Not only does it have one of the best fuel economies for its class, it is also one of the longest-lasting vehicles.
With proper maintenance, the Honda CR-V can stay functional for 250,000 to 300,000 miles or more. We even found a number of owners who claim to have hit 400,000+ miles.
On average, Honda CR-Vs last longer than the Dodge Journeys, and they are also more reliable. It is a clear win for the CR-V.
Make sure to also read our article about how long the Honda CR-V lasts.
Dodge Journey Vs. Hyundai Tucson
The Hyundai Tucson is the #1 crossover SUV, according to U.S. News. It has vast standard safety features, spacious seating, and comfortable handling. Besides all that, it is also one of the most durable SUVs in its class.
Hyundai Tucsons can last between 200,000-250,000 miles if they are adequately maintained. One owner on a certain vehicle forum claimed to have logged over 270,000 miles on his Tucson before selling.
The Hyundai Tucson and Dodge Journey will last around the same time. Both models are also very susceptible to early issues, but experts consider the Hyundai Tucson as the more reliable option.
How Reliable Is a Dodge Journey?
The Dodge Journey has suffered mixed reviews and reactions from experts and consumers concerning its reliability.
On U.S. News, the Dodge Journey has a critics' rating of 4.8/10 and a performance rating of 4.9/10. It also landed at the 58th spot on their list of crossover SUVs.
RepairPal was a lot more generous, giving it a reliability score of 4.0 out of 5.
On J.D. Power, the Dodge Journey notched a quality and reliability rating of 72 out of 100. It also ranked 19th on its list of mid-size SUVs.
The Dodge Journey has a total of 6,672 complaints on Carproblemzoo.com across 14 model years. In addition, the 2009 Dodge Journey has the most complaints, with 2,173. The most common problems include Electrical problems (1,858), Service Brakes (880), and Engine Cooling (861).
With the myriads of issues listed above, we would say the Dodge Journey isn't very reliable.
Also read our article about how long the Toyota RAV4 lasts.
The Best and Worst Years for Dodge Journey
According to MotorBiscuit, the worst Dodge Journey model is the 2009 model. It also has the most complaints by far on CarComplaints.
Data from Carproblemzoo.com corroborates this, with the 2009 model accounting for about 1/3 of total reported problems with 2,173. The 2010 model comes in at a close second with 1,519 problems.
The 2015 model has the most problems reported in its first year with 96 and has 618 in total.
The 2020 Journey has the fewest problems with 4, while the 2019 model is right next to it with 24 reported problems.
On cars.com, the 2009 and 2010 models have the worst ratings with 4.0 and 4.1, respectively, from a combined 177 reviews.
The top-rated model on Cars.com is the 2017 Journey with a 4.7 score from over 200 reviews. It also has the fewest recalls among recalled Journey models with 3.
Quickly scan our article that talks about How Long Do Dodge Ram 1500s Last?
What About Recalls for These Models?
The Dodge Journey has been recalled 66 times in its history. Below is a list of model years and the number of recalls issued for each of them:
2009- 11
2010- 4
2011- 4
2012- 7
2013- 5
2014- 10
2015- 9
2016- 6
2017- 3
2018- 7
The 2009 Dodge Journey has the highest number of recalls so far, with 11.
Dodge Journey Model Year List
Here is a list of all model years for the Dodge Journey:
2009
2010
2011
2012
2013
2014
2015
2016
2017
2018
2019
2020
The 2020 Dodge Journey will be the last model as announced by Dodge after a decade-long run.
Are Dodge Journeys Expensive to Maintain?
According to RepairPal, the average annual maintenance and repair cost for the Dodge Journey is $562.
Given that the average vehicle requires $651 in annual maintenance cost, the Dodge Journey is much cheaper to maintain.
How Long Do the Brakes Last?
Dodge Journey brake pads have an expected lifespan of between 30,000 to 70,000 miles. The lifespan depends on your driving habits and the environment. For instance, off-road conditions often require hard and frequent braking, which could shorten the lifespan of the brakes.
How Long Do the Tires Last?
Most tires will last between 50,000 to 60,000 miles, while some others may wear out at early as 20,000 miles. The lifespan largely depends on the road conditions, your driving habits, and maintenance.
For an extended lifespan, we advise rotating the tires every 5,000 miles. It would help if you also inspected the tires at regular intervals as a precaution.
How Long Do the Batteries Last?
Dodge Journey batteries last between three to five years, depending on the weather condition and driving habits. You could extend the lifespan of the batteries by doing the following:
Keeping the vehicle indoors during extreme weather
Starting the engine every other day
Ensuring the batteries are connected properly
How Long Do the Transmissions Last?
Dodge Journey transmissions often last as long as 130,000 to 180,000 miles. You may have to prepare for transmission replacement once the vehicle crosses 100,000 miles.
How Long Do the Spark Plugs Last?
The factory spark plugs on your Dodge Journey should serve you for about 100,000 miles. We will, however, advise that you carry out a routine inspection every 30,000 miles.
What About Insurance Costs?
According to Insuraviz, it will cost an average of $1,420 per year to get insurance for the Dodge Journey. Car Edge, on the other hand, estimates an average annual insurance cost of $1,763.
Insurance costs vary based on several factors, such as the location and rates of individual insurance firms.
Tips to Prolong the Life of Your Dodge Journey
Below are tips that will help lengthen the lifespan of your Dodge Journey:
Have a yearly maintenance plan
Service your Journey regularly
Avoid overloading the vehicle
Clean your vehicle regularly
Be on the lookout for any oddities and anomalies
Resources
Dodge Journey Reliability – 2021 Ratings | RepairPal
Was this article helpful?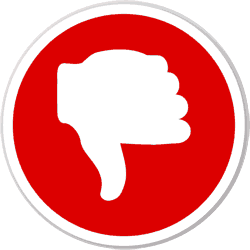 Did you find wrong information or was something missing?
We would love to hear your thoughts! (PS: We read ALL feedback)