The Chevrolet Spark is an exceptional subcompact that boasts superior fuel economy, advanced safety features, and considerable storage capacity.
Is this model long lasting? Let's find out.
But first, make sure to check our list of most-common problems with the Chevy Spark.
Here is the short answer about how long Chevrolet Sparks last:
Despite its diminutive design, the Spark can last for 150,000 miles or more, depending on use and maintenance. This means the Chevrolet Spark can last up to 10 years on the road with proper maintenance. If you don't mind its small size, this car will serve diligently for a decade.
How Many Miles Can You Expect from a Chevrolet Spark?
Since its debut in 2012, the Chevrolet Spark has become one of the most popular small cars in the United States. Much of the Spark's popularity has been because of the model's sterling qualities–fuel efficiency, lightweight design, and affordability.
Besides its many qualities, the Spark is surprisingly reliable for a small car.
From the factory, the Chevrolet Spark models come with a 10-year/100,000-mile powertrain warranty. And we have all reason to say a new Spark will cross the 100,000-mile mark and reach 150,000 miles.
Like every other vehicle, the longevity of your Chevrolet Spark will depend on how you use and maintain it.
Owners say that regular maintenance is the most important factor in getting top miles out of a Chevrolet Spark. According to users, the car has a reliable engine that requires minimal repairs.
You'll have to replace filters, change oil and fluids, etc., regularly. Doing this will ensure your Spark keeps running with minimal problems.
Also, we'll advise that you be careful about the oil you use on this car. Drivers have said using synthetic motor oil, as opposed to non-synthetic oil, will let the engine stay in good condition.
Please also read our article about driving the Chevrolet Spark in snow and winter.
How Soon Should You Expect Rust on a Chevrolet Spark?
From what we've seen, rust typically sets in on a Chevrolet Spark within the first three years of buying it.
Some Spark owners have noticed rust on their vehicles as early as the first six months; and there are some who faced rust problems after the first year of use.
So, while we can give a general prediction, your Spark may rust earlier or later, depending on different factors.
We do know that regional factors can and will probably determine the rate of rust on your Spark.
Living in a cold-weather state place like New York where roads are salted for the better part of the year will increase your car's chances of rust.
There's also the bit about maintenance. Proper maintenance will prevent your vehicle from developing problems, including rust.
Washing your car regularly, applying rust protection products to vehicle parts, etc., will slow down, or totally prevent rust on your Chevrolet Spark.
How Long Do Chevrolet Spark Last Compared to Similar Car Models?
With its nimble driving manners and exceptional fuel efficiency, it's easy to love the Spark. But how does the vehicle compare to other subcompacts? Let's find out:
Chevrolet Spark vs. Toyota Yaris
Within the subcompact segment, the Chevrolet Spark is the most affordable model. The difference between the Chevrolet Spark and the Toyota Yaris alone is over $2,000. So, if cheap is what you want, a Spark is definitely better than the Yaris.
However, if durability is what matters to you, then the Toyota Yaris is clearly the better choice.
Per estimates, the Toyota Yaris will last up to 300,000 miles, double the 150K-mile lifespan on the Spark.
Make sure to also read our article on how long the Toyota Yaris lasts.
Chevrolet Spark vs. Honda Fit
While Chevrolet has improved, it doesn't have Honda's reputation for reliability. Thus, it's only natural that the Honda-made Fit lasts longer than the Chevrolet Spark.
From what we can tell, the average Honda Fit can take you past 300,000 miles, if maintained properly.
However, the highest mileage you can get out of the Chevrolet Spark is 150,000 miles.
Chevrolet Spark vs. Kia Rio
Both exquisite small cars, the Chevrolet Spark and Kia Rio share many qualities. Alas, longevity isn't part of their shared qualities–the Kia Rio gets up to 250,000 miles against the Chevrolet Spark's 150,000-mile offering.
Chevrolet Spark vs. Hyundai Accent
A new Hyundai Accent will last you about 200,000 miles; a new Chevrolet Spark will barely reach 150,000 miles.
Nevertheless, we'd advise considering the Spark if you're working a tight budget. The base Spark model costs $14,395, while the Accent costs $16,000–that's close to $2,000 in money saved.
Chevrolet Spark vs. Nissan Versa
When compared with the Chevrolet Spark, the Nissan Versa is more expensive. But you'd be getting value for your money, seeing as the Versa is more durable than the Spark.
The Nissan Versa can last between 150,000 miles to 200,000 miles. By comparison, the Nissan Versa can last only 150,000 miles.
How Reliable Is a Chevrolet Spark?
The Chevrolet Spark makes a great case for subcompact cars–it is practical, fuel-efficient, and ridiculously cheap. And you get to enjoy using this car for a long time, thanks to its reliability.
The 2019 Chevrolet Spark gets a 4 out of 5 rating for reliability from J.D. Power and Associates. This alone makes it one of the best subcompacts for reliability.
RepairPal, which ranks vehicles for reliability based on repair data, gives the Chevrolet Spark above-average reliability ratings. The Spark earns a 4/5 rating for reliability and is the 10th most reliable car in the 21-model subcompact segment.
It must be interesting to read about our article that explains on "Why do Cars rust more on the Seaside"?
The Best and Worst Years for Chevrolet Spark
To get the worst model years for the Chevrolet Spark, we evaluated the number of reported problems for the various model years.
We have a full overview here of what Chevy Spark years you should buy (and some bad years to avoid).
Our analysis revealed the 2013 and 2014 as the worst model years for the Chevrolet Spark. Except you want to spend a fortune fixing car problems, we recommend avoiding these models.
The NHTSA received close to 60 complaints concerning engine-related problem from owners of the 2014 Chevrolet Spark alone.
The 2013 model is much worse and has over 71 complaints relating to the same engine problems.
If you are looking for a used Chevrolet Spark model to buy, the 2012, 2018 and 2019 models are advisable. They have fewer reported problems, virtually no recalls (only the 2019 model has one), and offer plenty of exceptional features.
Also check out our article about how long Ford Fiestas last.
What About Recalls for These Models?
The Chevrolet Spark has been recalled about eight times since it started production. This low number shows that the Spark is indeed a reliable vehicle with few problems.
Some recalls address severe problems that can put owners at risk if not fixed.
For instance, a 2018 recall for the Spark addressed a faulty airbag system, which could increase the risk of injury in a crash.
Similarly, a 2014 recall addressed a defect in the Spark that caused rusting in the hood latch area. Reportedly, this could allow the hood to open while driving, increasing the risk of a crash.
Here is a breakdown of recall figures for the model years of the Chevrolet Spark:
2014: 5 recalls
2013: 4 recalls
2015: 4 recalls
2016: 1 recall
2017: 1 recall
2019: 1 recall
2012: 0 recall
2018: 0 recall
Chevrolet Spark Model Year List
The Chevrolet Spark is a relatively new model, having gotten its US release in 2013. There are nine model years for the Chevrolet Spark, including the soon-to-be-released 2021 model.
Here are all model years for the Chevrolet Spark:
2013 Chevrolet Spark
2014 Chevrolet Spark
2015 Chevrolet Spark
2016 Chevrolet Spark
2017 Chevrolet Spark
2018 Chevrolet Spark
2019 Chevrolet Spark
2020 Chevrolet Spark
2021 Chevrolet Spark
Are Chevrolet Spark Expensive to Maintain?
Subcompacts are popular for many reasons, among them being their low purchase and maintenance costs. The Chevrolet Spark is as affordable to own and maintain.
Look into our article which reads about 11 Chevrolet Spark Facts & Statistics You Should Know
Per estimates, you'll spend around $434 on maintenance for your Chevrolet Spark in a year. This is significantly cheaper than the average subcompact ($456) or the average vehicle ($652).
How Long Do the Brakes Last?
The lifespan of your Chevrolet Spark's brakes depends on driving habits, vehicle usage, and operating environment.
According to Chevrolet, the brakes will provide 20,000 to 25,000 miles under severe use (e.g. Stop-and-go traffic). With regular use, the brakes can provide between 40,000 to 60,000 miles of service.
How Long Do the Tires Last?
The tires on your Chevrolet Spark should last between 30,000 to 50,000 miles. Chevrolet advises rotating your tires every 7,500 miles.
How Long Do the Transmissions Last?
The transmission on your Chevrolet Spark should last up to 100,000 to 120,000 miles with proper maintenance.
How Long Do the Spark Plugs Last?
The Chevrolet Spark Maintenance Schedule indicates you are to swap your spark plugs after 100,000 miles. We recommend changing the transmission fluid and filter at intervals suggested in the service manual.
What About Insurance Cost?
According to finder.com, an insurance payment estimator, you will spend around $2,172 on insuring your Chevrolet Spark in a year. This means you'll pay about $181 in monthly insurance fees.
Tips to Prolong the Life of Your Chevrolet Spark
Here are ways to extend the longevity of the Chevrolet Spark:
Conduct regular checks and maintenance: Before you go out every day, endeavor to inspect your car for any signs that something might be wrong. Weird sounds, leaks, vibrations, etc., are symptoms of problems on cars and should be investigated.
Also, keep up with all activities recommended in the Maintenance Schedule. This will ensure your car stays reliable and doesn't break down early.
Use your car carefully and don't drive it roughly: Aggressive driving will put additional stress on important parts of the vehicle such as the engine.
With time, this can cause those components to fail, shortening the life of your Chevrolet Spark in the process.
Fix problems as soon as they appear: This goes in tandem with the first tip. Once you have inspected your car and noticed something wrong, take it for a comprehensive diagnosis and fix whatever problem is plaguing the car.
Resources
https://repairpal.com/reliability/chevrolet/spark.amp
https://www.cars.com/research/chevrolet-spark/
https://m.carcomplaints.com/Chevrolet/Spark/
Was this article helpful?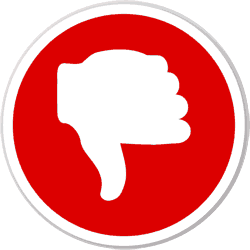 Did you find wrong information or was something missing?
We would love to hear your thoughts! (PS: We read ALL feedback)